An outdoor kitchen is more than just an area to host a backyard barbecue. It can encompass much more than just a grill, seating area, and maybe a refrigerator. Outdoor kitchens are for anyone who loves being outdoors, cooking food, and entertaining, and can often be the hub of social activity. We walk you through the complete guide to building an outdoor kitchen.
What You Should Know Before Building an Outdoor Kitchen
The first thing you need to know is how many people you will be cooking for. Consider both your regular family meals and any entertaining you do. Determine what you need in terms of kitchen appliances, grills, and space. For example, if you regularly host large gatherings, you will need a bigger grill. 
The second step is to create a wish list. What outdoor appliances, furnishings, structures, and features would you like in your outdoor kitchen? Create both a "Need" list and a "Want" list. On your "Need" list should be items you will require for your kitchen to function at least at a minimal level, which is important if you are building a new space. Your "Need" list will be your baseline reference.
The items on your "Want" list or wish list are those that you would like but don't necessarily need just yet. They are options if you have room left in your budget or can serve as things to strive for in the future. 
Keep in mind with each appliance to set aside extra money in case you need to hire someone to do any installation, like plumbing or electrical.
The third thing to consider is your budget. How much money are you able to allocate to this project? Is there a contingency fund? This will help you determine what items on your "Need" list you can purchase at this time. 
Keep in mind that buying cheaper items is not necessarily better. While you may score a great deal, be sure that what you buy is of good quality. You want items like grills, barbecues, and even possibly countertops to be high-quality stainless steel, so they are weatherproof, rustproof, corrosion-resistant, and durable.
What Essentials Should I Incorporate: The Needs Section
As mentioned, there will be items that you will absolutely need when building an outdoor kitchen. We will discuss each of these items now.
Choosing the Best Grill
The grill is one of the most important elements of an outdoor kitchen. You will be cooking meat, veggies, and every other culinary delight in this area. Choosing the best grill is important not only in terms of taste but also in skill level.
Different grills use different fuels, and some are easier to handle than others. You can choose a gas grill or charcoal grill. Propane and gas grills tend to be more expensive, but they are more durable. In the long run, they are more cost-effective because utility costs are lower.
For areas that are tight on space, consider an electric grill or portable charcoal grill. For the best propane grill options, check out this article. Here you will find the best small pellet grill.
What Countertops to Choose
Countertops for an outdoor kitchen need to be water-resistant, durable, and weather-resistant. They should be able to stand up against any and all-weather conditions year-round. Whether you decide on stainless steel, granite, concrete, soapstone, tile, or wood, make sure they are durable and complement your cooking style.
Will I Need Overhead Cabinets?
For small areas or if you need more storage, consider overhead cabinets. They will allow you to take full advantage of any vertical space before building outwards. Polymer overhead cabinets are great for storing glassware, dishes, cooking utensils, small appliances, and placemats. 
Are Rolling Cabinets Better?
Rolling cabinets work well in the kitchen for added efficiency and to save space. You can also use it as a makeshift island. Again, it depends on how much space you have and whether this would be better than a permanent island. Cabinets are always a necessity when it comes to outdoor kitchen components. Rolling ones create versatile storage areas and more cooking space when needed.
Add a Hood for Safety
Not only do hoods look sleek over a stove or grill, but they are necessary as a safety precaution. They remove chemicals, smoke, and exhaust from your cooking area. Always be sure that you have proper ventilation and insulation around your appliances. If you are even remotely unsure about proper installation, hire a professional. It isn't worth putting your home and family at risk.
Outdoor Refrigeration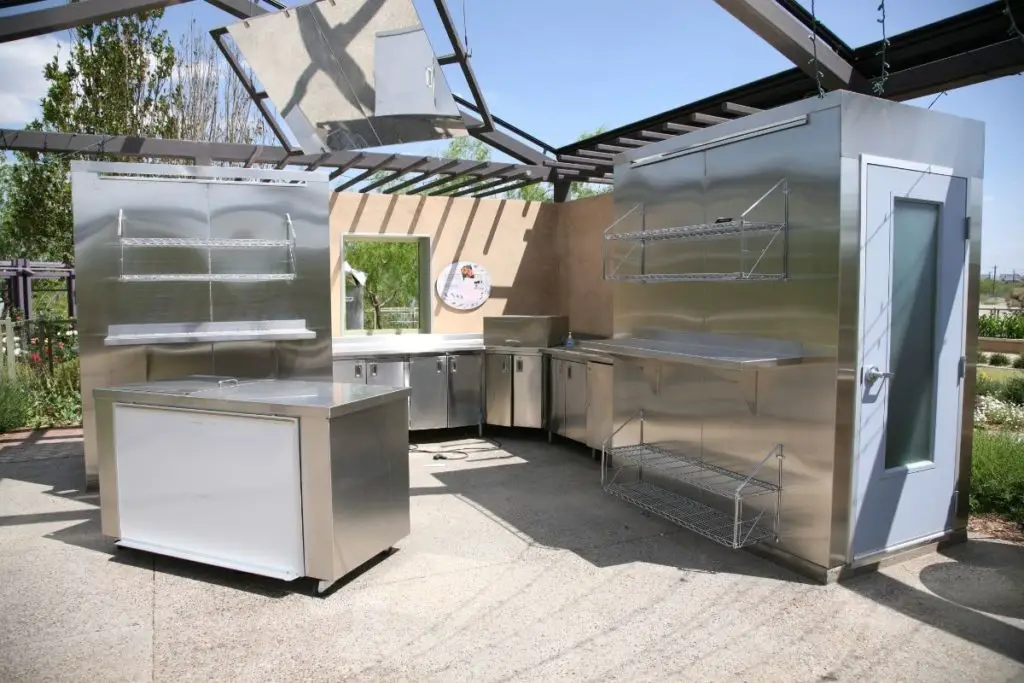 A fridge or beverage fridge is necessary to prevent you from continually going inside the house. Many of these can be tucked away under the countertop. If guests are thirsty, you can quickly provide a beverage, eliminating the need to go back and forth and making cooking more efficient.
Sink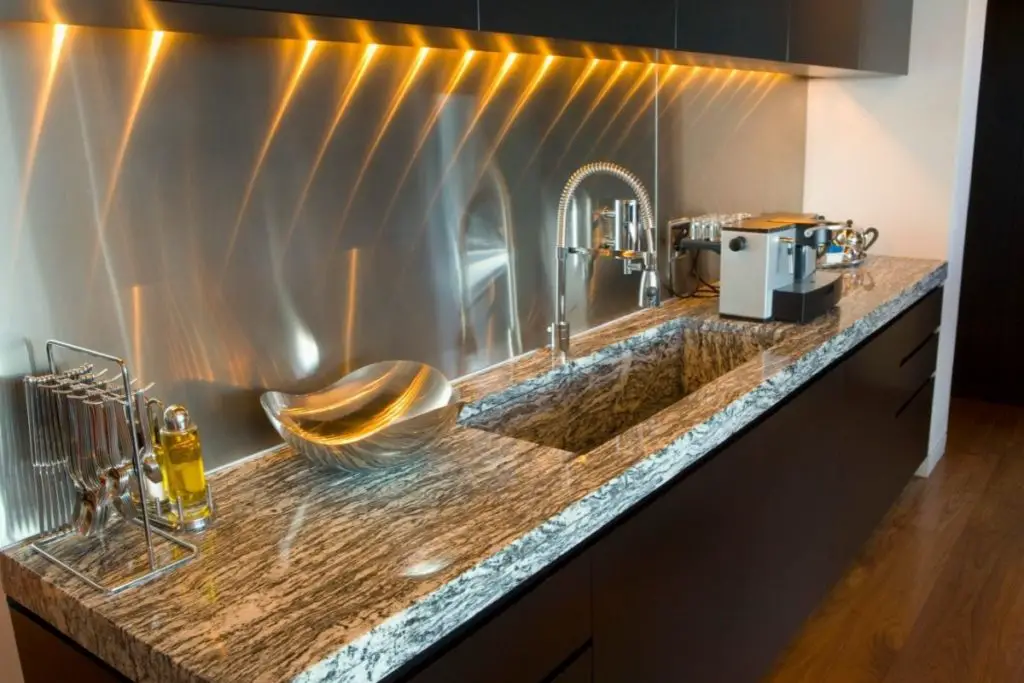 A sink can be either a need or want, depending on your cooking style. If you decide to add a dishwasher, you will probably need a sink. They are ideal when cleaning any outdoor appliance, cleaning up spills, and making things more efficient in the kitchen.
Seating Area
There are several options to consider when it comes to seating. It mainly depends on how much space you have and whether you need to make the best use of it. 
For smaller spaces, you can consider island or bar seating that will allow you to seat as many people as possible without sacrificing space. Or you can add a separate dining and lounging area if you have plentiful space.
Be sure that the furniture you select can handle the outdoors. Also, you may want to consider adding storage for the pillows and any other items when they are not in use.
Extras You Can Incorporate: The Wish List
The wish list is fun, and many times it grows as your guest list expands and you learn more about what you need. Every backyard chef finds things they didn't consider when initiating this project. While we cover the basics, there are individual preferences and tastes to consider that will shape your wish list.
Should You Add an Island?
An island can be either a need or want for an outdoor kitchen space. An island gives you extra room for food prep, freeing up precious counter space. It also provides extra dining space or seating for larger get-togethers.
Keeping Warm During Cool Nights
To make a space more intimate or to use it year-round, incorporate either a fireplace, chiminea, or fire pit. They look gorgeous in any space and make sure that everyone stays warm on cool nights. 
Flatscreen Television Set
If you do a great deal of entertaining with friends and family, or you enjoy watching the big game, you may want to consider a flatscreen television set. Not only will you be able to watch the game while cooking, but it also provides a fun atmosphere for guests. With this, you will never miss an important show or game.
The Wet Bar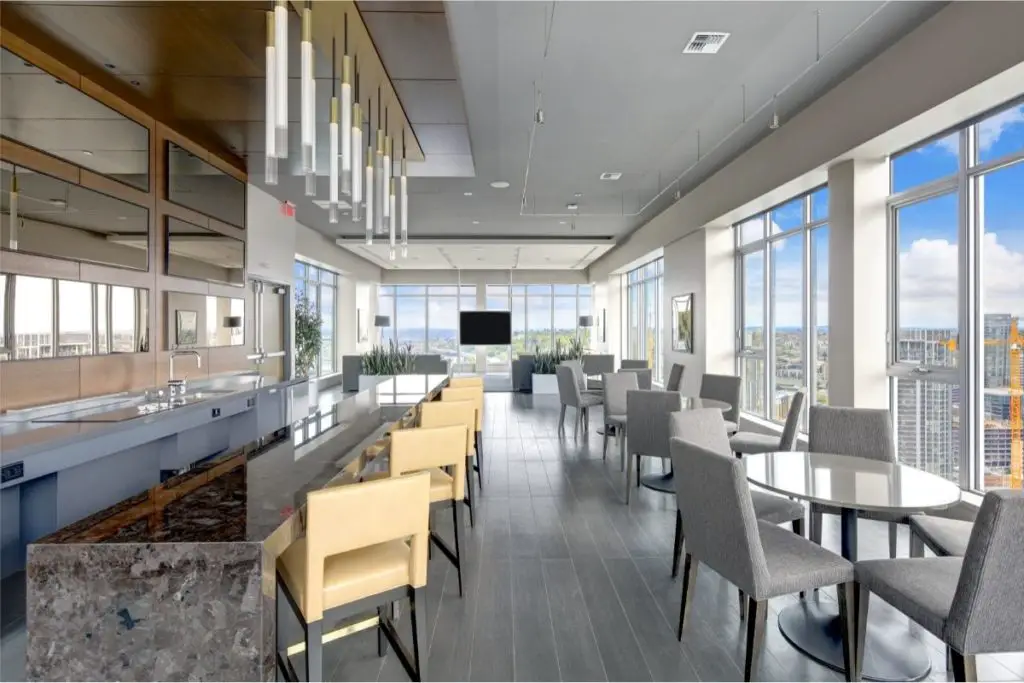 For those who regularly entertain, you may require a wet bar that allows you to stock up on your favorite beer, spirits, wines, and other beverages so that you can quickly serve them while you cook. Also, be sure that you have ample seating for guests.
Extra Extras: Pizza Ovens, Meat Smokers, Warming Drawers, and Dishwashers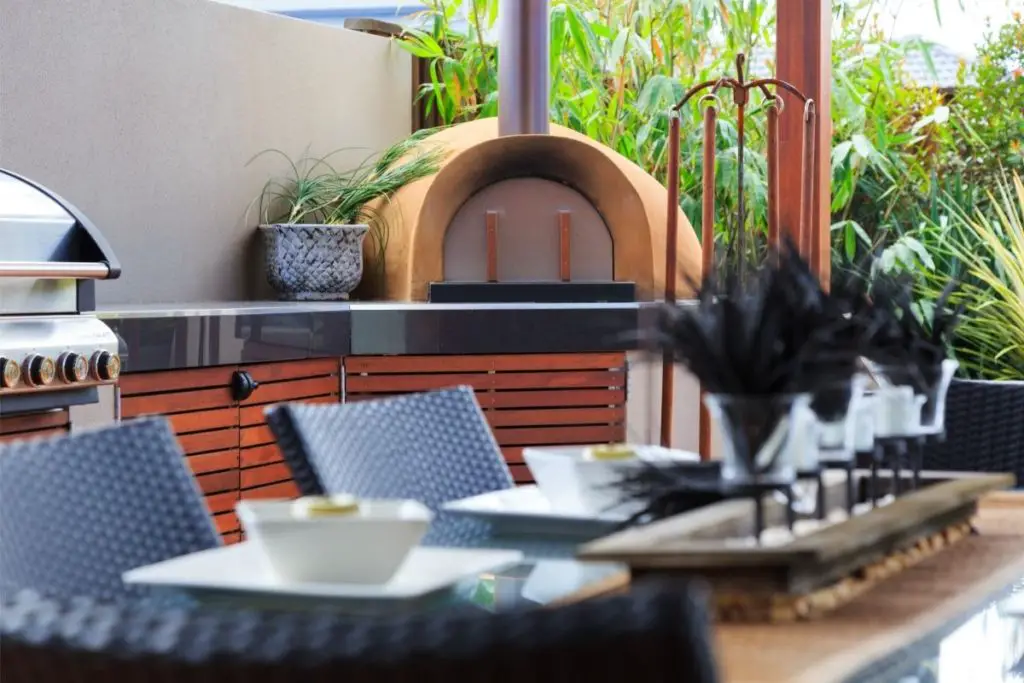 Pizza ovens are great for making personal pizzas. It takes the guesswork out of determining what people will want for takeout. Pizza ovens can be custom-built or purchased in foldable tabletop sizes. These are extremely compact, lightweight, and portable.
With some pizza ovens, there is a bit of a learning curve. Be sure that you are well acquainted with the different types of fuels and timing before purchasing one. 
Smokers are great for a slow grill and to add smoky flavor to your meats. Nothing beats the taste and the aroma of a smoker going in the background.
Warming drawers are perfect for large gatherings and while cooking a full meal outdoors. While your oven or grill may have several burners, you may find that some items need to remain heated. While you could microwave it to reheat the food, you would end up losing moisture and nutrients.
Warming drawers keep your food at the perfect temperature. They won't overcook it, and the food will remain moist.
Dishwashers are another great feature to have. They make for an easier clean-up and avoid the endless trips indoors. Then, when they are done, there isn't a long trip to put items away for the next use.
Location, Location, Location…
Location is an important feature in creating your outdoor kitchen. Consider both the area you want to build in and the amount of space you have. The footprint will dictate what you can and cannot place in this area or how creative you may end up being. It will also dictate how feasible creating an outdoor kitchen will be.
Small Space? No Problem!
Many people shy away from creating their ideal outdoor kitchen because they have limited space, but they don't realize that they can approach an outdoor kitchen the same way people approach a tiny house.
There are many appliances built with storage in mind. There is something for every space, from under-the-counter drawers, multipurpose units, and creative cabinetry to items that pack down or have a small footprint.
If you look at the available products on the market, you will quickly discover that many of them are designed to take up limited space and can easily be concealed. This means that you will finally be able to create that dream backyard. You may just need to get creative and think outside the box.
Some ideas include:
These are just a few suggestions to get you started. There are many more available to suit your tastes and style.
Thinking Outside the Box
You may think that you have limited space for an outdoor kitchen, but do you? Sometimes we must look at what we have available and see things differently. Is there a room in the house you're not utilizing to its full potential, like a sunroom? Can you add to a patio space? Here are a few suggestions as to what you can do.
Transform a Patio Area into a Kitchen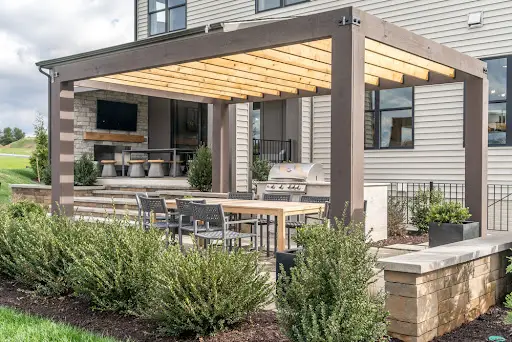 If your backyard has a paved area, why not convert it to an outdoor kitchen/dining area. You can add a pergola, stove, barbecue, some counter space and storage, and seating to convert it into a contemporary dining experience.
Create a Built-In Kitchen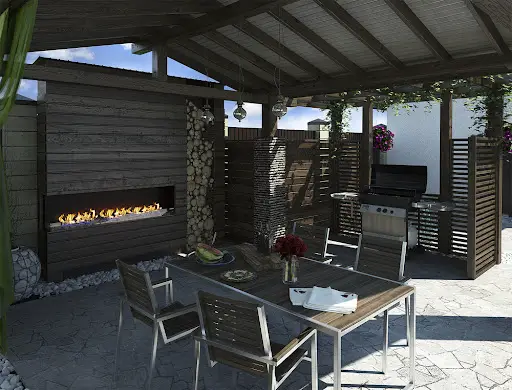 A built-in kitchen is potentially the most costly option for creating an outdoor kitchen. It requires a contractor and contacting professionals for any installations for gas, electrical, etc. Custom outdoor kitchens can incorporate stonework and landscaping items. 
They are great when the weather isn't as nice. Plus, they can connect to fireplaces, pools, wet bars, and other features.
Modular Kitchen Setups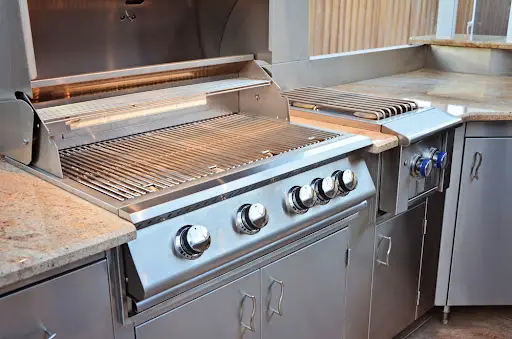 Modular setups offer a mix-and-match version to an outdoor kitchen kit. Homeowners can choose countertop materials, layout, and a base. Refrigerator, grill, and storage spaces are usually included, plus you can add other features as well, like a sink, warming drawers, or a dishwasher.
Outdoor Kitchen Kits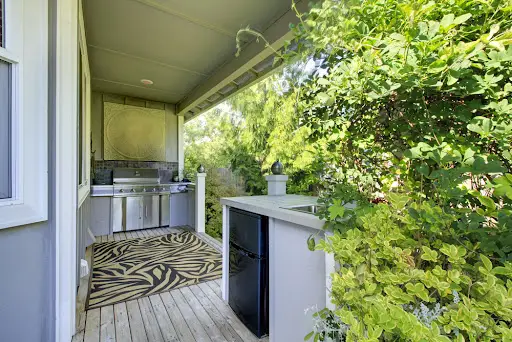 An outdoor kitchen kit is the most cost-effective and simplest way to create an outdoor kitchen.
They are easy to install and come with things like a grill, granite countertops, fridge, and more.
Homeowners will still require a professional to connect gas and water lines so be prepared for a bit of added cost.
Remove Your Outdoor Dining Area and use Bar Seating
If you find that you have a large outdoor dining table and not as much room as you would like, consider swapping the table out for bar seating. You'll increase the number of people you can fit in the space, and it has a much smaller footprint. Plus, you'll be creating a more intimate gathering.
Outdoor Gazebo Kitchen
Add a modern flair by incorporating this design into your backyard. It has a roof for coverage in case it rains, curtains that can be opened for a nice breeze or closed for greater intimacy. A partition separates the kitchen from the eating area and adds a cozy space to your backyard.
Combine a Dining and Kitchen Area
If space is limited, combine a kitchen with a dining area. This makes cooking and serving more efficient. It is amazing what you can pack into small spaces when you plan it out.
Build an Outdoor Kitchen Under a Pergola
Pergolas are a wonderful way to provide the right amount of shade for your guests during sunny weather. It covers your grilling station so you can keep cool while preparing the meal and enjoying the food outdoors.
Create an Entertainment Space
Your entertainment space doesn't have to be extravagant, but if you regularly host events, you may want to consider this option. Ideal for those who like to celebrate sporting events or just enjoy hosting, you can turn your backyard into an experience by adding an outdoor television set, doing a bit of landscaping, finding appliances, adding speakers, and creating a seating area.
The space doesn't have to be large, just functional.
Create a Poolside Outdoor Kitchen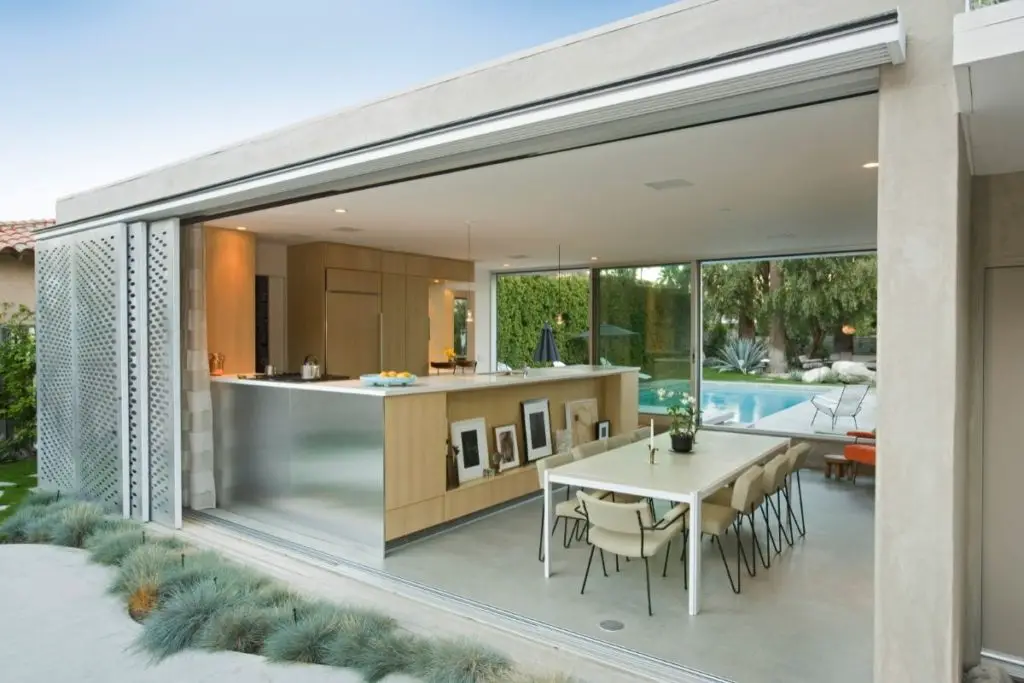 If your backyard has a pool, consider creating a kitchen and swim-up bar. Outdoor kitchens attached to pools quickly become the favorite outdoor hangout for you and your guests. Plus, you can get extremely creative with seating and other features.
Take Advantage of a View by Building on an Open Deck
An open deck helps you take advantage of a spectacular view of a lake, river, or mountains while cooking and enjoying your meal. It allows you to take advantage of deck space that may be underutilized, you can create bar seating, and it offers a cozy nook for cooking. It also allows for quick access to an indoor kitchen.
What Are Some Great Ideas for an Outdoor Kitchen?
One great idea is to turn your outdoor kitchen into a living space, going beyond the essentials to incorporate some of the items on your wish list. 
A living space could include outdoor/patio furniture, a fireplace, and perhaps a television set. It often has a wet bar, designated sitting, and dining areas. It will almost look like an extension of your indoor space.
To brighten up a space, consider adding a pop of color with a backsplash. You can easily clean splatters and messes from cooking food. You can use brightly colored stone, patterned tiles, or a painted pallet to add more interest to your space.
Other features you can incorporate are an outdoor rug to add texture and protect the deck/patio area. You can install floating shelves for additional storage space. Privacy screens are also a wonderful addition in either creating a more private dining experience or acting as a partition between two areas for a more intimate setting.
Bar carts are also great for serving beverages, especially when you are limited on space. They will give you storage space for your glasses, bottles, or beverages. When your guests are thirsty, drinks can easily be wheeled right out to them.
Final Words
Building a perfect outdoor kitchen will be determined by how much space you have, what your needs are, how many people you regularly host, and ultimately, your budget. Do not get discouraged if you cannot buy everything you want all at once, especially if you are just beginning. It will come with time. 
Be sure that when you are building for the essentials, consider installation costs and purchase items that are high quality to save you from spending extra money on repairs or replacing broken objects. 
Reviews often come in handy. Reputable online blogs are great for finding reliable information. Many have personally tried the products and can provide an honest opinion. Check out a variety of customer reviews to get a feel for how well the product works. If there is a common issue, other customers will provide details about what to watch out for. 
When reading customer reviews, see how many other people experienced the same problem. How was it handled? Is this a defect in the product? Furthermore, before making any purchase, ensure that you know how to use it, that it is right for your skillset, and read the instructions to save you a great deal of frustration.