Outdoor kitchens are one of the best updates to add to your home to increase their value and add curb appeal. 
Outdoor kitchens make backyard BBQs a much more pleasant experience and make your home the talk of the town every summer during block parties or family get-togethers. That said, it is always important to make sure your outdoor kitchen is prepared for all types of unpredictable weather.
One area of your outdoor kitchen you should put extra thought into is the countertops. This open space is subject to many different temperatures, weathering, weight, etc. This article explores five of the best outdoor kitchen countertop design ideas to help you choose what's right for you.
The Top 5 Countertops for Outdoor Kitchens
Your outdoor kitchen countertops must match the theme of the rest of the space and be able to provide the quality and durability outdoor countertops need.
Here is a list of five great countertop options for your outdoor kitchen that are durable, versatile, and look great no matter what your style. 
Perfect your patio with an outdoor kitchen and add amazing countertops and great kitchen accessories to take it to the next level.
Granite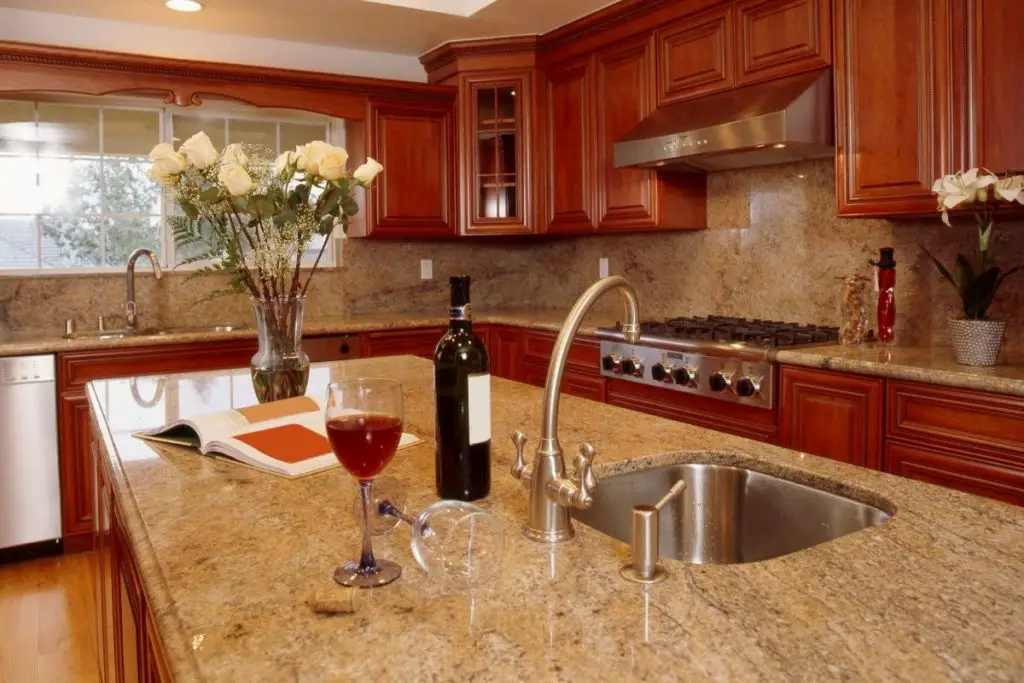 Granite is a beautiful, hardy, and long-lasting material that makes your backyard kitchen stand out. A granite countertop withstands high temperatures and maintains its natural luminous look for years. 
Outdoor granite countertops come in many colors and options, so you won't have any problem finding the perfect look for your outdoor kitchen creation.
Tip: Although granite is extremely durable, the outdoor elements can cause damage over time. Adding an umbrella or some type of covering to protect the surface will be beneficial.
Quartz
Quartz countertops are strong and durable, just like granite. However, this outdoor countertop option is not nearly as porous, making it a good countertop material as they are less likely to stain or absorb spills. Quartz is also more flexible, making it less likely to crack or chip.
Quartz countertops come in an array of colors and designs. The looks are so unique, it is hard to find two slabs that are exactly the same! 
Tip: Protect your quartz countertop when cutting or chopping on the surfaces, and never use an abrasive scrubbing pad when cleaning it.
Concrete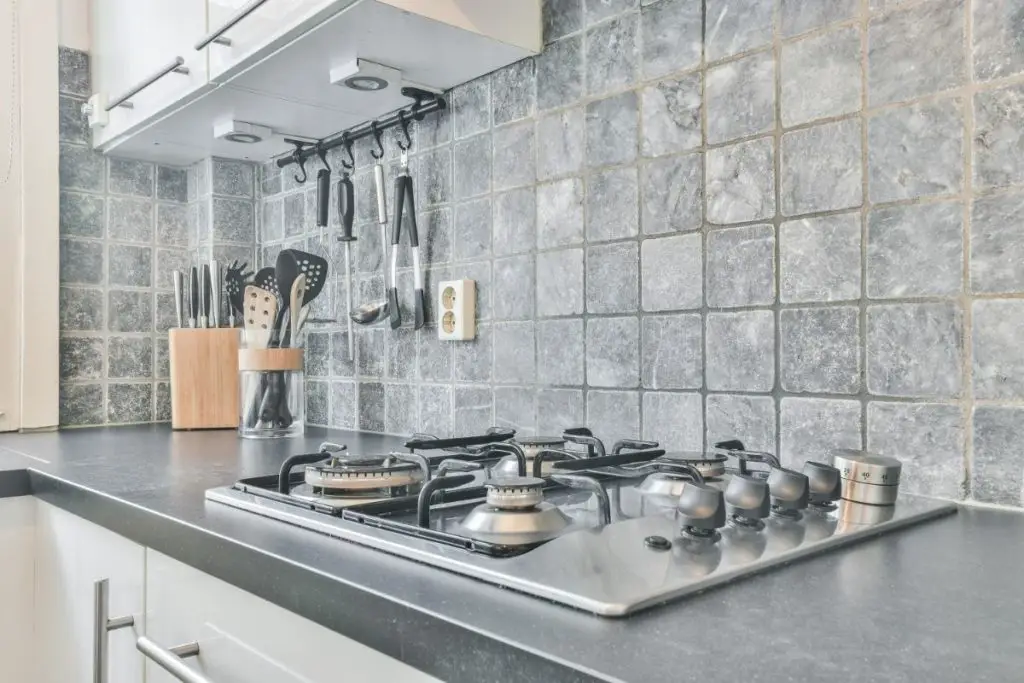 Concrete countertops for outdoor kitchens have become increasingly popular over the years. The biggest appeal with a concrete countertop is that you can easily customize this stone to fit into any space, in any shape you want, and in any color, edging, and profile you prefer.
You can't question the durability and strength that concrete countertops provide. They are perfect for holding up against whatever nature has in store.
Tip: Use a sealer on the countertop to prevent yellowing from hot pots and pans or direct sunlight.
Slate
Slate countertops are common in home kitchens, but they are a great option for many outdoor ones, too.
Slate countertops are versatile and easy to install. They are easy to clean and will not stain or discolor no matter what you spill or how long the spill sits once treated. This material is virtually indestructible, making it a perfect choice for outdoor use. 
Tip: Never use common household cleaners on slate surfaces. The chemicals can cause the material and seals to corrode. 
Wood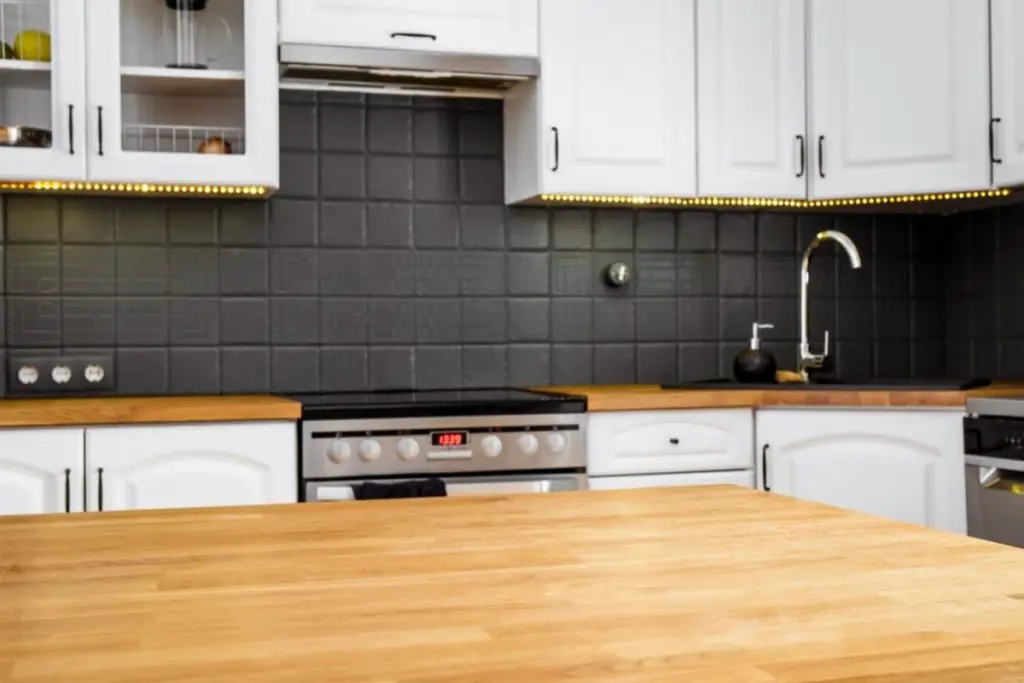 Not many people think of using wood when looking for a countertop that can survive outdoors. However, wood is one of the best options out there and can give your backyard kitchen a unique and fabulous touch. It also looks amazing paired with stainless steel appliances.
Many different types of wood can be finished and treated to withstand all elements and increase the appeal of your outdoor countertop, including:
Elm
Chestnut
Tigerwood
White oak
Maple
Tip: Steer clear of polyurethane coatings. This will make maintenance and clean-up harder for you in the long run.
Quick Comparison
Product
Pros
Cons
Granite
Durable, withstands extreme heat
Long-lasting, sturdy
Sanitary surface
Absorbs heat
Extremely heavy
Can crack with enough force
Quartz
Flexible, less likely to crack or chip
Non-porous, not likely to stain
Easy to clean with soap and water
Can get sun-bleached
Seams are easily noticeable
Concrete
Long-lasting
Easy to customize
Scratch-resistant
Easy to clean
Labor-intensive to install
Expensive to install
Hard to remove
Slate
Very durable
Cost-efficient
Easy to clean
Heat resistant
Versatile
Prone to scratches
Corners can be sharp
Wood
Natural look
Cheaper than other options
Versatile and flexible
Water and UV-resistant w/ treatment
Stains and scratches can be sanded
Require frequent maintenance
Easy to scratch
Not heat resistant
Tips and Tricks for Keeping Your Outdoor Countertops in Great Shape
Having an outdoor kitchen is a goal for many homeowners. During the warmer months, most families enjoy downtime outside. Having a kitchen only adds to the appeal and makes spending time outdoors even more attractive.
However, having a kitchen outside will add to the number of chores you will have to attend to during your day. 
Here are a few tips and tricks to help maintain your outdoor kitchen to limit the amount of work you have to do so you can spend your time enjoying it.
Apply sealants or protectants
Stone sealers are fantastic products to use on most natural stone surfaces such as granite, marble, slate, etc.
Without using any types of sealants, your countertop is exposed to stains common to any kitchen or outdoor living space.
Keep Surfaces Dry at all Times
Although many countertops are water repellent, even more so with sealants, there is still plenty of damage that can be done when water or other liquids spill onto the surface and sit for long periods.
Use Cutting Boards
To maintain the beauty of your countertops for longer, always use a separate cutting board instead of chopping or slicing things up directly on the counter. 
Many cutting boards match your outdoor kitchen style and won't destroy your countertops. You might even want to try out disposable cutting boards that are quick, convenient, and make clean-up a breeze.
Use Pot and Pan Holders
Refrain from setting hot pots and pans on top of your outdoor countertops. Yes, most of the options listed above are heat resistant, but over time and with the right amount of heat, it can be possible to scorch, burn, or discolor them.
Cover During Winter
Just like you cover your grills and patio furniture during the winter, it is also beneficial to cover your kitchen countertops during harsh weather. Doing this keeps your outdoor kitchen countertop material looking just as beautiful as the day you installed it.
Utilize Umbrellas Under the Summer Sun
Patio umbrellas are another way to keep the sun from staining your countertops during the hot summers. There are tons of options available that will spice up the look of your outdoor kitchen and keep the heat and rain from destroying your outdoor space. 
Summing Things Up
Having an outdoor kitchen shouldn't be hard or time-consuming to maintain. When you pick the best countertop material for your custom outdoor kitchen, clean-up can be a breeze, and the look will last a lifetime.