Building your dream outdoor kitchen is good fun. You get to decide the design and what goes in it, but do you have everything you need? When choosing outdoor kitchen equipment, consider how much entertaining you do. Most people know what they need for everyday use, but those needs change when you have company.
Before You Start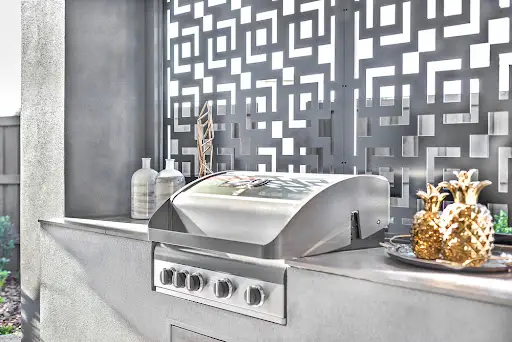 Before adding to your outdoor kitchen or creating one in your backyard, always be mindful of space and budget. Some of these appliances have extras you may not have considered, like ventilation and hookups. They cost additional money and can quickly chew through your budget if you are caught off guard.
If you want to expand on the outdoor kitchen you already have, invest in quality equipment. After all, you didn't spend all that money on spectacular countertops only to have inferior appliances that wear quickly. 
So, before you start, consider the following things. They will help you put together a space that's safe, efficient, and has the right footprint.
Examine how much space you have available. Your appliances shouldn't crowd each other. You'll also want counter space for plates, seasonings, cutlery, etc. Plan for at least four to six inches between each appliance.
Put together your dream list when it comes to appliances. Determine the size of grill you need – 32" is recommended for families of four, while large families and those who entertain frequently may want a grill measuring 42" or more. If you have limited space, try combining appliances. A Kamado grill acts as a grill, BBQ smoker, and oven all in one.
Side burners are another must, and you can use them for anything you would use an indoor stove for. If you use a lot of large pots, look for a power burner, and if you enjoy a steakhouse flavor, invest in a searing station.
Warming drawers are a nice addition as they allow you to keep your food warm without losing moisture. You will, however, need electricity to power them. Outdoor griddles are gaining popularity as people often have guests over for brunch. 
Storage is another factor to consider. How much storage space do you need for entertaining? Sinks, drawers, or even combination units are useful items to have. If you have space, you can go all out. If you have a smaller area, you may want to consider combination units that combine drawers and doors. These tend to tuck in under grills and are a great space saver.
If you decide to incorporate a sink, determine whether you already have the necessary plumbing. If not, adding pipes will be another added expense.
Refrigeration options include ice makers, cocktail stations, kegerators, ice bins, wine coolers, and cooler drawers. Thankfully, many fridges have a freezer component to store frozen desserts or ice. Kegerators are ideal for football games or other sports gatherings.
Once you have created your dream list, determine your budget to narrow down which outdoor kitchen equipment you will buy this year. Keep in mind to purchase quality products. Cheaper grills may save you money initially but may not always give you the best longevity. 
Next, price the components. Be sure to include the specs and cutouts since your appliances will need to fit into your outdoor kitchen. Experts strongly recommend including a grill, combination storage, and doors under your grill. Other options that aren't essential are side burners, ice bins, and outdoor refrigerators.
Always keep in mind how many people you will be cooking for and how often you will be using the space.
How Often Do You Host Guests?
Before looking at what you will need for your space, you first need to consider whether you have the basics in place and how many people you cook for or have over. Entertaining will factor into what you will need for your outdoor kitchen equipment.
When you are just beginning, start with the basics, unless you can afford to do a major backyard renovation. Starting with a basic outdoor kitchen will allow you to expand a little more each year. You will be better acquainted with what you need and what is not necessary for backyard entertaining.
Wine and Dine: The Small, Intimate Gathering
Functional kitchens begin with purchasing the essentials. The center of any outdoor kitchen is going to be the grill. When it comes to barbecue grills, there are three types of fuel to consider: gas, charcoal, and wood. Each one provides a different taste to the meat and comes with a different skill level. 
You can also consider investing in a pizza oven. Some have a bit of a learning curve, like figuring out when to turn the pizza for the best crust. Once you have mastered this, though, creating mouth-watering customized pizzas for your guests becomes easy.
Pizza ovens can either be custom-built or stand-alone. If you want a built-in pizza oven, you must incorporate an overhead vent panel and vent hood. You will also need an insulated jacket to keep things safe. These features will protect your outdoor kitchen island and grill from each other.
Stand-alone pizza ovens have a small footprint, fold up for easy storage, and are portable. They may not have the same flavor, but they take less time to cook and create a minimal mess. You also don't have to wait a long time for the oven to fully heat, for it to cool down, or to clean out the ashes afterward.
Additional things to consider including are:
Garbage can
Outdoor refrigerator
Access doors
Side burners
Beverage fridge
Grilling and Chilling: Backyard Party with Family or Friends
When entertaining, you probably want to keep kitchen utensils somewhere out of sight yet easily accessible. The design of an outdoor kitchen should consider capability as well as convenience.
You may want to invest in either an ice maker or a beverage refrigerator. You want to be able to offer guests a drink to quench their thirst as they hang with you outdoors. While some people may choose to invest in a beverage fridge, there is some practicality to an ice maker as well. Some people like to keep their beverages continually cool.
Additional options include:
Paper towel holders
Ice bin coolers
Ice maker
Faucet and sink
Kegerator
Wine cooler
Outdoor kitchen storage
Griddle 
Power burner
Barbecue Blowout Bash: The More the Merrier
If you are going all-out regularly–especially over the summer months–you're going to want the best items available for outdoor entertainment. If you haven't already, invest in a large barbecue. You will want one that can handle larger amounts of food and includes a warmer.
A warmer will help your food stay at the perfect temperature while you cook the rest of the meal. While you could warm it up in a microwave, this may remove nutrients from your food and take away moisture. A warmer will keep foods moist and safe from bacterial contamination.
When you cook for larger groups of people, you need more refrigeration and tons of seating. Create an ambiance in the space. If you include a patio heater, you can enjoy your backyard almost year-round, depending on your location. You could also add a chimenea or fire pit as well for cozy warmth. 
If you are a sports fan, you can also purchase a television rated for the outdoors to host any televised event. 
Items to consider are:
Firepit
Patio heater
Patio furniture
Outdoor cooling and fans
Enclosed pantry
Secondary grill, pizza oven, or smoker
Add-Ons to Consider 
To enhance the flavor of your food, consider purchasing some of these items. They will expand your culinary creativity and add flair to your outdoor kitchen. 
Smokey Steakhouse
If you like to cook slow and low, or are going for that smoked steakhouse flavor, consider adding the following appliances to your outdoor kitchen equipment:
Rotisserie
Barbecue smoker
Barbecue griddle
Charcoal or Kamado grill
Patio Pizzerias
For a touch of the Mediterranean, or if you enjoy the crunch of a puffed-up crust, consider investing in a pizza oven. However, the fun doesn't have to stop there. You can create gorgeous linguini, shaved chicken shawarmas, tapas dishes, or meatball sausages by utilizing the following appliances:
Rotisserie
Barbecue griddle
Pizza oven
Wine cooler (because what doesn't go well with wine!)
Barbecue Fusion
Cooking food over a sizzling grill is sure to make mouths water. You can create amazing custom stir-fries just by effectively using a grill. If you are into Asian cuisine, you may want to consider:
Ice bin with condiment tray
Power burners
Teppanyaki or flat-top grills
Barbecue griddles
Game Day Greats
If you are tired of boring backyard parties, spice things up by creating a game day event. You can add bar chairs or beer on tap/fridge to entertain your family and friends while you enjoy the big game. 
You can add:
Kegerator/beverage cooler
Outdoor bar furniture
Outdoor television
Outdoor speakers
Things to Consider
It isn't enough just to buy appliances for an outdoor kitchen. You also need to make sure that everything and everyone is kept safe. If you don't factor in additional expenses, you may discover that you have gone over budget.
Safety
Safety always comes first, and having an outdoor kitchen is no exception. The first rule of safety is to ensure there is enough clearance. Otherwise, fires and other emergencies can quickly get out of hand. 
Ventilation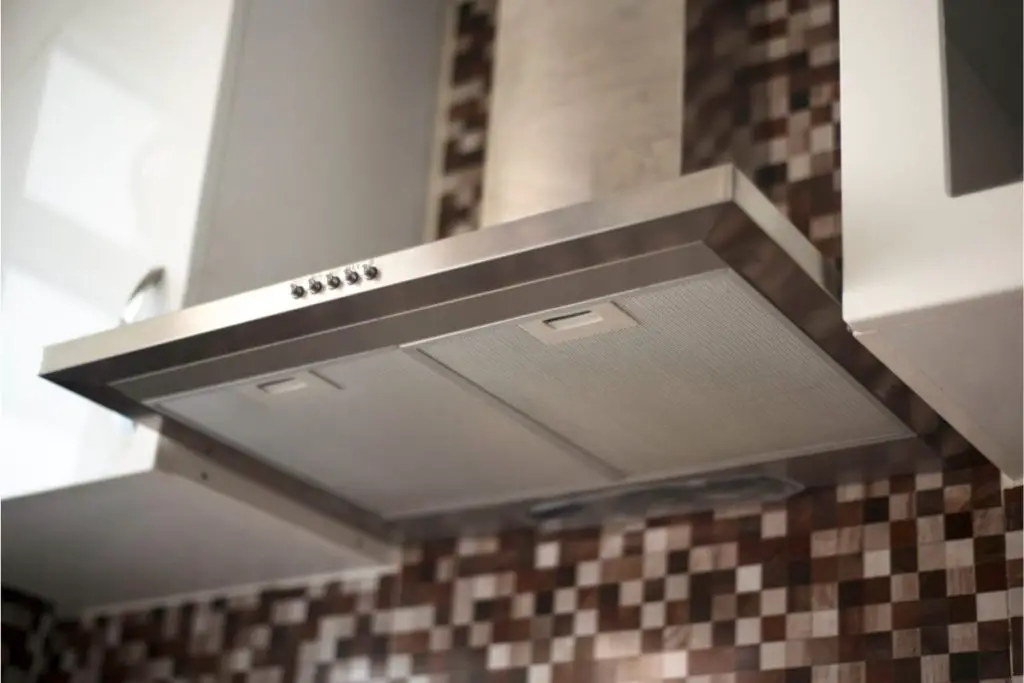 There needs to be adequate ventilation as well. This doesn't just keep odor and smoke away from guests but removes streaking fumes, discoloration, and grease from your kitchen surface. It prevents high temperatures and decreases the potential for fires. Always check with local property laws. Sometimes outdoor kitchen ventilation requires a zoning code.
Any time you use high temperatures on your property, you should consider safety. Often, installing vent hoods and using island vents in the kitchen is the first step. They make hosting outdoor events more relaxing and prevent disasters from occurring. 
Insulated Jackets
Islands in an outdoor kitchen tend to be made of combustible materials and have powerful grills. Insulated jackets are stainless steel buffers that allow you to restrain the heat from the rest of your kitchen. They protect the undercarriage of your grill from weathering and corrosion. Even if your island is treated against the weather, it still needs an insulated jacket.
Final Words
Creating an outdoor kitchen involves making a thorough plan, budgeting, and having a checklist. When buying outdoor kitchen equipment, there are some things that many people don't consider, like ventilation, safety, plumbing, and electrical. All these costs add up fairly quickly, so you need to be prepared for them.
Making a list will enable you to pair down your budget and make the most of your money. When buying appliances, make sure they are corrosion-resistant, weatherproof, and durable. Stainless steel is always a great choice, but make sure that it is high grade. It will better be able to navigate weather changes and resist rusting.
Always be sure to buy items that will last. It may be tempting to stretch your money even further by buying cheaper items. In the long run, you may end up spending more this way. Cheaper appliances are often disposable. After you have gone through several and experienced the frustration of doing so, you will quickly realize you could have bought something great the first time.
This will save you frustration and help you to enjoy your outdoor kitchen.