Is your dream to create an outdoor atmosphere where you enjoy breathtaking views, fresh outdoor air, and the sounds and smells of food cooking on the barbecue grill in the summer evenings? You can make this dream a reality by incorporating a modern outdoor kitchen. You can create a kitchen in any space for that perfect outside oasis.
Outdoor kitchens differ from simply barbecuing on the grill and hanging out outside with friends. When done well, they incorporate the basics of an indoor kitchen and marry it with grilling and the outdoors. A backyard kitchen should have everything located conveniently and contain outdoor kitchen appliances that withstand outdoor elements.
The outdoors is now considered an extension of the home and outdoor kitchen design is no exception. Many homeowners either create an area on the deck or against the home to place their outdoor kitchen. Others may extend deck space or even place a gazebo close by the house to create their outdoor oasis. 
As mentioned, outdoor kitchens are not simply barbecue grill stations. They are multi-accessorized areas created to enjoy the benefits of outdoor cooking and the company of guests. You should use your imagination when designing this space. Even if you only have a small space to work with, you can still create a breathtaking outdoor kitchen.
Expert Tips to Consider When Designing a Modern Outdoor Kitchen
The most effective way to explore outdoor kitchen ideas is to examine the material composition. Material choice has specific functionality, style, and aesthetic value. We will walk you through what materials are the most durable and functional for outdoor kitchens. Also, we note how to make the most of your existing space. 
Tip #1: Examine the Proximity to Your Indoor Kitchen.
Make sure your outdoor kitchen is close to your indoor one to make bringing out food, utensils, and the like easier and more efficient. Some homeowners place their kitchens far from the back door. Bringing it closer increases the outdoor kitchen's usage and makes it easier to prepare a meal.
When the food is ready, you and your guests can enjoy it outside too if you include a matching dining area around the kitchen.
When people are grilling, food is ready at various times. Sometimes it just isn't possible to time the foods to be ready at the same time. Being able to serve guests close by prevents food from cooling off while walking across the yard just to fill plates. 
Tip #2: White and Grey or Black and Grey Designs are Still Trending.
The color combination of white and grey provides elegance and style when used for an outdoor kitchen. It brings a more refined look. Balancing between matte and bright colored hues creates the ideal setting for both formal celebrations and casual dining.
Don't fear the grey and black color combination or dismiss it as too formal or dark. Dark outdoor kitchens pair well with surrounding greenery and can pop outdoors. They create a calm, romantic atmosphere with a bit of mature energy. 
Tip #3: Don't Dismiss Small, Empty Spaces.
Most designers will tell you that empty spaces are just areas that haven't yet been decorated. There is no such thing as an empty space. Each area in your home can have a purpose. So, even though we may think that we don't have room for an outdoor kitchen, we may not be looking in the right places.
Some homeowners look at areas under their deck stairs and transform them into a mini outdoor kitchen where their guests can relax and enjoy a great view. The cultivated style and open, breezy environment are sure to impress your guests.
Small spaces simply require you to be more creative in terms of storage. Sometimes things must pull double duty. Look for items that can serve multiple purposes and incorporate them into your space. Many appliances can easily fold down into a small footprint for easy storage when not in use. 
Furthermore, you can create an elongated counter that houses items like a beverage cooler or a small refrigerator underneath. Place a stylish portable pizza oven close to the door and add a granite table to the countertop for seating. Tall outdoor bar chairs complete the look.
Tip #4: Use Wooden Cabinets and Have an Abundance of Counter Space.
Wooden cabinets match the natural surroundings of the outdoors. You will want to use a lighter, neutral shade to make the area appear more contemporary. Dark wood brings a more elegant, classical feel.
In looking at cabinets, make sure that they are treated and weather/water-resistant. You will need this even if they are under a covered area so they remain protected against the elements. It should be a durable wood specially treated for the outdoors. If it isn't, then you may run into rotting and splitting of boards. 
Another touch you can add to the wooden cabinetry is bright, white counter space. Even if there is a bit of marbling, this creates a sleek modern design. Again, ensure that your material can withstand the year-round weather. 
Marble countertops will add a bit of enrichment to your backyard. Its wealthy and luxurious appeal combines very well with stainless steel appliances or even stainless steel cabinets, generating a truly enviable outdoor space. 
Counterspace will also play an important role when considering how many people you will be cooking for. If you like to entertain many guests, you will require ample counter space. You will also need more of a full-sized kitchen, or you may find yourself doing a great deal of running back and forth indoors. 
Tip #5: Urban Outdoor Kitchens are Perfect for the City.
For a more modern outdoor kitchen, the urban kitchen look provides a stainless-steel design for the outdoors. It is a great choice when you have areas of your backyard that aren't covered.
High-quality stainless steel products resist rust and corrosion. They can withstand the elements and make a great choice for the outdoors. Modular outdoor kitchens may provide the best option when trying to recreate this idea as you can play around and configure your own design. 
Additionally, stainless steel provides a professional appearance to an outdoor kitchen area. It will give you space for necessary appliances due to the underneath cabinetry. They are easy to clean and resist fingerprints. This look will create a more modern, industrial-style outdoor kitchen.
In addition to pairing well with marble countertops, stainless steel appliances shine when contrasted with dark countertops. This will create a sophisticated, modern appearance in your kitchen space. The natural glow of steel opens up smaller spaces and provides a beautiful, shiny surface to utilize. 
Tip #6: Make it Cozy with a Modern Sofa with Clean Lines.
You can further transform an outdoor kitchen by adding a contemporary sofa and coffee table. It will be an area where guests can enjoy drinks and conversation while food is being prepared.
Including a fireplace nearby adds a warm eating area where you can enjoy the outdoors no matter the temperature–another way that the indoor of your house extends to the exterior. 
Trending Kitchen Design Ideas
Some of these modern outdoor kitchen ideas are recently trending. While grey still seems to be a dominant color, it may be slowly fading. Bold, vibrant colors are appearing with a younger generation because they lend themselves to a trendier design. 
However, the danger in this is that it is a trend and doesn't necessarily have that timeless element to it. You may find yourself wanting to redecorate down the road. However, you can try pairing vibrant colors with classic elements like stainless steel, granite, or stone. That way, all you'll have to change is the color palette or cabinetry color. 
The Half-Open Kitchen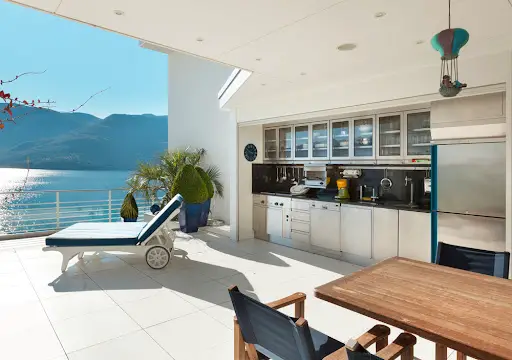 Some homeowners have opted to do a half-open kitchen on the patio, which is a great compromise for those who do not wish to invest in a separate outdoor kitchen but still want to enjoy a culinary experience in their backyard. 
You will be able to use the kitchen no matter the season, regardless of what the weather may dictate, which is the largest advantage of this design. When the weather is cold, you can close off the area because this design incorporates folding windows and doors. When things warm up, open the windows and doors again for an outdoor experience.
Natural wood is best for this design to create a more elegant space with an organic feel. It will mimic being outdoors all year long, yet you can opt for a classy silver appearance for a soft shimmer.
Goodbye, Grey; Hello, Cream
To create a minimalist modern outdoor kitchen, you may want to consider a cream color palette. It illustrates the simple beauty of minimalistic design by using a low-key, elegant setting.
While beige in this color palette may appear boring and plain, you can create a more appealing presence. To make the area more diverse, ensure the seating area contrasts with the rest of the décor. You can use a combination of stainless steel and wood to cool the warm, creamy atmosphere.
Add Stone to a Small Outdoor Kitchen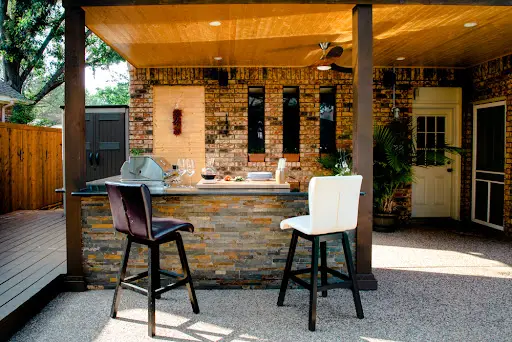 To add charm to a small outdoor kitchen, consider adding stone. This will allow you to keep the area very natural. Also, the texture of stone is very versatile, giving your kitchen a timeless appeal.
Furthermore, stone and tiles provide a balanced outdoor kitchen. It generates a pleasant area for socializing because of its harmonious appearance and dynamic style of décor.
Vibrant Trendy Rooftop Outdoor Kitchens
Who says an outdoor kitchen must be in a backyard? For a rooftop outdoor kitchen, consider a bold color palette. Using a bright yellow and a medium shade of red adds depth to an outdoor environment. Yellow cabinetry will make the kitchen look cheerful, whereas the red makes it trendier and more upbeat, appealing to younger guests. 
Incorporate a Cool Granite
While many prefer granite or marble countertops for their durability, stone works very well in a modern outdoor kitchen as well. It can provide an industrial and raw look to your kitchen when paired with darker natural cabinetry and stainless steel appliances. 
The danger in this look is that it may appear too cold and strong. However, the benefit is that it pairs well with different materials and colors, so you have decorative freedom and an interesting element.
Add a Pop of Color to a Covered Outdoor Kitchen
If you have an overhang or pergola, consider adding a pop of color by painting the wood a polished red. It offers a stunning look that will pair a contemporary dining space with a cozy area for sitting, creating a warm, inviting feel to your outdoor space.
There are so many things you can do with a modern outdoor kitchen. The good thing about modern design is that you can incorporate other styles of décor into it. For example, some people opt to do a modern-rustic appeal with wood flooring in different shades. People also take advantage of small spaces by adding a long table with bar stools to their outdoor kitchen.
With a modern design, your choices aren't limited. The color palette may be slightly changing, but the design principles are the same. Use clean lines for a more contemporary flair. Homeowners can select natural palettes or vibrant ones. The choice is theirs.