Are you searching for ways to transform your outdoor living space into a tranquil oasis? Whether you want to do a complete overhaul with landscape design or create a new DIY project, adding water features like a fountain, pond, or waterfall can really update the appearance of your yard. We provide the complete guide to water features in yard.
Why Do You Need a Water Feature?
Colored flowers, a manicured lawn, and stylish patios create a pleasant outdoor exterior. However, they will not make your house stand out from your neighbors.
Give your landscape a boost by incorporating water features. They are gorgeous in appearance and provide tranquil benefits to any backyard. Water features are soothing to your senses, add texture to an outdoor living space, and drown out noise pollution.
Whether your space is small or large, there are various ways to incorporate each of these features.
Water Feature Suggestions
There are many reasons to incorporate a water feature into your yard besides simple aesthetics. Some people add them because they bring tranquility to the outdoor space and can be enjoyed over the years. Others may use water features to create separate spaces within the yard, or for privacy using rocks. Statues can also be added for a more vintage appearance.
Whatever your reason for using water features, you are sure to enjoy every second of the relaxing atmosphere that it generates. Plus, many of the designs are spectacular!
Fountains
The best thing about fountains is they can be placed anywhere. You can put your own stamp on this design because they can conform to almost any backyard style you can imagine. The size of your outdoor space is irrelevant with these features as they are easily scalable.
Incorporate a Traditional Fountain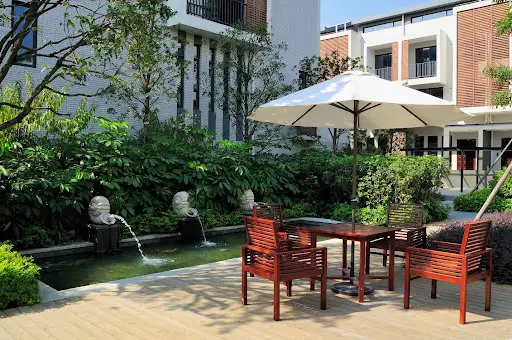 Fountains can be the perfect backyard addition to any size of area. They can be placed anywhere, ranging from patios, yards, decks, or as a landscaping centerpiece. These water features include disappearing fountains, pipe fountains, self-contained fountains, and spouting fountains.
Create a Courtyard Fountain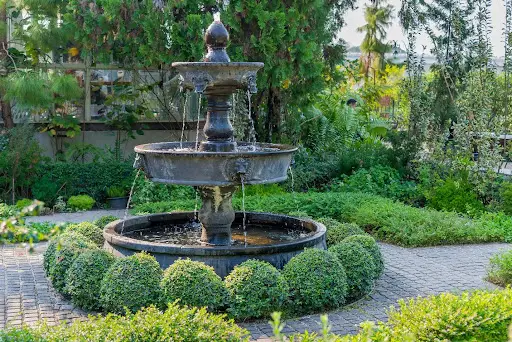 Depending on the material, courtyard fountains are the perfect feature for Spanish-style homes or to create a vintage appearance outdoors. It provides a great area where you can meditate or relax in the quiet while reading a book. Courtyard fountains can fit a range of outdoor spaces including atriums, courtyards, or gardens. They are a true work of art.
These fountains can be made of concrete, stone, bronze, or copper. To create a similar structure, you can also design a wishing well to a porch or entryway.
Incorporate a Water Blade Fountain
This adds a new twist on the traditional water feature by allowing you to use a water blade for your landscaping idea. They provide a modern touch to existing pools or ponds. Or they can be a freestanding feature.
Water blade fountains are a great idea if you are trying to create separate spaces or add an area of secluded privacy. They are a beautiful feature when combined with pools as the sound of the water provides a soothing atmosphere.
Keep it Simple with a Bubbler Fountain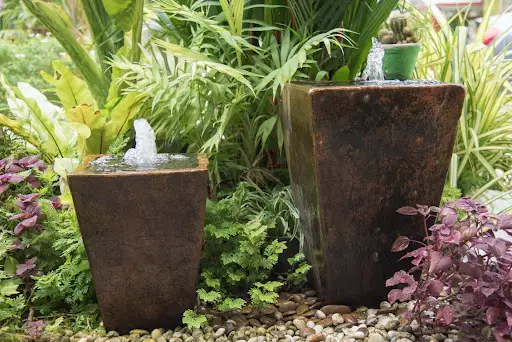 Also known as a Chinese belief fountain, bubbler fountains placed in front of the house are a symbol of luck to the Chinese. They can range from a simple, minimalistic, contemporary design to something more ornate. The only difference is the type of container that is used.
Bubbler fountains are small water features that provide an outdoor space with a bit of pizzazz and relaxation. They are great for small backyards as they have a tiny footprint and can be placed in a small garden. Or you can also install a large one on an open green space to create a focal point. 
Add an underwater bubbler to a pool or pond to generate an effect like a hot spring and delight guests.
Add Interest to Small Spaces with a Sphere Outdoor Fountain
If space is limited, you can still incorporate something interesting in your backyard. Sphere outdoor fountains (ball fountains) can add a tranquil element to the area. They can easily fit anywhere and don't require much to set up. If you are a handy person and have some time on your hands, you can even make your own.
Waterfalls
Waterfalls allow guests to enjoy a gentle rushing of water as they relax outdoors. If you are close to one, it can cool you off by the motion and the gentle splashing of water droplets. They provide an air of relaxation to anyone surrounding it and can easily upgrade any area.
Incorporate a Water Feature into Outdoor Furniture
To create an over-the-top appearance, consider adding a custom outdoor water table. These tables are a spectacular, unique appearance wherein water flows from the center of the table and falls off the end into a pond below for a spectacular effect.
Incorporate a Water Wall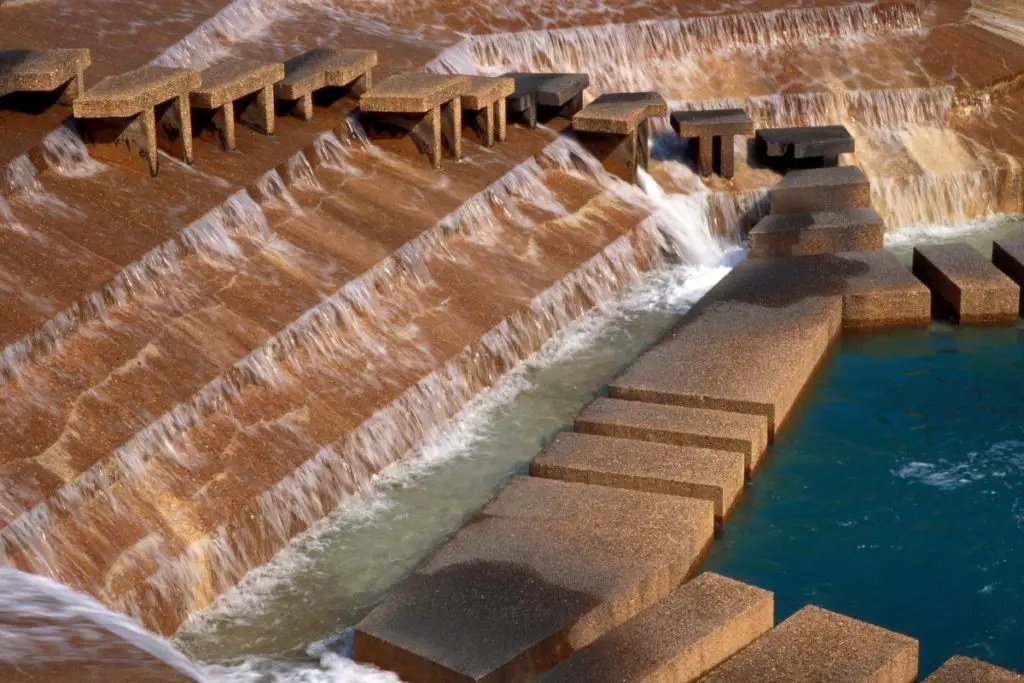 Similar to waterfalls, water walls are a modern, eye-catching water feature that can be placed anywhere in the backyard. Some people add them to sitting areas on their patio or they can be added to a designated green space.
This free-flowing waterfall looks amazing outdoors and provides a stylish element to an outdoor living room. It can be purchased, or you can use glass sheets and wood to create your own.
Create Interest with a Staircase Waterfall
Provide a conversation piece for your guests with this modern, unique water feature. Staircase waterfalls are great as a small backyard design or on a grander scale. They provide a luxurious touch to an outdoor living space or a garden.
Pondless Waterfalls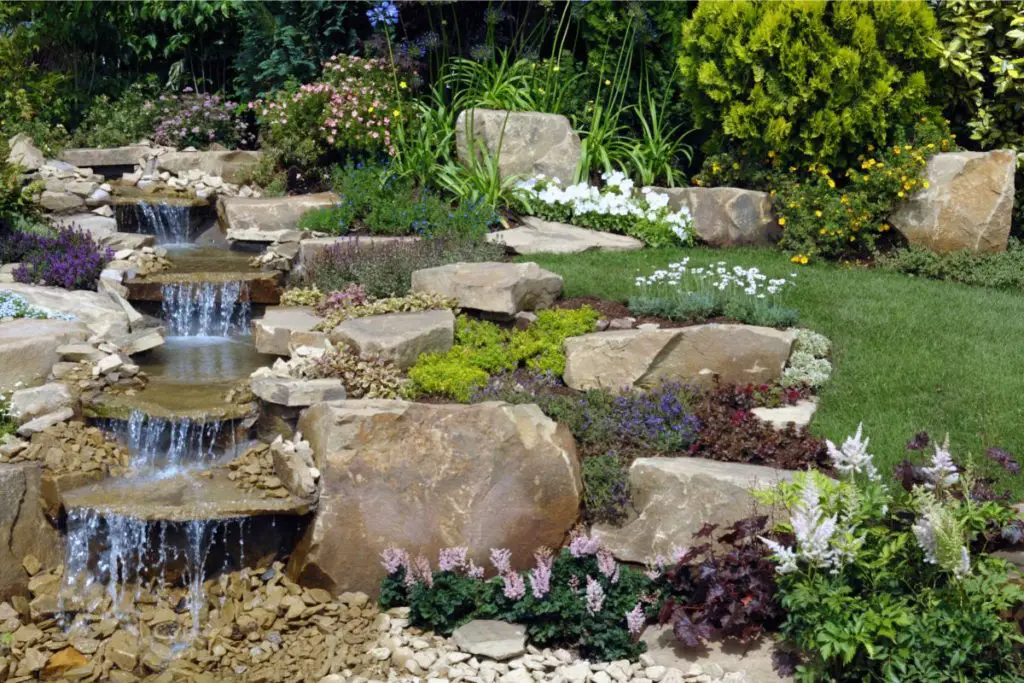 These are great for small backyards that don't have enough room for an actual pond. Pondless waterfalls have pumps allowing water to circulate back up through the fountain. They create the same effect as an actual waterfall but in half the space.
These waterfalls are very low maintenance. You can use plants, pebbles, and stones as part of your design to create a natural look to the outdoors.
Small Rock Waterfall
Incorporating a waterfall to an outdoor stream, pool, or pond is a wonderful way to incorporate movement into your space. You can stack concrete, rocks, and fiberglass to generate a water path. Flowers, grasses, and succulents can also be added to create a burst of color.
Ponds
Ponds offer a small pooling of water in your backyard. While to some this may appear dull, there are several things you can do to a pond to make it stunning!
Koi Pond
While koi ponds cost a little bit extra to incorporate, their spectacular effect and design are worth the initial investment. If you have the space and resources, you can turn a section of the yard into your own tranquil koi pond.
Make sure when designing it that it is large enough to permit fish to live and grow comfortably. Since koi munch on plants, you will need to add non-toxic greens to the pond, like water lettuce, water lilies, and floating plants.
Small Backyard Pond
Unwind after a long, hard day with your own small backyard pond. Use landscaping features like stones, pebbles, trees, ferns, and flowering plants around the pond to create natural beauty. You can create your own pond by using materials available at most hardware stores.
Splash Pad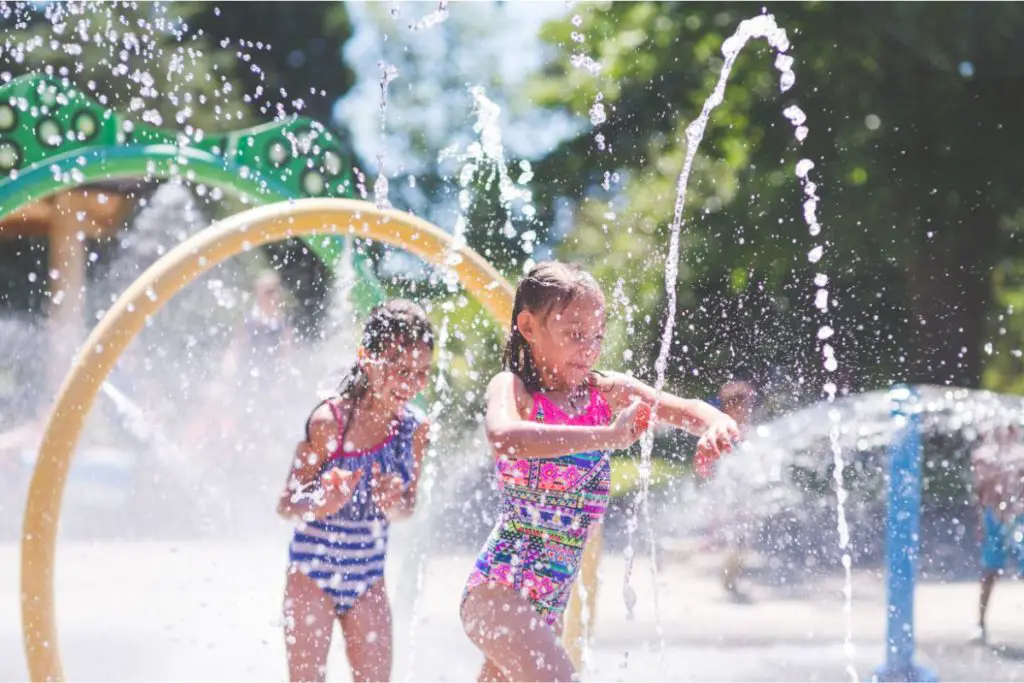 Parents with children will appreciate this water feature. If your children enjoy running through your garden sprinkler, they will love a splash pad in their own backyard. Residential splash pads have the appeal of a water park splash pad, allowing children to enjoy running through the water anytime and in the comfort of their own home.
They are safer than traditional swimming pools, especially for young children since there is no standing water.
Swimming Pool
Nothing says summertime fun like having your own swimming pool. Adding pools or hot tubs into a backyard is perfect for family fun, plus it increases your home's value. You can design underground pools with bubblers and lights. Or you can build an above-ground swimming pool mounted to the deck. Waterfalls, water walls, and water fountains can all seamlessly integrate into the design.
Incorporating Water Features into Your Landscaping Ideas
There are many ways to incorporate water features into your backyard. You can do it on a small scale, as mentioned above, or incorporate it into an overall design. The choice is yours as to whether you want to go small or large scale with your backyard makeover. Moreover, some outdoor spaces will have more room over others. 
Combine Your Outdoor Kitchen with Water Features
Host your next backyard barbecue by incorporating a pool, stream, or pond around your outdoor kitchen. It can be combined with seating areas to create a relaxing space for guests to socialize or to relax in tranquility to enjoy their meal. This can provide a grilling paradise that no one will want to leave!
Water Feature Close to Fire Pit
If you want to stay warm yet enjoy the water, consider incorporating a water feature close by your fire pit. It can be added to a swimming pool or by using a simple water fountain. It will create a nice entertaining spot located in your backyard.
Lined Yard with Small Stream
If you don't have enough room to incorporate a pond or large stream through the yard, create a shallow, controlled stream running along the edge of the backyard. Small waterfalls can be added between various levels as detail. You can also use pebbles and smooth stones for texture.
Modern Day Moats
Creating a backyard stream provides the soothing sounds of rushing water. In addition, it also creates a sense of seclusion and privacy. There is no greater sense of privacy than incorporating your own backyard moat into your landscape design.
To do this, ensure that you use various landscaping details like stepping stones or a bridge to allow people to cross the stream. This will connect the outdoors to your home.
Mix Water Features into Landscaping
Update an existing design by adding a large water feature. This can be done by adding a pool, pond, or fountain into the original landscape design. This will assist you in creating an outdoor space to enjoy for many years.
Add some privacy by incorporating a tall waterfall composed of stacked rocks. You can also convert a challenging backyard terrain into a continual flowing stream to compensate for unevenness.
Where Should They Be Placed?
Prior to making the investment, there are several logistical factors to be considered. You will need to think about your water supply and general maintenance. Before installing anything, consider these factors:
You may not require water supply. Off-the-shelf features can be self-contained. You may just need to top it up occasionally.
If the water feature contains moving water, you will require a supply of electricity to drive the pump unless it is solar-powered.
All water features work in a similar way. A reservoir of water, which houses a pump, moves water up the pipe. Gravity returns it to the reservoir. Whether it is surrounded by granite, sculpture, or stainless steel, the same principle is in operation.
Listen to your water feature. Are you enjoying the sound it makes? This is more important than aesthetics. If it sounds like your bathtub filling it may not be as relaxing as a small trickle of water. You want it to be soothing, not annoying.
Consider how you will clean it. Water will become slimy during winter. You need to be aware of how to drain it, dismantle it, and clean the pump.
Regarding location, think about what lies above the feature. If there is a tree, it will collect a great deal of leaves, requiring additional maintenance.
Water features look best placed with surrounding plants and flowers. Nestle it among foliage no matter how small or large to create a spectacular effect.
Modern features work well in traditional or modern gardens. Older features like millstones, cherubs, and similar facets will look strange in this style of garden.
Consider lighting your water. Some features contain inbuilt lights. If it is in the sightline of your house, it will look good throughout the year.
For children, consider their safety above all. Small kids can easily drown in small amounts of water. In this case, it is advised to incorporate features with no exposed water.
Caring for Water Features
After installation, the next question regarding water features is how to maintain them. There are some important tools, seasonal considerations, and terms that you should be aware of that will help you care for your water features.
Skimmers
Skimmers are used to sweep water surfaces to keep them free from floating debris.
Debris Basket – This is your first line of defense inside a skimmer. It collects seeds, twigs, leaves, and other debris that enters the water. By taking a few minutes on alternate weeks to empty the basket, you can keep your water features looking pristine. The basket should not be too full as it can reduce water flow.
Filter Mat – Filter mats are your second defense. It is located below the debris basket and handles any garbage that goes beyond the basket. This mat will not need as much maintenance since the basket removes most debris. The mats last for two years, so even if they look old, they will work fine. Replace old mats if they fall apart or tear.
Pump – Sometimes you may see a water reduction in your waterfall. It may be an indication that the filter screen on the bottom of the pump needs cleaning. Doing this should take about five minutes to complete. All you need to do is unplug and remove the pump from the skimmer. Physically remove debris at the bottom of the pump.
Water Levels
Water features will experience water loss and evaporation over time. The amount of loss depends on the amount of water splashing outside the pond, the waterfall height, stream length, sunlight, and outdoor temperature. If the temperature is hot, most will require added water to counteract the evaporation.
Water levels can be monitored with the opening of a skimmer mouth as your reference. Ideal water levels are ¾" below the top of the skimmer mouth. It can be checked every time the debris net is emptied. Add water when necessary.
Check for Leaks
If you begin to need to add water more often than usual or you hear hissing noises from the water fill valve running constantly, there may be a leak. This usually is found on perimeters of streams and waterfalls. Leaks are due to the settling of the ground causing water to trickle over liner edges. The good news is they are easily fixable.
Plants growing in the filter may be the reason for the sound. It may seem like you have a leak, but you don't. Plant growth displaces water, causing the flow to go over the back of the filter. If this happens, remove enough of the plants to lower water levels.
Examine the perimeter of the waterfall, pond, or stream for wet areas. It will serve as an indicator that water is going over the liner.
Ensure slow-moving sections haven't become plugged with plants, debris, or leaves. It will cause a backup of water and spill over the liner's edge.
Once the leak is located, pack soil under the liner to raise the edge above the water level. Hide the exposed parts of the liner by replacing the gravel and adding some mulch. 
Seasonal Care
During the fall and winter months, clean the leaves that fall from surrounding trees. You may have to clean the debris net daily to compensate for the influx. If too many organic materials are left in the pond, the water may appear brown. If this occurs, remove excess material and place activated carbon to clear up the water.
If temperatures drop below freezing, prepare the area for winter by deciding to shut down the pond or keep it running. To shut it down, unplug the pump and remove it from the water. Pumps need to be placed in a frost-free area and submerged in a bucket of water to prevent the seals from drying.
If your location experiences extreme cold, add a floating de-icer. When controlled by a thermostat, the unit will run when water temperature is below or at the freezing point. It will heat the water to above that temperature, then shut off.
Waterfalls can be kept running but ensure ice dams don't form. It will cause water to run out of the basin. Water loss will still need to be replaced, allowing the pump to properly function.
In the springtime, the crud that settles to the bottom of a pond will be dark in color. You will need to do a complete clean out of the area. The best time to do this is during early spring before water temperature in the pond is over 55°F.
To clean any water feature, drain the water into your surrounding landscape. Use a garden hose to rinse gravel and rocks. Begin at the top and work to the bottom. Occasionally turn your clean-out pump on to remove dirty water. Discontinue intermittent pumping when the water going down to the bottom is clear.
Then you can remove the pump and fill your water feature.
Maintaining a water feature is simple and doesn't require excessive amounts of time. By just doing a bit of maintenance, your outdoor area will provide the sound, setting, and beauty continually promoting peace to the surrounding atmosphere.
Final Thoughts
This is our complete guide to water features in your backyard, ranging from location, features, and maintenance. All these factors need to be considered when planning to install your outdoor wall features. The benefit is that you can enjoy the tranquility for many years to come.