Outdoor kitchens combine stylish design and functionality and act as a warm place for people to gather over food. The heart of the home is always around any eating area, and outdoor kitchens are no exception! Whether you want to create an outdoor kitchen or update your existing outdoor kitchen equipment, we have a few tips for you to consider.
Barbecue grills are the standard when cooking outdoors, yet many other appliances permit you to experiment with additional ingredients and teach you new cooking techniques. They enhance your overall experience when cooking outdoors and add to the flavorful aroma wafting through the air welcoming guests to the backyard.
What Appliances Should I Consider for my Outdoor Kitchen?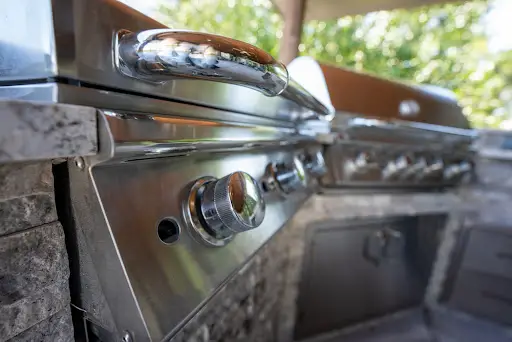 The best appliances provide a superior outdoor cooking experience. The correct accessories and design can turn your outdoor kitchen into a culinary sanctuary. Your choice of appliances is important as you want quality items. But equally important is how each appliance is organized. This will allow you to be more efficient and organized in your outdoor kitchen.
Beverage Center
It is only natural for family or friends to wander to the backyard when the aroma of food tantalizes their taste buds, and it is also not unusual for adults to step outside to unwind. An outdoor drink center comes in handy as it allows you to stock up on all your beverage essentials and have them on hand whenever you need them.
Whether it is having a beer with friends as you grill steaks and talk about last night's game or sipping a glass of wine by the fireplace, beverage centers are a handy essential to have. They eliminate the constant need to return to the indoor kitchen and allow you to relax outdoors.
This outdoor beverage center has a commercial glass door with a stainless-steel interior for added durability. The glass door lets you quickly see whether you need to restock the fridge or see what is inside briefly. The door is reversible, and the LED lighting offers an attractive display of your beverages.
Pros:
Weatherproof
Three chrome shelves accompanied by cantilevered clips
Security lock and open door alarm
Cons:
Warming Drawer
A warming drawer can quickly become a necessity in any backyard. Keeping items cool isn't always as big a challenge as keeping them warm. While barbecuing, you may discover that you need to serve multiple items for your meal. You don't want anything to cool down and lose flavor, and who wants to go inside and reheat it using the microwave?
Built-in warming drawers come in handy in this scenario. They let you keep cooked foods warm while the rest of the meal is cooking, maintaining foods at a safe temperature without overcooking your food or drying it out.
Sometimes they are included with a traditional household range but are equally practical in an outdoor kitchen. They add a stylish touch that simplifies cooking and hosting duties.
This warming drawer won't overcook your food and it keeps food warm. Using 16-gauge 304 stainless steel, this warming drawer will withstand weather changes and is extra durable. Users can manage their storage conditions using the moisture vents and the temperature control knob.
It comes with five stainless steel buffet pans with lids that are removable when you need them. They are all different sizes, meaning you'll always have the perfect size to contain each of your dishes.
Pros:
Durable and withstands changing weather
Comes with trays and lids
Can adjust temperature
Cons:
Could be bigger to support large gatherings
Pizza Oven
Every once in a while, you get that craving for oven-baked pizza. There is nothing like pulling that gooey, stringy, melted cheese off the slice as you eat it or that smoky pizza smell wafting through the air.
Why go out when you can create that perfect customized artisan pizza in the comfort of your own backyard? Pizza ovens can be built into an outdoor kitchen or a simple tabletop model. They have a small footprint and make excellent pizzas. They are additionally great for making cookies, bread, and some entrees.
The Roccbox Gozney portable outdoor pizza oven is one of the most sought-after pizza ovens on the market. It is a portable oven that uses a stone to cook pizza on. By allowing you to reach higher temperatures (932° F), this pizza oven perfectly combines a thin base with a puffed crust in about one minute.
Pros:
Gas and wood-fueled. This pizza oven comes with a gas burner, but you can purchase a detachable wood burner separately.
Outer silicone skin and the insulated body make this oven very safe by reducing the chance of burns prevalent with ovens with a metal body.
Highly acclaimed by The Times, GQ, Forbes. Serious Eats rated it the number one outdoor stand-alone pizza oven.
Cons:
Steeper learning curve when cooking
Smaller size
ROCCBOX Gozney Portable Outdoor Pizza Oven - Includes Professional Grade Pizza Peel, Built-In Thermometer and Safe Touch Silicone Jacket - Propane Gas Fired, With Rolling Wood Flame - Grey
A PREMIUM, PORTABLE FIRE AND STONE PIZZA OVEN - reaching high temperatures of over 932ºF to give you the ideal balance of thin base and perfectly puffed up, charred artisan crust - in just 60 seconds. Comes with 5 year extended warranty when registered after purchase.
READY TO GO - with inbuilt thermometer, retractable legs and detachable dual-fuel burners Roccbox is easy to transport and set up- just click the switch and start cooking! Includes professional grade pizza peel worth $85.
GAS OR WOOD FUELLED* - Offering the convenience of gas and tradition of wood fire, Gozney Roccbox comes complete with a gas burner as standard, and the option to buy a detachable wood burner as an additional accessory.
SAFE TOUCH - body insulation and the outer silicone skin make Roccbox the family friendly option, reducing the danger of skin burns that is a feature of metal bodied ovens.
RATED NO. 1 OUTDOOR STAND-ALONE PIZZA OVEN by Serious Eats - highly regarded by Forbes, GQ and The Times.
Smoker
Foodies or those who appreciate smoked meats will love this appliance! They can be either built into a countertop with grilling capabilities or can be standalone. Built-in models will allow you to have more working space to prepare meals. However, standalone models will fit easily in the backyard and let you wheel them in different locations to create space.
As for smokers, experts suggest either a wood pellet outdoor grill or buying a smoker if you want to do some slow cooking.
This 30" corded electric smoker has a digital panel that controls cook time and cooking temperature with the on/off switch. The max temperature setting is 275°F. It can hold two turkeys, four racks of ribs, four pork butts, and six chickens.
Pros:
Wood chips are loaded on the side, allowing users to add more without opening the door
Thermostat temperature allows for consistent, even smoking of your meats
Insulated body effectively retains heat
Cons:
Common for the temperature to decrease by 20° when adding chips, but it quickly rises again
Temperature control isn't the best
Masterbuilt MB20071117 Digital Electric Smoker, 30", Black
Digital panel controls on/off, cooking temperature and time
Electric Smoker dimensions – 20.47" W x 19.88" L x 33.26" H | Max temperature setting – 275ᵒ F | Inside capacity – 2 Turkeys, 4 Pork Butts, 4 Racks of Ribs, 6 Chickens
Patented side wood chip loading system allows you to add wood chips without opening door
Thermostat-temperature control for even, consistent smoking
Fully-insulated body retains heat
This 36" propane smoker is fueled by liquefied petroleum gas. It has a spacious 5.45 sq. foot interior for ample room to smoke meats and vegetables. It comes equipped with four removable stainless steel shelves and is dishwasher safe.
Pros:
Built-in thermometer to accurately monitor temperature
Adjustable gas supply allows users to control heat
Twist lock door which seals tightly
Trays are porcelain enameled and hold wood and water for easy clean-up
Includes a 40" propane hose with a regulator
Cons:
Small water reservoir
Finicky temperature control
Sale
Cuisinart COS-244 Vertical Propane Smoker with Temperature & Smoke Control, Four Removable Shelves, 36", Black
5. 45 SQUARE FEET OF INTERIOR: The spacious 5. 45 square foot interior means there is plenty of room to smoke a variety of meats along with several trays of vegetables. The vertical footprint makes it a perfect size for patios and barbecue kitchens.
Product Dimensions: 19.3" L x 18.1" W x 38.6" H | Weight: 69.5 lb
FOUR 14 X 14-INCH REMOVABLE STAINLESS STEEL SHELVES: Four stainless steel racks can be easily removed for smoking whole birds or large cuts of meat. Racks are dishwasher safe, making cleanup easy.
BUILT-IN THERMOMETER: Features easy-to-read thermometer on the front door for accessible monitoring of the internal temperature.
TOTAL TEMPERATURE AND SMOKE CONTROL: An adjustable gas supply gives control over the amount of heat. Optimal smoker access through two doors and a rear vent can be opened or closed to control the amount of heat and smoke exiting the oven.
Barbecue Grill
The grill is essential to any backyard kitchen. A barbecue grill will vary in its fuel types. Each of these fuel types comes with pros and cons with different skill levels to obtain that perfect grill each time. They also come with different accessories and installation configurations.
If you are experienced with grilling, you may appreciate a grill with digital temperature control, temperature probes, and side burners. While they aren't necessary, they make cooking more convenient and enjoyable and are great for beginners.
The main thing to consider with a grill is the installation and size. If you frequently host large gatherings, you may want a 48" grill so that you can quickly and easily serve your guests their food.
Also, reflect on what grill will compliment your current décor and layout. Built-in grills are installed using outdoor cabinetry. Freestanding grills are wheel-mounted, allowing for mobility.
This outdoor grill operates on a standard 20 lb tank of propane gas. The grates are cast-iron and porcelain-enameled to provide exceptional durability and an even cook. The two-burner grill fits small spaces easier and has a powerful grilling system.
Pros:
Built-in thermometer in the lid
Left side table folds down
Fuel gauge
Stainless steel deflects heat
Open cart design
Cons:
Difficult to assemble
May rust
Sale
Weber Spirit II E-210 2-Burner Liquid Propane Grill, Black
Your purchase includes One Weber Spirit II E-210 2-Burner Liquid Propane Grill in Black color
Grill dimensions: Lid Open - 57"H x 48"W x 26"D. Lid Closed - 44.5"H x 48"W x 27"D. Each cooking grate is 10.16" x 17.5", for a combined measurement of approximately 20.32" x 17.5"
Propane gas grill works with Standard 20 lb LP tank.
Features: Porcelain-enameled, cast-iron cooking grates, porcelain-enameled lid, iGrill 3 compatible (accessory sold separately), Built-in lid thermometer, Fold-down left side table, Open cart design, Fuel gauge, Stainless steel heat deflector, Panel frame
Two burner grill is built to fit small spaces, and packed with features such as the powerful GS4 grilling system
This premium charcoal grill is the perfect complement to your outdoor kitchen. It is a two-in-one product, allowing you to grill and smoke your meats. This grill has a durable steel construction with a powder-coated finish, allowing for grilling using high heat and slow, low smoking.
Pros:
Extra-large cooking area (950 square inches)
Cast iron grates
Warming rack
Side and front shelving
Easy to clean
Cons:
Difficult to navigate when moving
Rusts over time
Char-Griller 2137 Outlaw Charcoal Grill, 950 Square Inch, Black
PREMIUM CHARCOAL GRILL - Barrel style Charcoal BBQ Grill & Smoker with heavy-duty steel construction and powder coating finish, perfect for high heat grilling and low and slow smoking
XXL COOKING AREA - Massive 950 square inch total cooking area fits 38 burgers: 725 square inch primary cooking area with a 225 square inch warming rack
BARBECUE GRILL FEATURES - Cast Iron Cooking Grates, Adjustable Fire Grate, Bottom Storage Shelf, Warming Rack, Stay Cool Wooden Handle, Wheels, and Front & Side Shelves with Barbecue Grill Tool Storage Hooks
EASY TO USE & CLEAN - Control the heat levels with ease using the dual dampers and Thermometer, and quickly clean up using the Easy Dump Ash Pan
DIMENSIONS - 29"L x 49"W x 50"H, 114 lbs (pairs with the Char-Griller 3737 Charcoal Grill Cover and Char-Griller E82424 Smoker Side Fire Box, both sold separately)
Outdoor Ice Makers
Refrigerator drawers are excellent for keeping items cool until you are ready for them. However, wouldn't it be nice if you could make your own ice instead of lugging heavy bags from the store?
Ice makers are essential for an outdoor kitchen because, of course, you will probably be doing a lot of entertaining in your backyard. Whether your guests are in the mood for signature cocktails or a simple soft drink, you will always have great-tasting ice close by.
This outdoor ice maker generates 50 lbs of ice (cubed) each day and stores 25 lbs. Clean ice production is ensured with its percolating cold plate and in-line water filter.
Pros:
Built-in LED light
Durable stainless steel construction
Front vent design
Cons:
Pump not included to drain water
Blaze 50 Lb. 15-Inch Outdoor Rated Ice Maker with Gravity Drain - BLZ-ICEMKR-50GR
Produces up to 50 pounds of cube shaped ice per day with a 25 pound storage capacity
Energy Star rating ensures operating efficiency
In-line water filter & percolating cold plate ensure clean ice production
Digital temperature control concealed behind door for additional protection
Reversible door hinge to suit specific installation needs
Outdoor Refrigerator
An outdoor refrigerator completes the backyard. Some homeowners elect to have a fridge since it can keep things cool. However, sometimes guests may want some ice in their drink on a hot summer day, which is where the ice maker comes in handy.
Aside from drinks, outdoor fridges are handy when you want to store meat or condiments, chill dishes, store leftovers, and keep items at their proper temperature before cooking.
Outdoor refrigerators prevent you from having to go back and forth to the kitchen for supplies. It simply makes the outdoor experience seamless and efficient.
This refrigerator has a small footprint with a 5.3 cubic feet capacity. Temperature can be adjusted with the control panel and comes with a freezer drawer allowing users to separate foods.
Pros:
Double door, slide-out design
Easy to clean and frost-free
Fingerprint resistant
Cons:
Thor Kitchen 24" Built-in Compact Refrigerator Indoor/Outdoor Undercounter Refrigerator Drawer 5.3cu.Refrigerator Ventilated Cooling Under Counter Mini Fridge Stainless Steel Freezer
【Note】-This item was shipped from United States. It is usually take 2-7days to deliver. Products served in California require an additional 9% tax. It has 2 years warranty.
【Space Saving Compact Refrigerator】- This electric mini fridge with 23.5"Wx23.4"Dx34.2"H(excl handle) measurement and 5.3 cubic feet (152L) capacity is perfectly sized to keep your favorite fruit, vegetable or beverage cool while taking up minimal space in your college dorm, RV, apartment, garage or office.
【°C /°F Switchable】- The temperature of our refrigerator can be adjusted when you touch the control panel on the refrigerator. The temperature range is 0℃-7℃/34℉-46℉, which can insure temperature uniformity, energy saving and fresh keeping. It is best to use it in the house or take it to travel.
【Slide-out Double Drawer Design】- The freezer drawer equipped with Double Drawer and fits more than the traditional side by side refrigerator. It has a divider in the main freezer section and also has a sliding freezer drawer to separate foods. Weather-proof design makes this fridge suitable for outdoor using.
【Frost Free & Easy to Clean】- This Refrigerator use the Ventilated Cooling system, which can keep your food items efficiently chilled at the exact temperature you need at all times. This refrigerator is in the stainless steel and is fingerprint resistant. If there are any smears, fingerprints, or water marks near the ice maker, you just need to wipe clean with a damp microfiber cloth and it doesn't ever need to be polished.
You can use this as either a fridge or a beverage container. It holds up to 160 cans and will remain cold no matter how hot it is outside. It withstands heavy rain and intense heat. Composed of 304-grade stainless steel, it resists corrosion and rust common with outdoor appliances.
Pros:
Door auto closes and has a lock
Shelves adjust
Easy to move
Cons:
May easily scratch in places
NewAir 24" Outdoor Beverage Refrigerator With Weatherproof Stainless Steel and Auto-Closing Fridge Door | 90 Can Capacity | Built-In or Freestanding Outdoor Fridge
[GETS COLD AND STAYS COLD OUTDOORS] - Chill up to 160 cans as low as 32° Fahrenheit. Unlike other outdoor fridges on the market, your food and beverages will stay cold in even in some of the hottest climates.
[BUILT FOR THE BACKYARD] - Built with a durable design to withstand intense heat or heavy rain. It's 304 grade stainless-steel finish adds a layer of protection to resist rust and corrosion. Build it into to any standard 24" counter in your outdoor bar or use it as a freestanding unit, the choice is yours.
[AUTO-CLOSING DOOR W/ LOCK] - Prevent guests from accidentally leaving your fridge open and easily grab fridge contents thanks to the internal LED light, which automatically turns on when the fridge is opened. Includes a security lock to prevent theft and keep your contents safe.
[ADJUSTABLE SHELVES] - Whether you want to store beer, soda or grill items, this outdoor fridge is spacious enough to hold all your favorites in one place. Adjustable shelves let you accommodate any sized bottle or can for a fully versatile fridge that matches your lifestyle.
[ATTACHABLE EASY GLIDE CASTERS] - This fridge has adjustable feet and attachable easy-glide castors so you can effortlessly roll the unit to your deck or patio area.
Honorable Outdoor Mentions
The Blaze 30" Beverage Center comes with an ice bin cooler and sink. Made of stainless steel, it offers front bottle storage accompanied by drainage holes. This allows you to quickly access your beverages and permits a quick clean-up.
The ice bin is completely insulated and has a stainless steel cover.
Pros:
Comes with a removable cutting board, soap dispenser, bottle opener, towel rack, and removable three-part tray for condiments
Durable and weather-resistant
Cons:
Requires a 10mm length shank male connector supply line with a hot/cold pair upon installation (not included)
Some issues with drain screws not going in all the way
These are just some appliances that you can use to enhance your dream outdoor kitchen. Of course, the appliances you choose will depend on the amount of outdoor space you have. There are outdoor kitchens with smokers, wood-fired pizza ovens, and built-in grills. These kitchens tend to be more elaborate, and some are even custom-made.
Our recommendations are more for those with average backyards who wish to create a nice area for cooking, smoking meat, and storing food. It makes everything very convenient and has a smaller footprint. This outdoor kitchen equipment will make grilling much easier.