Outdoor kitchens combine stylish design and functionality and act as a warm place for people to gather over food. The heart of the home is always around any eating area, and outdoor kitchens are no exception! Whether you want to create an outdoor kitchen or update your existing outdoor kitchen equipment, we have a few tips for you to consider.
Barbecue grills are the standard when cooking outdoors, yet many other appliances permit you to experiment with additional ingredients and teach you new cooking techniques. They enhance your overall experience when cooking outdoors and add to the flavorful aroma wafting through the air welcoming guests to the backyard. 
What Appliances Should I Consider for my Outdoor Kitchen?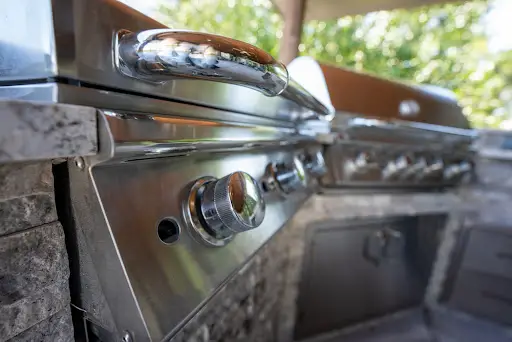 The best appliances provide a superior outdoor cooking experience. The correct accessories and design can turn your outdoor kitchen into a culinary sanctuary. Your choice of appliances is important as you want quality items. But equally important is how each appliance is organized. This will allow you to be more efficient and organized in your outdoor kitchen.
Beverage Center
It is only natural for family or friends to wander to the backyard when the aroma of food tantalizes their taste buds, and it is also not unusual for adults to step outside to unwind. An outdoor drink center comes in handy as it allows you to stock up on all your beverage essentials and have them on hand whenever you need them.
Whether it is having a beer with friends as you grill steaks and talk about last night's game or sipping a glass of wine by the fireplace, beverage centers are a handy essential to have. They eliminate the constant need to return to the indoor kitchen and allow you to relax outdoors.
This outdoor beverage center has a commercial glass door with a stainless-steel interior for added durability. The glass door lets you quickly see whether you need to restock the fridge or see what is inside briefly. The door is reversible, and the LED lighting offers an attractive display of your beverages.
Pros:
Weatherproof
Three chrome shelves accompanied by cantilevered clips
Security lock and open door alarm
Cons:
Warming Drawer
A warming drawer can quickly become a necessity in any backyard. Keeping items cool isn't always as big a challenge as keeping them warm. While barbecuing, you may discover that you need to serve multiple items for your meal. You don't want anything to cool down and lose flavor, and who wants to go inside and reheat it using the microwave?
Built-in warming drawers come in handy in this scenario. They let you keep cooked foods warm while the rest of the meal is cooking, maintaining foods at a safe temperature without overcooking your food or drying it out. 
Sometimes they are included with a traditional household range but are equally practical in an outdoor kitchen. They add a stylish touch that simplifies cooking and hosting duties. 
This warming drawer won't overcook your food and it keeps food warm. Using 16-gauge 304 stainless steel, this warming drawer will withstand weather changes and is extra durable. Users can manage their storage conditions using the moisture vents and the temperature control knob. 
It comes with five stainless steel buffet pans with lids that are removable when you need them. They are all different sizes, meaning you'll always have the perfect size to contain each of your dishes. 
Pros:
Durable and withstands changing weather
Comes with trays and lids
Can adjust temperature
Cons:
Could be bigger to support large gatherings
Pizza Oven
Every once in a while, you get that craving for oven-baked pizza. There is nothing like pulling that gooey, stringy, melted cheese off the slice as you eat it or that smoky pizza smell wafting through the air. 
Why go out when you can create that perfect customized artisan pizza in the comfort of your own backyard? Pizza ovens can be built into an outdoor kitchen or a simple tabletop model. They have a small footprint and make excellent pizzas. They are additionally great for making cookies, bread, and some entrees.
The Roccbox Gozney portable outdoor pizza oven is one of the most sought-after pizza ovens on the market. It is a portable oven that uses a stone to cook pizza on. By allowing you to reach higher temperatures (932° F), this pizza oven perfectly combines a thin base with a puffed crust in about one minute.
Pros:
Gas and wood-fueled. This pizza oven comes with a gas burner, but you can purchase a detachable wood burner separately.
Outer silicone skin and the insulated body make this oven very safe by reducing the chance of burns prevalent with ovens with a metal body.
Highly acclaimed by The Times, GQ, Forbes. Serious Eats rated it the number one outdoor stand-alone pizza oven.
Cons:
Steeper learning curve when cooking
Smaller size
Smoker
Foodies or those who appreciate smoked meats will love this appliance! They can be either built into a countertop with grilling capabilities or can be standalone. Built-in models will allow you to have more working space to prepare meals. However, standalone models will fit easily in the backyard and let you wheel them in different locations to create space.
As for smokers, experts suggest either a wood pellet outdoor grill or buying a smoker if you want to do some slow cooking. 
This 30" corded electric smoker has a digital panel that controls cook time and cooking temperature with the on/off switch. The max temperature setting is 275°F. It can hold two turkeys, four racks of ribs, four pork butts, and six chickens.
Pros:
Wood chips are loaded on the side, allowing users to add more without opening the door
Thermostat temperature allows for consistent, even smoking of your meats
Insulated body effectively retains heat
Cons:
Common for the temperature to decrease by 20° when adding chips, but it quickly rises again
Temperature control isn't the best
This 36" propane smoker is fueled by liquefied petroleum gas. It has a spacious 5.45 sq. foot interior for ample room to smoke meats and vegetables. It comes equipped with four removable stainless steel shelves and is dishwasher safe.
Pros:
Built-in thermometer to accurately monitor temperature
Adjustable gas supply allows users to control heat
Twist lock door which seals tightly
Trays are porcelain enameled and hold wood and water for easy clean-up
Includes a 40" propane hose with a regulator
Cons:
Small water reservoir
Finicky temperature control
Barbecue Grill
The grill is essential to any backyard kitchen. A barbecue grill will vary in its fuel types. Each of these fuel types comes with pros and cons with different skill levels to obtain that perfect grill each time. They also come with different accessories and installation configurations.
If you are experienced with grilling, you may appreciate a grill with digital temperature control, temperature probes, and side burners. While they aren't necessary, they make cooking more convenient and enjoyable and are great for beginners. 
The main thing to consider with a grill is the installation and size. If you frequently host large gatherings, you may want a 48" grill so that you can quickly and easily serve your guests their food. 
Also, reflect on what grill will compliment your current décor and layout. Built-in grills are installed using outdoor cabinetry. Freestanding grills are wheel-mounted, allowing for mobility.
This outdoor grill operates on a standard 20 lb tank of propane gas. The grates are cast-iron and porcelain-enameled to provide exceptional durability and an even cook. The two-burner grill fits small spaces easier and has a powerful grilling system.
Pros:
Built-in thermometer in the lid
Left side table folds down
Fuel gauge
Stainless steel deflects heat
Open cart design
Cons:
Difficult to assemble
May rust
This premium charcoal grill is the perfect complement to your outdoor kitchen. It is a two-in-one product, allowing you to grill and smoke your meats. This grill has a durable steel construction with a powder-coated finish, allowing for grilling using high heat and slow, low smoking.
Pros:
Extra-large cooking area (950 square inches)
Cast iron grates
Warming rack
Side and front shelving
Easy to clean
Cons:
Difficult to navigate when moving
Rusts over time
Outdoor Ice Makers
Refrigerator drawers are excellent for keeping items cool until you are ready for them. However, wouldn't it be nice if you could make your own ice instead of lugging heavy bags from the store?
Ice makers are essential for an outdoor kitchen because, of course, you will probably be doing a lot of entertaining in your backyard. Whether your guests are in the mood for signature cocktails or a simple soft drink, you will always have great-tasting ice close by. 
This outdoor ice maker generates 50 lbs of ice (cubed) each day and stores 25 lbs. Clean ice production is ensured with its percolating cold plate and in-line water filter.
Pros:
Built-in LED light
Durable stainless steel construction
Front vent design
Cons:
Pump not included to drain water
Outdoor Refrigerator
An outdoor refrigerator completes the backyard. Some homeowners elect to have a fridge since it can keep things cool. However, sometimes guests may want some ice in their drink on a hot summer day, which is where the ice maker comes in handy. 
Aside from drinks, outdoor fridges are handy when you want to store meat or condiments, chill dishes, store leftovers, and keep items at their proper temperature before cooking. 
Outdoor refrigerators prevent you from having to go back and forth to the kitchen for supplies. It simply makes the outdoor experience seamless and efficient. 
This refrigerator has a small footprint with a 5.3 cubic feet capacity. Temperature can be adjusted with the control panel and comes with a freezer drawer allowing users to separate foods. 
Pros:
Double door, slide-out design
Easy to clean and frost-free
Fingerprint resistant
Cons:
You can use this as either a fridge or a beverage container. It holds up to 160 cans and will remain cold no matter how hot it is outside. It withstands heavy rain and intense heat. Composed of 304-grade stainless steel, it resists corrosion and rust common with outdoor appliances. 
Pros:
Door auto closes and has a lock
Shelves adjust
Easy to move
Cons:
May easily scratch in places
Honorable Outdoor Mentions
The Blaze 30" Beverage Center comes with an ice bin cooler and sink. Made of stainless steel, it offers front bottle storage accompanied by drainage holes. This allows you to quickly access your beverages and permits a quick clean-up.
The ice bin is completely insulated and has a stainless steel cover.
Pros:
Comes with a removable cutting board, soap dispenser, bottle opener, towel rack, and removable three-part tray for condiments
Durable and weather-resistant
Cons:
Requires a 10mm length shank male connector supply line with a hot/cold pair upon installation (not included)
Some issues with drain screws not going in all the way
These are just some appliances that you can use to enhance your dream outdoor kitchen. Of course, the appliances you choose will depend on the amount of outdoor space you have. There are outdoor kitchens with smokers, wood-fired pizza ovens, and built-in grills. These kitchens tend to be more elaborate, and some are even custom-made. 
Our recommendations are more for those with average backyards who wish to create a nice area for cooking, smoking meat, and storing food. It makes everything very convenient and has a smaller footprint. This outdoor kitchen equipment will make grilling much easier.