There's been some on-going debate on whether or not propane grills can be considered authentic grills. These rumblings are brought about by the fact that propane grills don't often offer that iconic "smokey BBQ flavor" that a charcoal grill, or wood pellet grill can provide. While this argument is valid to an extent, is it enough for grilling purists to write off the gas grill?
Premium brands such as Weber have come up with a workaround where they provide their customers with flavorizer bars that fit over the gas jets in their propane grills. These flavorizer bars produce a bit of smoke when hit by the fat dripping off whatever you're grilling.
Other than this genuine concern, propane grills have so much to offer BBQ enthusiasts. Here are just a few of the wonderful advantages that come with using a propane grill:
They are much cleaner and more environmentally friendly
They reach their cooking temperature at a much faster rate
Temperatures are much easier to control
Propane grills are more convenient to use. If you run out of fuel, as it often happens when grilling, you don't have to wait 15 minutes for the wood to catch fire and the grill return to the appropriate temperature. You only need to switch out the fuel canister, which takes only a couple of minutes at the most.
With all this in mind, you can clearly see that buying the best gas grill is a great idea especially if you are a BBQ enthusiast who likes to grill often. Here are a few excellent propane gas grill options that won't cost you more than $500: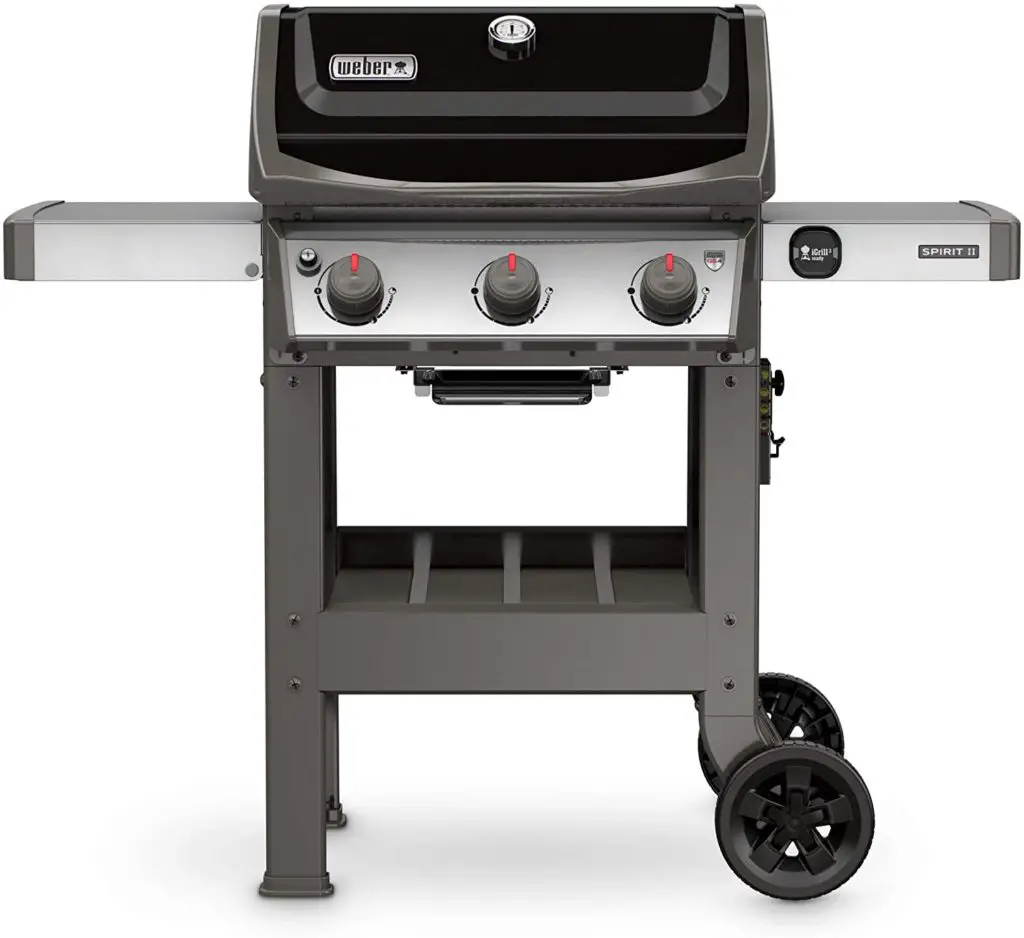 Main Burners: 3
BTUs: 30,000
Grill Space: 424 Square inches
Of course, we were going to start with a Weber grill. Not only is this a renowned manufacturer in the industry but they are the brand that offers flavorizer bars so your propane gas grill can give you that "smokey BBQ flavor" that we all love so much. The Weber Spirit II E-310 3-Burner Liquid Propane Grill is as attractive as it is durable. Equipped with a grilling area of 424 square inches, this grill is ideal for family functions or whenever you need to BBQ for a large group. To put that size into context, you can grill up to 20 burgers on it at the same time.
Designed with Weber's proprietary GS4 grilling system, this grill is full of highly useful features, including infinity ignition, a grease management system, strong burners, and flavorizer bars. You also get two side tables that offer you ample working space, as well as six tool hooks for all your grilling paraphernalia.
The strong burners allow for precision temperature control, which makes it easy for you to cook the perfect BBQ feast. It also has cooking grates that are made out of porcelain-enameled cast iron. These are designed to present the perfect sear marks on whatever you are grilling for optimum char broil performance. They are also easy to clean.
Pros:
It features Weber's proprietary GS4 grilling system that has lots of wonderful features
It has a large primary cooking area
It offers extra hooks for your grilling tools
It's easy to clean
It has powerful burners
It comes with flavorizer bars
Cons:
It doesn't have a side burner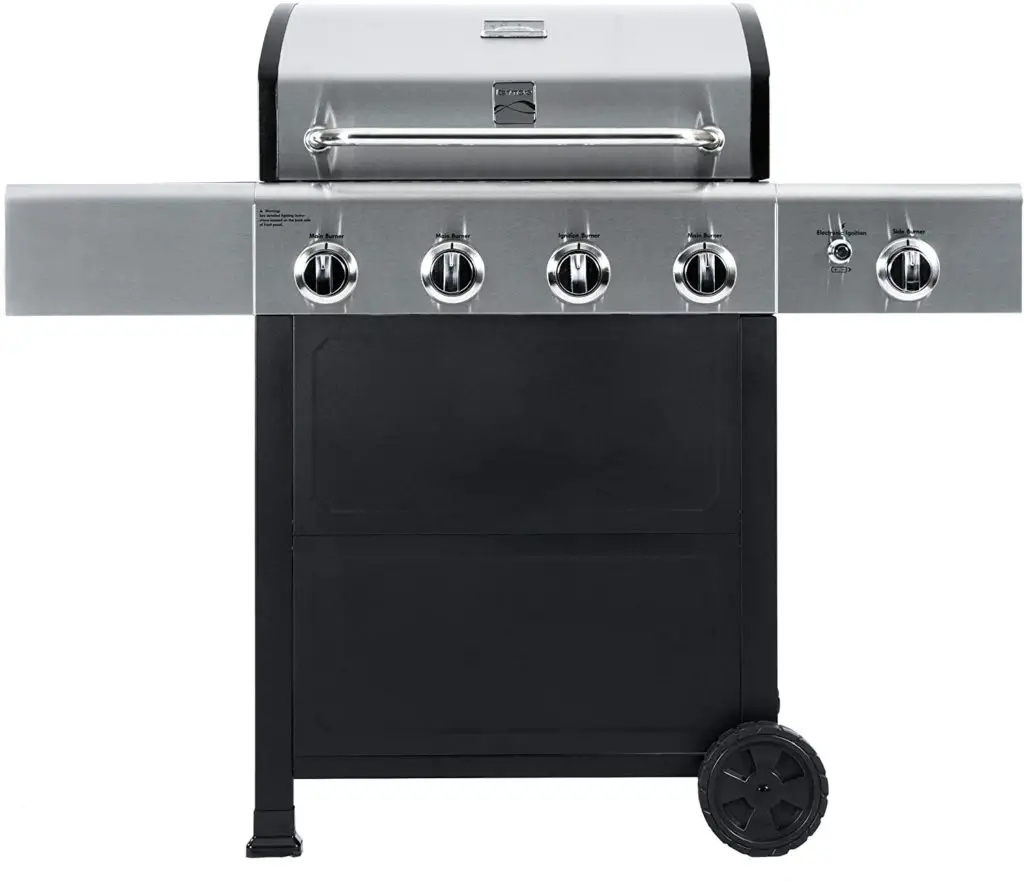 Main Burners: 4
BTUs: 53,000
Grill Space: 622 Square inches
This Kenmore 4 Outdoor Patio Gas BBQ Grill with Side Burner is absolutely massive. With an astonishing 622 square inch cooking surface, you can grill up to 41 burgers in one go on this beast. It's not all about the cooking surface with this grill. There are other features that make it a formidable contender for best propane BBQ grill.
For one thing, it has 4 gas burners, each giving you 10,000 BTUs of heat and an extra side burner offering an additional 13,000 BTUs making that an impressive total of 53,000 BTUs of output. Made out of stainless steel, it's as durable as it is attractive. It's easy enough to start thanks to the electronic ignition system that allows you to simply push a button. Finally, it's propane tank is located in a convenient space at its back which makes exchanging exhausted tanks a breeze.
Pros:
It offers 53,000 BTUs
It has a massive cooking surface of 622 square inches
It's made out of stainless steel
It's very easy to start
It comes with an extra stainless steel burner
Cons:
The stainless steel finish isn't as good as some competitors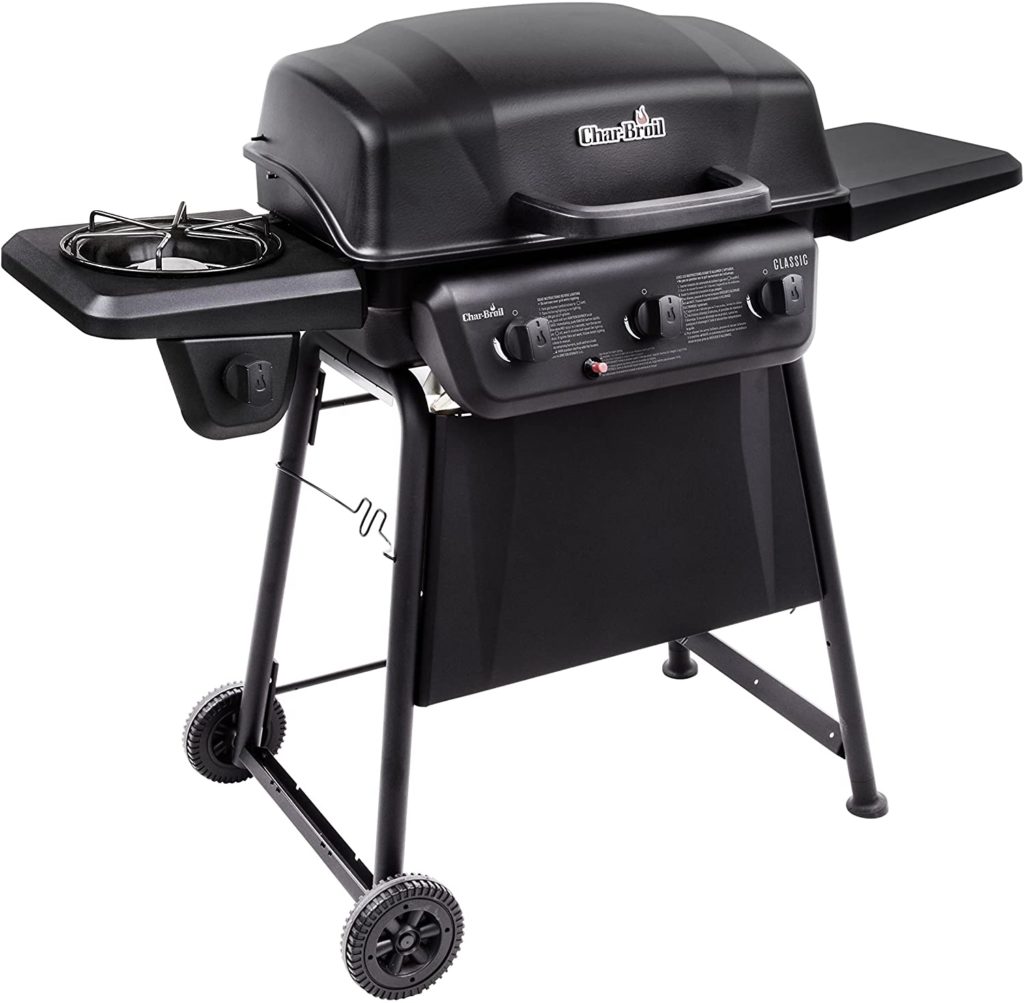 Main Burners: 3
BTUs: 38,000
Grill Space: 360 Square inches
This Char-Broil Classic 360 3-Burner Gas Grill with Side Burner is an impressive BBQ grill for its size and price. For starters, it has 3 burners that give off 30,000 BTUs of heat. It also has a side burner giving off an additional 8,000 BTUs of heat. This side burner is ideal for cooking side dishes or warming up your sauces as you grill away. Even though it's not the biggest burner on this list, it still offers an impressive 360 square inches of cooking space which is perfect for when your family or a few friends need you to grill up some burgers or steaks.
It features excellent workmanship and is made out of stainless steel, which makes it quite sturdy and durable. Thanks to its Piezo ignition system, you can always rely on this gas burner to turn on whenever you need it to do so with just the push of a button. It's easy to clean and even easier to operate.
Pros:
It has an adequate cooking surface
The 3 burners and single side burners offer you ample cooking options
Gives off 38,000 BTUs
It's easy to move around
Compact
Cons:
It doesn't come with a drip pan on the right side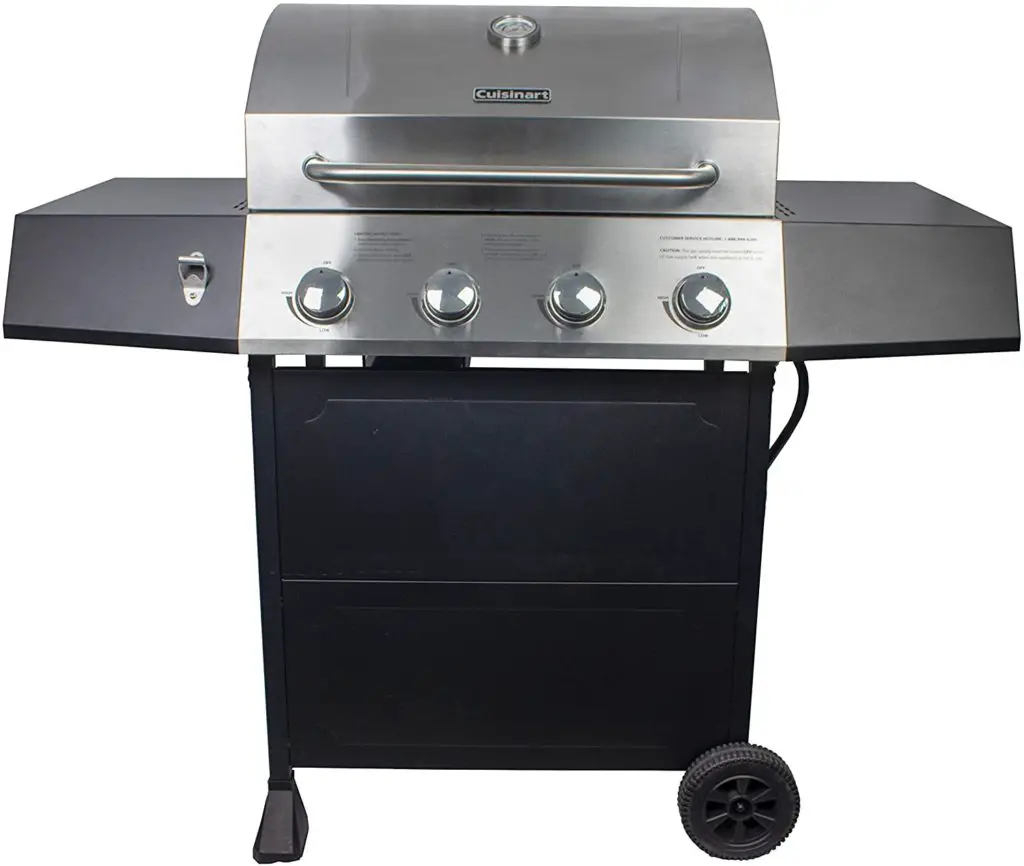 Main Burners: 4
BTUs: 44,000
Grill Space: 610 Square inches
This Cuisinart CGG-7400 Propane 4-Burner Gas Grill offers the highest individualized BTU output on this list. Equipped with 4 burners, with each giving off 11,000 BTUs, this is a powerful propane gas grill that's ideal for those who want nothing but cooking power. Furthermore, it has a total of 610 square inches of cooking surface (443 square inches on the primary cooking space and an additional 167 square inches on the warming rack).
What makes it stand out the most, however, is the fact that each grill grate is made out of heavy duty cast iron, which retain heat well. Couple that with the overall stainless steel construction and you have a durable grill complete with a 3-year limited warranty.
Pros:
It has cast iron cooking grate which retain heat well
It has 4 burners
Gives off 44,000 BTUs
It offers a total of 610 square inches of cooking space
Cons: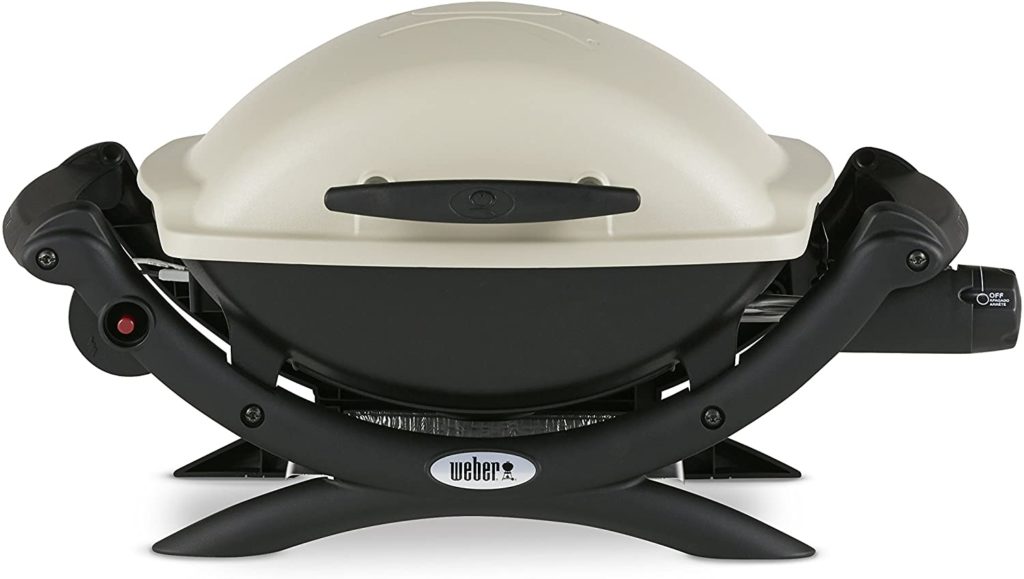 Main Burners: 1
BTUs: 8500
Grill Space: 189 Square inches
Yet another excellent option from Weber, this Weber 50060001 Q1000 Liquid Propane Grill punches way above its weight class. Equipped with only 1 main burner emitting 8,500 BTUs, this portable grill is the perfect companion for the camp chef or the picnic gourmet who love grilling even when on the move. It's designed to use propane gas canisters that are lightweight and easy to switch out.
Although it offers only 189 square inches of cooking space, that is plenty when you consider the fact that this is to propane gas grills what a pocketknife is to knife set. It still gets the job done but it's much more convenient to carry around. As is often the case with Weber grills, the craftsmanship that went into manufacturing this option is impeccable. Made out of stainless steel, this grill has porcelain-enameled cast iron grates that are not only easy to maintain but also quite durable.
Pros:
It's easy to assemble
It's conveniently portable
It features a quality design and build
It comes with a powerful single burner
Cons:
It doesn't come with a stand (you have to buy that separately)
Buyer's Guide: What to Look for When Buying the Best Gas Grill Under $500
As you would imagine, there are many different grill options on the market today. Some propane gas grills are even much cheaper than the $500 ceiling mentioned here. Unfortunately, price isn't always a good indicator of quality. For that reason, there are many other factors you need to consider when looking to buy a propane gas grill that costs under $500. Here are the most important ones:
BTUs and Number of Burners
BTU stands for "British Thermal Unit," which is a number that indicates just how hot the burner can get and the amount of heat output. The higher the number of BTUs, the hotter the grill can get. While it's easy to assume that a grill with a higher BTU gives you a better grilling experience since your meals will cook faster, the truth is that just looking at the BTUs won't tell you the entire story. You need to consider the BTUs against the size of the grill as well as the number of burners it has to offer. If the grill is smaller but has 3 or 4 burners and is made out of cast-iron, you can rest assured that it gets very hot, very quickly and retains that heat for longer. This makes it an excellent grill.
The Size of the Grill
As a rule of thumb, most people always want bigger when it comes to choosing the best propane gas grill. The bigger the grill, the more impressive it is when you host your friends, and the higher the chances that it has a large total cooking area. This means you can move things along much faster, but before simply going for such a monument grill, there are some things you need to consider, such as where you are going to put it. Do you have enough space for that big of a grill? More importantly, do you really need that big a grill?
Grate Material
What is the metal grate on your grill made of? For the most part, metal grates are either made of cast-iron or stainless steel. While both materials are durable and effective enough, grates made out of cast-iron tend to retain heat for much longer than those made out of stainless steel. Furthermore, they tend to be sturdier, which makes them longer lasting.
Extra Features
This is where the best gas grill can set itself apart from the rest. The number of extra features your grill offers gives you more room for creativity when you are grilling. For the most part, propane grills have automatic or electric ignition systems, which makes them easy to operate. This convenience, however, is not always a given so it's a feature you need to look out for when shopping.
Other features include things like removable grates, which will allow you to do a lot of indirect cooking, which is perfect when dealing with large cuts of meat and things like buns and veggies. You can also look for side burners which aren't entirely necessary but are a good feature to have, especially if you are big on sauces. Another wonderful feature to have is a propane gauge that tells you just how much juice you still have before you need to change the canister or tank.
The advantages that come with buying a propane gas grill are numerous and, for BBQ enthusiasts, too awesome to ignore. Whether you prefer a propane gas grill, a charcoal or wood burning grill, or a combo of both, the truth is that having one or the other isn't the issue as long as you have a grill. The question is, which one is the best grill for you? If you decide that you want to own the best propane grill under 500 bucks, then any one of the above options will present you with an affordable and quality grilling choice.
Best Selling Propane Grills
Bestseller No. 1
Char-Broil Classic 280 2-Burner Liquid Propane Gas Grill with Side Burner
280 square inches of cooking space over porcelain-coated grates
8,000 btu side burner provides a secondary cooking space for sides or sauces
Two stainless steel in-line burners for cooking performance
Porcelain-coated steel lid and firebox stand up to weather and the elements
Metal side shelves measure 12-inches w x 13-inches l providing extra storage and prep space
Bestseller No. 2
MASTER COOK 3 Burner BBQ Propane Gas Grill, Stainless Steel 30,000 BTU Patio Garden Barbecue Grill with Two Foldable Shelves
❤ STAINLESS STEEL BURNERS: This propane gas grill has 3 Stainless Steel burners, can put out 30,000 BTU-per-hour with integrated piezoelectric ignition system, quick start up with the push &turn of a control knob
❤ FEATURES: The whole Stainless steel control panel with chromium plating control knob makes this propane gas grill more study and delicate, a stainless steel handle and a built-in stainless steel thermometer on the cover lid, two foldable tables and two heavy duty wheel casters for storage and moving
❤ PORCELAIN-ENAMEL WIRE COOKING GRATES: The cooking area of our propane gas grill is 471.8 include 339 square inches for cooking and 132.8 square inches for warming
❤ ASSEMBLED DIMENSIONS: 46.46 L x 20.87 W x 41.14 H inch, and 29.5 inch Length when folding both of the side table of the propane gas grill
❤ MULTIFUNCTION AND PRACTICAL: This propane gas grill is perfect compliments any outdoor space like backyard, garden, courtyard, terrace and balcony of most family, alternative all season for outdoor cooking
Sale
Bestseller No. 3
Royal Gourmet US-SG6002R 6 BBQ Liquid Propane Grill with Sear and Side Burners, 71,000 BTU Cabinet Style Stainless Steel Gas Griller, Silver
High Output: This durable 6-burner gas grill generates 71,000 BTU in total including 5 individually controlled tubular burners (10,000 BTU each), a sear burner (12,000 BTU) and a side burner (9,000 BTU) to achieve high performance.
Spacious Cooking Area: Consists of primary cooking area – 602 sq. in. porcelain-enameled cast iron cooking grates and secondary cooking space – 193 sq. in. warming rack, offering a total of 795 sq. in. cooking area that serves to a large gathering.
Sear Burner & Side Burner: U-shape sear burner at the right side generates 12,000 BTU to provide strong performance for quick grilling; lidded side burner offering 9,000 BTU is ideal for preparing side dishes or soups.
Great Heat Retention: Double-layer lid ensures excellent heat retention for keeping food tasty and warm evenly. The dome creates an environment like oven to get a better flavor. Built-in thermometer monitors temperature in real-time.
Hassle-free Cleanup: Made of galvanized steel, the removable grease tray is large enough to capture any drippings that escape. The removable grease cup also helps protect floors from fluid drips. Both are easy to slide out for hassle-free cleanup.
Bestseller No. 4
Sale
Bestseller No. 5
Char-Broil 463331422 Performance Amplifire 4-Burner Cart Style Liquid Propane Gas Grill, Metallic Gray
435 square inches of primary cooking space on durable porcelain-coated, rust-resistant and easy-to-clean steel grates, plus a 130 square inch warming rack ideal for sides and buns
Amplifire infrared cooking technology prevents flare-ups, delivers even-heat and cooks up to 50% juicier food. Exclusive metallic gray finish for increased style and durabilty. Simplified design with standardized hardware for quick and easy assembly. Cart design offers convenient LP tank storage capabilities.
Electronic ignition for fast and reliable burner lighting at the push of a buttom. Convenient side shelves offer added work and prep space, and are Gear Trax enabled. Powered by propane, (LP), gas, the stainless steel burners offer long-lasting performance and emit flames from the top for even heat with no hot or cold spots.
Lid-mounted temperature gauge to easily monitor the inside temperature of your grill and durable porcelain-coated grease pan which can be removed for easy cleaning.
Assembled dimensions: 50.3-inches wide x 45.3-inches high x 22.4 inches deep.