We are all looking for great ways to improve our homes inside and out, now more than ever. Everyone is spending more time at home these days and is looking for ideas to make this space more enjoyable.
One project many homeowners are taking on is an outdoor kitchen installation. If you are one of these people, this is the article for you. Here we will be discussing:
The best space to set up your outdoor kitchen
Things to consider when setting up your outdoor kitchen
Tips for creating a fabulous outdoor kitchen you are going to love
Where is the Best Space to Set Up Your Outdoor Kitchen?
There are no set rules on where your outdoor kitchen should be. The truth is, you can put it anywhere you like, as long as it isn't a safety hazard or too close to your neighbor's property.
While there isn't a specific location you have to put your outdoor kitchen, there are a few popular locations where people prefer their dining space. 
Patio Kitchen Creations
You can find tons of ideas to create the most fabulous backyard kitchen ever, adding it right to your existing patio. You can utilize many materials, colors, and designs, making it easy to match your current theme and decor.
Setting up your kitchen on or close to your patio also saves you money since the structure and seating are already in place.
Poolside Outdoor Kitchen Oasis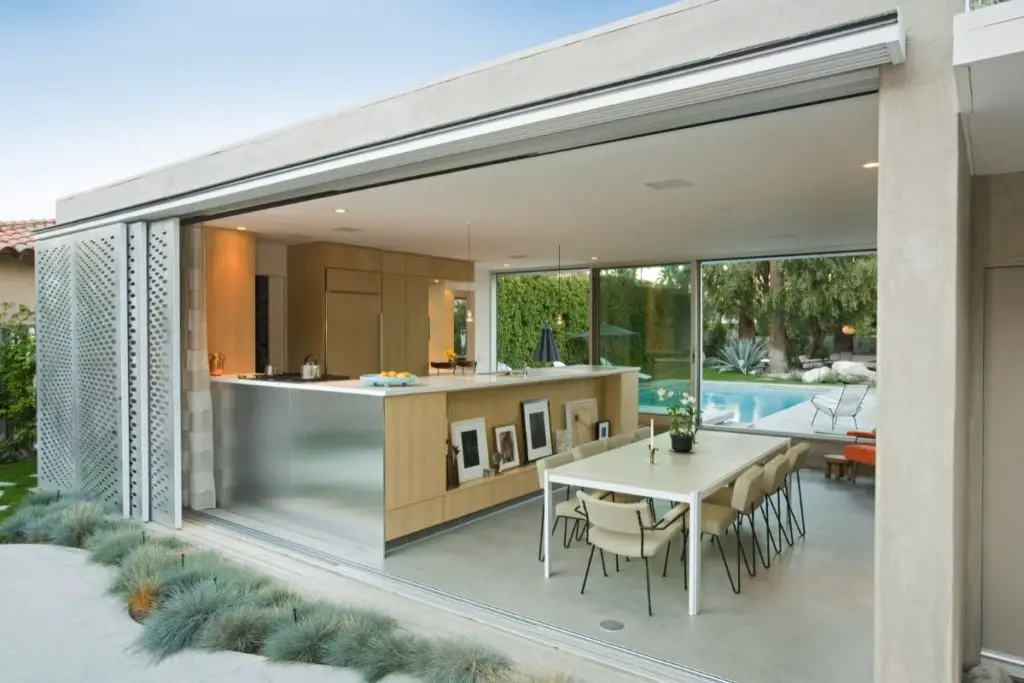 Nothing says summer more than a poolside kitchen and BBQ. Having the ability to cook, eat, and enjoy the water on a hot summer day is something many homeowners have taken a liking to.
There are many ways to create a gorgeous poolside dining space and kitchen that will make your home the envy of the neighborhood.
Backdoor Kitchen Designs
Keeping your outdoor kitchen close to the home is beneficial for many reasons; however, people choose this option mainly because of the convenience. 
Similar to a patio kitchen, setting up a kitchen next to your house is a great way to save on things like energy and water. It can also make it more functional than placing it further into the lawn. 
Depending on the size of your house and how your yard is set up, having a kitchen off to the side or at the back of your house is usually the most popular way to set up an outdoor kitchen.
Relaxing Gazebo Kitchen Getaway
Do you have a gazebo in your backyard? Are you interested in getting one? A gazebo in the backyard is an amazing way to get away from a busy day and relax under the stars or read a book on a nice warm day. Consider adding a fan to your gazebo to cool down the area even more.
Now, imagine adding a small yet convenient kitchen nearby. You won't have to go back into the house to grab a snack or to heat a cold cup of coffee when relaxing in your outdoor living area.
What to Consider When Setting Up an Outdoor Kitchen
Adding an outdoor kitchen area to your home can be an excellent idea for most families. However, a lot goes into planning, building, and maintaining these types of amenities. 
Here are some important things to consider before you begin the construction of your backyard creation.
Location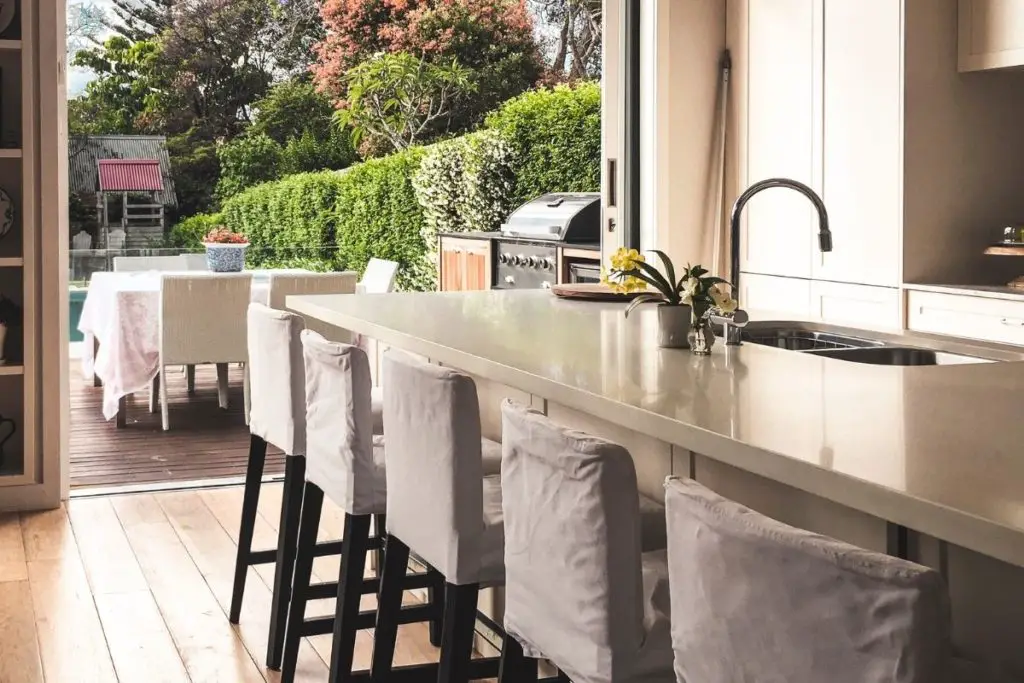 The location of your backyard kitchen is the most crucial part of planning. Although we firmly believe close to the home is most convenient, being too close to the house could be considered a fire hazard. 
Making sure you get the best of both worlds is ideal, or downsize your ideas to make the setup safer if you're considering a patio kitchen.
Size and Space
Although we commonly hear the phrase "go big or go home," that is not something you should apply here. You need to decide on the best dimensions for your kitchen, ensuring you have accessible paths, exits, entrances, and room to move. 
When determining the size of your kitchen, account for the number of people that will primarily be using the kitchen, how much wiggle room you have to move around, and what features you are going to want to include.
Amenities
Before you can determine how much space you need in your outdoor kitchen, you need to create a list of amenities you want to add. Use your best judgment and only choose the things you want, need, and can fit into the area you've selected. Don't forget about simple things like countertop space for food prep and a large enough cooking area.
Some popular backyard kitchen amenities to consider include:
Dining set
Island bar
Grill or brick oven
Mini fridge
Garbage receptacle
Outdoor sink
Firepit
Fireplace
Couches
Counter space
Fixtures and Plumbing
Although having working lights, outlets, and running water is ideal, they aren't necessary when creating your backyard kitchen. However, if you require these options, you have to keep that in mind when planning the construction.
Make sure your plan includes safe and easy places to connect wiring, pipes for plumbing, etc.
If you are on a budget or simply don't want the hassle of adding electricity and plumbing to your outdoor kitchen, there are still great ways to make it work.
Gas grill
Large cooler
Cooler with fan
Solar lighting
Firepit
Materials
When choosing the best materials for your outdoor kitchen, placement is extremely important. If your backyard dining area will be out in the open and susceptible to the elements you want to use materials such as concrete, stainless steel, or treated wood.
Your kitchen needs protection from the weather and frequent maintenance to stay in working condition. 
If you live in an area near the coast, seawater can cause erosion, so marine-grade stainless steel is ideal. 
If you live in an area where the weather fluctuates throughout the seasons, stone, concrete, and stainless steel is the way to go.
Do a little research regarding the materials you are interested in and learn how well they will stand up to the weather and elements in your area. This is crucial to the longevity of your backyard kitchen.
Shape
There are many different shapes you can choose from when creating a backyard dining space. If you have your heart set on a specific shape, you will have to take time to find the best location in your yard to fit it. 
Unfortunately, there are situations where you cannot create the kitchen you pictured because your yard doesn't allow it. 
Here are a few of the popular options for outdoor kitchen designs.
L-shape
U-shape
Island
Lanier (or one bench for all outdoor kitchen appliances)
Think about what you plan on using this space for the most. If you are planning to entertain often, an island or L-shape is a great way to go because it provides room for plenty of space for socializing.
The Lanier bench option is perfect for small spaces or a simple outdoor kitchen layout, and a U-shape kitchen provides plenty of storage space for those who love to cook or want to keep everything in one location.
Tips for a Creating a Fabulous Outdoor Kitchen
When designing something as substantial as an outdoor kitchen, you want to make sure you have all of your bases covered before, during, and after construction. Here are some tips that can help you achieve, love, and keep your look.
Keep it Covered
If your kitchen isn't protected beneath a structure, purchase covers for the vulnerable products that are left outside, such as your grill, countertops, and tables. 
You also want to keep the sunlight at bay to protect the kitchen and your eyes. You can do this by purchasing an awning, umbrella, or shade sails.
Keep up with Maintenance
Nothing can last for a long time if it isn't properly maintained. This means cleaning up spills as soon as they happen, treating or sealing the structure as needed, and staying on top of repairs and upkeep to keep your outdoor cooking area functional.
Choose a Theme
Choosing a theme is fun, and there are so many out there that you can be as creative as you want. Match your cushions, tablecloths, and utensils, or make the whole kitchen a specific theme such as an island oasis, Western BBQ, or poolside cabana. 
Lighting
The options for outdoor lighting are endless, and it can be fun to experiment with all the ways you can set up your backyard kitchen. 
Keep in mind the position of your space and make sure the lighting isn't going to overwhelm your neighbors or shine into a bedroom window.
Summing Things Up
Outdoor kitchens are becoming more common and sought after. These additions can increase the value of your home and make all of your neighbors jealous. However, if you don't find the best position and placement for your kitchen, your backyard dining area might end up being a waste of space.