Whether you're hosting the annual neighborhood block party on the Fourth of July or simply feeding the family outdoors on a warm summer day, you want a quality table that will hold up to the elements and look great in your backyard.
If you are looking for a top-quality outdoor dining table, you have come to the right place. In this article, we will be discussing:
Types of outdoor dining tables
What to consider when purchasing an outdoor table
Great accessories to buy with your outdoor dining table
Our favorite outdoor dining tables
Best Types of Outdoor Dining Table for Your Backyard
You will find a large selection of outdoor dining tables when you begin your search. However, before you make any decisions, take a quick look at what each table has to offer to determine if it is right for your space.
Wooden Dining Tables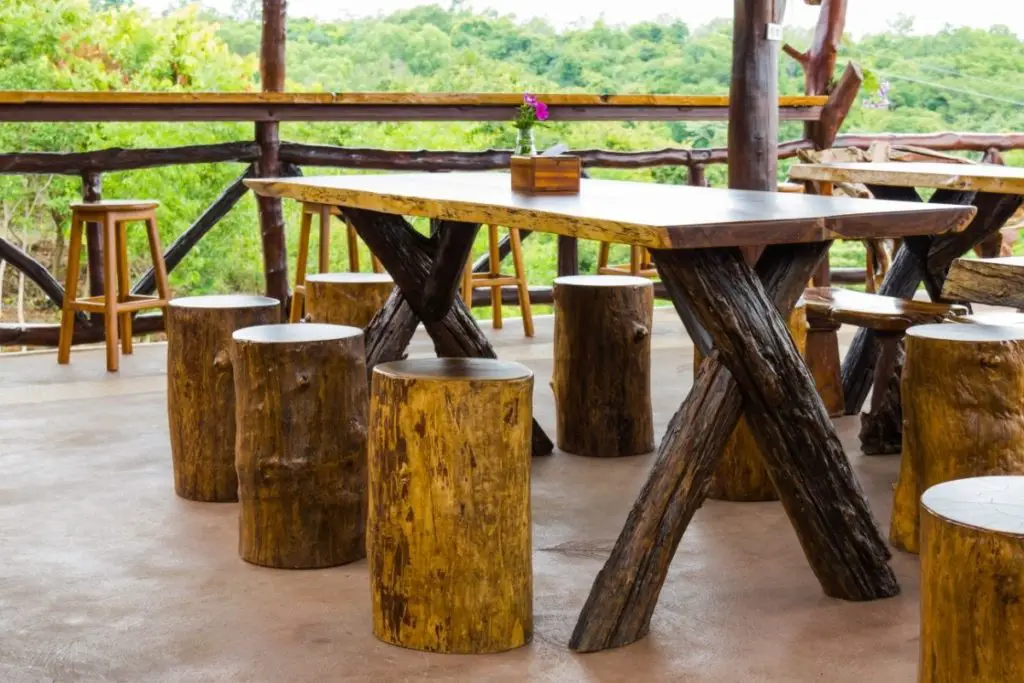 When many people think of outdoor dining tables, their minds often go directly to picnic tables, which are typically made from wood.
Not only are wooden dining tables trendy for outdoor dining, but they are also very durable and can withstand weather and extensive use.
Wooden dining tables are beautiful when left in their natural color or painted to match your backyard theme, making them versatile and flexible for every home.
When purchasing a wooden dining table, it is beneficial to look for one made from hardwood, as these will last you much longer than soft wooden tables. The best types of wood to consider include:
Oak
Walnut
Cherry 
Birch
Maple
Concrete
Another great option for a durable and weather-resistant outdoor table is one made from concrete. These tables are extremely heavy and hard to move around, but they withstand the elements and can last a very long time.
The use of concrete in place of less durable materials is becoming popular these days. Concrete patio furniture tends to be of much better quality and looks fantastic.
Marble, Granite, or Slate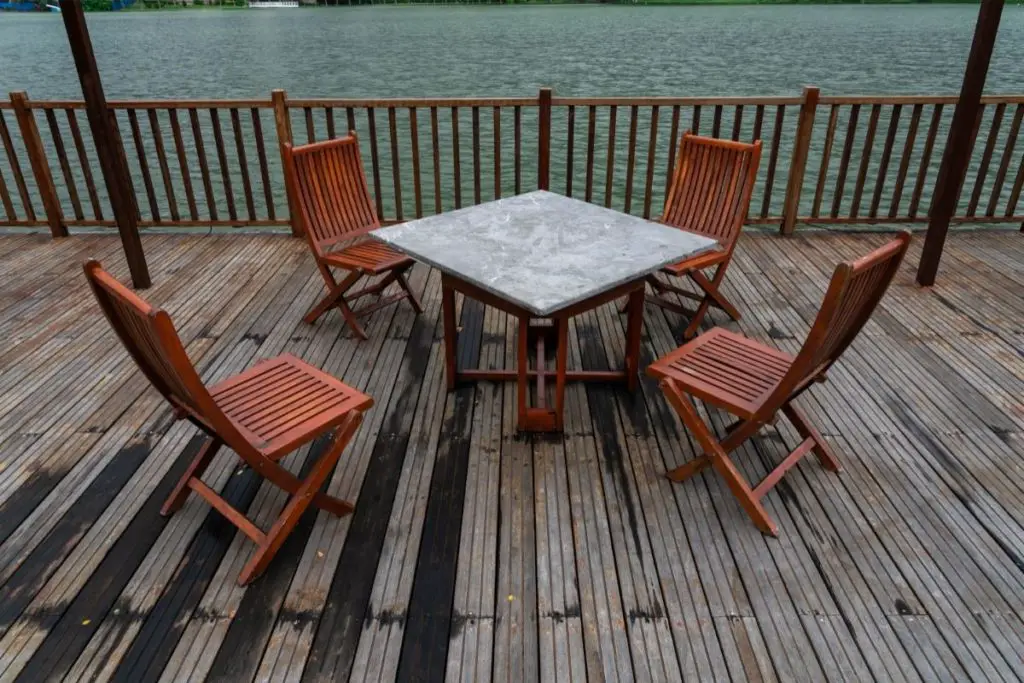 All three of these stone materials make for beautiful, modern, elegant tabletops and do very well outdoors. As long as they are properly sealed and maintained, these tables can last for years, providing your family a place to enjoy meals for many summers.
These options can be a little more costly than many other tables you can choose from, but they are worth the money in the long run and look fabulous in any backyard. 
Metal (Iron or Stainless Steel)
Iron metals create strong furniture and give your yard a rustic or "country" look. Stainless steel has a smooth, sleek appearance for a more modern design. 
Both options are very durable, easy to clean, and water-resistant. They can be used for any event and fit nicely with all types of backyard decor.
Wicker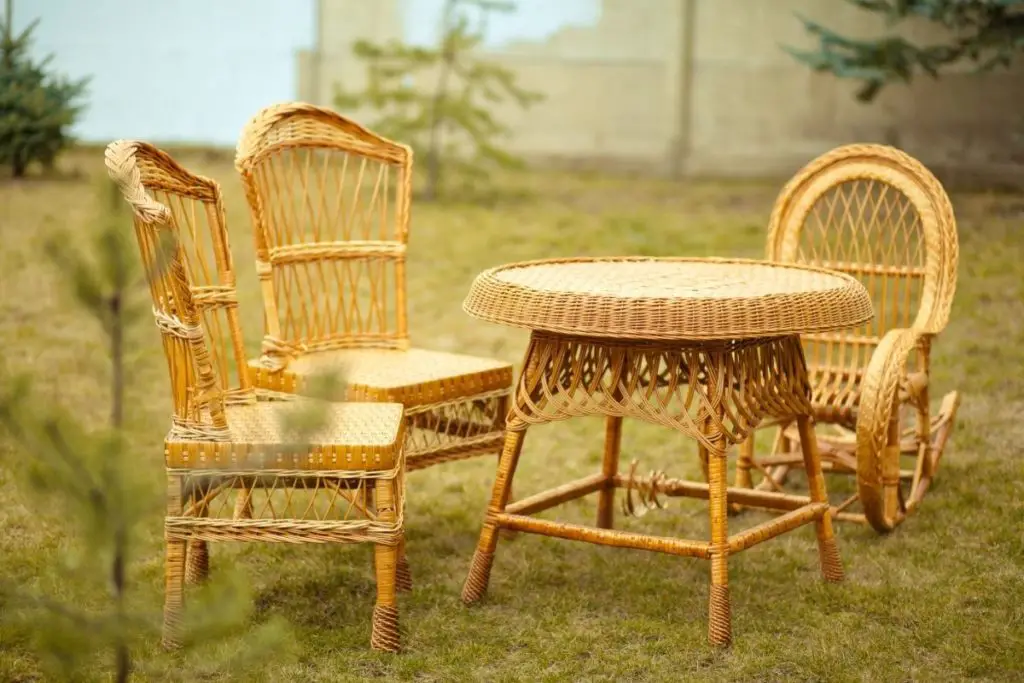 Wicker is a very trendy outdoor furniture material. You can see wicker benches on front porches and comfortable chairs with cushioned pillows on the back patio. This material is also a great choice for your outdoor dining table.
Wicker doesn't hold up to weathering very well, and you should only consider it if there is a way to keep it from the elements (i.e., on a roof-covered patio, under a large umbrella, etc.)
Things to Consider When Purchasing an Outdoor Table
When looking for the perfect outdoor table to fit your needs, there are a few things to think about before taking the plunge and making the purchase.
Size of the Table 
The table you buy should have enough room to seat your whole family and still hold plenty of food, plates, and cups.
If you frequently entertain guests, you should consider getting one with table space and a higher seating capacity.
You also want to decide how tall or short you want the table to be. For example, are you interested in a bar height outdoor table so you can use modern bar stools for outdoor seating or a lower set table with cast iron chairs?
Size of Your Patio or Yard
You want to ensure there is enough room for everyone to fit comfortably, but you must also consider the size of your yard, patio, gazebo, etc. to ensure you have plenty of room for the table. You should be able to move freely around the table whether the chairs are pushed in or pulled out.
Materials
All of the options listed above are great products. However, they each come with pros and cons. Do a little bit of research on each and decide which one would be the best choice for you.
Wood and slate: Both materials are softer than the other options, meaning there is a higher chance of scratching and stains. 
Concrete: Concrete is extremely heavy, and once the table is in place, it will be tough to move it.
Marble and granite: Both marble and granite are porous stones and can absorb spills that form stains. 
Wicker: Wicker is not weather resistant and can damage easily when left out in the elements without cover.
You also want to choose the material that matches the rest of your decor, unifying the look of your yard.
The Shape of the Table
While a rectangle is the most common shape for outdoor dining tables, it is not the only one you can choose from. There is a wide variety of shapes and designs to look at to make your outdoor space unique and functional.
Some other table options you can choose include ovals, octagons, squares, extended ovals, and round.
Accessories to go With Your Outdoor Dining Table
Once you have decided on the perfect dining table for your outdoor space, you can look for amazing accessories to go with it. These will give your yard that extra little touch and ensure you are prepared for all types of situations.
Umbrellas
Eating outdoors can be a refreshing and fun way to enjoy a meal. However, it also exposes you to the elements. Purchasing a quality table umbrella is a great way to keep you out of the sun, rain, and wind. With some models, you will need a table with an umbrella hole, but this is not the case with all outdoor dining furniture.
Utensils and Holders
Make your life a little easier with utensils and holders made for your outdoor dining space. There are tons of different themes and designs to choose from, and there is something available for every budget.
Table Cover
Although many outdoor tables withstand all nature has to offer, it is ideal to cover it up when possible to keep it looking new for years to come. There are table covers for pretty much any type of table you have sitting in your backyard. They aren't too expensive, making them well worth the investment. 
Condiment and Papertowel Caddy
It's ideal to have a specific spot for everything, making picking up a condiment and paper towel caddy a no-brainer. These are often small and versatile, fitting in with all looks and themes.
Lighting
For anyone who enjoys a quiet candlelit dinner or who is looking for a relaxing spot to read a book or play cards at night, purchasing some lighting for your outdoor dining table is crucial. 
There are tons of ways to illuminate your space, from tabletop torches to string lights that hang from the table edges. 
Our Favorite Outdoor Dining Tables
Now that we've explained how to choose the perfect outdoor dining table for your home, here is a list of our favorite outdoor dining furniture for you to consider. 
These are only a handful of the options out there. Once you know what you are looking for, you won't have a hard time finding the perfect outdoor table for you.
Summing Things Up
Choosing the best patio dining table for your space shouldn't be stressful or overwhelming. Take some time to evaluate your space to decide what size, shape, and material is right for you, then have fun checking out all of the amazing options out there.