A pellet grill can be a lifesaver if you are the designated pitmaster at an outdoor activity that requires your participation as well. It allows you to set up the cooking process and join the crowd without qualms. All you need to do is prepare your food as the grill heats up, place it in the grill, and off you can go. The cooker will alert you when the food is ready, and you can even monitor from afar before you get accustomed to your electronic assistant.
For this to work seamlessly, the grill should be easy to lug along on such occasions. Today we look at why pellet grills are suddenly everyone's favorite. We shall narrow down on portable pellet grills and even review a few of the best small pellet grills we had the opportunity to interact with.
We have even included our checklist of features the best small pellet grill should have.
Traeger Grills Ranger Wood Pellet Grill and Smoker
Specs
Total cooking space:             184 sq.in
Weight:                                   60 lbs.                        
Pellet hopper capacity:         8 lbs.
Maximum temperature:       450˚F
This compact pellet grill easily fits wherever you may think of storing it, allowing you to tow it along easily, ensuring your wood-fired flavors are accessible regardless of where the adventure takes you. Enjoy cooking at your fishing hole, on a weekend getaway, or even on your truck bed
It still has adequate space on its petite frame to cater for a party of 3 to 4 people in one cycle. Its 184 square inches of cooking space serves as a rib rack, ensuring your ribs are elevated to be basted by that woody flavor. It can also accommodate 6 burgers or 10 hot dogs
The restrained lid of this Traeger pellet grill has latches that guarantee safe transportation and promote durability by protecting the grill's functional parts from moisture and other sources of corrosion. It also fosters efficiency by facilitating temperature control in the cooking chamber.
The package includes a cast iron griddle with which you can perfectly sear your steak or make those eggs for breakfast and easy-to-clean porcelain coated grill grates which are excellent transmitters of heat.
Traeger's Digital Arc controller with an integrated advanced grilling logic gives you accurate temperature regulation and even notifies you when you need to sauce or check on the food. It features a keep warm function, so the food is always ready to eat. The included meat probe ensures you are constantly aware of the temperature.
Traeger Grills Tailgater 20 Wood Pellet Grill and Smoker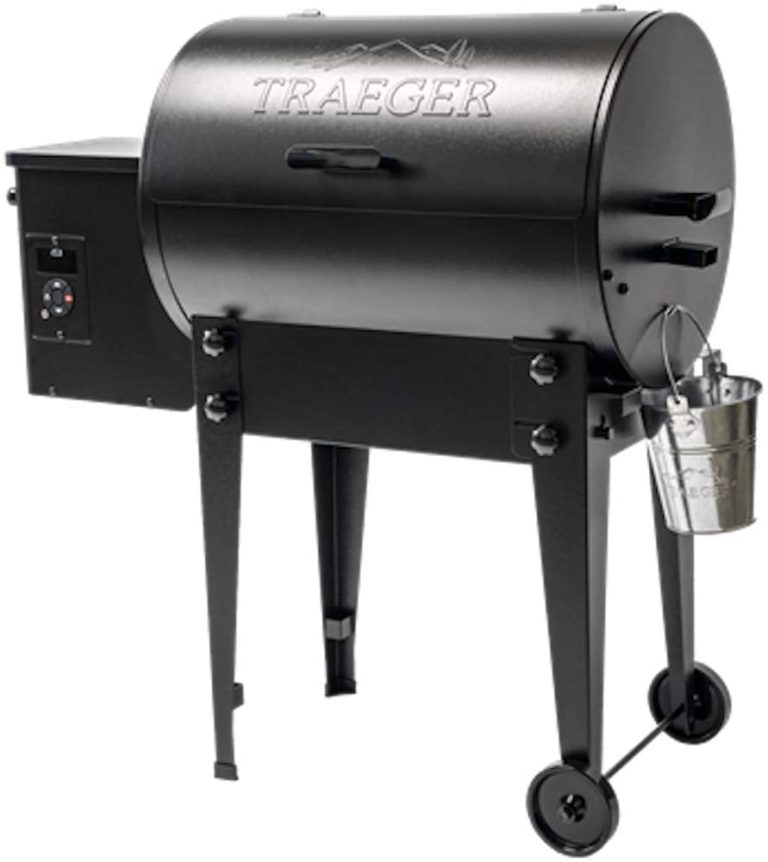 Specs
Total cooking space:             300 sq.in                    
Weight:                                   62 lbs.                        
Pellet hopper capacity:         8 lbs.
Max temperature:                 450˚F
It is easily portable with EZ foldable legs enabling the grill to fit in confined spaces. It has enhanced versatility and can be deployed on the balcony, the backyard, camping, fishing, and most definitely tailgating. Your options are unlimited as you can grill, smoke, bake, roast, braise and barbeque with the same unit.
Traeger's Digital Arc controller, with its advanced grilling logic, ensures the temperature is consistent. It also has the keep warm mode, which keeps the food fresh and ready to savor throughout your activities. It features a meat probe to confirm the food is within your expected range.
The 300 square inches of cooking surface goes a long way in delivering wood pellet smoker performance in a compact package. It comes in the form of 3 rib racks that can prepare up to 12 normal size burgers, 2 whole chicken, or any other savory items you may have on the menu. Porcelain-coated grill grates will ensure the heat is evenly spread, and your food does not stick.
Grilla Grills Chimp Wood Pellet Grill
Specs
Total cooking space:             460 sq.in        
Weight:                                   90 lbs.
Pellet hopper capacity:         15 lbs.
Max temperature:                 500˚F
This grill can facilitate low and slow smoking and hot and fast grilling, enabling baking, searing, broiling, roasting, and smoking on the same unit. It provides flavors that your regular gas and electric units are unable to.
The insulated double-wall barrel is made of heavy-duty stainless steel to endure the coldest temperatures. Its construction features welded seams, and it has been powder coated and caulked for triple redundant weather protection. It also has a stainless steel lid and internal components. This insulated cooking chamber helps the grill maintain its temperature despite the weather.
The Alpha Smoke dual mode controller combines Grilla Grills' traditional style and PID modes in the same unit. The combination enhances precision temperature control and the coveted smoky flavor, which can be modified at the push of a button from the digital electric control panel. You can dial in your optimized instructions from the set-and-forget digital control.
Pellets are automatically fed to the fire pot at the rate set by the digital control panel. A meat probe displays the current grill temperature and the meat temperature, making it easy to monitor and control your cooking. They have a safety shutdown feature that engages if the temperature reaches 615˚F or goes below 105˚F; the system will display an error message.
Its sturdy fold locking stand makes it portable without compromising the cooking capacity. It can be used for tailgating or as a standalone in the backyard.
Camp Chef Pursuit 20 Portable Pellet Grill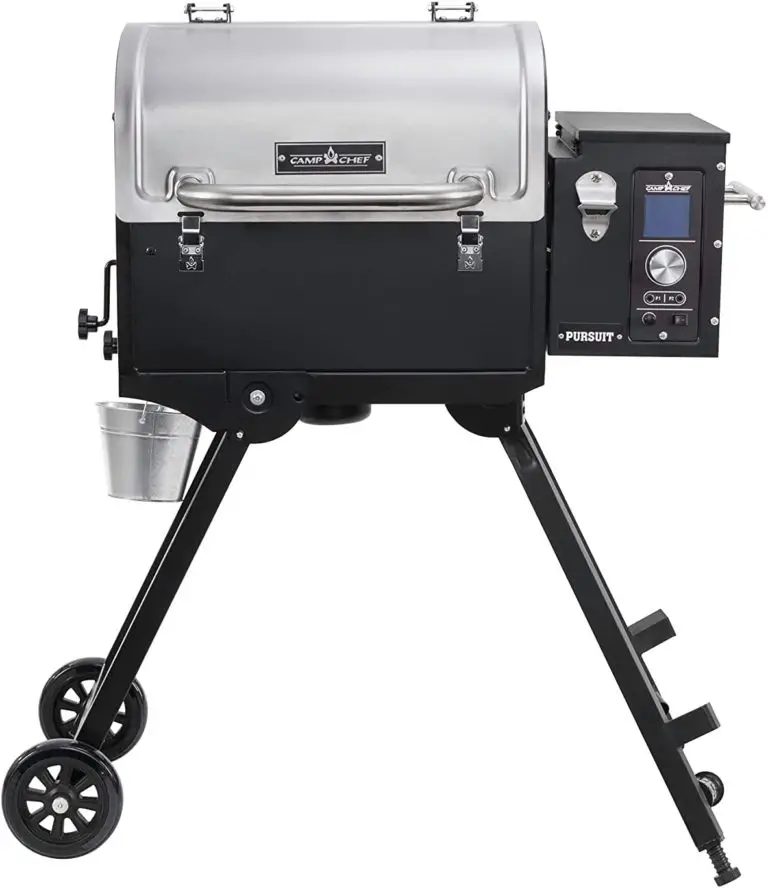 Specs
Total cooking space:             501 sq.in
Weight:                                   82 lbs.
Pellet hopper capacity:         10 lbs.
Max temperature:                 500˚F
It comes with heavy-duty wheels on push-button folding legs, ready for the next adventure, whether it's camping, tailgating, or a party in your block or backyard. The locking chamber and hopper lids ensure you will not have a problem transporting it.
PID technology allows you to maintain the temperature as accurately as you need to. It also has a smoke control system with 10 adjustable settings that let you regulate your smoke number to customize the taste further. It gives you a lot of room to explore diverse cooking options. You can leave a brisket smoking for hours or cook burgers quickly for the family. The 10-pound pellet hopper will stock enough pellets for your cooking cycle.
There are 2 meat probes included so you can monitor different dishes at the same time. A high-visibility, low-glare digital display shows the easily understandable menu
In 501 square inches of cooking space, you can fit a 12-inch pizza, 4 racks of ribs, or 4 chicken. You can cook them one after the other without messing up the flavors because cleanup in between is easy with Pursuit's ash cleanup and grease management systems.
GMG TREK
Specs
Total cooking space:             219 sq.in
Weight:                                   63 lbs.
Pellet hopper capacity:         9 lbs.
Max temperature:                 550˚F
This grill will serve your small family, campers, tailgaters, or any group that will make do with 2 racks of ribs or 4 to 6 steaks. It features a digital WiFi controller which allows you to control and monitor the cooking process from your smartphone. Once you have the GMG iOS or Android app, you will access the meat probe and the thermal sensor known as Sense-Mate, which monitors the grill temperature.
The lid is peaked, so the grill can accommodate rib racks and whole chicken using open flame technology. Grease trays are available to contain flares but are purchased separately from GMG's parts section. The grill runs on 12V or 120AC, which allows you to use it in a number of different settings.
Why Pellet Grills?
Pellet grills have become popular for a number of reasons
Ease of Use
Pellet grills are smart cookers that can self-regulate once you feed the settings. They strike a balance between fuel addition and fanning the flame to attain the desired heat, and then they can retain that constant temperature. This allows more time to enjoy your outdoors while maintaining the title of pitmaster. They will notify you once the food is done.
The Smoky Wood Flavor
Wood pellets have been able to produce what traditional charcoal grill aficionados consider the authentic grill flavor; the smoky taste. Pellet grills went a step further and added flavors to the wood pellets to further customize the essence in the food. These flavors are transferred from the burning pellets as the heat and smoke baste the food in the cooking chamber.
They Require Less Maintenance Than Charcoal Grills
Charcoal is messy to begin with, and it leaves more ashes to be dealt with. Wood pellets burn more thoroughly, and their waste is minimal in comparison. If you can get the smoky flavor without the discomfort, it is worth contemplating. This should, however, not be taken as a green light to neglect the maintenance of your pellet grill. Maintenance influences how long your grill will last.
6-in-1 Application
A pellet grill will expand your grilling repertoire significantly because of its design. It can maintain a consistent temperature in the cooking chamber, which means it can be used as an oven. They can be used to cook directly or indirectly, which means they can bake, grill, smoke, broil, and sear.
Health Benefits
Pellet grills cook at a slow and steady pace with regulated temperatures, and the flame hardly comes in contact with the food. The indirect cooking method significantly reduces the possibility of the formation of carcinogenic chemicals and their transference to the meat.
They Are Eco-Friendly
Wood pellets are made from waste wood and sawdust, so they don't pose a direct burden to the environment. They also burn evenly and efficiently, maximizing utility while reducing emissions to the environment and wastage.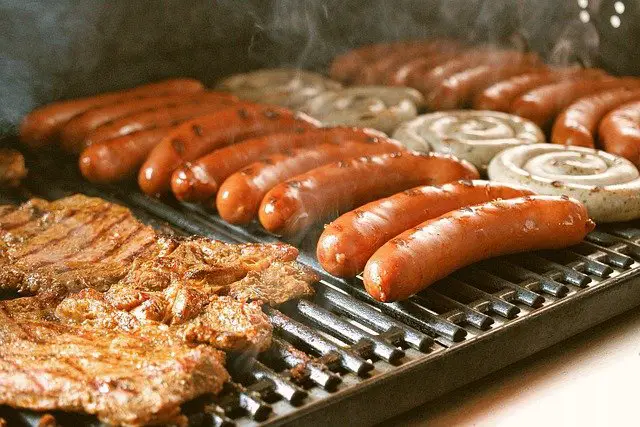 How to Determine the Best Small Pellet Grill for Your Needs
Small pellet grills usually come in handy if you are limited in terms of space for storage or transportation. Your balcony may be a tight squeeze, or you need to haul it somewhere every so often and want something that fits in your RV. Several variables influence how closely the grill will match your needs:
Portability
Handles and wheels facilitate hauling and lifting, which will be necessary for moving the grill. Check whether you can close and secure the cooking chamber and the pellet hopper while in transit, as you may be carrying the unit with the pellets inside. Consider if there are ways to compact the package; folding and retracting stands, for instance, greatly reduce the space required to move a grill.
Cooking Area
As much as you are going for a small pellet grill, you need sufficient space to prepare the quantities of food you project to be making on the grill. Having to go through many cycles of cooking leads to inefficient use of fuel and time wastage. Some compact pellet grills have a couple of grates to expand their cooking area without increasing the dimensions.
Durability
Look at the grill's construction and determine the measures that have been taken to fortify it against the harsh conditions of the pit. The material should be tough and reinforced to resist corrosion and heat damage. You can get more information on enduring grills and how to spot them in this article: https://ultraoutdoors.com/how-long-should-a-grill-last
Warranty
This is usually an indicator of the manufacturer's confidence in their product. Most pellet grill warranties will not cover the entire grill but will cover parts since they have different rates of wear and tear. A warranty from a reputable company gives you the peace of mind you need for a confident purchase.
Bells and Whistles
These are the extra perks that come with the package, the more of them you don't need to buy later, the sweeter the deal. They include items like extra meat probes, grease trays, ashtrays, and so on.
Budget
How much you can afford will dictate how you balance the above qualities. You need to infuse functionality and durability. Consider what your priorities are based on the circumstances under which you will be grilling. Keep in mind that the most expensive grill you can afford is not necessarily the most appropriate for your situation.
So Which Is the Best Small Pellet Grill?
There is no universal best pellet grill that applies to everyone. Look for options from decent grills like the ones we have reviewed here. They all passed our selection criteria for quality, practicality, and durability. It all boils down to the purpose of the purchase weighed against your resources.