The lure of a sizzling steak on a grill is calling all cooks as summer moves in. Using the best grill thermometers becomes paramount when it comes to creating the perfect, mouth-watering medium-rare steak versus a charcoaled disaster. Grill thermometers come in a variety of types, like meat thermometers, BBQ thermometers, and even Bluetooth meat thermometers. They are used for different temperature readings and have different features.
Grill thermometers are good at testing temperatures of smokers and grills, the internal temperature of food itself, or external temperatures of hot plates or food. A meat thermometer can even connect using Bluetooth or Wi-Fi, providing instant alerts and readings to a paired smart device.
Since a wireless meat thermometer has a range of applications, the best meat thermometer for your next get-together may be a combination of several devices. We outline different meat thermometer features and discuss their applications, as well as how to find the best one for your intended purpose.
When Should You Buy the Best Grill Thermometer?
Many thermometers contain a wide range of features designed to enhance time spent around your grill. A Bluetooth thermometer includes alerts sent to your mobile phone and wireless capabilities. Some incorporate lasers for temperature readings from the surface of the food.
Best Grill Thermometers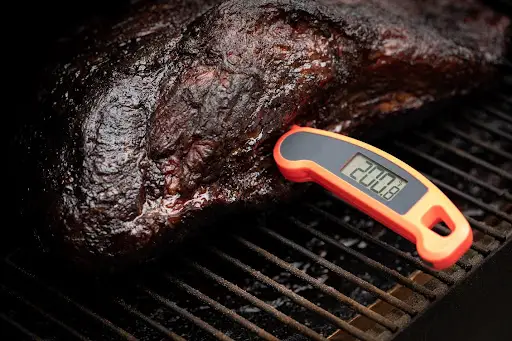 Our selection is based on how the thermometer would perform during various types of weather and with family/pets around. Price, quality, and efficiency were also factored in, along with grilling location. Your thermometer needs to reflect all your personal needs and wants.
Difficulty: Intermediate
Charging: None
Grill-top thermometers are often included with your grill, but they may not be accurate. To obtain an accurate reading within two percent, install this thermometer on your grill, smoker, or oven.
Pros:
3" stem easily extends to the grill's interior for ambient temperatures
Stainless-steel case prevents damage
Temperature ranges between 100-550°F (warm zone – ideal for grilling) and 100-225° (cool zone – ideal for smoking)
Dial surface contains no-fog glass and is waterproof
Cons:
In damp conditions, moisture may seep in, fogging up the glass
Not every smoker or grill has a hole for ambient thermometers
Difficult to read in low light
Difficulty: Advanced
Charging: Four AAA batteries
This thermometer contains four probes that are color-coded. This allows users to monitor four different kinds of meat or ambient temperatures. The color coding allows you to visually see which meat it is placed in.
It contains a 500-foot remote range and provides a strong signal through walls and obstacles. Its standalone transmitter has a unique design where key programmable buttons are on the transmitter allowing for accurate use of the thermometer without a receiver. This makes it perfect for meals that cook quickly.
Pros:
Smart temperature alarm
Simple to set up and contains optimal accuracy (+/- 1.8°F)
Works with any grill
Cons:
Not waterproof
No timer or pre-programmed temperatures
Challenges with storage due to probes and wires
Difficulty: Beginner
Charging: One CR2032 Battery
Grill chefs can gauge their meat's cooking without the need to cut into it. This meat thermometer provides accurate, fast digital readouts. This is a very simple meat thermometer. It can be programmed in Celsius or Fahrenheit. The temperature button switches temperature measurements, while the power button turns the device on and off.
Digital screens and bold lettering mean it is easy to read internal food temperature. When inserted, it creates automatic readings between 32-446°F. This meat thermometer is portable but can be easily misplaced.
Pros: 
Superior temperature range
Cleans easily
Easy to learn/manage
Cons:
Hands may get too close to heated surface
Casing is slippery and curved
Difficulty: Beginner
Battery: One 9V battery
This thermometer is a laser surface grill thermometer. It is a great option for external temperature readings. Also, thin fillets benefit from this touchless device as it is accurate to plus or minus two percent.
It should be used away from the heat source to allow it to measure food temperature as opposed to smoker/grill temperatures. If you want to measure ambient heat, you can do this as well. Just ensure the smoker or grill is the temperature that it says. It can detect temperatures between -58° to 1,022°F and gives a reading in less than one second.
Pros:
Auto-off shuts device off to conserve battery power
Backlit LCD display
Minimal learning curve
Cons:
Bulky
Registers ambient temperature
Doesn't register internal temperature
Features to Consider
These are major features to consider when assessing which is the best grill thermometer for you.
Accuracy
The accuracy of the thermometer is the first factor grill masters consider. To feel confident about your food's temperature as it is being prepared, it makes sense to invest in one that has an accuracy of plus or minus two percent. It should also have a calibration feature to adjust accuracy if needed.
For an indoor grill, a great option involves temperature tracking. It is offered in only some wireless and digital grill thermometers. This device measures and records internal meat temperature and ambient temperature of the grill. Some will even record time, date, and type of dish prepared based on details provided by the user.
Type
These thermometers can be used to measure food and grill temperatures. They may contain additional features, which include laser surface readers, wireless capabilities, and instant read technologies.
Grill Top Thermometers – These are used to track the current cooking temperature in the grill. They are important when smoking meat and other items since the lid needs to remain closed while smoking. This allows it to properly control the temperature and to avoid fluctuations.
Wireless Grill Thermometer – This thermometer contains a remote probe thermometer, which can stay in the food. It effortlessly connects via Bluetooth or Wi-Fi to a paired device. It provides regular updates on temperature independent of where you are. 
Laser Surface Grill Thermometer – Using an infrared laser, this device detects the surface temperature of cookware, heating elements, and food without the need to physically touch them. However, they are not helpful in checking the internal temperature of food.
InstantRead Grill Thermometers – These usually have a handheld, slim design and digital display. After you insert it into your food, it will provide fast, accurate readouts.
Probe Length
Probes vary among products. Regardless of your grill thermometer (excluding laser surface ones), probe length is vital to the outcome of the dish. Adequate lengths are important to accurately gauge true temperature in the center of thick-cut meats.
For these types of cuts, it is advisable to find a grill thermometer with a probe length of at least five inches. The shape is equally as important. Straight probes are a standard feature with most thermometers. However, curved ones take less space, proving beneficial for small smokers and grills.
Temperature Range
Like accuracy, temperature range is important in tracking food temperature or ambient grill temperature. If the range is too narrow, then it can't accurately measure the complete heat spectrum produced by your grill.
However, a narrow range does have benefits. Narrow temperature ranges tend to be more accurate within the heat spectrum. It may be a good option when measuring internal temperature of foods like roasts, steak, and fish to ensure the center is close to perfection when plated.
Display
Displays range from basic dials to digital screens. Dials have the benefit of not needing to be powered by batteries. Once the probe is put in place, wait until the dial remains at constant temperature and read the numbers. However, dials can be challenging to read in dark or dim lighting. If you like evening grilling, this may not be ideal.
Digital displays are backlit. This allows them to be read in various lighting. This display may just show the temperature reading of the probe or it might include ambient temperature containing detailed information regarding cook times, temperatures, and meals if it contains temperature tracking.
Smart Device Connectivity
As mentioned, these thermometers can wirelessly connect to your device. This is used to provide information directly to a tablet or smartphone so that the person grilling can remain comfortably seated in the house while keeping a close watch on the food.
Manufacturers typically have an app that needs to be downloaded to your device so that it can sync to the thermometer. They provide alerts to notify you about extreme variations in temperature. This device does require a strong connection to function, including a power source. Should the batteries or connection fail, no information will be transmitted.
Battery Life
Dial thermometers don't need a power source. However, if it is digital, works wirelessly, or has laser readings, battery life becomes important. Most batteries are easy to replace. But when not in use, batteries should be removed to conserve their stored energy and prevent corrosion.
Lithium batteries will need to be charged daily after each use to ensure it is ready the next time you need it.
Final Thoughts
When it comes to the best grill thermometer, you want to ensure that it matches your needs and skill level and has the proper functions. If you are new to grilling, find a thermometer that is basic to begin with. More experienced users may appreciate ones with greater capabilities.