Is there anything more spectacular than a beautifully set table for entertaining outdoors? When creating a unique outdoor evening, consider the following recommendations for outdoor table settings to help you create an unforgettable experience for your guests.
When making an outdoor space appear more intimate, consider your surroundings. Outdoor lights are a must if you are planning a meal, but if you don't have access to an electrical outlet, stringing lights may not be an option. This is when you may need to become more creative with your outdoor area.
Here are eight ideas to inspire your creativity.
Eight Ways to Create Magical Outdoor Table Settings
Incorporate Seasonal Elements. Celebrate each season outdoors by incorporating elements into your outdoor table setting. For spring and summer, choose fresh flowers. In fall, add the colors of autumn with apple or pumpkin scented candles or simply pumpkins themselves. Create an entire harvest theme. In winter, pine cones look great with mistletoe sprigs.
Add Some Greenery. Incorporate nature into your dining area. Place some potted plants, clipped branches, large pinecones, flowers, or other greens on the outdoor dining table. Tie them with flatware and napkins. 
You can also do a bouquet or a single flower with a sprig of greenery in a vase or use them to add a splash of color when decorating a white/light-colored plate.
3. Use Other Textiles. Just because you are outdoors doesn't mean you can't dress up your outdoor dining space or the places around you. Add coziness to the area by adding throws,
an outdoor rug, etc. These are things not normally found outside that add to the ambiance. If you don't have an outdoor rug, you can use an indoor one.
If you are throwing a summer party, consider lighter textiles for a lighter yet intimate effect.
 4 .Incorporate Cloth Napkins. If you are looking to create a truly magical evening, try using cloth napkins. Paper napkins are for everyday use and a casual evening. If you want a special elegant evening, cloth napkins are the way to go. 
While it may be old-fashioned and a bit traditional, giving every guest a cloth napkin adds sophistication to your dining area. They provide a dinner party status to your guests and will make them feel special.
5. Layer the Plates. When people eat outdoors, they tend to use paper plates. While paper plates have come a long way aesthetically, there is still nothing particularly classy about paper plates. Elevate your evening by incorporating and layering your plates to provide an air of elegance. However, if you opt for plastic, layer the plates over a charger plate or use a decorative melamine plate underneath for a formal appearance.
6. Bring Out the Candles. Soft lighting always creates a warm, intimate atmosphere. Candles will add to the ambiance when you incorporate the next two tips as well. To generate a magical glow, incorporate a variety of candles into the space.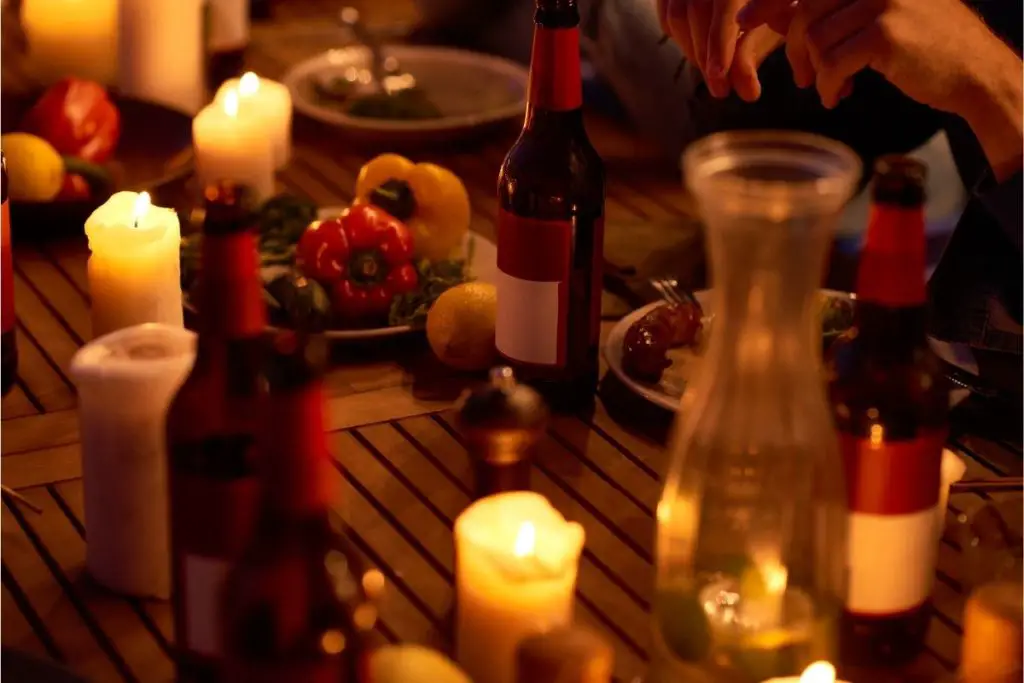 If you have a long outdoor dining table, you can add large, broad candles on each end. To make the night more elegant, consider candlestick holders or a candelabra. Play with the various sizes of candles to put together a spectacular centerpiece and add pinecones to the mix for a fall look. Don't be afraid to get creative.
The candles don't necessarily have to be real, either. LED lights create a flickering glow and are much safer for young kids or pets running around.
7. Hang Lanterns. Overhead lights or lanterns create a cozy atmosphere. You can use them with string lights or by themselves for a bit of illumination. Lanterns work best in late summer or fall, mostly because of design. For summertime, most homeowners incorporate candles or, for a touch of elegance, a chandelier.
This suggestion provides an illusion that the outdoor space is a room containing overhead lights. If you cannot string lanterns, you can place them around the space or use them as a centerpiece for a bit of warm light to provide a luxurious feel to the evening.
8. String Lights. If you are hosting an evening meal, what better way to add a touch of intimacy and romance to the evening than by stringing lights. Stringing them overhead provides for the best atmosphere. However, you can string them in a certain area as well. You can also use any outdoor lights–plastic or glass.
Creating a magical outdoor setting doesn't have to be completely formal, either. Add throw blankets on the back of chairs, which is especially useful if it gets cool in the evening. They can pull double duty and keep guests warm as well.
When creating a magical outdoor table setting, make sure you keep it relaxed and casual. If you are using a portable table, you can drape a nice tablecloth over it with a runner to add a bit of sophistication – and to hide the plastic!
You don't need to get fussy over the details. Keeping it relaxed makes the guests feel comfortable yet creates the right atmosphere. If you can get these details right your guests will forget about their phones for the time being, even if social media truly is addictive.
Creating a magical outdoor table setting is possible with only a few strategically-placed items. Keep the lights low but offer enough illumination for guests to see. String lights, lanterns, and candles are the best options to accomplish this. 
By stacking plates and using cloth napkins, you can add that touch of elegance to the dining area. If you are looking for a romantic, laid-back environment, consider adding blankets to the backs of chairs and dot the area with flowers for a more surreal feel.