If gardening in your backyard is among your favorite things, consider getting a trellis. It is a great way to expand your garden and adds a lot of charm to your outdoor space.
Not sure whether a trellis is right for your home exterior? Are you unsure of what a trellis even is? Keep reading to learn everything you need about this structure, and discover the best ideas to make a trellis work from home.
What Is a Trellis?
A trellis is a framework of either wood or metal bars. Trellises support plants, whether that be a tree, bush, climbing plant, or anything in between—they're practical as well as decorative additions to any home's exterior.
Trellises come in a variety of sizes, materials, and designs. You can buy a variety of trellises for as little as $20 to larger, more elaborate ones for over $400. Better yet, you can also make your own trellis for a fraction of the price. It all depends on the type of trellis you want and what you want to use it for.
There are several benefits to adding a trellis to your outdoor space. Let's take a look at a few.
Benefits of a Trellis
A trellis is both a functional and beautiful addition to your outdoor space.
One of the top benefits of a trellis is that it creates space in your garden by having some of your plants grow vertically. This leaves space to add a seating area or other elements to your garden.
A trellis also allows you to grow more plants. With a trellis, you can expand your garden to grow a larger variety of plants, including honeysuckle, sweet peas, and fruits and vegetables such as tomatoes, peas, and cucumbers.
Trellises are also suitable for these and other plants in your garden, as they increase their exposure to sunlight. As a result, plants grow and yield better and may end up with better foliage. Overall, the benefit of a trellis for plants is health.
A trellis can also serve as additional decoration for your backyard. A trellis allows you to build a green wall which may add an additional element to your yard.
Functionally, a trellis can also be a privacy wall in your yard, especially if you don't have a fence. It's a great way to close off certain areas from your neighbors. Better yet, using trellises is also a great way to break up and separate different areas of your yard.
With these benefits in mind, let's check out the tip trellis ideas to consider implementing in your outdoor space.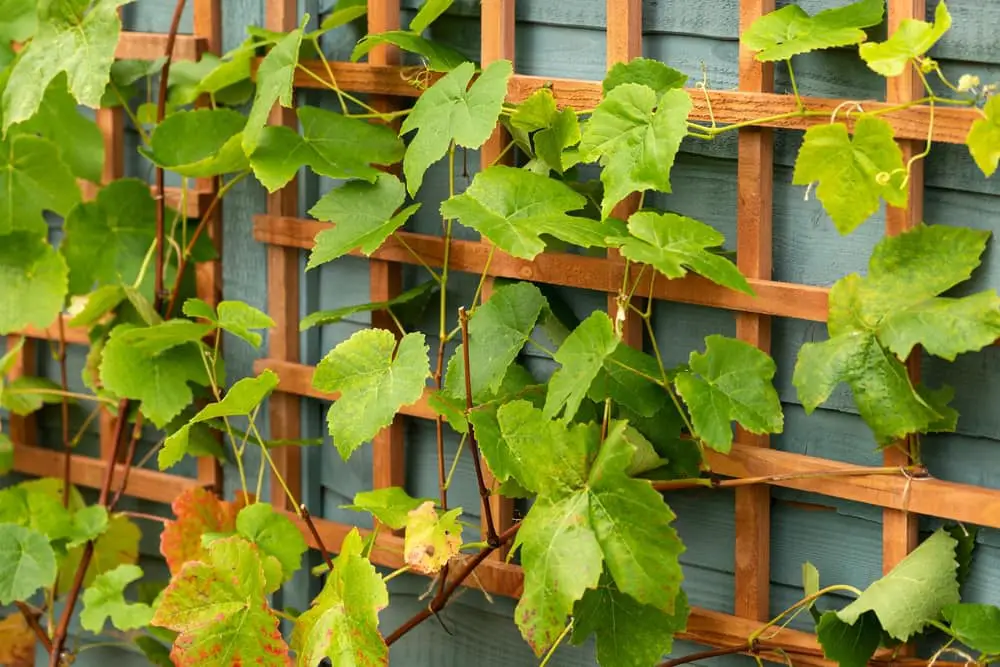 7 Trellis Ideas for Your Backyard
If you find a simple trellis boring, there are ways that you can spice it up and make it fit your backyard fantasy.
To help you out, here are seven trellis ideas to liven up your backyard.
1. Build a trellis for privacy
The first trellis idea on this list is to build your trellis for privacy.
A trellis is an excellent addition to your backyard for its aesthetic appeal, but it can also be functional, like if you turn your trellis into a privacy wall.
As mentioned, a trellis is an excellent alternative to backyard fencing – specifically if you don't want backyard fencing all along the perimeter of your yard. A trellis is an effective way to get privacy in one specific area of your yard. 
Whether you want to be shielded from passersby or concealed from your neighbors on one side, a trellis is one of the best ways to make that happen while adding beauty to your yard.
2. Use a slatted trellis instead of fencing
While you can build a trellis wall for privacy, it's also possible to turn a trellis – or a group of them – into a fence.
To keep things simple, reserve just one side of your fence for a trellis. A slatted trellis can provide just as much privacy as a full fence, with the additional benefit of climbing plants along it. This makes for a beautiful green wall in your backyard that amplifies the already multiple benefits of a trellis.
This trellis idea takes some work but is worth it in the end.
3. Pergola as a trellis
Do you already have a pergola in your backyard? You may not even need to get another structure for a trellis.
A pergola has columns supporting a grid of rafters and beams that serve as a room, the perfect structure to use as an alternative to a trellis.
The columns and open roof allow plants to climb up the pergola and circle it. The size of a typical pergola is also optimal to accommodate multiple plants.
Better yet, you can set up a seating area beneath your pergola to make it feel like you're hanging out in your private green oasis. 
4. Small trellis for your front yard
When people think of a trellis, they automatically think of their backyard. However, there's no reason not to consider adding a trellis to your front yard.
A trellis is a beautiful addition to your front yard and adds a welcoming element to your home. Since they come in various sizes, it's easy to find a trellis that suits your front yard.
5. Use trellises to split up your backyard
One great element about trellises is having several in your backyard at once. Better yet, these trellises can serve a functional purpose in your backyard.
You can have several trellises to break off different areas in your backyard. From your garden space to your gazebo, trellises make great green walls to add depth to your yard and organize it how you wish. 
6. Add a trellis to your garden room
Just as trellises aren't just for your backyard, they also are not restricted to indoor use.
If you're lucky enough to have a garden room, a sunroom, a greenhouse, or any other indoor space with plants, adding a trellis can extend your plant collection and make a beautiful addition. 
For best results, ensure that the room you add your trellis to receives ample sunlight and is suitable for plant growth.
7. DIY trellis
Last on our list of trellis ideas is to go the DIY route and build your own trellis from scratch.
Building your own trellis allows you to make it look exactly how you want it to look. You can experiment with several different looks, shapes, and designs to suit your garden needs.
You can make your own trellis from a variety of materials that you may already have lying around, such as wood or wire. Moreover, trellises are not too difficult to make and are an excellent afternoon DIY project. Be sure to get creative and have fun with it!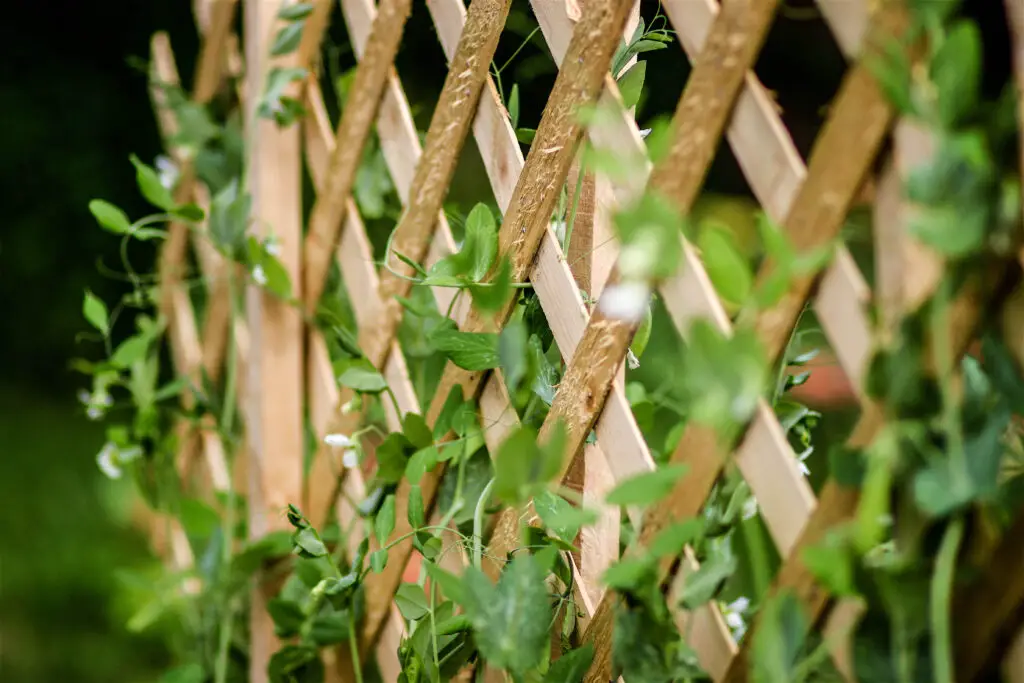 Trellis Ideas FAQs
What can I use instead of a trellis?
Pallets are a great alternative to using a trellis. Better yet, pallets are inexpensive and can sometimes be found lying around. You just have to ensure that the pallets are heat treated and not chemically treated to prevent contamination in your garden.
Another great alternative is a wooden ladder, which can repurpose something you have laying around and add a unique charm to your garden.
What is best to grow on a trellis?
There's an endless list of plants that can grow on a trellis. As a rule of thumb, if a plant needs to crawl or climb, then a trellis can help.
Trellises are a great support for vegetable gardens. They can be used for many varieties of peas and beans and climbing vines such as melons and cucumbers.
Is it cheaper to make your own trellis?
While there are a variety of different trellis options out there that are ready to use, they can sometimes be pricey. Therefore, if you have the time and the material lying around, a DIY trellis may be more cost effective.
Better yet, when you make your own DIY trellis, you can design in the way you wish to suit your backyard better.
Conclusion: Which Trellis Idea Is Right for You?
To conclude, trellises are a creative way to add more greenery to your backyard and a unique and functional touch. From a DIY garden trellis, for your tomato plants to an arched trellis design for vertical gardening, hopefully, you've found the next addition to your backyard in this list of trellis ideas.
If you're debating between a trellis and a gazebo, check out this article to help you decide which is suitable for your yard.