If you're looking to spruce up your backyard, two things that you might consider adding are a trellis or a gazebo.
These structures make beautiful and functional additions to your home's exterior and are worth considering. However, it can be hard to figure out which one you should get when it comes to trellis vs gazebo. If you can only choose one, which one is the better choice?
In this article, you'll learn all about trellises and gazebos. We'll also compare the two to help you decide which one is right for your backyard.
Let's start by explaining what a trellis and gazebo are.
What Is a Trellis?
A trellis is a framework structure typically made from wood or metal. The primary purpose of a trellis is to support plants – specifically climbing plants such as:
Trellises are also great for non-vegetative plants that climb, such as wisteria or honeysuckle. They come in several different sizes, materials, and even shapes, making them an easy addition to any home's exterior, whether the front yard or the backyard. 
Benefits of a Trellis
A trellis has both functional and aesthetic purposes.
Functionally, it's a great way to make more usable outdoor space in your backyard by having your plants grow vertically instead of horizontally. As a result, you can grow more plants or have room for other things in your yard, such as a seating area near your garden.
Trellises also benefit your plants as they increase sunlight exposure, meaning they no longer have to compete with each other to get enough sunlight. This will lead to an improvement in the health of your plants as well.
Finally, trellises can serve a decorative purpose and make your back or front yard look better with added greenery. They're easy to move around, and you can have several to create your desired landscape.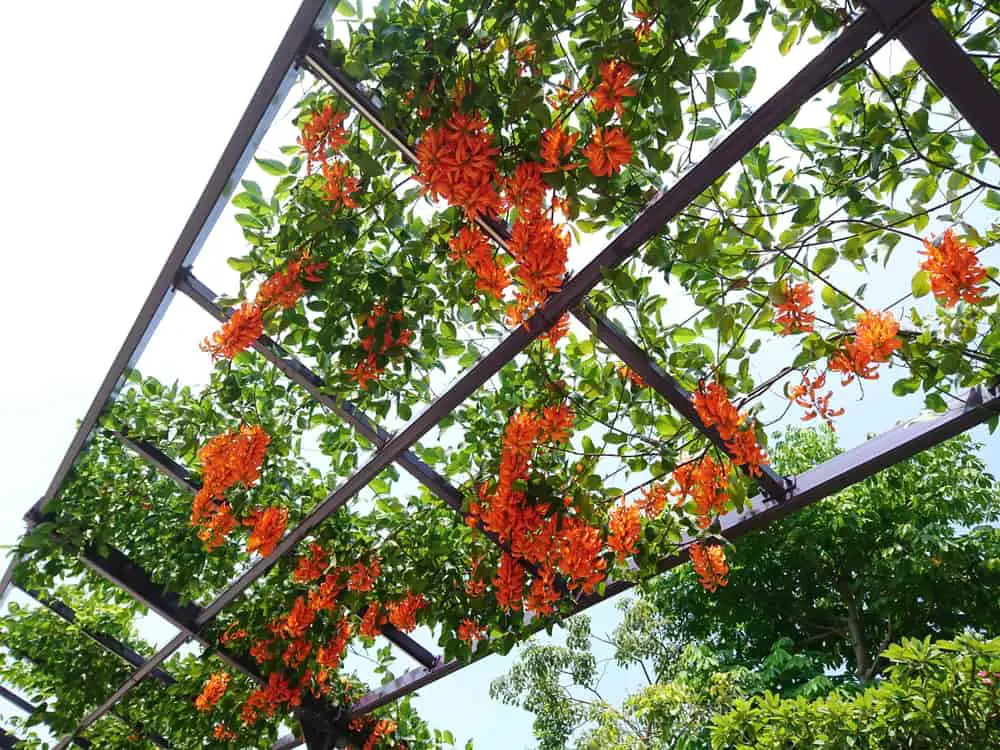 What Is a Gazebo?
A gazebo is an open outdoor structure with a closed roof found in backyards or public parks. They are a freestanding structure, usually in the shape of a hexagon or an octagon. 
Gazebos are meant to be a place to hang out. They're often located near gardens and offer a space from which you can enjoy your garden landscaping or entertain others. While they are simple, there are several ways in which you can make a gazebo unique to your home.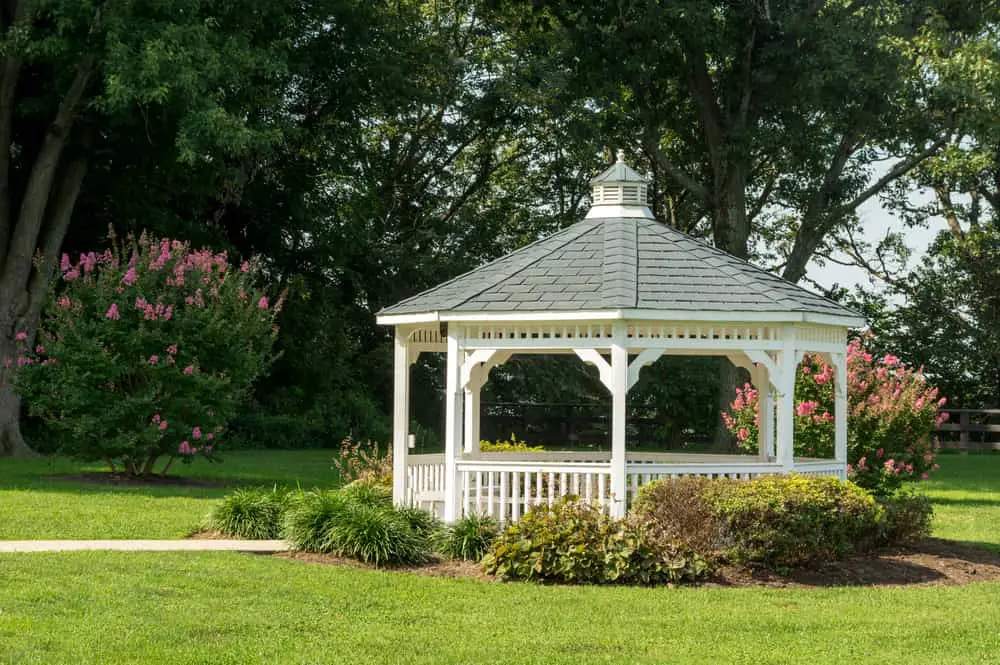 Benefits of a Gazebo
Gazebos are a great addition to your backyard for many reasons, mainly because they are practical.
Having a covered area from which to enjoy your backyard is crucial, as it allows you to be outside no matter the weather. A gazebo provides you with closed roof protection from the sun on hot days and from the rain on rainy days. For this reason, some people put their hot tubs under their gazebo, allowing them to soak in their tubs even on snowy days.
Gazebos are also quite low maintenance and easy to care for if built right. What's more, a well-built gazebo is a desirable feature in a home and can significantly increase the value of your home when it comes time to sell.
Now that you know the benefits of a trellis and a gazebo, let's compare the two to help you determine which one to get.
Trellis vs Gazebo – What's the Difference?
Choosing between a trellis vs a gazebo can be difficult, and it's important to understand the difference between the two structures before making any decision. 
To break down the differences between a trellis vs a gazebo, we've highlighted three main factors to consider:
Purpose
Placement
Let's take a look at each individual factor.
Purpose
The main difference between a trellis vs a gazebo is the purpose of each outdoor structure.
As mentioned, a trellis is meant for plants to grow, while a gazebo is a kind of shelter for your backyard. This means that each garden structure serves an entirely different purpose.
If you're looking for a place to relax and sit under complete shade, a gazebo is the right choice. If you're more concerned about the plants in your outdoor living space and allowing more sunlight for them, then you should choose a trellis.
Placement and Space
Placement also plays a huge role in whether you should choose a trellis vs a gazebo.
Generally, a gazebo takes up much more space than a trellis, as they are much bigger and meant to hold more people. They should therefore be placed somewhere in your yard away from trees and other plants not to disrupt the rest of your exterior.
In contrast, trellises are meant to conserve outdoor space and come in various shapes and sizes. A trellis can be leaned against an exterior wall of your home if you wanted it to, taking up very little space in your outdoor area.
Privacy
Privacy is another element that differentiates a trellis vs a gazebo. 
In general, gazebos and trellises can provide additional privacy in your backyard from your neighbors, although they do so differently.
A trellis can serve as a green wall and, when placed near a seating area, can shield that area from onlookers, as well as provide additional shade to that seating area.
As an open structure, a gazebo may not provide as much privacy as surrounding areas. However, you can add curtains to make it more private, which you can remove when needed.
Overall, both a gazebo and a trellis can provide you with more privacy in your backyard.
Other Alternatives – Pergola
One alternative to a trellis and a gazebo may provide you with the best of both worlds – a pergola.
Thanks to the slatted open roof, you can use a pergola as a trellis, as climbing vines and other flowering foliage can still wrap around the area. You can also add a seating area beneath the pergola to make it a great place to hang out and enjoy your backyard. A win-win!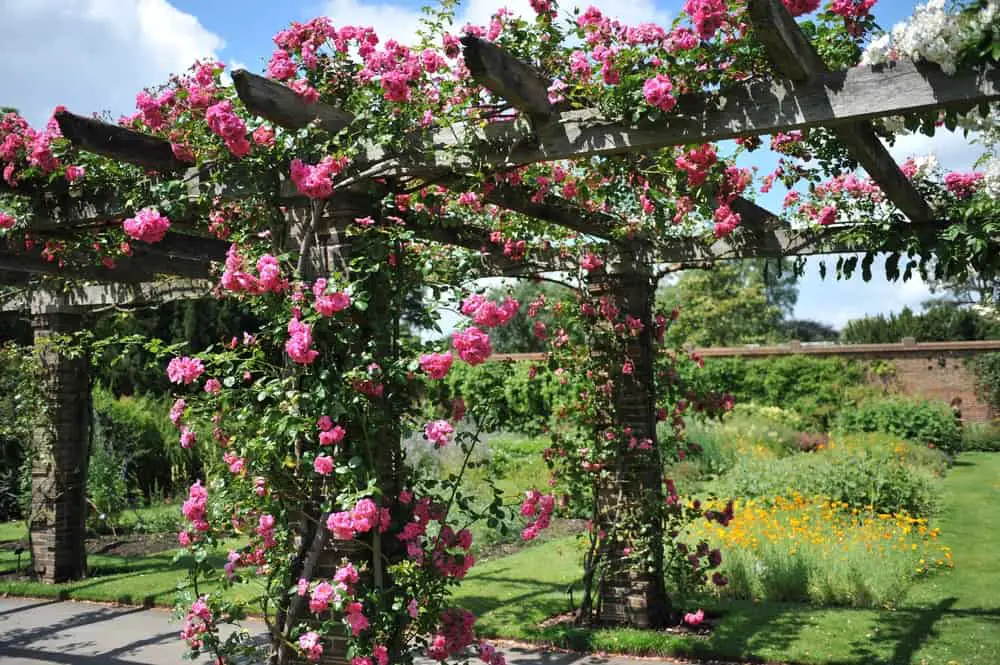 Recap: Which One Is Best for You?
To recap, a trellis is a structure meant for plants, while a gazebo is meant to sit in and hang out in your backyard. The one you choose depends on what your end goal is with your backyard.
If you still can't choose between the two, you might not have to. In reality, it's easy to add both a gazebo and a trellis in your backyard, as they are two different structures that serve different purposes. As long as you have the space, you may be able to get the best of both worlds!