Every child dreams of a tree house. It's a little getaway that brings them closer to nature and feels like it's entirely theirs.
That said, building and maintaining a tree house can be a lot of effort for a parent. What's more, the last thing you want is for your kids to be disappointed or bored with the tree house you built for them.
There are many ways in which you can add new aspects to a treehouse that will keep your children entertained for years to come. The best part is that sprucing up a treehouse doesn't take too much effort.
In this article, you'll discover the top seven treehouse ideas to turn your ordinary tree house into a magical place to remember that your children will cherish well into adulthood.
What Is a Treehouse?
Let's make sure we're on the same page on what a treehouse is.
A treehouse is a building or platform – usually in the form that resembles a house – constructed in a tree. That said, tree houses don't necessarily have to be in trees.
A treehouse can be between multiple trees, between the branches of a single tree, built around a tree trunk, or even made on the ground next to a tree. There are truly endless possibilities when it comes to a treehouse.
Children most commonly use treehouses, but adults can also use them if they are big enough. Children often use treehouses to play and put their imagination to work.
The biggest concern when it comes to treehouses is safety. When properly built on the right tree, a treehouse is perfectly safe for your children. That said, if you don't feel confident creating your own treehouse, you may want to consider hiring a professional to build one for you. You should also extend these safety concerns to any additions you want to add to your treehouse.
Now that you're caught up on what exactly a treehouse is, let's explore some treehouse ideas to spruce up your treehouse.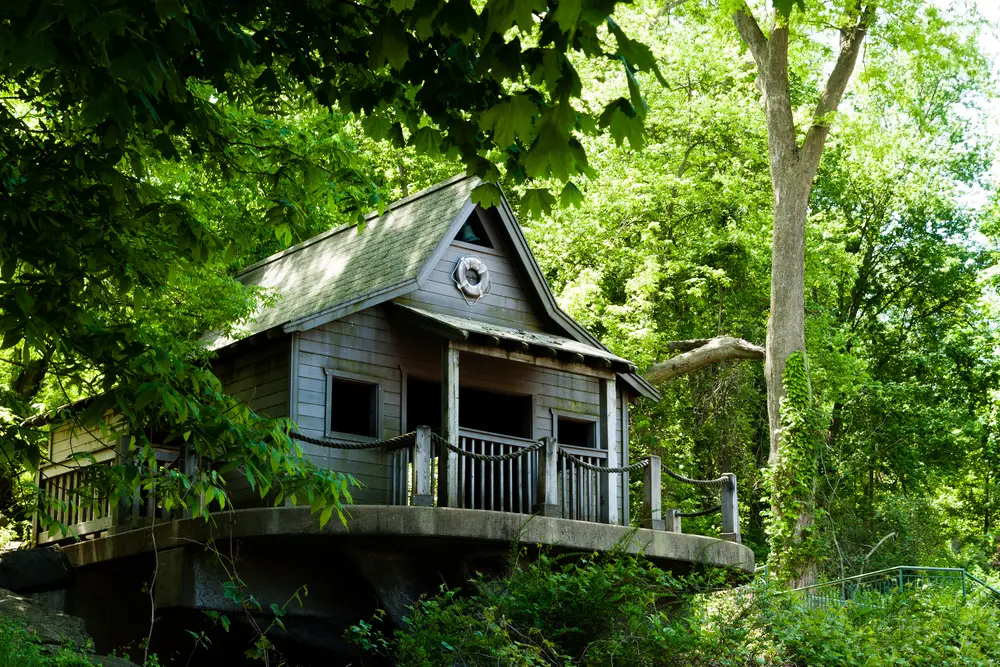 Treehouse Ideas for the Most Magical Experience
Tree houses don't have to be plain and boring. You can incorporate many additions into your treehouse to make it stand out. The best part is that many additions are simple and require minimal work.
Whether you already have an old treehouse that you simply want to liven up or are thinking of building a backyard treehouse project from scratch, these ideas are a great way to ensure your children are always impressed with their treehouse.
Let's look at these seven treehouse ideas to give your children the best experience. 
1. Build a deck
Sometimes updating a treehouse looks similar to updating a house. Just as you consider adding a deck to your home, you may also want to add a deck to your treehouse.
Adding a deck to your treehouse will give it an extra element of adventure for your kids to enjoy. They can not only hang out inside their treehouse, but they can also step outside and hang out while remaining high above the ground.
Building a deck extension on your treehouse requires a little more work than other ideas, especially ensuring it is truly safe. However, the payoff is worth it, and it will even increase the value of your tree house!
2. Add a swing
A straightforward addition you can make to your treehouse is adding a swing below it. 
Every backyard with a tree should have a swing. A tree swing perfectly complements a tree house as it allows your children to have fun above and below the tree. Moreover, tree swings are not too complicated to make or install – you can complete one in an afternoon!
You should ensure that your tree branches can handle having a swing on top of the tree house. For the safest results, it's a good idea to consult a professional to determine the health and capability of your tree.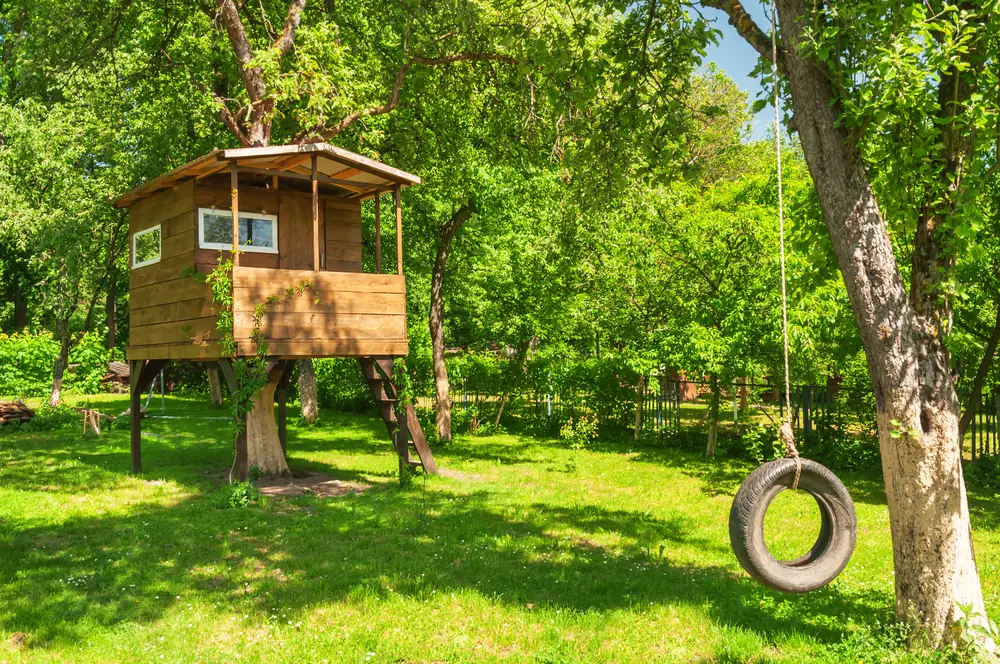 3. Make it comfy with cushions
Sometimes you don't need to do anything outside the tree house to make it more exciting for your children. Redecorating the inside can make the space feel brand new.
One of the simplest things you can do is add outdoor cushions to your tree house. You can either surprise your kid with these cushions or take them shopping and have them pick them out themselves.
Doing this will help your kids feel like their treehouse is their special place.
4. Add a rope
You'd be surprised at how excited children can get over something as simple as a rope. That's why adding a rope to your tree house in addition to your ladder is a great way to level up your tree house.
A rope gives your kids options for getting up and down from the tree house and encourages more physical activity. This addition should be reserved for older kids who can safely climb down from the rope. You also want to ensure the rope is strong enough to withstand their weight.
5. Hang string lights
Tree houses don't only have to be a daytime activity. It can be fun to hang out in a treehouse and listen to the crickets at night. However, proper lighting is key, so adding lights to your tree house is a great idea.
String lights are a beautiful addition to any outdoor space, and treehouses are no exception. You can hang them inside and outside the treehouse to increase the magical aspect of the space and create a space that your children will never forget.
6. Paint it
Another simple treehouse idea is to paint your treehouse.
While many people choose to keep their treehouses plain and wood-based, there's no reason not to get creative and paint your treehouse another color. Get your kids involved by allowing them to pick the color or specific designs they may want for the treehouse.
You can also paint the inside of the treehouse to make it feel special inside and out. While children should not climb a ladder to paint the outside, painting the interior can be a fun family activity.
7. Add a zipline
This final treehouse idea requires more planning and effort than the others but also provides the most payoff.
Depending on the setup of your yard, you can make a zipline that goes from your treehouse to your house or even to another tree. A zip line will make your tree house the most popular in the neighborhood.
There are many precautions that you must take with this idea, including understanding the height of the treehouse, potential obstacles, and having the proper equipment. There are various zipline kits made for kids and this purpose, so that's an excellent place to start.
Treehouse Ideas FAQ
How do you make a treehouse look cool?
There are many ways to turn a basic treehouse into a childhood dream. Here are some simple yet effective ideas:
Add a swing
Make it into a theme
Add a zip line
What do you put on the floor of a treehouse?
The floors of your tree house will take a beating, no matter who uses it. That's why you don't want to skimp on the quality of wood you're using for the floors. 
Just like with your home, using hardwood for the floors in your treehouse is a good idea. For additional benefits, oak is an excellent choice for your treehouse floor because they're rot and insect resistant.
What tree is best for a treehouse?
Deciduous trees – trees that tend to have their leaves fall in autumn, are the best trees to build treehouses on. Popular deciduous trees that you may have in your backyard include:
It's crucial to ensure that your tree can withstand a treehouse before building one or adding extra features such as a deck or a swing.
The Takeaway: Treehouse Possibilities Are Endless
In conclusion, to prevent your children from getting bored with your treehouse, occasionally adding new features is a good idea. Your children will appreciate the newness, whether that's a swing or simply redecorating.
Putting extra effort into making a unique treehouse experience for your children is worth it. The effort doesn't have to be much to turn a plain tree house into the most exciting part of your home.
Your children will cherish the memories made in this treehouse well into adulthood.