A gazebo is a free-standing open structure with a roof typically in the shape of a hexagon or an octagon. They're typically found in backyards, providing a place to hang out and entertain.
While the idea of a backyard gazebo is simple, it's essential to be strategic in both the design and the placement of your gazebo to ensure that it isn't out of place and that it becomes a beautiful addition to your yard.
How do you go about building the perfect gazebo? Keep reading to discover several ideas to make the gazebo of your dreams right in your backyard space.
Why Have a Gazebo?
Before diving into gazebo ideas, you must be sure you want a gazebo in your outdoor space.
Never thought of having a gazebo in your backyard space? While these structures aren't for everyone, there are several reasons why you should consider adding a gazebo to your backyard.
Firstly, gazebos are a practical addition to your backyard, especially if you already spend a lot of time there. Gazebos provide a covered space to escape the heat of the sun, allowing you to enjoy your backyard even on the sunniest days under the protection of your gazebo. The same benefit applies to rainy days where you still want to spend time outdoors.
Gazebos are also low maintenance and easy to care for, especially if they're well-built. If you love entertaining in your home, a gazebo gives you an outdoor space to entertain guests and hang out in your garden.
A well-built gazebo can also increase your property value, as they take time and money to build, so any homeowner would be happy not to have to go through the process themselves. Finally, gazebos just look great in your backyard. 
All this said, gazebos might not be suitable for everyone's backyard needs. Let's take a look at what to consider when building a gazebo.
What to Consider in Building a Gazebo
While gazebos have their benefits, they aren't suitable for everyone or every backyard. There are a few things that you should consider before choosing to build a gazebo. Here are some of the main considerations that will impact your decision:
Size of your backyard: If you have a small backyard, you may not want to build a gazebo if it takes up most of the space.
Space: Even if you have a larger backyard, you want to ensure that the placement of your gazebo isn't awkward or restricting in any way.
How often you're outside: A gazebo is a great addition to your backyard, but it may not be worth it if you don't currently care to spend time in your yard. Or maybe building a gazebo will inspire you to spend more time outdoors!
Your budget: Gazebos can be expensive to build, so you want to ensure it's within budget before you decide to build one.
Now that you know everything there is to know about classic gazebos, it's time to take a look at awesome creative backyard gazebo ideas.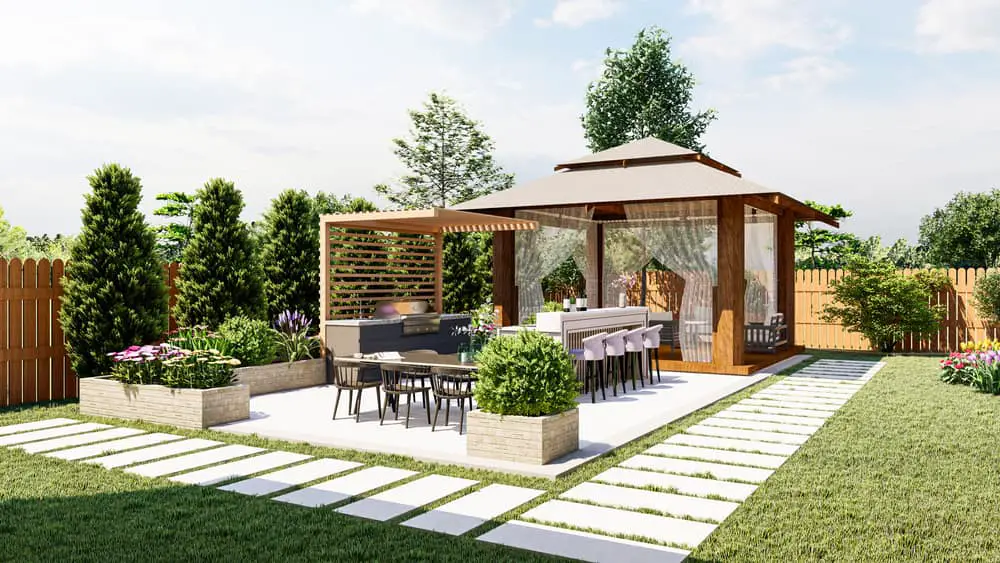 Top 10 Gazebo Ideas
A simple gazebo is already an excellent place for entertaining or simply to admire your garden, but there are ways to enhance your gazebo to turn it into your favorite spot in the house.
For inspiration, here are ten gazebo ideas that will enhance your backyard. 
1. Get a projector and have movie nights
A backyard gazebo idea that will make your house the Friday night hangout spot is to turn it into an outdoor theater.
If your gazebo is near a wall of your house, you can get a projector and set it up to have outdoor movie nights. A gazebo is a great place for this as the roof protects the projector from the elements, meaning you can always set it up for movie night.
Add cushions to your seating area to make it comfy, kind of like an outdoor living room. Don't forget the popcorn!
2. Build an outdoor kitchen
What's better than an indoor kitchen? Having an outdoor kitchen!
An outdoor kitchen is great for barbeques where you have a lot of food to prepare. You no longer have to go in and out of your house to prepare and bring out food as you'll have everything you need in one space.
A gazebo ensures that you never miss a beat when preparing food. Keeping your outdoor kitchen under your gazebo ensures that you don't have to stop what you're doing because of the rain. What's more, smells won't be lingering inside your home. Finally, with your guests outside, it's easy to multitask by cooking and entertaining!
3. Add a hot tub
Having a hot tub in your backyard means that you always have a personal spa. A gazebo is the perfect shelter for a hot top.
When you put your hot tub under a traditional gazebo, you don't need to worry about the weather wherever you decide it's time for a soak. Whether it's raining or snowing, you can enjoy the warmth of your hot tub all year long. What's better than watching the snow fall from the comfort of your hot tub?
4. Build a wet bar
Love entertaining in your backyard? Adding a wet bar to your gazebo is a great way to keep the party going.
Having to go inside for cold drinks is inconvenient when you're in the middle of having a great time outdoors. Instead, consider adding a wet bar to your gazebo to eliminate the need to go inside. 
You can add a mini fridge, a sink, and a bar to your gazebo to make it a one-stop shop for all your drink needs during your next get-together. The best part is that you can easily add to your setup without totally redoing the gazebo you already have.
5. Poolside oasis
If you're lucky enough to have a pool, it's essential to have somewhere to relax next to the pool. A poolside gazebo can be that escape.
Gazebos make great poolside oases because they are covered, giving you a break from the sun. If you set up some comfortable seating or even add a shower, your beautiful gazebo becomes the perfect companion to your outdoor pool.
6. Keep it simple
Maybe your gazebo doesn't need to be enhanced at all. If you want your gazebo to be used for various reasons, then it's a good idea to keep the design simple so that it's ready for anything.
Sometimes less is more. This is especially true if your gazebo is where you simply like to sit and enjoy the fresh air or admire your garden.
All your gazebo may need is some comfortable seating and a table to put your beer down to be the perfect outdoor space for your home.
7. Curtains for privacy
Adding curtains is a simple addition to your gazebo that makes all the difference. 
While part of the appeal of a gazebo is the open air, sometimes it's worth having the option to close it off to create a more private outdoor living space. That's the benefit of having curtains in your gazebo.
Curtains not only provide you with additional privacy, but they're also a great way to decorate your gazebo. You can have different colored curtains and choose from other fabrics as well.
The best part about curtains for your gazebo is that you can remove them whenever you feel like they're no longer necessary and easily add them back when you want them.
8. A perfect place for al fresco meals
You don't need to build an entire outdoor kitchen in your gazebo to enjoy your meals there.
Adding an outdoor dining table and chairs is a great way to enjoy al fresco meals. It's also great to have a table and chairs outside just for the convenience of hanging out outdoors. 
This setup is best if your gazebo is close to your home to avoid having to walk over with plates of food.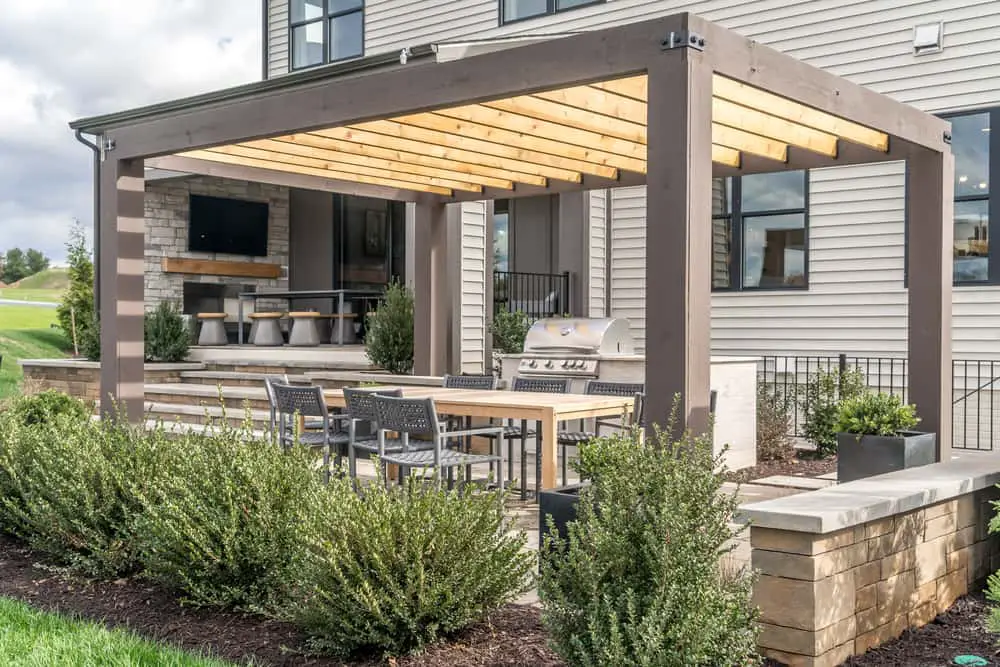 9. Complete enclosure
If the one thing keeping you from a gazebo is the idea of being outdoors, there are ways of getting around that. While regular walls defeat the purpose of a gazebo, glass walls are a great way to get around that.
Adding glass walls to your gazebo makes you feel outdoors but with the safety and protection of being indoors. This modern design is perfect for those who want a gazebo but also want to stay away from bugs, wildlife, and the elements.
10. Front porch gazebo
The last unique gazebo idea on this list is to put a gazebo in your front yard.
Gazebos aren't only for your backyard. If you have a large enough front yard, you may consider adding a gazebo there too.
A front yard gazebo is excellent if you like people watching, or if you want to entertain people, such as sales people, without having them come into your home. While not everyone has enough front yard space for this, it's worth considering if you do.
Gazebo Ideas FAQs
Does building a gazebo increase home value?
A gazebo is a great way to increase your home value.
Building a high-quality gazebo in your backyard is a great way to bring together the design and enhance the beauty of your home – indoors and outdoors. 
Moreover, a well-built gazebo contributes significantly to your home's curbside appeal, which helps raise the value of your property when it's time to sell.
What can you do with a gazebo?
There's an endless list of things you can do with an outdoor gazebo. Here are just a few examples:
Install a built-in grill
Add a wet bar and cooler
Add an outdoor rug
Hang string lights
Where should you put your gazebo in your backyard?
In general, you want to put your gazebo design in an area away from plants and trees.
You should put your gazebo somewhere that doesn't already have shade, as one of the main reasons for even having a gazebo is to have extra shade. You also don't want it to be close to other plants to the point where it's blocking them from gaining the right amount of sunlight.
Wrap-Up: Make Your Gazebo the New Hang-Out Spot
An outdoor gazebo is a great addition to your back (or front!) yard to give you a place to hang out, entertain, or just escape the indoors.
Hopefully, these backyard gazebo ideas have inspired you to get creative with your gazebo. Don't hesitate to get creative and turn your gazebo into your outdoor oasis.