The number one reason any homeowner chooses to get a fence for their backyard is privacy. After all, to truly enjoy your home and make it feel like your own private oasis, it's essential to have privacy from your neighbors. 
That said, another good reason to get a backyard fence is for aesthetic purposes.
It's essential to balance the functional and aesthetic purposes of a backyard fence when considering what type of fence is most suitable for your backyard. Not sure where to start? You've come to the right place.
In this article, we'll explain why backyard fencing is so important and provide you with seven backyard fence ideas to protect and decorate your outdoor space.
Why Is a Backyard Fence So Important?
When you buy a newly built home, there is often no backyard fence. This results in many homeowners putting off building that fence as they don't see it as immediately necessary. On the contrary, having a backyard fence is extremely important to protect your home.
The most significant benefit of a backyard fence is protection, security, and peace of mind for your home and everyone in it. Think of your fence as an additional barrier between the outside world and your home – specifically your family who lives inside your home.
For kids and pets especially, a backyard fence means that you don't have to worry about letting them play outside, as you know that they are secure in the backyard and won't run off or aren't subject to strangers walking by.
A backyard fence is also a great way to keep things out. Particularly critters such as rabbits and raccoons. Although many animals can easily climb a fence, it's still an effective way of keeping many unwanted animals out.
Wandering neighbors' eyes are also kept out by a fence, providing you with more privacy. You'll feel more relaxed in your backyard without worrying about what your neighbors might see or think.
Finally, a backyard fence is also a fantastic way to bring everything in your backyard together. A fence can greatly impact your backyard aesthetic, so it's a good idea to get creative and think about how you want your fence to look.
Before jumping into specific backyard fence ideas, let's look at different materials you can use to build your fence.
Backyard Fence Idea Materials
When it comes to the material you should use to make your backyard fence, you have several to choose from. The material you choose will impact the way that your fence looks, as well as your entire backyard.
Here are a few popular materials used to create appealing backyard fences:
Wood: Probably the most popular material. A wood fence is a classic choice that works with many different aesthetics.
PVC: The least expensive material choice. PVC comes in several different looks, styles, and colors to match your backyard decor.
Aluminum: Aluminum fences use strong and durable material that is an excellent choice if longevity is your priority.
Vinyl: Vinyl is another solid material for backyard fences. Similarly to aluminum, it is strong and durable.
Stone: Stone isn't the most popular fence material, but it is one of the most aesthetically pleasing materials you can choose.
Now that you know the importance of a backyard fence and the materials you have to choose from, let's check out some backyard fence ideas for inspiration.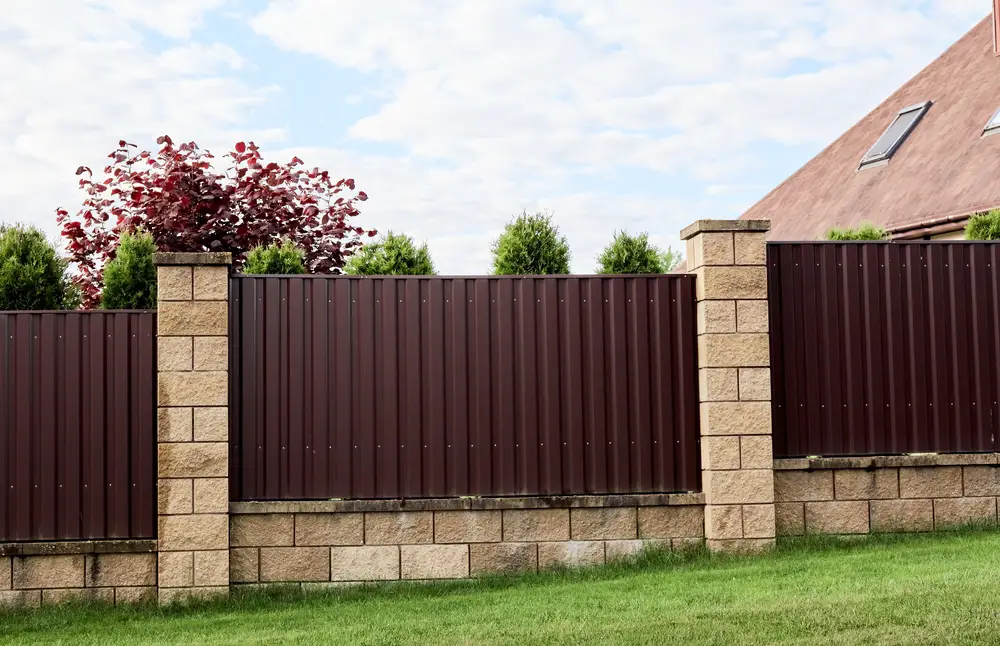 Backyard Fence Ideas
Some people fail to realize that fencing doesn't have to be boring. There are many ways to turn a regular wood fence into another piece of art in your backyard. 
Looking for inspiration for your backyard fence? Check out these eight backyard fence ideas you implement in your outdoor space.
1. Metal fence
Fences, first and foremost, provide protection and privacy. However, they can offer so much more if you're willing to explore different materials and styles.
If you're more concerned with the aesthetic appeal of your fence than the privacy it provides you, you may want to consider a metal or iron fence. An iron fence provides a unique look to your backyard. It also doesn't completely close off your backyard, thanks to the slats, which is excellent if you want security but an open feel.
The downside is that, while sturdy, iron will weather over time, which you should be careful of when choosing a metal or iron fence. If you're looking for longevity, metal fencing might not be the best choice.
2. Gabion wall
Gabion fences aren't common in most residential backyards today, but they're definitely unique.
Gabions are rectangular baskets made from hexagonal wire mesh, typically made of heavily galvanized steel. The baskets are filled with rocks and then stacked on top of one another to form a wall.
These fences are usually used in civil engineering and the military, but they also make for a unique backyard fence idea.
While it's probably challenging to build a full gabion fence, reserving one part of your fence for a gabion wall will add a unique touch. This striking wall will surely have your neighbors wanting to add a gabion wall to their backyard.
3. Bamboo fence
Bamboo fences are becoming more and more popular in backyards. Bamboo fences are long-lasting, durable, and give your backyard a slightly more unique look than wooden fences. It has a naturally beautiful finish and can be stained in any color you prefer. 
There are also different types of bamboo you can choose from, and construction can vary, although the most popular type is bamboo poles strung together with twine.
The best part about bamboo fencing is that it is environmentally friendly – even more so than wood. Wood fences contribute to deforestation, while bamboo is a plant that grows back very quickly and can therefore be harvested repeatedly.
The main drawback of bamboo fencing is that it is more expensive than other standard options, such as wood. What's more, if you live in a warmer climate and choose to have a live bamboo fence, it requires a lot of maintenance through regular pruning.
4. Vertical garden
The next backyard fence idea on our list is to build a vertical garden that can be used as a fence.
A vertical garden is one that grows upwards instead of horizontally. Also known as a green wall, vertical gardens mainly use hydroponics to hydrate the plants.
Vertical gardens can be either free-standing or attached to a wall. Trellis fencing is a great way to support your vertical garden. Aesthetically, they make a beautiful addition to your backyard and can make it feel like an oasis. They can also be as effective in providing privacy as traditional fences, such as wood fences.
The critical thing to remember with vertical gardens is that they require a lot of maintenance. However, if you're a gardening enthusiast, this is a minimal cost for a beautiful fence alternative.
5. Repurposed pallets
Are you looking to build a fence but want to do it on a budget? Old pallets can easily be used to build a fence around your backyard.
Using pre-assembled pallets doesn't only save you money but also saves you time when building a fence, as it makes them easier to incorporate into a fence. 
Each reclaimed wood pallet would serve as a fence section. Instead of building individual sections, you can skip that step and connect the sections you already have to build a fence. If you need to cut a section to make it fit, you can easily do so.
A pallet fence is easy to build. Pallets are easy to move and replace when needed, which is important as, since pallets are not the most durable fencing material, you will likely need to replace them at some point.
6. Garden fence
If you don't want to build a fence to enclose your entire backyard, it may be a good idea to build a garden fence instead. A garden fence is a fence you build around your garden. You can build a privacy fence out of many different materials, from wood to stone. You can even integrate a vertical garden into your fence to extend your garden.
The best part about a garden fence is that it can double as a privacy screen if you build it tall enough. This option is great if you don't have fencing around your property and just want privacy in your garden, especially if you have a sitting area in it as well.
7. Light up your fence
The last backyard fence idea on our list is to spruce up the fence you already have by adding lights.
This idea is practical, functional, and unique. Adding lights to your fence allows you to illuminate your backyard, which means you can use it at night or simply keep it lit up at night so you can always see what's outside.
Regarding aesthetics, lighting up your fence can turn your backyard into a dreamy, romantic spot to hang out at night. Lights will make your backyard pop and can even make your garden glow.
The best lights to get for outdoor use are solar lights or string lights. You can also line your fence with fairy lights for a truly unforgettable backyard sight.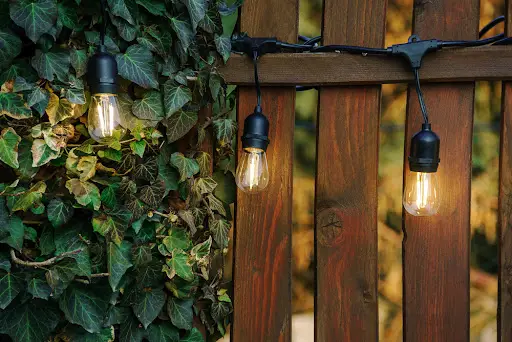 Backyard Fence Ideas FAQ
What is the best style of fence for a backyard?
A classic wooden fence is the most popular style for a backyard. You can't go wrong with wood as it is reliable, durable, and goes well with many different types of decor.
However, the best fence style, if you're looking for quality, is an aluminum or vinyl fence. These fencing materials are 100% immune to rot, mold, and wear from the elements, which are important considerations when choosing the best type of fencing. As a result, you can expect them to last over 50 years and look great the entire time.
What type of fence adds the most property value?
In general, privacy fences made from wood or stone increase the property value of your home the most.
These fences are well-built and minimal, making them attractive to any homebuyer. If selling your house is your goal, keep your backyard fence ideas simple. 
What is the cheapest option for fencing?
PVC is the cheapest material that you can use for fencing.
PVC can replace classic wooden posts to create an effective privacy fence for your backyard at a fraction of the cost of a wooden fence. They're also easy to install yourself, further reducing the cost of labor.
Conclusion: Your Backyard Fence Should Be Practical and Beautiful
Your backyard fence encloses your backyard and serves as its perimeter, so it's essential to ensure that it is not only functional but also visually brings your backyard together.
Whether you're building a new fence or looking to update the one you already have, hopefully, these backyard fence ideas have inspired you on what to do to protect your backyard and ensure that it's aesthetically up to your standard.