Summer is an exciting time for kids for many reasons. One of those reasons is that they can now play outdoors and be reunited with their favorite outdoor toys once again. 
However, it isn't always easy to find outdoor toys from last summer that may have gotten lost in the yard over the winter. From water guns to paddles, it's easy for things to get lost and forgotten. What's more, having to pick up toys in your backyard every day is an easy way to ruin your summer.
The best solution to this problem is to get an outdoor toy box. In this article, we'll explain why you need an outdoor toy box and provide you with five options to keep your backyard organized and toy-free.
Why Have an Outdoor Toy Box?
Do you always lose your kids' toys outside? Maybe in the spring, as the snow melts, you notice a missing toy thawing out that you haven't seen since last summer. If this is the case, you need an outdoor toy box.
There are many reasons to have an outdoor toy box, with keeping track of your children's toys being the number one reason. Children lose toys all the time because they quickly forget about them. However, they can easily cause a scene once they want that toy back. Giving your child a specific place to put their toys and teaching them how to use it will decrease the risk of lost toys.
An outdoor toy storage box also allows you to separate your children's indoor and outdoor toys. It's never appealing to have toys filled with dirt and potential bugs inside your home. An outdoor toy box teaches your child that there are indoor toys and outdoor toys and that there's a time and place for each one.
Finally, an outdoor toy box keeps your yard clean. If you spend hours making your backyard your paradise, you don't want that ruined by scattered toys. What's more, you also don't want to end up stepping on these toys, risking breaking them and causing yourself injury. 
Now that you know why you should get an outdoor toy box, let's look at your options.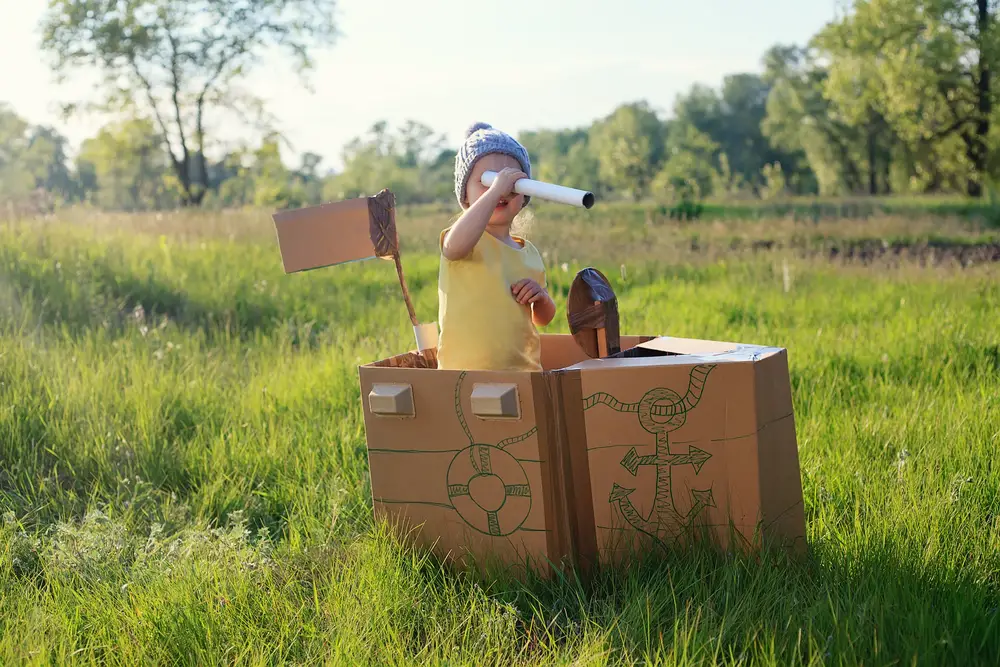 Top 5 Outdoor Toy Box Ideas
Here are the top five outdoor toy storage ideas to keep your yard toy-free this summer.
Outdoor storage box
We will start our list of the best outdoor toy box options with a simple outdoor storage box.
This East Oak Deck Box is ideal for storing tools, sports equipment, and, yes, children's toys. It's waterproof and UV-resistant, so you don't have to worry about ruining your children's toys.
This storage box may be a simple outdoor solution, but your kids will always know where to find their toys and put them back to.
Camping Storage Bins
Do you have any extra plastic camping storage bins lying around? Well, these bins are perfect to use as outdoor storage boxes.
These bins are meant to be outdoors and can face any type of weather. They're also usually big enough to hold a variety of children's toys.
This Plastic Foldable Camping Storage Bins from Gilkes is a great option to use as an outdoor toy box. It's transparent so your kids can easily see their toys inside. It's also small enough for even small kids to reach into. Better yet, it's foldable and collapsible for easy storage when not in use.
Deck Box that Doubles as Seating
The next outdoor toy box idea is the most functional – a deck box that doubles as extra seating. You can even add outdoor furniture cushions for some comfort.
Not every toy box will be strong enough to withstand a person's weight, so it's crucial to ensure that the storage box you choose is meant to be sat on. 
This Keter Denali 30 Gallon Resin Deck Box is a great option for your child to have their outdoor toy storage chest and additional seating on your deck when it's not in use. With a 30-gallon storage capacity and weight limit of 286 pounds, this is the most functional option for your backyard.
Patio Bench With Storage
The good thing about a box that doubles as storage is that it's small enough not to take up too much room. However, if you're looking for full extra seating on your patio and storage, you may want to consider a storage bench.
The Suncast 50 Gallon Patio Bench with Storage is decorative and functional. Made from durable resin, this bench can hold all of your kids' toys as well as two guests – all at the same time.
Build Your Own
Finally, you can always build your own outdoor toy box. 
You can build a simple storage box, or if you're more crafty, create an outdoor storage bench for your deck. This option requires more work but can be a fun afternoon DIY project. You can even get your kids to help design it or paint it at the end – this will help ensure they actually use it.
Outdoor Toy Box FAQ
What is the best material for outdoor toy boxes?
Resin is the most popular choice of material for an outdoor toy bin. It blocks moisture and doesn't fade or dent, making it one of the most durable materials out there.
How do I keep my outdoor toys from fading?
The best way to ensure outdoor toys don't fade is to keep them in a dry area away from the sun. That's why an outdoor toy box is a good idea.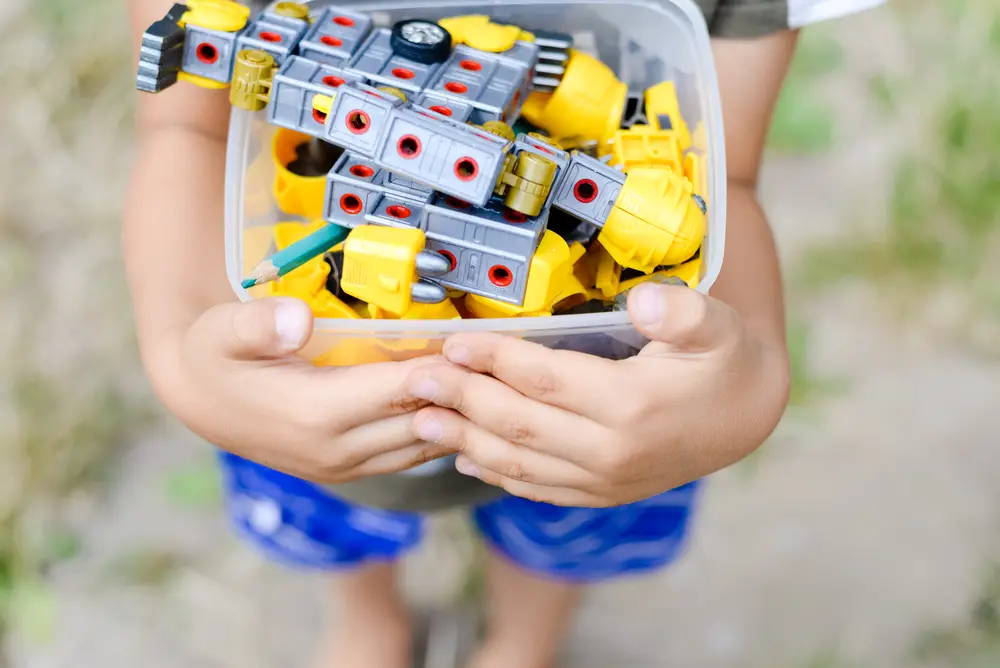 Never Lose a Toy Again
An outdoor toy box is the best solution for organizing toys and ensuring that your kids don't lose their favorite ones.
There are a variety of functional outdoor toy boxes that can double as seating and make beautiful additions to your deck or outdoor space. Hopefully, you've found your perfect solution in this article!