Balconies are a great way to extend your home outdoors. However, because they're outdoors, they also leave you exposed. This is especially true if you live in a condo in a busy city or a house surrounded by neighbors on all sides.
Have you ever desired more privacy on your balcony? Maybe you've wanted to sunbathe on your balcony but fear neighbors potentially seeing you. Or perhaps you just want to enjoy reading your book without distractions. Either way, there are several ways to minimize your exposure and add privacy to your balcony.
In this article, you'll learn how to make a balcony private with six simple tips to ensure you can enjoy your outdoor space in peace. 
Why Make Your Balcony Private?
Before learning how to make a balcony private, it's essential to understand why you'd want to make it private.
There are various reasons why you'd want to make your balcony private. Here are some common ones:
You live in the middle of a busy city where everyone is your neighbor, and your balcony is visible from the street. 
You have neighbors directly across from you.
You like to sunbathe on your balcony.
You enjoy private romantic dinners outdoors with your partner.
Your neighbors are always on their balconies.
If it doesn't bother you to be seen by neighbors occasionally, then there's no need to make your balcony private. After all, for the most part, your neighbors are not maliciously or even purposefully watching you on your balcony. 
However, if you would like the option of privacy from time to time, let's move on to our top tips on balcony privacy ideas.
How to Make a Balcony Private
If you want to make your balcony more private, you have several options.
Whether you're looking just to cover a portion of your balcony or the majority of it, there are a few different ways that you can go about it. 
Here are the top 6 ways to make a balcony private so you can enjoy the outdoors peacefully. 
1. Add a Low Privacy Screen
If you have glass or any other type of railings you can see on your balcony, the place to start to gain more privacy is by adding a balcony privacy screen.
Privacy screens are an easy way to cover your glass railings to limit the view onto your balcony. They're typically made with thick, high-density material that is opaque yet breathable, meaning that wind can still easily pass through onto your balcony.
Privacy screens are typically attached or zip-tied to your balcony for easy installation and removal. You can sunbathe out of view from your neighbors or sit low to the ground on seating pillows without being seen.
A balcony privacy screen is a perfect option if you don't want to cover your entire balcony but still want a reasonable amount of privacy.
2. Add a Privacy Wall
Looking for additional privacy that a privacy screen won't provide? You may need to update to a privacy wall.
A privacy wall is a barrier on your balcony to shield you from neighbors. This barrier is usually in the form of a structure that sits on your balcony and is typically at least six feet tall. 
The benefit of a privacy wall is that it provides more coverage and therefore more privacy. They're also easily moved if you don't feel like using them one day.
What's more, a privacy wall isn't typically fully opaque. Instead, you'll usually find privacy walls with interesting designs or wood paneling with spacing, which double as beautiful decor for your balcony. This means you aren't entirely shut out from the outdoors but won't be visible to your neighbors.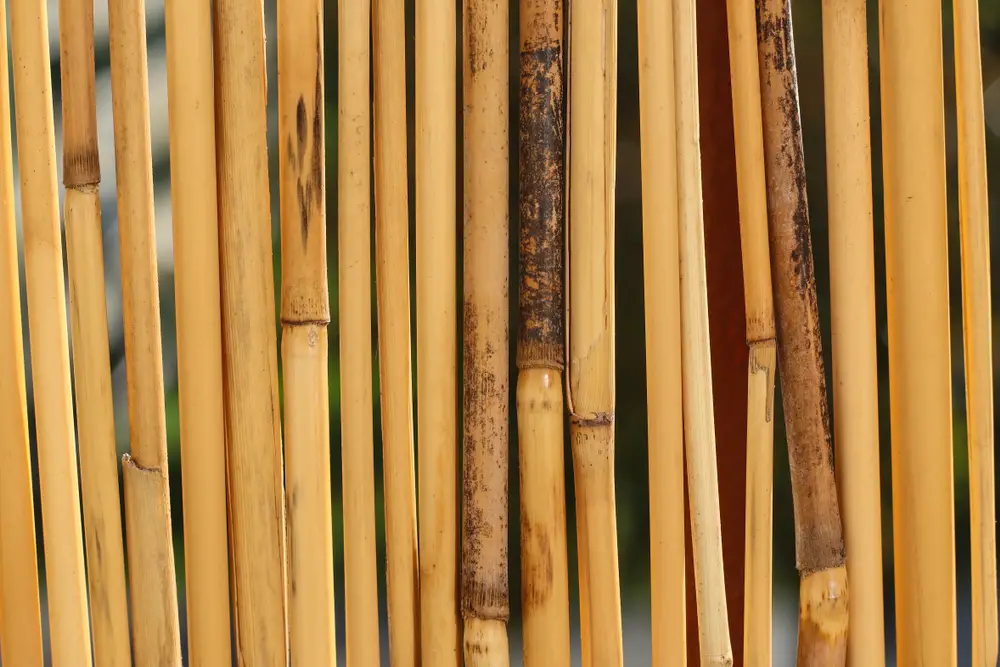 3. Cover With Bamboo Fencing
Bamboo has become increasingly popular, especially when deciding how to make a balcony private. Bamboo fencing is a great way to protect your balcony from onlookers. 
This method of making your balcony private involves a rolled-up bamboo fencing sheet that you unroll onto the edge of your balcony. 
Not only does bamboo fencing liven the decor of your balcony, but it also provides the ultimate amount of privacy. They come in various heights, sizes, and even thicknesses. You should lean towards lighter fencing, such as a reed curtain, if you want privacy but don't like the thickness of bamboo against your balcony.
4. Balcony Curtains
Another option when figuring out how to make a balcony private is to add an outdoor curtain to your balcony.
Curtains are a simple way to ensure you have privacy when needed. Once installed, they're easy to open and close at leisure, giving you the control you desire over the privacy of your balcony,
Adding curtains isn't the most common option for making your balcony private. For starters, outdoor curtains are difficult to hang up on a balcony – you have to ensure that you have somewhere above to install the rod. Alternatively, you can choose standing curtains, but you risk them blowing around too much on a windy day.
The second reason outdoor curtains are not the most popular choice is that they can sometimes provide too much privacy, to the point where you may not feel like you're outside anymore. 
Nonetheless, an outdoor curtain may still be a great option to have the option of privacy on your balcony whenever you may want it.
5. Use Climbing Plants
Adding plants to your balcony is a great way to boost its aesthetic, but the right plants can also serve a dual purpose by creating a privacy barrier on your balcony.
You'll first need to choose the right plants to create privacy on your balcony. Climbing plants such as climbing hydrangea or English ivy are great in an outside space. You can use an abundance of greenery to surround your balcony and make it difficult for people to see in. Fill out your climbing plants with other tall, larger plants, such as bamboo or snake plants, in big colorful plant pots to add some character. 
While this may be a seasonal solution, it will line up with when you typically use your outdoor balcony space the most. You can even move some of your indoor plant pots outdoors for the season with the coverage and give your plants a little summer getaway and some fresh air.
6. Combine Different Methods
Our last tip for making a balcony private is to mix and match the methods mentioned above. 
By combining the different methods, not only can you achieve that ultimate level of privacy on your balcony, but you'll also be decorating it uniquely. 
For example, consider getting a privacy wall with a unique design and letting your climbing plants grow over it. This will give you more coverage and privacy and create a beautiful plant wall for you and onlookers.
You can also add a low privacy screen for partial privacy along your balcony railing and curtains for times when you want full privacy.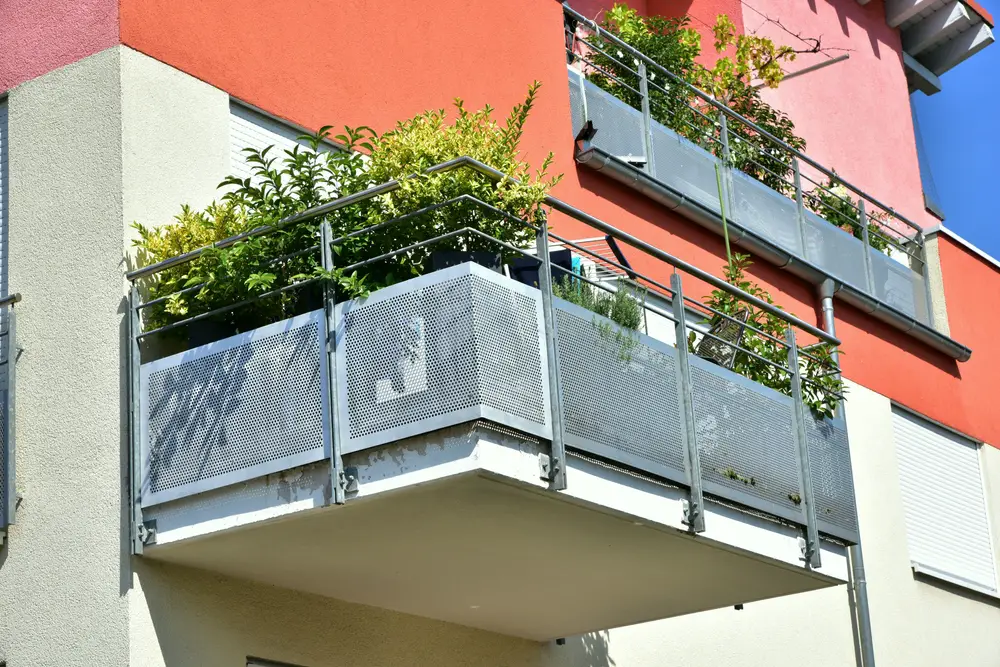 What To Consider When Making Your Balcony Private
When figuring out how to make a balcony private, you should consider a few things before choosing the right method. This includes:
The height of your railings.
The design of your balcony railing. Are they glass? Are there any gaps for people to see through?
The neighbors around you. Do your neighbors directly face you? Or are they just at the side? Side neighbors are much easier to shield than neighbors in front of you.
Whether you live in a house or a condo. A condo may be more exposed than a house. 
Where you live. If you live in the country, you may not even need a solution to make your balcony private – at least not a permanent one.
Each of these elements determines how you should make your own private outdoor space.
Wrap-Up: Enjoy Your Balcony in Peace
Now that you know how to make a balcony private, you're ready to turn your balcony into your own private oasis. Making your balcony private makes it easier to enjoy your time without worrying about prying eyes.
With so many options, it may take some experimenting to figure out the best way to make your balcony private. However, experimenting is part of the fun! Don't be afraid to try out different methods. In the end, you figure out a way to make your balcony private that works best for you.