One of the best ways to beat the heat this summer is by grabbing a water gun and embarking on a water war adventure with your kids or your friends. No judgment here! Spending time with a water-filled blaster will keep you cool and feeling alive.
However, not just any water gun will do; you must find the one that can handle all the actions you plan to dole out. You also want to choose one that offers the features that appeal the most to you.
Don't sit back and watch all the fun unfold; take a look at our list of the top eight water guns even adults can enjoy then get ready for the water fight.
What to Look for in the Best Water Gun for Adults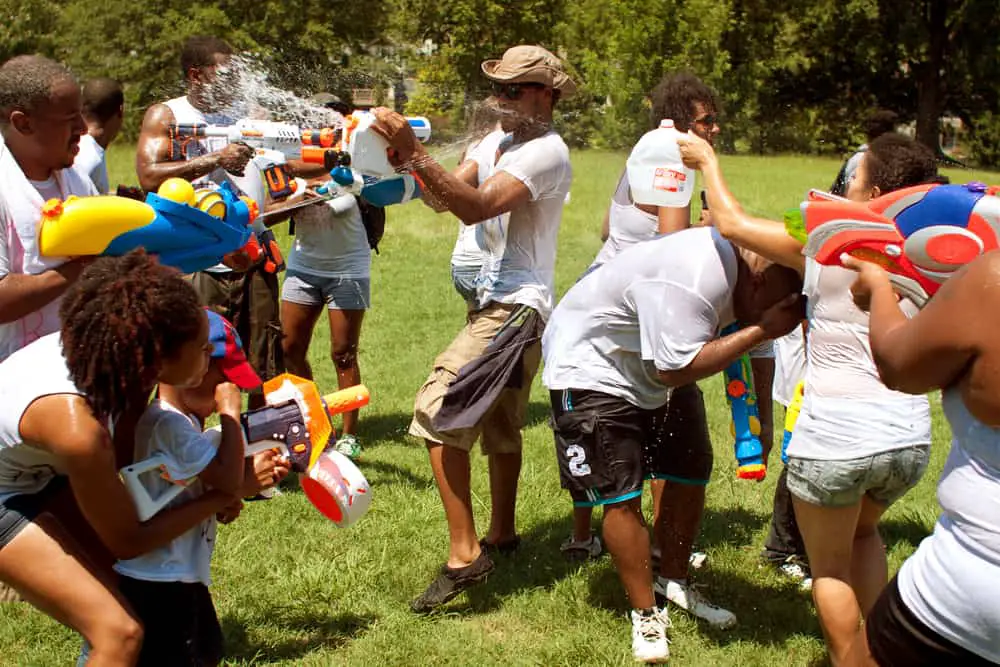 Believe it or not, there are many different features you need to consider when purchasing a water gun. These features are crucial in determining whether you will become the champion or just soaking wet.
Distance: How Far Does it Spray? 
The range your water gun shoots is going to determine the advantage you have over your opponent. Most water guns spray between 10-40 feet. But you can find options that go way beyond that distance or cheaper options that barely shoot more than five feet. 
Water Capacity: How Much Water Can It Hold?
If you run low on water often, you will be an easy target for the rest of the group. A water gun that holds tons of water at one time is a feature you don't want to overlook. Some guns have large reservoirs, some have multiple, and others come with entire backpacks that connect to the gun, providing plenty of room for A LOT of water.
Design: Weight, Durability, Set-Up
The design of your water gun will determine how well you work with it during an epic water war.
Weight: If your gun is too heavy, you will struggle to keep it up, especially when the water reservoir is full.
Set up: It can be difficult to maneuver if it has a weird design, where the components are not placed proportionally. 
Durability: If it's cheaply made, the gun won't outperform others and will probably fail when you need it the most.
Trigger Action: How Does it Operate?
Water guns have evolved over the years, going from simple press triggers that don't provide much distance whatsoever. These days, you can find elite action water guns that require pump action for optimal range or even electric-powered guns. 
Top 8 Adult Water Guns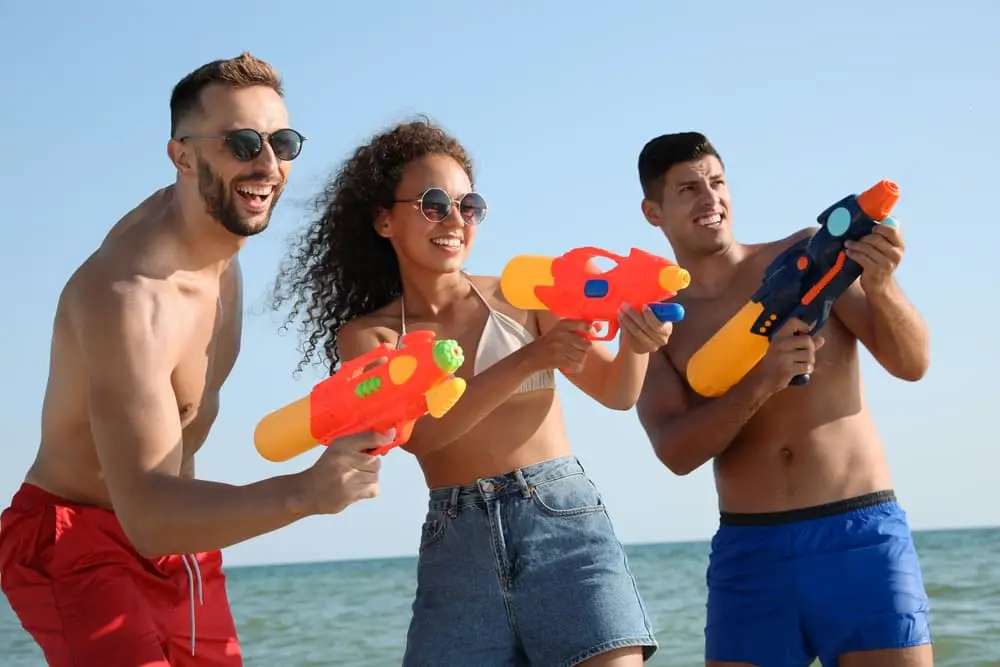 Now that you know how to choose a water gun, we want to provide you with some of our favorite options. Use the recently learned information and pick a gun to make you the backyard water gun war master in every fight.
The Skirfy Electric Water Gun is made for hours of exciting water fights. You can take this product to the beach, on vacation, or use it throughout the day while enjoying summer in your own backyard. It is an electric water gun with long battery life and fantastic durability.
You will feel superior in every way when you are the one holding this water blaster. Not only does it feel great in your hands, but it looks amazing.
Brand: Skirfy
Distance: 39 feet
Fill: Automatic suction, refills in 10 seconds
Water capacity: 330 ccs
Action: Electric
This Beacron water gun offers the best of both worlds. You can use it as long as you want in electric-automatic mode and then continue the fun after the batter runs out in pump mode. You can quickly refill the chamber in one second, giving you an increased advantage compared to the rest of the group.
Many water guns are notorious for leaking and creating puddles whenever they are stationary, but not the Beacron. You can tip, tilt, and lay this powerful water gun down and feel confident your dry space will remain that way.
Brand: Beacron
Distance: 23-30 feet
Fill: Large opening in caliber, refills in one second
Water capacity: 500 ccs
Action: Electric/pump
The Luling Art Water Gun can hold up to 800 cc of water in a single fill. It has a sleek design and is made from high-quality, durable materials. Its compact yet powerful design gives you a great water gun you can take anywhere.
This water gun offers users hours of fun on a single charge. You can take it to the beach for fun in the sand or keep it by the swimming pool to mix up your lawn play.
Brand: Luling Arts
Distance: 23 feet 
Fill: Unscrew the sink lid
Water capacity: 800 ccs
Action: Electric
Nerf is famous for its wide selection of play guns. Nerf's super soakers are some of the most popular water guns for summertime fun. These water guns are traditional pump action. They don't require an electrical charge so they will never run out of power. Just one blast from this toy can drench multiple opponents at once.
Brand: Nerf
Distance: 20-30 feet
Fill: Reservoir
Water Capacity: 1.6 liters
Action: Pump
This squirt gun is simple yet sah-weet. The Stream Machine can shoot two streams of water simultaneously with the double barrel design and reach a distance of up to 50 feet. Reloading is instant; you only have to stick the barrel in the water and pull back on the pump. 
Simply aim and pull back on the barrel to hit your intended target quickly and swiftly while leaping through the air or inconspicuously hiding behind trees, barns, and shrubs. 
Brand: Water Sports
Distance: Up to 50 feet
Fill: Draw water into the double barrel
Water capacity: 600 ccs
Action: Pump
You can't argue with the sleek look of this modern-day water gun. This product will give you the street cred you want while demolishing the competition on hot summer days. The Team Magnus Incog Water Gun is designed for a new take on the traditional pump action. You can quickly fill the canister by unscrewing the cap and placing the hose on the top.
Brand: Magnus
Distance: 32 feet
Fill: Fill through a water reservoir
Water capacity: 40 ounces
Action: Pump
If you want to invest in a pricey but impressive water gun that can shoot 22 blasts of water before ever needing a refill and make your opponents surrender, Spyra is the way to go.
This Spyra water blaster has a higher price tag than any of the other options on the list. However, if you plan on partaking in numerous fights over the summer season and tend to get competitive, this product is more than worth the money.
Brand: Spyra
Distance: 33-50 feet
Fill: Automatic suction reload
Water capacity: 625 ml
Action: Electric
The TEMI Super Water Blaster takes us back to our younger years when water wars were simplistic and no tech was involved. These no-leak water guns are pump action and offer a forceful blast that can reach up to 40 feet. 
This product has five nozzles to soak your opponents/friends. These toys are made from durable materials with no-leak protection, keeping the fun going without spills for long periods.
Brand: TEMI
Distance: 40 Feet
Fill: Draw water up through the barrel
Water capacity: 750 ccs
Action: Pump
Which One Is Our Favorite?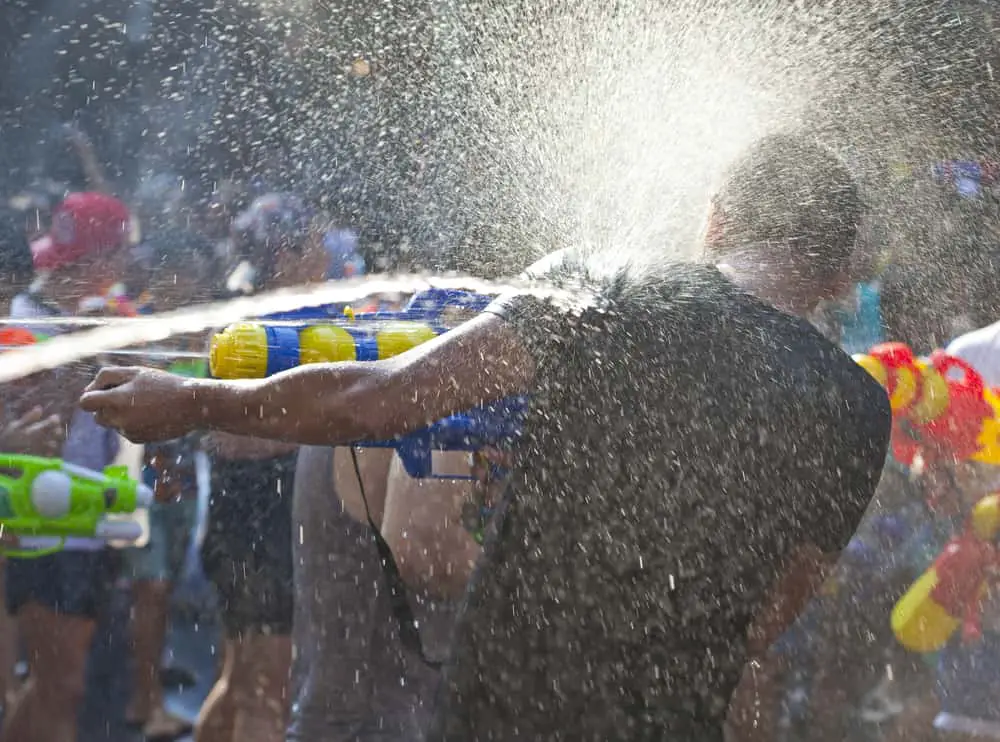 We just provided a great list of water guns with eight amazing options to choose from. Each of these water guns will provide everything an adult needs for the water battle of the century. They are all very well-made from durable and safe materials. 
These guns also offer a great range of distances that can give you an advantage over your opponents no matter where they stand. Lastly, all of the options on our list hold plenty of water, so you are not caught without ammunition when it is time to refill.
When it comes to choosing a favorite water gun for adult water wars, it is almost impossible to make a decision. Each of the guns above has its own set of advantages. It is up to the user to decide which gun is best depending on which feature is most important to you.
Final Thoughts
There is no reason adults can't partake in the summer traditions of hours-long squirt gun battles. There are tons of great selections online that are specifically made for adult use. However, don't overlook those that are geared toward children. Sometimes these products can be even more fun to use and will add a lot more excitement to the game.