Keeping pests, pets, and garbage out of your yard can be challenging, especially when your garbage cans are not secure or out of view. To keep your lawn looking clean, tidy, and pest-free, you need a garbage enclosure to keep the garbage in and animals out. 
Although it sounds overwhelming, creating an enclosure for your garbage cans can be simple. And if you do it correctly, it can look impressive as well. So stop picking up trash every morning and keep your cans safe with one of our fantastic ideas.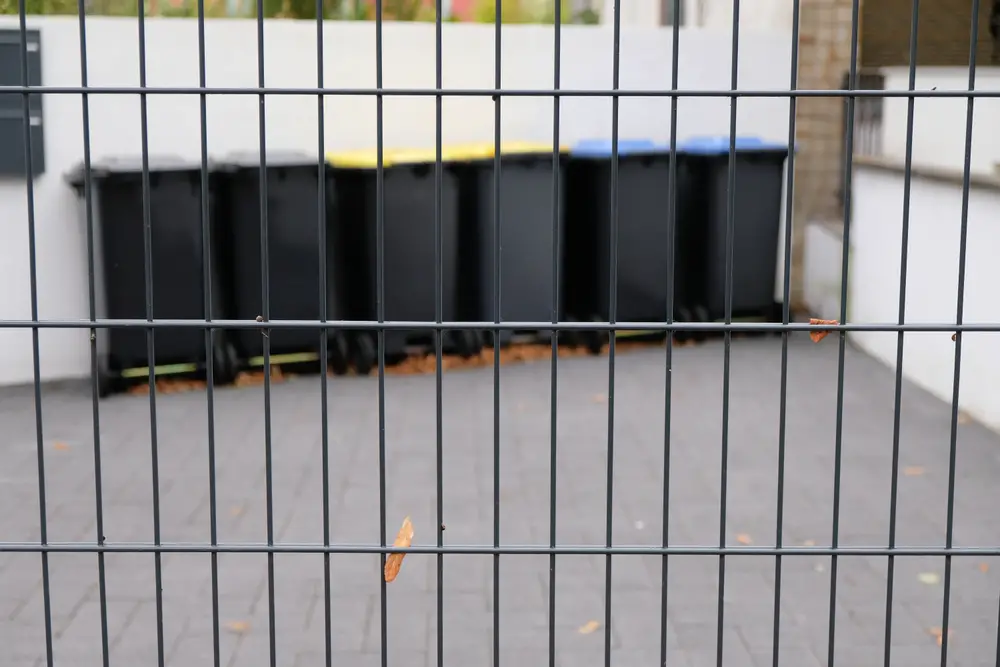 Garbage Can Enclosures for a Clean Yard
You can buy various garbage can enclosures that protect your trash from furry paws and claws without creating an eyesore in the middle of your lawn. If you are searching for a great way to keep your lawn tidy, try one of these great options.
Privacy Screen Panels
Privacy screen panels can provide the perfect barrier between your trash bins and critters looking for an easy meal.
You can get this type of enclosure in various colors, designs, and materials. One of the more popular options is white plastic panels that connect to one another, allowing you to build as big or small a space as you like.
These also come in black, gray, khaki, brown, etc. You can get them as large flat panels or crafted with designs etched into each.
Connect the panels and push them tightly against the back or side of your house wall, or create an entire enclosure, adding a door to one side to enter and exit when needed.
Wooden Fence Enclosures
A wooden fence can be great if your pests are neighborhood dogs, coyotes, or other larger animals. These wooden structures will keep animals out of your bin but look excellent standing in your yard.
For smaller troublemakers like raccoons and skunks, you can use a wooden fence with the slats placed very close together, with the bottom one touching the ground.
The best part about wooden fences is that you can paint or stain them to give them a look you love and one that will match the rest of your decor.
A Garbage Can Box Enclosure
If you live in a small space or don't dispose of much trash every week, a box enclosure might be just what you need.
These garbage can enclosures look similar to backyard storage containers but stand a bit taller and are explicitly designed to hold your trash and keep it pest-free until your scheduled garbage pick-up day.
This product is available in plastic, metal, wood, or a combination. You can get it in various designs, colors, shapes, and sizes.
Trash Can Storage Shed
Another type of garbage can enclosure that will keep your trash conspicuous to passers-by and have wildlife moving next door is an outdoor storage shed.
While most people will purchase a storage shed for their outdoor tools such as rakes, shovels, weed whippers, etc., many don't realize it can also be a great way to hide your trash bags when waiting for them to go to the dump.
Lattice Enclosures
Lattice comes in different colors and materials and makes excellent fencing to keep your garbage contained and out of your lawn. The holes between each board are small enough to deter most animals from trying to enter and keep the hideous site of plastic bags from your view.
Chain Link Fence
Since we are already talking about fencing, let's not forget the chain link variety. This is a sturdy, durable, and attractive way to hide your garbage and is easily accessible when you have to place cans in or take them out.
Plastic Tarps
So plastic tarps might not be the most attractive option when creating a garbage can enclosure, but it does the trick when you are in a bind. 
To use a tarp effectively, place it over your garbage cans and secure it by tightening a bungee cord on top, anchoring it to the ground with stakes. This enclosure will ensure the lids are not accessible to anything trying to get inside.
Many of these products are affordable, easy to assemble, or can even be crafted as a weekend DIY project with the right tools and materials.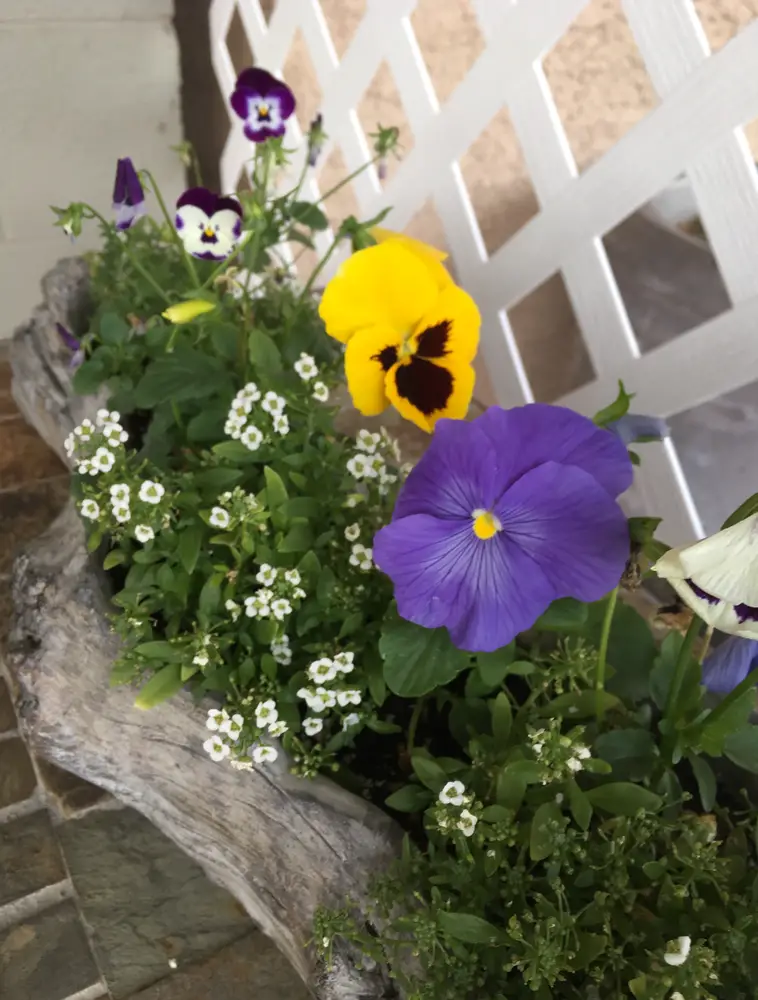 Ways to Improve the Look of Your Garbage Can Enclosure
Although many garbage bin enclosures look just fine as they are, you can spruce them up in many ways if you want to add a little extra something to this space.
Flowers: Plant flowers around the trash enclosure, place them in pots on the ground, or hang them from the sides. Use brightly colored flowers against plain white or black enclosures to make your space more attractive.
Lights: You can use string lights, lanterns, or stake post lights to give extra oomph to your garbage enclosure. As a bonus, you'll never be left traipsing through the dark when taking out the trash late at night.
Paint: Paint the enclosure a solid color or get creative and draw artistic designs on each side.
Shrubs: You can cover your enclosure with large shrubs and bushes or line them up around the sides for extra protection.
Rocks: Buy a few bags of

landscaping rocks

and create a barrier around the sides of your enclosure. White rocks are popular and look fabulous and clean.
These ideas are only a few of dozens you can use to improve the look of just about any garbage can enclosure to give your yard a little curb appeal while still keeping your trash concealed. 
Final Thoughts
Don't risk your family's health with pest poisons or put your pets in danger with animal traps. Keep your yard clean and tidy from trash by eliminating the opportunity for animals to get into your garbage with one of the amazing garbage bin enclosures listed above.