Whether you are new to the sport or an expert player, there is a pickleball paddle to match your skill level. Most people think reading the description should suffice, but it may not, as the paddles are designed quite differently. Plus, it is not just the design and composition that you need to consider; other factors go into the selection as well. We offer you the ultimate guide to finding the right pickleball paddle.
Even if you were to read the descriptions of the paddles, there are so many different types of compositions that it can be very confusing if you don't do your research. Do you need a heavier pickleball paddle or a lighter one? A wooden paddle or a composite paddle? What about the paddle core material?
It is not that each is not beneficial in some fashion, but they all accomplish something different. You have to consider everything, from the core material to the paddle weight. If you are new to pickleball, you might end up purchasing a more advanced paddle that won't benefit you at this stage of your game.
When selecting a paddle, there are three core factors you need to know before deciding. If you are a more advanced player and looking to upgrade, new technology will create a significant difference in how you play.
Purchasing a Pickleball Paddle
When looking for a pickleball paddle, there are three basic things you need to look for:
A good grip size that fits your hand.
The best weight to play with.
A shape that matches your playing style.
The price should be within your budget since the price for pickleball paddles can vary widely. With pickleball being a rapidly growing sport, new manufacturers, online stores, and retail shops are expanding. With the popularity of pickleball, major sporting goods stores carry more paddles and a wider selection.
This wider selection makes finding a new paddle both readily available and challenging. It is great that paddles can be found so easily and that there is a variety. However, this same variety creates confusion because if you don't understand the technology and the reasoning behind it, you can easily get lost.
New technology is quickly emerging. If you are new to the sport, you may find yourself confronted with paddles with different styles, compositions, and prices before even playing your first game. 
Not all materials are the same, and there is a wide variety of them. Since they all do something different, we will provide an overview of how they are constructed, plus how the texture and material affects the way you play. 
Things to Consider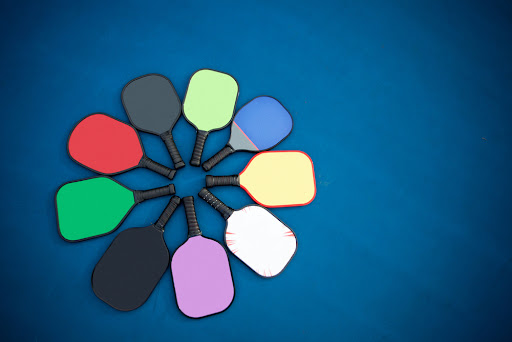 This is where those three factors mentioned earlier come into play: the grip, weight, and shape. We will go over the basics in this section.
Finding the Correct Weight
While some people may base their decision on price, this alone may not provide the best solution. Since you must be within an affordable price range, your paddle should benefit you and help you with your game. Also, just because a paddle costs more doesn't make it better for you. It will ultimately depend on your skill level.
Experts agree that weight is always the top priority when selecting a new paddle. The weight ranges from 6 ounces for a lightweight paddle to 14 ounces for a heavy one. While the difference in ounces may seem nominal, they do make a difference over time. You may not notice it initially, but after an hour of continuous play, you will definitely feel it.
The weight ranges are as follows:
Lightweight Paddle – Under 7.3 ounces. This allows for increased ball control and improved maneuverability and places less stress on your elbows and shoulders. The cons are that it delivers less drive and power, requires a stronger swing, and it's more difficult to hit hard or long shots. 
Midweight Paddle – 7.3-8.4 ounces. These paddles require more strength to hit the ball. They are in the middle of the weight spectrum. 
Heavy Paddle – 8.5 ounces plus. Heavy paddles allow for more power with less effort in hitting the ball harder. It is also easier to hit deep into your opponent's court. The cons are that it places additional stress on joints and injuries, a slower swing is needed with less control, and they increase fatigue level when playing for a longer duration. 
The weight will determine how the paddle feels in your hand. It will also determine the type of action received while on the court. Generally, the weight is more of a personal preference, dictated by your style of play and fitness level. 
Control Versus Power
Heavy paddles increase the power of each shot taken. If you are experienced and want to increase the force of your drive, choose a heavier paddle. However, if your goal is to improve touch and ball control (for example, dink shot placement and precision aim), you will need a light paddle. 
To determine which you should use, assess your strengths and weaknesses. You will also need to be familiar with what type of pickleball player you are in terms of power versus control. If you aren't sure or if you are a novice, this may be difficult to determine.
You may need to play a few sets before establishing your style of play. The best place to begin may be with a midweight paddle (7.3 oz to 8.4 oz).
Regarding weight, it is important to choose wisely. If you have sustained any injuries to your elbow, select a mid-weight paddle.
Grip Size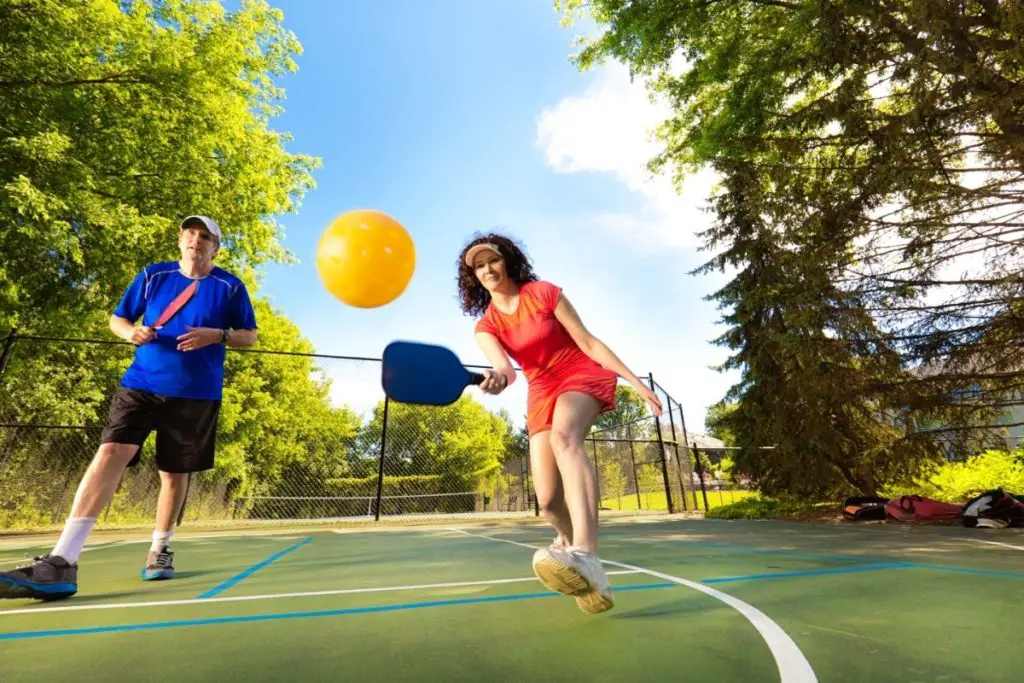 Once the correct weight is determined, the next step is to select a proper grip size. The grip circumference needs to match your hand size to be a proper fit. While it may sound simple, there is a science to it since playing with a poor grip is like wearing shoes that don't fit. 
Smaller grips provide increased wrist action, generating additional spin on the ball and great control. It allows for increased wrist movement, adding more power to the serve. On the other hand, larger grips increase stroke stability while easing the strain on your joints. Please note that using a paddle handle that is too large can generate elbow strain. This will eventually lead to injury. 
The key is to select a paddle with the correct grip size. Be sure to measure the grip and choose the paddle according to this factor. High-end paddles will come with premium grips that increase comfort and absorb sweat. If there is an inferior grip or if it is worn, you may want to replace the stock grip with a premium one. 
Measuring Grip Size
You can always increase the size of the grip by adding an overgrip. However, you cannot decrease it. If you are unsure, purchase a size down and use an overgrip to match the grip as required. 
The best way to determine grip is according to your height. While it is not exact, it will give you a general idea.
Under 5'2" – 4" grip
5'3 to 5'8" – 4 ⅛" to 4 ¼" grip
5'9" plus – 4 ½" grip
To check your grip, grab the paddle with a natural grip. Slide your index finger from the opposite hand between the heel and fingers of your grip hand. Your finger should fit snugly without needing to move your fingers. 
If there is extra space, the grip is too big. Also, if you need to move your fingers to get your index finger to fit the gap, the grip is too small. 
Material
There are three types of materials when it comes to choosing the best pickleball paddle. Wooden paddles are the cheapest and most heavyweight paddles. Graphite paddles are the most expensive but are lightweight and provide powerful performance. Composite is a compromise between the two, but they have a variety of weights and prices. They are gaining in popularity since the paddle face texture helps with spin.
Wood Paddles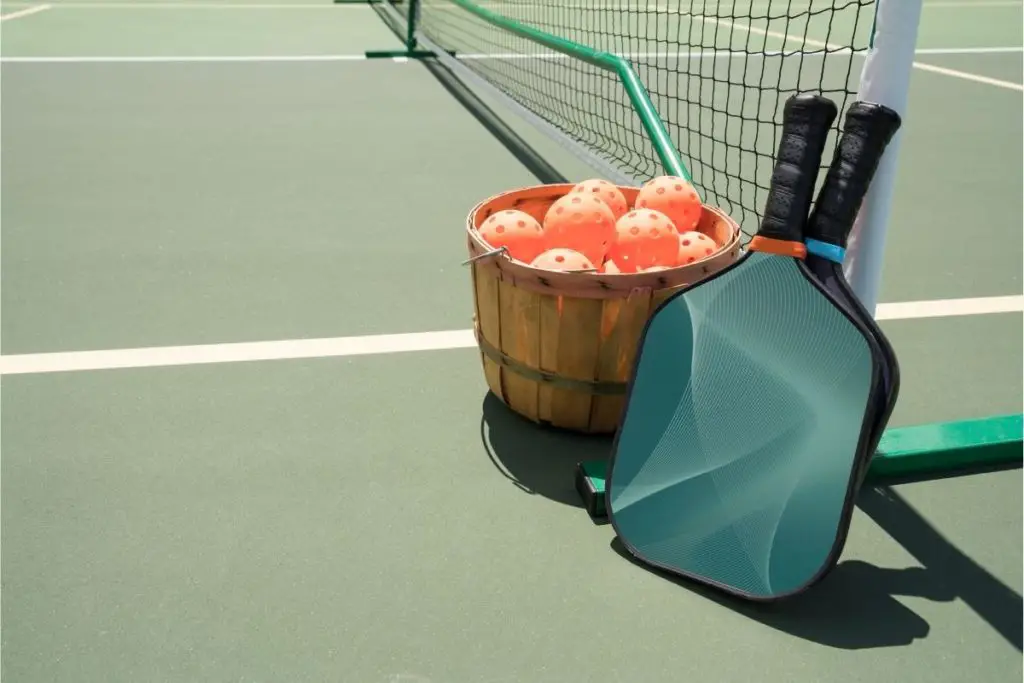 Wood paddles are a great option for those just beginning to play pickleball or who want to pay a minimum amount for a paddle. A wooden paddle is also heavier. They are great if you need to buy them in bulk.
Graphite Paddles
Most graphite pickleball paddles weigh between six to nine ounces. They have a core (polymer, aluminum, or Normex) like a composite paddle. There is a graphite face on both sides, which differentiates this pickleball paddle from the others.
The graphite face layer is thin, with the density being only a few millimeters. It is strong and light, making them the best-selling paddles overall. Competitive players enjoy the quick action of this type of face. 
Composite Paddles
Composite paddles have a composite core material of Nomex (rigid nylon), aluminum, or polymer with a fiberglass and carbon fiber hitting surface. Each core has its pros and cons. Composite pickleball paddles are popular due to the textured surface, allowing a player to provide more spin to the ball. 
Paddle Types
Edgeless Paddles
These paddles lack a protective edge guard used to protect the edge from chipping if the paddle is dropped or banged. Some players appreciate this type of paddle as it maximizes the playing surface. These paddles have a thin tape around the edges to protect the paddle without interfering with the face. However, it may not be adequate to protect from impact. 
Wide Body Paddles
This classically-shaped pickleball paddle contains a wide body. It measures 8" wide by 15 ¾" long. It is just at the maximum height and width that regulation allows. 
Oversized Paddles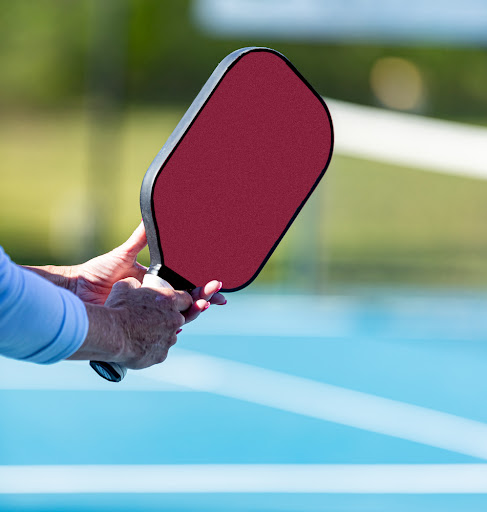 These are created by adding length to the face of the paddle while shortening the handle's length. The total length of the paddle is within regulation.
Elongated Paddles
This is the newest type of paddle. It sacrifices the width of the face to provide for an elongated paddle length (up to 17"). This would be for the experienced player requiring added reach. 
It contains a smaller sweet spot, which is what provides the best percentage shot. Thin, longer paddles provide a narrower area, making it harder for beginners to consistently hit. 
Core
The differences between each are:
Aluminum – These lightweight paddles have an internal honeycomb structure. They are a stronger, lightweight paddle providing superior control and action. It is for the control player wanting to sacrifice power and drive for maneuverability and power.
Normex – This is a durable paddle that is also the loudest and hardest. It is known for the popping sound made on impact. This is ideal for those who want power and speed on their shots. 
Polymer – Composed of a plastic blend, polymer paddles are considered new technology. They are the quietest available and are softer. While you can still place power behind your shot, the core will dampen the shot. This is best for the control player. 
Final Thoughts
While finding a new paddle can be challenging, this pickleball paddle guide should help you choose the best pickleball paddle to suit your needs. There may be many things to consider, but if you take them one step at a time, then you should easily find the right pickleball paddle for you.