Are you in the market for a new pool table and thinking about taking the game outside? Outdoor pool tables are a great way to enjoy the game in a relaxed, outdoor setting and are perfect for parties, family gatherings, and summer evenings. However, choosing the right outdoor pool table can be a challenge, as there are many different options available.
In this article, we'll take a look at some of the key factors to consider when choosing an outdoor friendly pool table, including materials, weather resistance, and size.
One of the most important things to consider when choosing an outdoor pool table is the material it is made from. Outdoor pool tables are typically made from durable materials such as aluminum, stainless steel, or synthetic materials that are designed to withstand the elements. These materials are resistant to rust, fading, and other types of weather damage, which makes them ideal for outdoor use.
Another important factor to consider is the weather resistance of the pool table. Outdoor pool tables should be designed to withstand extreme temperatures, humidity, and rain. Look for pool tables with weather-resistant covers or covers that can be easily removed and stored when not in use.
Size is another important factor to consider when choosing an outdoor pool table. Outdoor pool tables come in a range of sizes, from small tabletop models to full-size tournament tables. Consider the size of the space where you plan to place the table and how many people you want to be able to play at once.
Additionally you may want to consider the level of maintenance required for the table. Outdoor tables are more exposed to the elements, so some require more maintenance. Consider if the table needs to be covered during the off season, if it's easy to clean, etc.
Overall, choosing an outdoor friendly pool table requires considering your own needs and preferences. By considering the material, weather resistance, size and maintenance, you can find the perfect outdoor pool table for your backyard and enjoy the game in a comfortable and relaxed setting.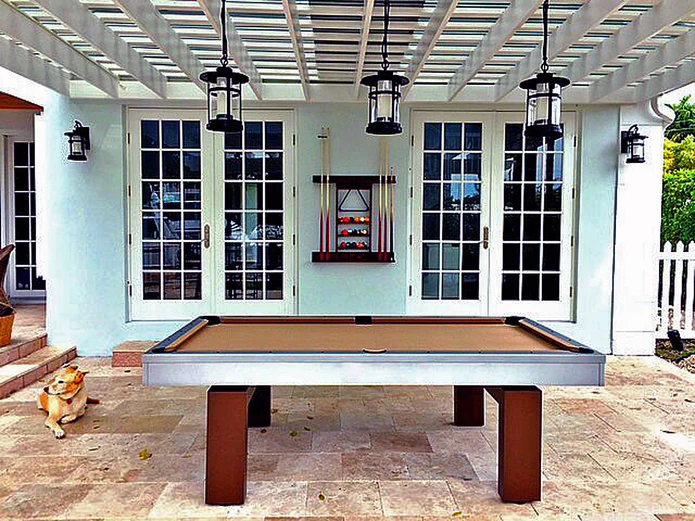 Whether you don't have enough room indoors or just would like to enjoy a game of billiards out in the open, outdoor pool tables are convenient to have around.
With so many options out there, picking something durable with a decent playfield can be challenging.
In today's post, we'll go over the top five tables and what factors you need to consider to get the best fit for you. So, hang tight!
Details To Know Before Buying An Outdoor Pool Table
Since there are no hard and fast rules when it comes to outdoor gaming setups, you'll have to weigh some factors and find your priorities.
Here are the main aspects to consider:
Playfield Construction: Slate vs. Non-Slate
Slate is basically a one-piece slab of rock that is then covered with a cloth or felt to make the playfield.
In most cases, slate pool tables handle humidity better since they won't warp or swell as much as the hygroscopic wood particle boards. Plus, they can offer a more even surface for a smoother playfield.
That said, it's not entirely out of the question to find something non-slate and still get the job done. Take, for instance, the high-quality pearl boards on the Imperial.
Playfield Size: 8, 7, or 6 Feet
Indoor pool table sizes can be easy to figure out since you just factor in the available space you have in the room.
For an outdoor setup, most people opt for a table around seven feet. However, if you want a more spacious playfield, you can look for an eight-footer, like the Imperial.
On the other hand, a six-footer like the Hathaway Fairmont or the P&P GoSports can be a better fit for smaller terraces.
Portability: Foldable vs. Full-Assembly
One alternative to a specially-made outdoor pool table is a portable indoor one. This way, you can set it out wherever you need it and then get it back inside before it's exposed to any significant wear and tear.
However, to do that, you need to get something compact, lightweight, and, preferably, with foldable legs. Both the Hathaway Fairmont and the P&P GoSports fit the criteria nicely.
Yet, if you're planning to keep the pool table in one spot for the foreseeable future, it might be worth it to push through with a full-assembly model. Just make sure that you have one or two people to give you a hand.
Versatility: Standard vs. Multifunctional
While your main goal is getting a pool table for your backyard, getting something multifunctional can be pretty convenient.
For instance, the 3-in-1 Santorini by Playcraft can save you the trouble of having to buy a separate dining table and ping pong setup, all while being a high-performing slate outdoor pool table.
Similarly, the SimbaUSA can be converted to a tabletop, but you'll have to get the benches or chairs separately.
It's important to note that you often have to give up something in exchange for this versatility. For one, the Santorini can be pricey, and the SimbaUSA isn't the most weather-resistant option.
Our Favorite High End Outdoor Pool Table
Blatt Billiards RS Barcelona Outdoor Diagonal Pool Table – Our Favorite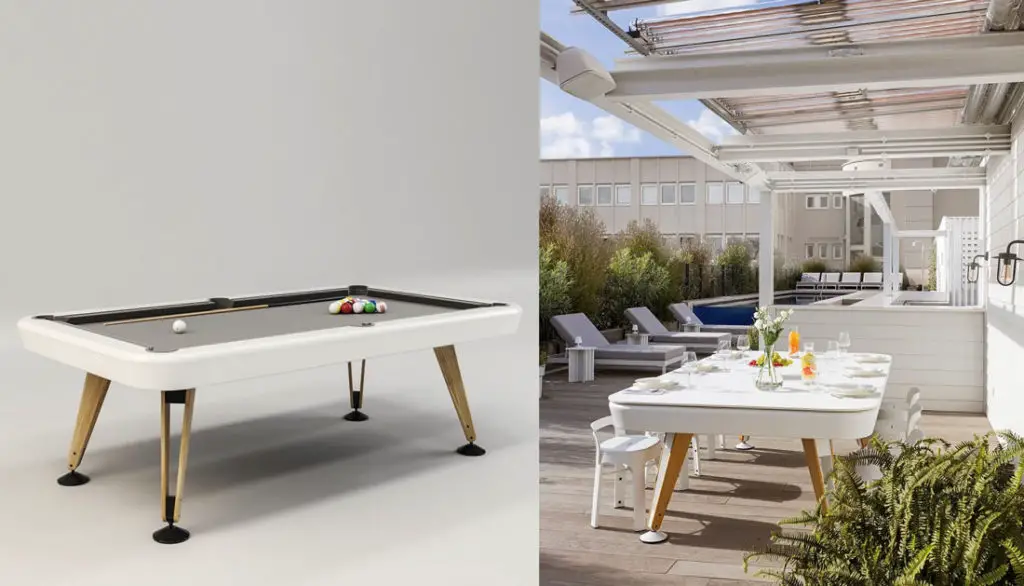 Top 5 Outdoor Pool Tables To Buy Online
Let's take a look at our top five picks you can buy online today: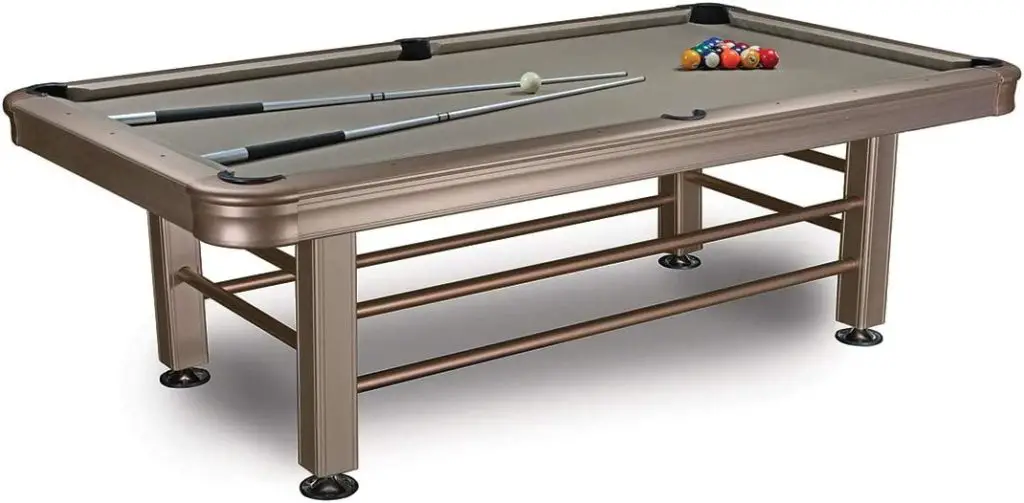 This pool table by Imperial can be the perfect fit for any outdoor spot. It's made to handle moderate wear without compromising the traditional feel of a pool table.
The table comes with a cover and a full set of billiard accessories. You might want to get some tan chalk to match the table's top, though.
While it takes a bit of assembly, it's not something you can't get done yourself. The key is in having enough hands on deck to flip the beast of a table around when you're done bolting the legs!
Pros
Formica and resin pearl board bed to resist chipping
Comes with a table cover for extra outdoor protection
Weather-resistant anodized aluminum rails
Waterproof taclon cloth
Cons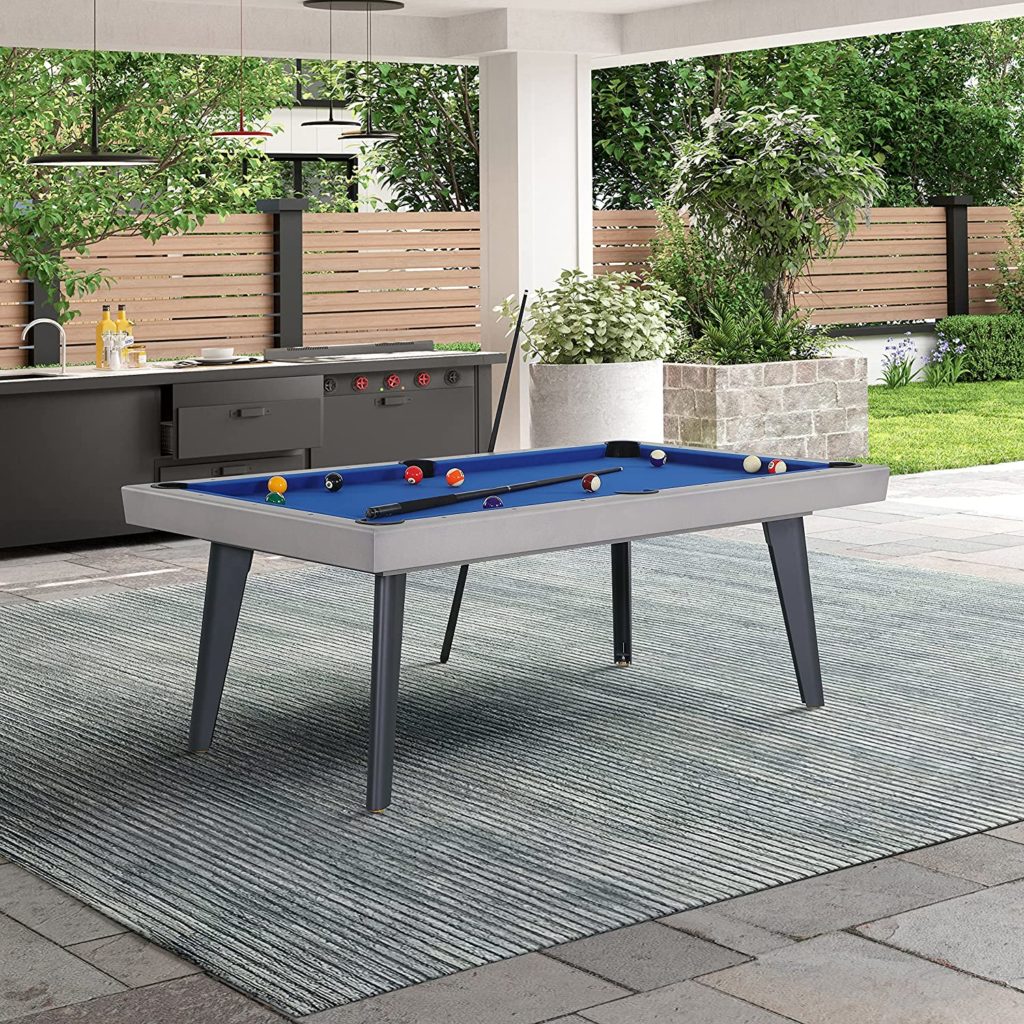 The Santorini by Playcraft is a 3-in-1 outdoor table with a 2-segment dining top at 25 lbs each and two 30-lb benches. So, the whole conversion process shouldn't be all that challenging.
Once you complete the assembly, you don't have to do much. The table has everything you need to play billiards or ping pong.
However, the main downside here is the price tag. Paying for all these upgrades can be a bummer if you only need an outdoor pool table.
Pros
Sleek design on a heavy gauge aluminum frame
Convertible tops between billiard, ping pong, and dining
Benches, PVC cover, and playing equipment included 
Weather-resistant playfield cloth
Cons
Convertible-top feature might be an expensive overkill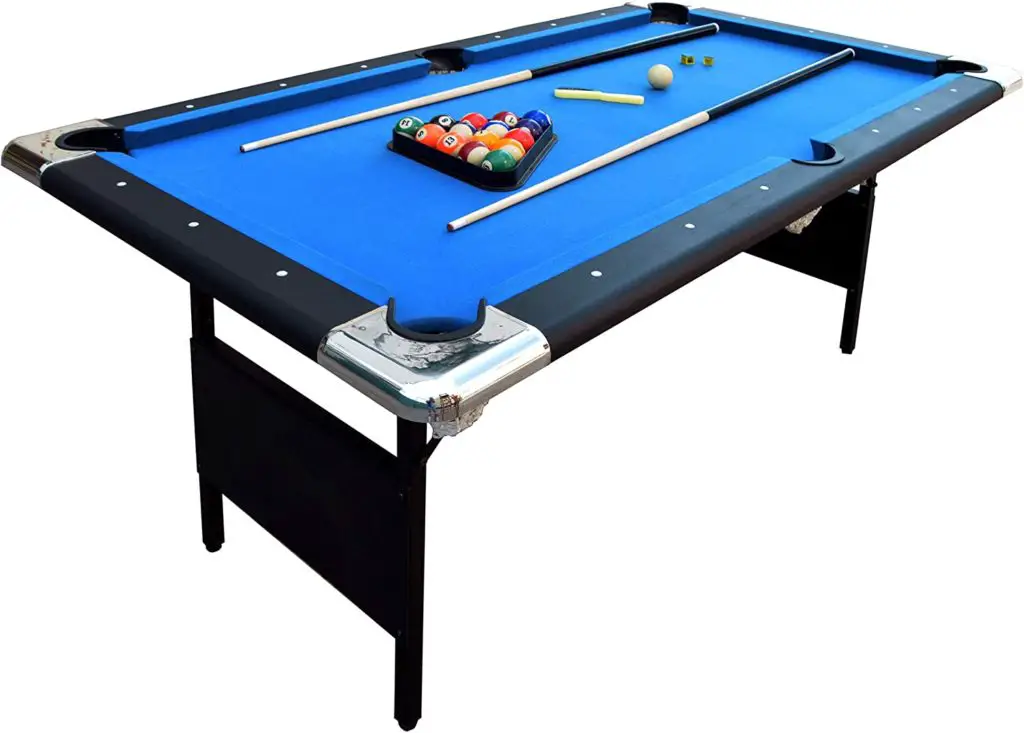 The Hathaway Fairmont is made of poly-sealed MDF and felt, which might not handle wear and tear. However, putting it under a sheltered patio isn't necessary since you can easily take it out and set it up when needed. 
To set it up, all you need to do is to unfold the legs and make sure the surface is leveled—no assembly or tools are required. Plus, the lightweight frame and the nylon bags make carrying this pool table a breeze!
Pros
Comes in two color options (blue and red)
Tool-free and lightweight (115.5 lbs) folding frame for easier storage
Comes with a nylon carry bag and all playing equipment
180-day manufacturer's warranty
Cons
Has to be folded and stored indoors after every use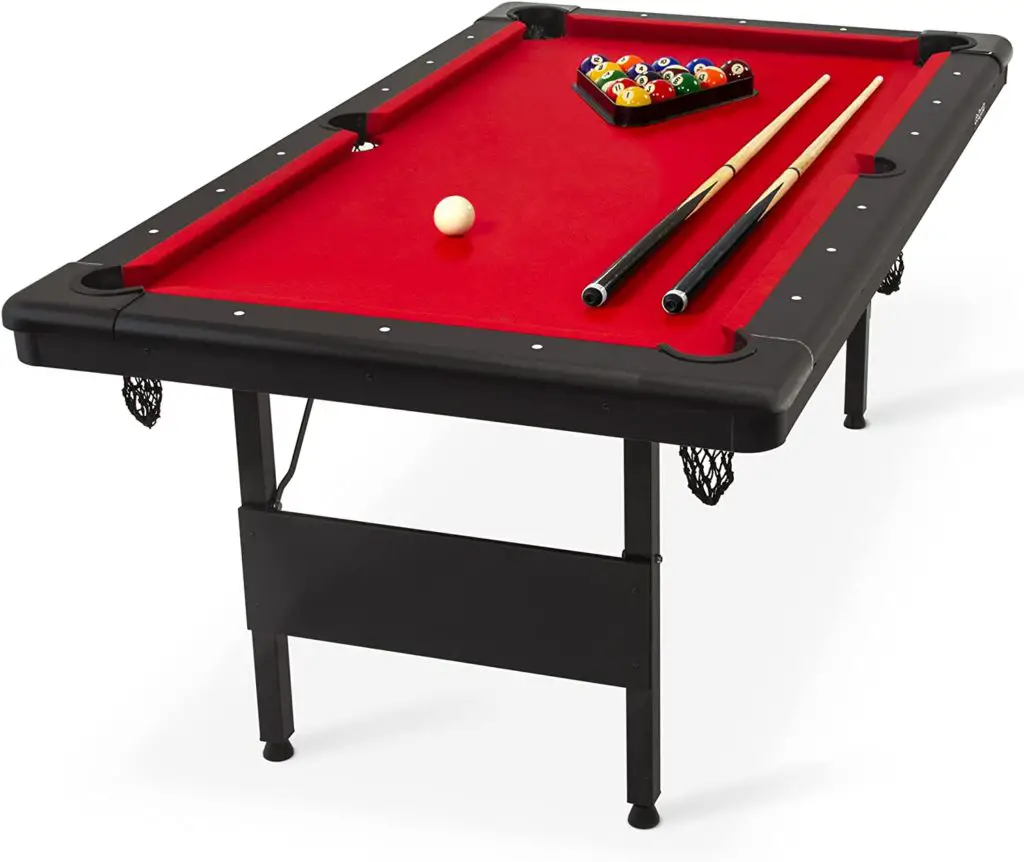 Much like the Hathaway Fairmont, this pool table by GoSports is only suitable for outdoor use as long as you fold it and store it inside when you're done.
However, the table frame here is all around alloy steel. For some people, this gives the table a bit more stability, especially if you need to fold this bad boy over and over again.
It also ditches the plated chrome corners found on the Fairmont, which were prone to breaking off.
Pros
Comes in two size options and three color variations (red, black, and blue)
Lightweight (140 lbs)
Heavy-duty steel construction
Comes with a nylon carry bag and all playing equipment
Cons
Has to be folded and stored indoors after every use
FAQs
Let's take a look at some of the frequently asked questions regarding outdoor pool tables:
Q. Can you put any pool table outdoors?
Keeping any pool table outside is not recommended unless it's made of weather-resistant materials.
Over time, regular tables are susceptible to frame corrosion. Plus, the playfield could warp with UV and humidity, which ruins the game experience.
Q. Do you need to cover outdoor pool tables?
Yes, even if a pool table is specially made for the outdoors, it's recommended to cover it up when you're not using it. This way, you'll get a longer lifespan out of the materials.
After all, most brands include a cover with their tables. If the included cover isn't fully waterproof, look into getting a replacement tarp. Something waterproof and floor-length can offer even more protection.
Q. How do you maintain an outdoor pool table?
Asides from keeping the table covered, you might need to put it away from splashing water from a tub or a garden sprinkler to keep the metallic frame from rusting.
You might also need to clean up the felt with a vacuum, a tiny bit of vinegar, and a soft brush. If it gets particularly dirty, it's possible to DIY a replacement to freshen up the playfield.
Q. Can you leave an outdoor pool table in the rain?
Some pool tables are waterproof, but usually, it's more sustainable to set the pool table under a gazebo or a shaded patio. This is particularly true if you expect a lot of heavy rain where you live.
Plus, this even helps you enjoy the setup without the sun heating hitting you on the head all game long!
Wrap Up
Outdoor pool tables can bring a whole new level of novelty to a game of billiards among friends, but it all comes down to picking the right one for you.