A beautiful balcony is a great way to improve the look of your home and gain access to the outdoors from the upper levels of any building. This space can be used as somewhere to go when you want to get away and relax or as a quiet place to work.
No matter what you use your balcony for, railing styles and designs can provide the perfect look and feel to match your every need. Whether you live in a small apartment with a tiny outdoor space, or a Victorian-style home with a balcony the size of your front porch, there is a railing that will make it efficient and stand out in all the right ways.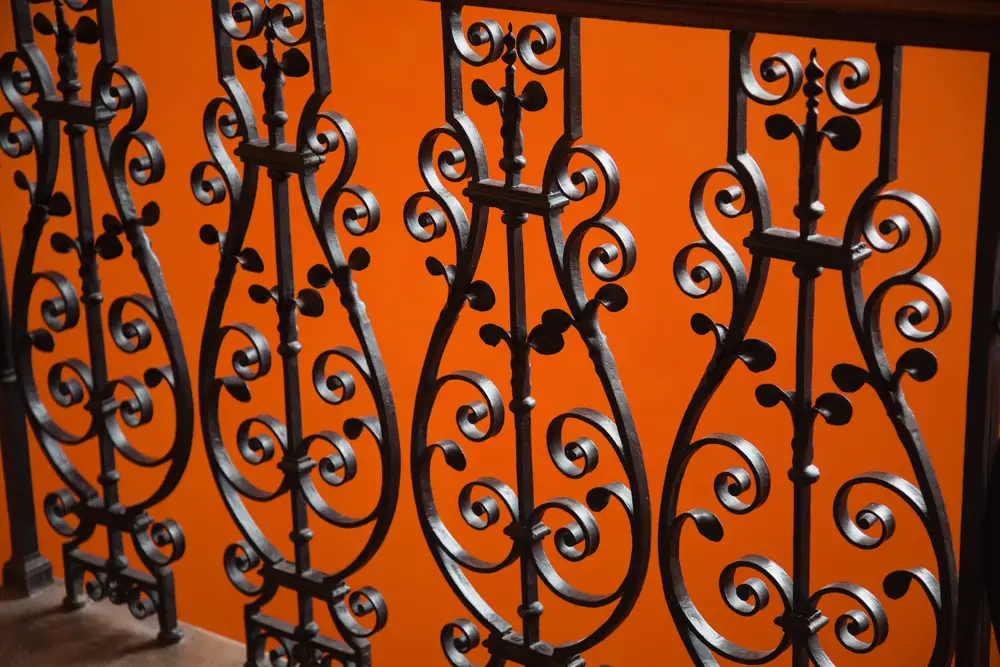 Types of Railing Materials for a Beautiful Balcony
When building a balcony, you can use various materials depending on the look you want, the size of your space, and the price you can afford. 
A Wooden Design (Old Country Vibes)
If you want something with an old-country vibe, a nicely stained wooden railing can improve your balcony's look. 
While this option isn't the most traditional these days, it does provide a beautiful look and, when done properly, can be durable and last for many years.
Many paints and stains are available, allowing everyone to design an outdoor space that fits the rest of their decor. 
An idea to try: Stain your wooden balcony railing a medium oak color and hang some white lights around the edge. Add a couple of wooden rocking chairs and a few pieces of rustic decor. 
Wrought Iron Railings (Architecture from the Past)
Make a bold statement with a heavy-duty wrought iron railing. These are typically black and come with many looks. You can choose straight black posts or a vessel shape, giving your home a unique look that will be the envy of your neighborhood.
The wrought iron railing design was popular in the past and is again making a comeback, but it can be a bit pricey if you have a large space to cover.
An idea to try: Pull your wrought iron balcony together with a few hanging plants, a metal bistro set for seating, and a pair of wrought iron lighting fixtures on each side of the doorway.
Aluminum Bars (Modern and Simple)
Simple metal bars, typically made from aluminum or other light metals, are the modern way to create a balcony today. This sleek and versatile option works for just about any outdoor setup or style. 
Most metal bars, especially those made from aluminum, will be gray/silver in color and easy to paint, offering endless options when it comes time to redesign. 
An idea to try: With silver aluminum bars, you can keep things simple and modern by adding minimal decor. Place a chair or two next to a small all-weather table and a small planted tree in one corner. 
White PVC (A Versatile Go-To Design)
PVC is a popular material used in many areas of home design. It is easy to use, lightweight, and more affordable than many other options, and it also offers a fabulous look that you can easily dress up or down. 
An idea to try: Give your balcony a modern-day design with white PVC railings and planters full of vibrant flowers sitting along each edge. Hang a porch swing or put a gliding bench in the space for a relaxing place to escape the hustle and bustle of life.
Concrete Railings (A Durable Look That Lasts)
Concrete railings are popular in many homes because they are simple yet contemporary, with the ability to decorate them however you choose.
Another benefit of concrete is that it can be very easy to care for, requiring little maintenance or attention. Once this railing system is installed, it will stay in place for a long time.
An idea to try: Use concrete slabs to create an enclosed balcony, then add bamboo trees and some wicker furniture to create a serene, private outdoor area.
Glass Railings (An Elegant Option)
You will see a lot of glass balconies in big cities or commercial buildings. This contemporary balcony railing design looks like large windows set side by side, with metal posts holding them together to form a wall.
You can choose from a see-through glass railing or black-tinted glass panels, depending on the level of privacy you are looking for. This offers a professional and upscale look that can increase the value of a home or business and impress anyone who sees it.
An idea to try: Glass railings can provide the best ambiance for an outdoor office space. Place a fold-out desk on your balcony, a few succulents, and a comfy chair to create an area you'll look forward to working in.
Stone Railings (A Renaissance Ambiance)
Stone railings are less common than many other options we discussed, but they can still give any balcony a unique look. 
Stone railings, like marble balustrades, can give a classic renaissance feel to any building and provide a durable, safe space to spend time relaxing.
An idea to try: Place a stable set of wicker furniture on a stone railing balcony adorned with ferns and colorful hanging plants. This will provide a pop of color to the natural stone tones while keeping things simple and easy to maintain.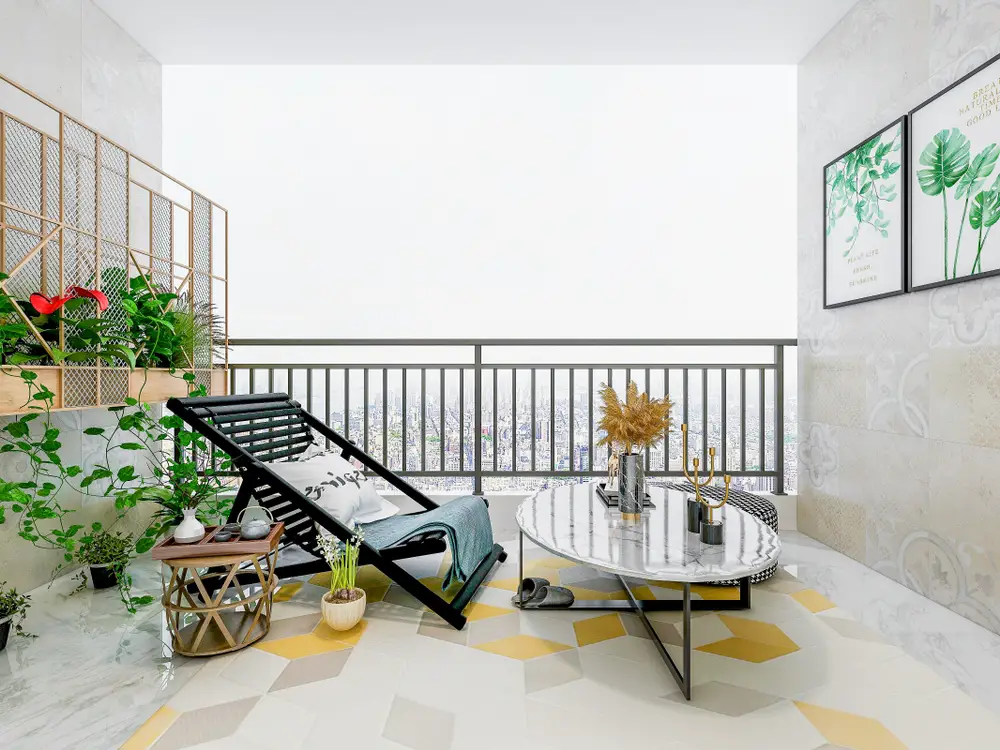 Different Designs for Your Outdoor Balcony
Like materials, you can use balcony railings to give your space a unique and exciting look by constructing it into a specific design. These designs can be different shapes, enclosures, or how you use them.
Here are a few great design ideas to think about when planning your balcony.
Fully Enclosed
A fully enclosed balcony can be a great way to maintain privacy on your property while still enjoying the great outdoors. 
By enclosing your balcony with wooden boards, concrete, or tinted glass, you can sit outside and sunbathe or take a dip in a warm bubbly hot tub without feeling like all eyes are on you.
Rounded Balcony Railing
Large or small, a rounded balcony can be a great way to give your home a cozy and classy feel. 
This is the perfect shape for smaller balconies, typically seen on condos or apartment buildings, and can be created in various materials, from metal to stone. 
Balcony Railings Perfect for Pets
Your pets can benefit from the right railings as much as you can. Keep your furry friends safe by installing a balcony made from a chain link fence design or wooden slats tightly placed together. 
Put down some artificial grass, add a food and water bowl, and toss in some of their favorite toys for a taste of the outdoors in homes with little outdoor access.
If you have cats, consider enclosing your balcony with heavy-duty screens that won't tear easily to keep them from running off.
Nature-Friendly Railing Ideas
Instead of using a bunch of railings, try erecting a few with whatever materials you want, then add some crawling vines to keep your space concealed. There are a variety of vines that work great for this specific design and can give your balcony a rustic, Italian ambiance.
If you want to go all out, use large terracotta or metal planter pots as your balcony railings and create an outdoor oasis in your backyard.
The Garden Variety 
Use your balcony railings to create a small, convenient, accessible garden full of all your favorite fruits, vegetables, or herbs. This gives you access to foods that are good for you but cost a lot when purchased in the grocery store. 
There are many great ways to create a garden, even in the smallest spaces.
Things to Think About When Choosing Your Balcony Railing
Picking the perfect balcony railing isn't a complicated task, but it takes a little bit of planning before you can start construction. 
What size balcony do you have? The size of your balcony will determine how much material you need and how much you will pay overall.
Do you rent or own your home? You have much more freedom if you own your home. If you are renting, it is essential you only do what is approved by your landlord.
What is the purpose of your balcony? If you have kids or pets that will use the space, you want something durable and closed in. If it is more for show, you can be more creative with your design without worrying about safety. Is it for garden space, a home office, or an at-home getaway?
What is your style? Do you want modern, contemporary, minimal, bold, etc.?
Who will do the work? Make sure you choose a qualified professional with good ratings and reviews to ensure you get the balcony of your dreams that is also durable and high-quality. 
What is the weather in your area? Weather plays a significant role in the maintenance and length of time your balcony railings will last. Make sure you choose a tough material to withstand mother nature where you live.
Final Thoughts
The railings on your balcony can make a huge difference to your space's overall look and feel. Make sure you choose the best materials and designs to match your current decor, style, and purpose for this unique outdoor area.