Wild birds are naturally beautiful, from their effortless gliding through the air to the beautiful colors and designs that adorn their feathers. There is no question these creatures are amazing to see and exciting to watch. However, sometimes it can be challenging to get a good look or snap a clear photo because they move so fast.
One of the best ways to secure time with these wild creatures is by installing bird feeders around your home. The best part about these products is they come in many unique colors and designs that are perfect for every bird enthusiast's style.
If you are searching for a bird feeder to add to your landscape, we have a magnificent list of 10 fabulous options you won't want to pass up.
Most Common Types of Bird Feeders
Before purchasing a unique bird feeder for your yard, you should do your homework and decide what types of birds you want to attract and which bird feeders are best for that kind of bird.
Although most wild birds will eat wild bird seed, they won't necessarily eat it from the same type of feeder. Aside from this, you also want to choose a functional style of feeder that you can add to your space easily.
Here is a list of the most common types of bird feeders you will find on the market today.
Nyjer Finch Feeder
Sugar Water Feeder (hummingbird feeders)
Tube Feeder
Mealworm Bluebird Feeder
Hopper Bird Feeder
Log Feeder
Oriole Fruit Feeder
Tray Feeder or Platform Feeder
Suet Feeder
Peanut Feeder
Knowing which type of feeder each wild bird prefers will allow you to watch them without disrupting their feeding time.
Bird Feeders for Your Yard
You might have built a basic bird feeder in shop class when you were a teen or received one as a gift from a friend. However, chances are pretty good the bird feeders you are used to aren't nearly as unique, exciting, and interesting as the ones we have listed.
If you are looking for a bird feeder that's nothing like a typical basic wooden house, consider adding one of these awesome ideas to your yard.
Keep the magic alive in your backyard with an enchanted tree bird feeder. This product hangs from the bark of any tree, camouflaging itself in a natural setting and providing a safe and comfortable place for birds to enjoy while stopping to rest or for a bite to eat.
This mesh metal solar bird feeder is perfect for nighttime bird-watching. Sit quietly on your porch and wait for bluejays, finches, and other feathered friends to hang out on this solar bird feeder.
Let your fluttering guests have fun while pecking at their favorite seeds. This Ferris wheel bird feeder makes great lawn decor and provides a unique way to feed these beautiful creatures.
This novelty feeder is the perfect option for anyone looking for a bit of color to add to their landscape.
Are you interested in a fantastic bird feeder for your zen garden? If so, this meditating frog could offer the exact look you are searching for. This frog can be placed on the ground near your garden or on top of a picnic table or porch, offering up close and personal views of any bird coming down to eat. Plus, you can use it as a bird bath in the summer and a feeder in the winter so you can attract birds to your yard all year round!
Globe feeders are great for small songbirds. You can hang these feeders from the branches of your trees or the posts on your fence. While they only hold a small amount of food, they can provide you with days of easy bird-watching opportunities. 
This classic decorative lantern bird feeder would look fabulous in any outdoor area. Use this product to spruce up your backyard and complement your outdoor lighting, giving your birds plenty of room to enjoy their dinner while you quietly enjoy them.
Bird feeders made from woven moss, like this dove-shaped woven bird feeder, look fabulous placed next to a beautiful garden full of brightly colored flowers. This type of bird feeder is unique and also eco-friendly. Hang this feeder next to a similar-style bird bath and get your camera ready.
Typically we would never suggest letting a cat anywhere near your wild birds. However, we're pretty confident this particular feline is purrfectly safe. This cat-shaped bird feeder is a fantastic option for cat lovers to display their passion outdoors while feeding wildlife.
If you aren't particular about what birds you attract to your yard, put out a ground bird feeder tray that is accessible to all types of birds. You are guaranteed to always have a crowd around the easy feeder, and may even have some special chipmunk and squirrel guests stop by for dinner!
10. Upcycled Bird Feeders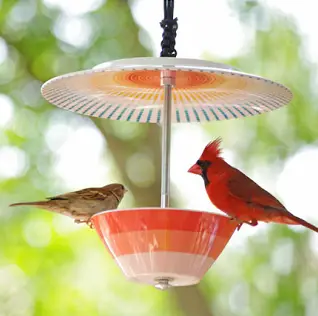 Why waste money buying a new bird feeder when you can create your own from supplies already lying around your house? There are many great ways to make an upcycled bird feeder, giving your birds a unique place to enjoy their seeds in peace.
Some fantastic options for a DIY bird feeder include:
Teacups and plates
Mason jars
Old license plate for a roof
Vintage glasses
Wine bottles
And so much more!
When crafting your own, ensure your products are clean and bird-friendly. Also, be careful when putting them together to ensure they are sturdy and won't fall once a bird lands on top.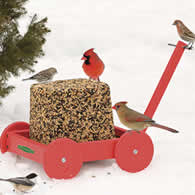 If you have an old country landscaping theme, add a little red wagon bird feeder to the mix. This bird feeder can hold plenty of seeds providing meals for various birds passing by.
Final Thoughts
There are unique bird feeders for every style and personal preference. If you can't find a unique bird feeder that you sincerely love, you can always order one from a professional artisan who will create a custom product specific to your needs.