Your house's sidewalk is a guest's first impression of your home. With this in mind, you must ensure that that first impression is a good one by ensuring that your sidewalk represents your home the way you want it to.
While a sidewalk is a simple concept, there are many ways in which you can get creative with your sidewalk and make it unique to your home. From using different materials to experimenting with different patterns, there's no shortage of things that you can do with your sidewalk.
Looking for creative sidewalk ideas that will have all of your guests impressed upon a first look? You've come to the right place. Keep reading to discover ten things you can do to spruce up your sidewalk and fall in love with your home all over again.
Top 10 Sidewalk Ideas
The good thing about sidewalks being so simple is that it's easy to make them more exciting and unique. The primary way to do this is to switch up the material you use for your sidewalk and to play around with how you place these materials.
Still need a push in the right direction? Here are ten sidewalk ideas that may be what your home is missing.
1. Stone walkway
A concrete walkway is the norm, but it can be too simple for some. If you want something one step up from concrete, consider making your sidewalk a stone walkway.
A stone pathway is a simple option for a sidewalk, but it also adds depth to your home. Stones come in several colors, shapes, and designs, so getting creative is easy.
If you want to keep things simple, you can choose stones of the same size and shape to like your sidewalk. If you want a more rustic look, you can align jagged stones and fill them with smaller stones, pebbles, or pea gravel. If you want a more whimsical sidewalk, try making a garden walkway out of stepping stones.
2. Boardwalk sidewalk
Next on our list of sidewalk ideas is to create a boardwalk sidewalk.
A boardwalk is a walkway made of wood and is usually a beach staple. If you have a beach property, a boardwalk sidewalk may fit the theme, but even if you aren't lucky enough to live off the beach, a boardwalk is still an interesting choice for your home.
Building a boardwalk sidewalk may take much more planning and work than other sidewalk options, but it will also be one of the most unique sidewalk options you can create.
3. Gravel sidewalk
A gravel path is a budget-friendly walkway idea because gravel is an inexpensive material to source and can be installed easily. Gravel paths are simple, but they don't have to be boring.
There are several different colors of gravel that you can choose from to complete your sidewalk vision. You can elevate your gravel path by lining it with brick or stones. You can also combine gravel and stones for a more unique look. 
So if you're on a budget, gravel may be a great option to create a beautiful sidewalk for your home.
4. Flagstone sidewalk
Flagstone is a flat stone often cut into rectangular or square shapes. A flagstone path or flagstone walkway is a gorgeous addition to an outdoor space.
Flagstone as a material is simple, but there are many different things that you can do with it to make your sidewalk unique. One of the main benefits of flagstone is that you can easily control the spacing between each stone, significantly influencing the look of your sidewalk. 
As with other types of stone, flagstone comes in various colors and textures to add depth and complexity to your sidewalk. Don't be afraid to mix and match different colors for a more lively sidewalk.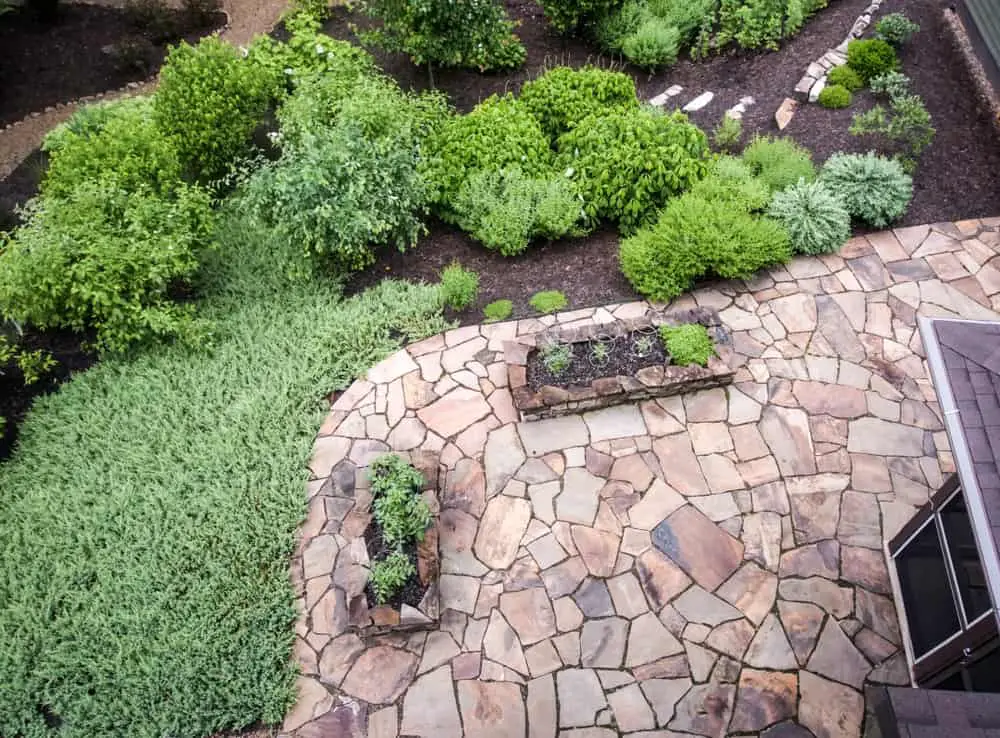 5. Brick sidewalk
Brick is a classic option for any sidewalk. One of the benefits of brick is that there are many ways in which you can lay it down to create different patterns. You can make a uniform pattern by laying them all one way, applying them diagonally, or even crisscrossing them for a more eye-catching look.
While red brick is the norm, as with other materials on this list, there are other colors that you can choose to bring your sidewalk to life and make it match your home.
6. Lit up sidewalk
If you're already happy with your sidewalk, why not make it shine by adding lights?
Lining your sidewalk with lights is a great way to illuminate it at night. Not only is it practical, as it ensures the safety of anyone walking up to your house at night, but it also serves as a decorative element and adds beauty to your sidewalk and your house in general. Like other sidewalk ideas, you can get creative with lights by choosing ones with different patterns or lining them uniquely.
Most outdoor lights today are solar-powered, so you don't have to worry about turning them on or off – they take care of that themselves.
7. Paver stone sidewalk
Paver stones are a great option to bring sidewalk ideas to life. 
Paver stones can be made from various materials, including brick pavers and concrete pavers. They are typically cut from quarries, however, and therefore come in various sizes, making it easy to get creative with how you lay them down.
A paver walkway is also easy to clean, making a good option if you want something creative but low maintenance.
8. Concrete sidewalk
Simple is the way to go with your sidewalk, which may mean choosing a concrete walkway. 
Concrete sidewalks are an excellent option for a smooth, simple walkway leading to your home. Moreover, concrete blocks are relatively inexpensive compared to different types of stone so it might be the most budget-friendly option.
Even within the realm of concrete, there are different types of concrete block shapes to choose from, including squares and octagons. You can even get a mold to pour your own concrete and create unique shapes for your sidewalk.
9. Mulch sidewalk
Like gravel, a mulch sidewalk is an excellent option for those looking for an easy yet inexpensive option.
Mulch is an excellent material for sidewalks as it is easy to install and low maintenance. It's also a great option if you have a nearby garden to complete the area.
10. Garden path
Last on our list of sidewalk ideas is to create a garden path towards your home.
When you choose a garden path, the focus will not be on the sidewalk. The sidewalk itself can be made from the material of your choice. The material you choose doesn't entirely matter, as the garden landscaping lining the sidewalk will be the star of the show.
A popular choice to line your sidewalk is colorful flowers that add beauty to your space. Flowers such as lavender, hydrangea, and roses are beautiful choices that will create a welcoming atmosphere for any guest coming to your house.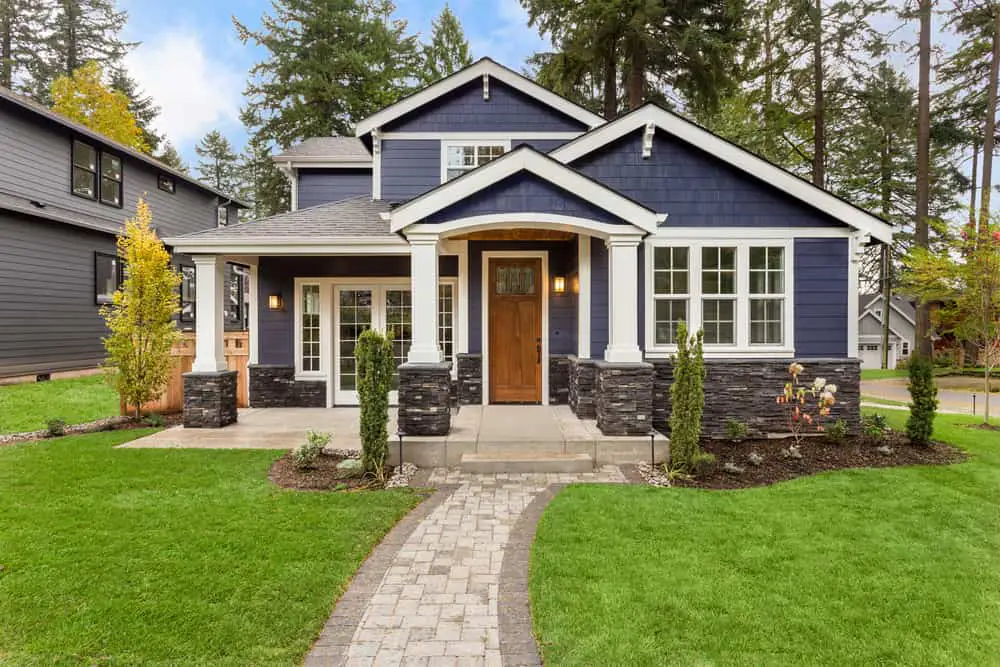 Sidewalk Ideas FAQ
What type of sidewalk is best?
Many say that paver stone sidewalks are best. They're the most commonly used material because they're easy to install and come in various colors, shapes, and sizes.
However, the best sidewalk idea will depend entirely on your vision for your yard. Make sure to consider several walkway ideas before settling on one.
What's the cheapest sidewalk material?
Mulch and gravel are the most inexpensive sidewalk materials you can buy. They're best if you want a rock walkway, and they're easy to install. 
All you have to do is remove the sod, cover the area in landscape fabric, and spread the gravel or mulch over the area. You can have a sidewalk ready in less than an hour!
What is the best sidewalk material for snow?
If you're worried about your sidewalk in the winter, the best material to choose is either paver stones, broomed concrete, or natural stone.
These materials require no sealant or clear coat and are, therefore, the least slippery materials, making them great for safety during the winter months.
The Takeaway: Choose the Sidewalk Idea That Works for Your Home
Your sidewalk provides a first impression to everyone passing by your home, so it's essential to make it look neat and beautiful. 
Try out these walkway ideas to see which works best for your home. You can even mix and match ideas by working on your sidewalk and the surrounding areas.