Some adults consider tree swings an essential part of their childhood. Despite the dominance of technology, many children still look forward to spending their summer swinging from their tree swings.
If you have a sturdy tree in your backyard and want to hang a swing from it for your little ones, you've come to the right place. In this article, you'll learn about tree swing installation and discover the best swings for tree branches to help you choose the right one for your backyard.
Why Get a Tree Swing?
There are many reasons why you should consider swings for tree branches in your backyard. Some common reasons people choose tree swings include:
Let's take a look at how to install a tree swing.
How to Install a Tree Swing
Before you start installing swings for tree branches, make sure that you have the following tools and materials handy:
Parts of the swing (rope and seat of choice)
Tree swing hanging straps
A ladder
Measuring tape
How you install a tree swing largely depends on the type of swing you choose. However, there are general steps that you must follow, no matter whether you select a tire swing or a regular seat swing.
To help you out, we've detailed the following steps to help you install swings on your tree, no matter what type of swing or tree you have.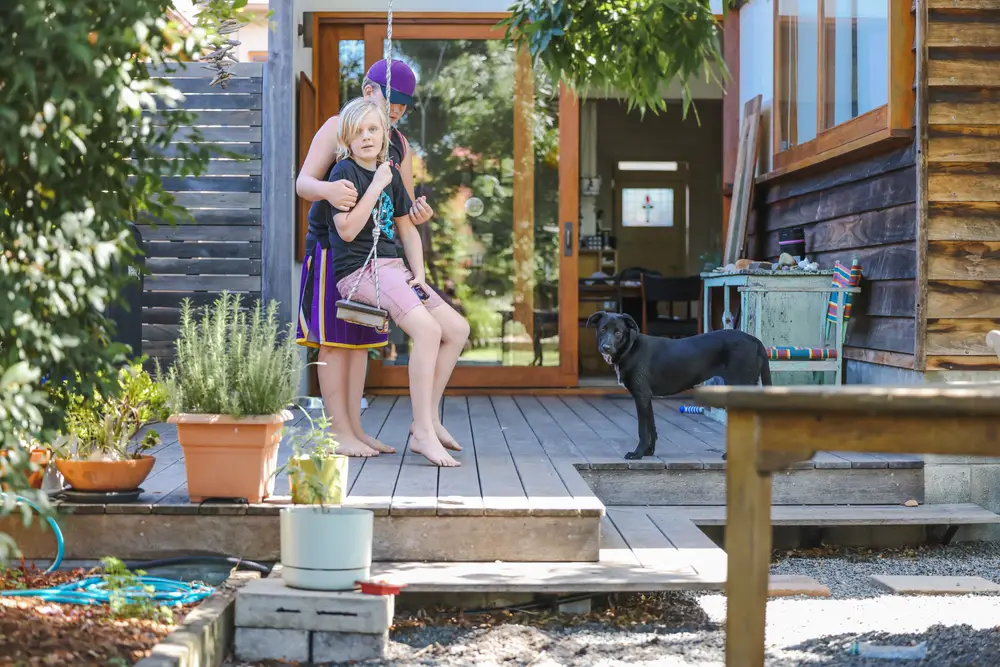 1. Make sure you have the right tree
Before thinking about a tree swing, you want to ensure your tree can handle a swing, which involves inspecting the health of your tree. You may want to call an inspector for this part. If you have multiple trees, picking the right one is important.
You should also look at your tree to ensure you have big enough branches for your swing. Finally, you should also ensure the branch is high enough to support the swing.
2. Make sure the area is clear
The area beneath your swing is considered the landing zone. You need to ensure that this area is clear of obstacles or debris to ensure safe swinging.
You may be able to move some obstacles, such as rocks. Others, such as tree branches, may mean you need to find a new location for your swing.
You also want to ensure that you have enough space to swing. You should estimate your children swinging three to five feet from the trunk in a pendulum motion.
3. Choose your rope
Next, you want to choose the right type of rope.
You can choose almost any type of strong rope for your swing. Some popular choices include: 
Polyester
Nylon
Polypropylene 
Polypropylene is the most commonly used rope, while nylon rope is the strongest.
You must also choose the right rope size. Swing ropes will range from 5/8" to just over 1". If you plan on a two-rope swing, you can get away with using a smaller rope, but for a single-rope swing such as a vertical tire swing or disk swing, it's safer to use a rope closer to one inch.
If you choose to get a swing for tree branches kit, you won't have to go through the process of selecting individual ropes and seats, as these kits usually come with adjustable ropes that are easy to install.
4. Attach the rope to the tree
To attach the rope to the tree, it is first and foremost important to never hang the rope directly on the tree. This can cause damage to the tree through swinging and gradually wear it down.
Instead, you should use a protective tree strap or other soft but durable fabric to wrap around the tree, then wrap the rope around the strap.
You must also measure the distance from the branch to the ground to determine the correct position for the rope. When doing this, consider the rider's height and use it as a point of reference. The swing should be high enough for the rider not to touch the ground while swinging but low enough for them not to climb up.
Once you have the correct height and materials, the rest is simple. Use a ladder to climb the branch and wrap your tree strap branches. From there, depending on the tree strap branch you use and the swing type, you can hook the rope onto the tree branch strap branch with your seat attached.
Make sure everything is secure, including any knots used, and that's it! You have a swing that's ready to be swung on!
The Best Swings for Tree Branches
There's no shortage of options for the best swings for tree branches. There are various swings to choose from, which can make it challenging to pick the right one.
To help you choose, here are some of the best swings for tree branches:
Classic wooden swings: These are the most traditional tree swing seats and are an easy DIY project. They are great for adding charm to your backyard.
Disks: A disk swing is a single rope passing through the center of a disk. This is best suited for children as there isn't much surface area on the seat.
Tires: This is a great option to make use of that spare tire you've kept in the garage. Tire swings are versatile as you can hang them either vertically or horizontally.
Fabric: Fabric is typically the most comfortable material for swing seats.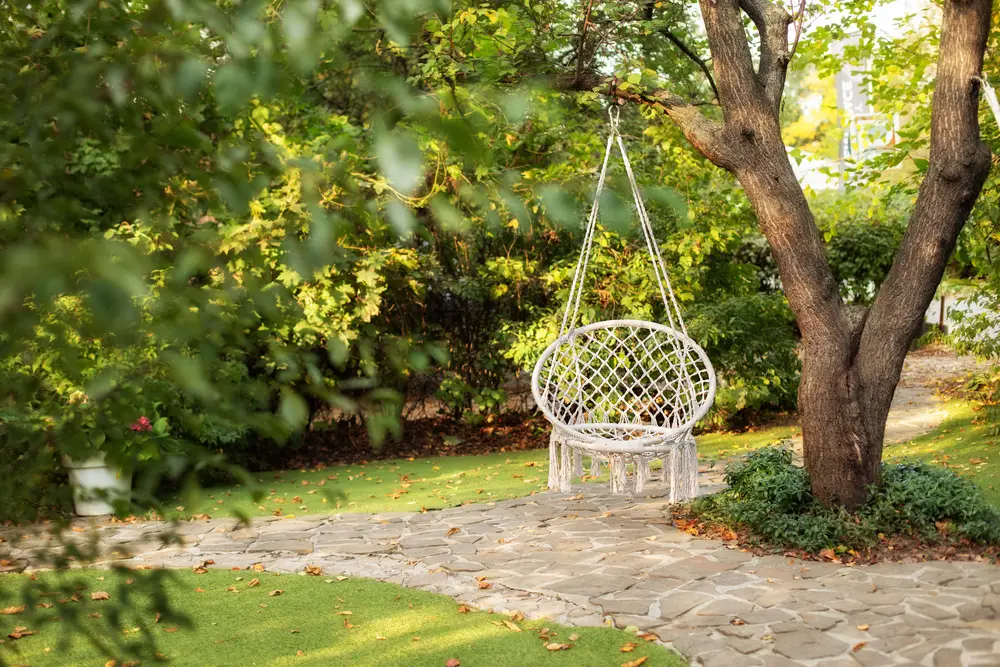 Swing for Tree Branches FAQ
How thick does a tree branch need to be for a swing?
A tree branch should be at least eight inches thick for a swing. However, depending on who will be swinging, using a thicker tree branch may be a good idea. 
How do you protect a tree branch when hanging a swing?
To protect a tree branch when hanging a swing, avoid wrapping a rope or chain directly on the tree branch. This will damage the wood of the tree while you swing. 
Instead, install a tree branch strap that fits over the tree and attaches to the chain or rope. They come in various lengths and sizes to ensure that you find the right one for your tree.
Can you hang a swing from a pine tree?
You should avoid hanging a swing off softwood trees, such as pine trees, as they aren't strong enough and prone to damage.
Instead, choose stronger trees such as maple, oak, and birch.
Recap: Discover the Best Swing for Your Backyard
The best swings for tree branches largely depend on the type of tree you have, the swing you want, and who will swing on it. That said, every type of swing is fun for children, so you can't go wrong no matter what you choose.
You'll create years of fun and lasting childhood memories as long as you know how to properly hang your tree swing.