String lights are a fantastic way to brighten your lawn at night while making it look absolutely fabulous. The best part about these lights is that they are easy to set up and come in so many different colors and designs.
This article will discuss the different types of string lights you can choose from and the best ways to hang them up. (We also threw in a few great ideas for you to try as well.) Good luck and have fun!
Types of String Lights to Use in Your Yard
If you are thinking about hanging string lights in your yard, you are not limited to just one or two options. There are almost endless options available, offering a look perfect for every home. 
Lantern lights
Fairy lights 
Colored lights 
Rope lights
Globe lights 
Jar lights 
Vintage string lights
Wire rope lights 
LED lights
Music sync lights
Choose something you can keep up all year round, or pick a few different sets to switch them up for every holiday or occasion. 

And who said you could only use one? Try combining a few different types of patio string lights to get a unique and exciting look.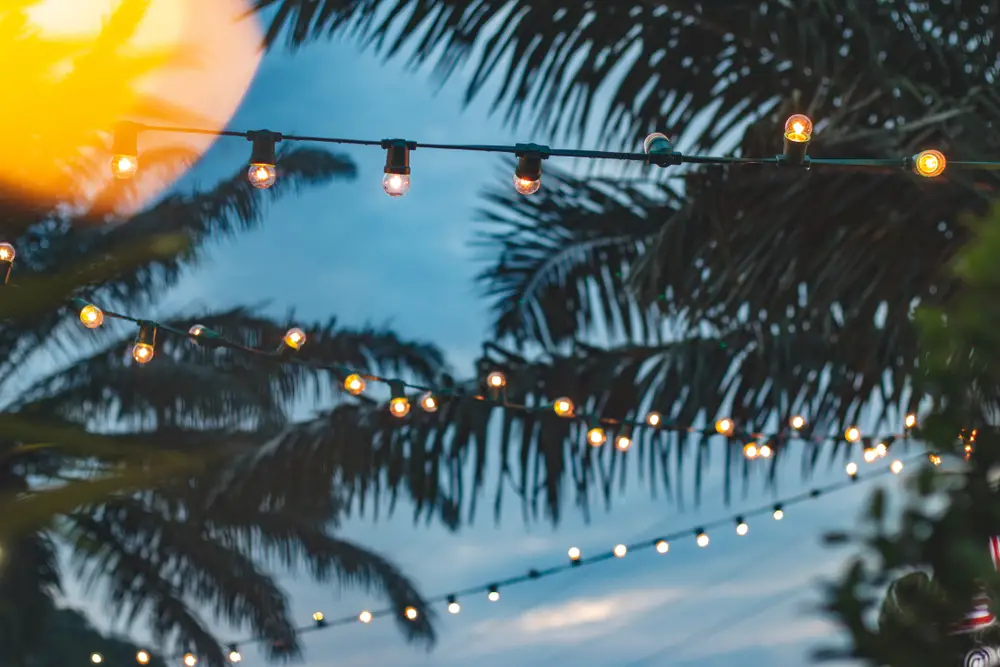 5 Great Ways to String Lights in Your Yard
Now that you know the different types of string lights, check out these five great ways to hang string lights that will surely impress guests, neighbors, and passers-by. 
Rope Them Around Your Trees
Use a string of lights to illuminate your driveway by roping them around trees, letting them direct you to the entrance to your home.
You could also hang string lights from the branches in your backyard to get an umbrella effect that would make a great addition to your current lawn decor during the warm summer months. This is a great place to try wire rope lights or vintage string lights, providing a simple yet gorgeous look to your outdoor living space. 
Hang Them From the Fence
Use backyard string lights with brightly colored bulbs to create a blanket look over your fence panels. This design will illuminate your lawn and look fabulous at the same time.
Instead of blanketing your lights against your fence, you could string them sideways with a few feet between each strand, giving it a fancier look. Consider purchasing patio string lights that display large bulbs, stars, or jars, to make your outdoor living space a little more exciting.
Brighten Up Your Back Porch
One of the easiest ways to string lights in your yard is by hanging them on your back porch, patio, or gazebo. Large bulbs or LED Bluetooth (music sync) lights are an excellent addition to any backyard.
This type of outdoor lighting can be used when entertaining friends and family, enjoying your evenings, relaxing quietly in your backyard, reading a book, or simply gazing at the stars.
Drape Them Over Your Shrubs
If you have large shrubs in your yard, consider draping your backyard string lights over or around them, like you do with a Christmas tree. Doing this will keep you from searching for fasteners and places to hook them, securely holding your lights with their branches and leaves.
Try using fairy lights when decorating your shrubs; these are perfect for an enchanting look, maybe next to a fairy garden.
Illuminate Your Garden
Do you spend a lot of time caring for your flower garden? If so, it shouldn't disappear under the darkness of night only to be on display during the day. Utilize the variety of string lights available to illuminate your garden, showing off all your hard work 24/7.
You can use string lights in your flower garden by lining them up along the sides and securely attaching them to the ground. 
Another great option for this outdoor lighting is to wrap them around wooden posts or planter pots. Lantern lights or mason jars would look fabulous in this location.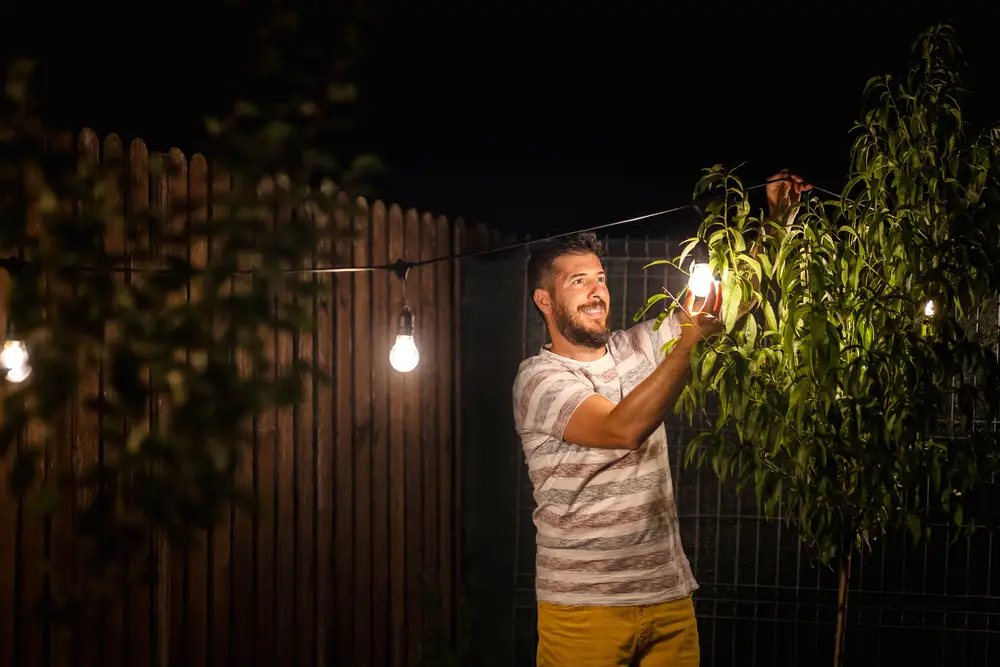 How to String Lights in Your Yard
If you are ready to string lights up in your yard, there are a few things to think about before you get started. Ask yourself these questions before you head outside to create your dream yard; you'll be thankful you did. 
Where are you going to hang them? 
How much space do you plan to cover? This will determine how many sets of lights you should buy.
Is there a power source nearby, or do you need solar string lights?
Are the lights weatherproof? This is extremely important for safety reasons and so your lights aren't destroyed before you get to enjoy them.
Are they going to be out of the way? You don't want to have to take your lights down every time you mow the lawn or play catch in the yard.
Do you have the proper tools?
Ready to get started? Here are the steps to hang outdoor string lights in your yard.
Grab a friend. It is easier to set up your outdoor lights with two sets of hands.
Find the correct fasteners. If your lights are not going to be hanging in branches or shrubs, you will need the proper fasteners for the job. Painter's tape works well underneath railings and decks, while a wire or hook can be used when stringing lights from posts or ceilings.
Install posts or metal plant hangers. If you have nowhere to hang your lights, you can use a wooden post cemented into the ground or tall metal plant hangers to set up your strands.
Keep the cords out of the way. After your outdoor lights are up, ensure the cords (and extension cord) are safely out of the way or covered up. 
Plug them in. Plug your lights into the power source and make sure it looks the way you want. If you don't like how it looks, play around with all the options until you are satisfied.
With all the available string light options on the market today, there is no reason not to add them to your yard. These lights can brighten up your home and illuminate pathways, entrances, and garden beds while offering a magical look all their own.
Final Thoughts
There is no one-size-fits-all solution for hanging string lights in your yard. Whether you want a bright and bold outdoor space or something more elegant and understated, there is an option for you. Decide which set you feel will improve the look and feel of your home, and go for it.