Do you want to enjoy the fresh air but aren't particularly fond of mosquitos or insects? A welcoming sunroom is a perfect solution. They maximize natural light and provide an excellent view of your backyard without being exposed to the elements. There are many things to consider when it comes to small sunroom furniture.
What Is the Purpose of a Sunroom?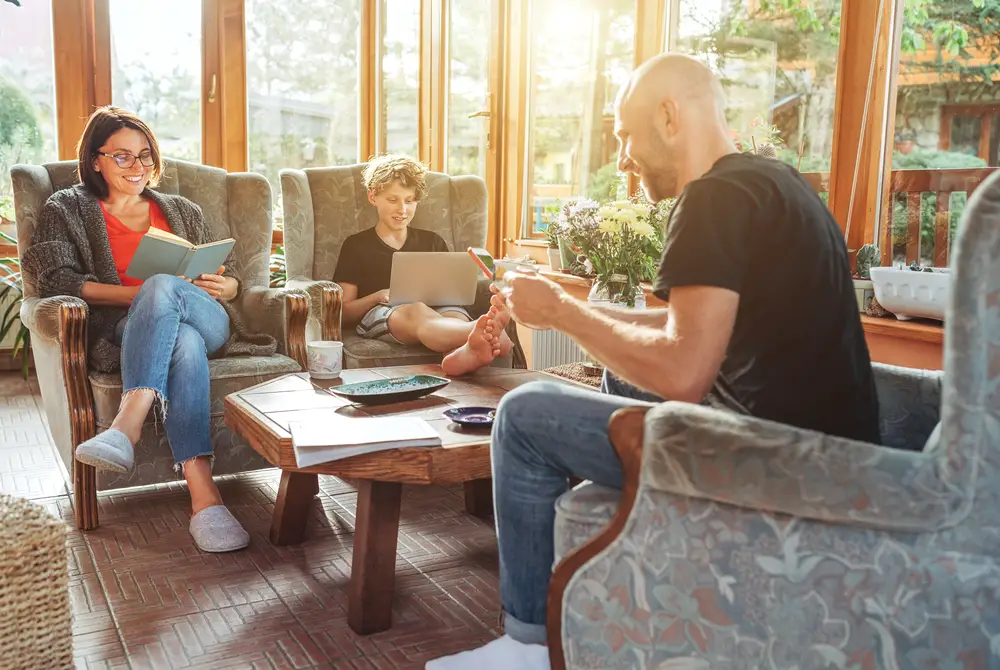 Also known as garden rooms, solariums, or Florida rooms, sunrooms often have a combination of furniture and plants. They may be built over a pre-existing patio and are an extension of your main house, allowing you to invite fresh air inside. The advantage of these areas is to increase home value and provide additional living space.
The purpose of this room is to allow homeowners and guests an opportunity to enjoy the backyard without going outside. Large windows filter in a great deal of natural light and provide a spectacular view of nature. Since it is enclosed, you are not only protected from pesky insects but shielded from inclement weather as well.
Types of Sunrooms
Sunrooms come in two forms: three-season and four-season. They have different names because they determine how long you can use the area during the year.
Three-Season Sunroom: You can enjoy this room during spring, summer, and fall. These rooms do not have any climate control, so they are void of air conditioning or heat. They tend to be more affordable. They generally have patio doors to prevent outdoor air from affecting the house's temperature.
Four-Season Sunroom: A four-season room has ventilation, air conditioning, and HVAC ducts for heating. You can enjoy this area all year, and they tend not to have sliding doors, so they are more like a natural extension of your home.
Pros and Cons of a Sunroom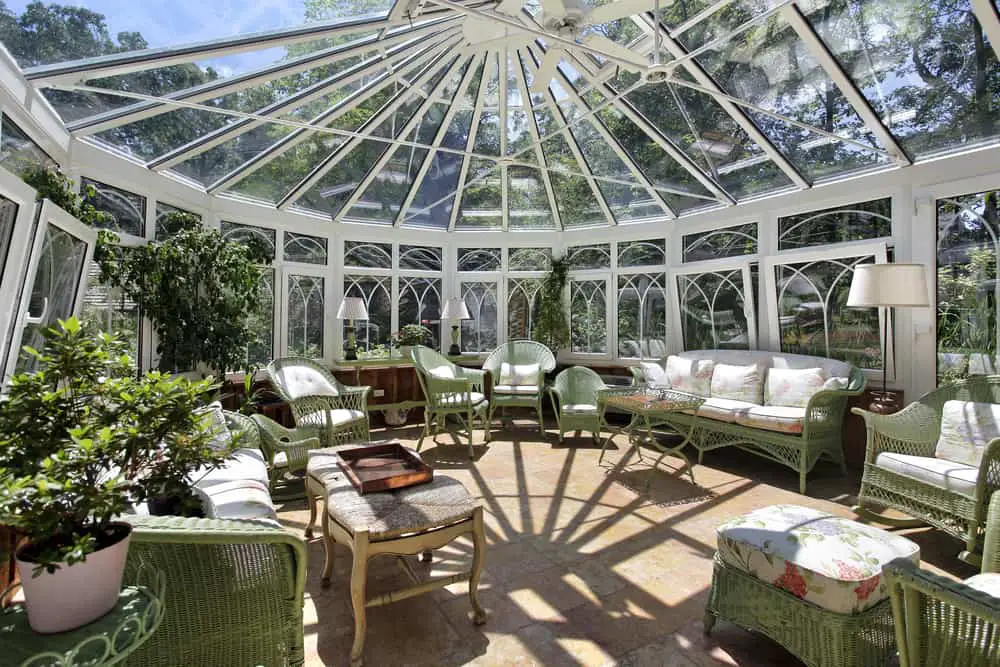 A sunroom increases natural light as they are enclosed with glass walls. They increase property value by generating a space for a second family room or a hosting area. Some homeowners also choose this location for an indoor garden and fill the space with greenery.
The downsides to sunrooms are logistics and cost. You can install a sunroom, but doing it yourself can become more expensive and get too involved. You may need building permits and specific materials, and you will need to budget accordingly as costs correlate to square footage. Expenses can further rise if you are installing an HVAC system that is not energy-efficient.
Furniture Materials
Before buying furniture, you need to consider the environmental aspects of the area. What is the weather like where you live? This is important when selecting furniture – especially when you want it to last. 
Many homeowners buy sunroom furniture when the weather is warm, but sunroom decor and interior design often change during cooler months. So, while your furniture may look great during warmer months, how will it stand up when temperatures turn cold?
You will need to consider this for three-season sunrooms carefully. 
You also need to determine how much direct sunlight the room gets, which affects how fast the colors fade. Note any special conditions as your furniture will need to withstand these to last.
Types of Material
Sunrooms are prone to condensation. They become a breeding ground for mold and mildew, which brings with it a musty or horrible smell. Fabric can discolor, and furniture damage can occur.
Preventing excessive moisture in this area is essential. When not in use, ensure windows are closed, airtight, and sealed so that moisture is unable to penetrate your furniture. Even small cracks will allow moisture in. 
You can also use a dehumidifier if the room has high humidity, but monitor its usage. Excessive usage makes the room dry and can damage furniture. Three-season sunrooms also offer little protection from the weather, which you must factor into what material you use.
Wood Furniture
Pros:
Sturdy and durable
Weather-resistant
Can withstand sun, heat, humidity, and cold
Cons:
Can rot, crack, or warp
May need to be re-stained 
Needs to be kept away from direct sunlight
Resin Wicker Furniture
Pros:
Durable and weather-resistant
UV-resistant so colors are resistant to fading
Doesn't require much maintenance
Withstands humidity and direct sun
Cons:
Plastic resin can become hot in direct sun
Can crack or scratch
Metal Furniture
Pros:
Durable and strong
Resists rusting and corrosion
Cons:
Can fade in the sun
Becomes hot in direct sunlight
Attracts heat
What Fabrics Are Best?
Acrylic fabrics are ideal for spaces that may become damp with condensation. It is resistant to mold and mildew, and it is durable. It is also hand-washable using a mild detergent. The colors will stay vibrant and bright, even when kept in direct sunlight for long periods, making it a popular choice for sunrooms.
Olefin is a synthetic fabric that is less expensive compared to acrylic but is weather-resistant and durable. This material isn't as soft but it is stain-resistant. You can clean it with soapy water.
Polyester is water-resistant and strong. It is frequently coated in vinyl or acrylic to increase weather-resistance. An acrylic coating will keep the material soft, while vinyl will stiffen the fabric. Acrylic is best for cushions or pillows. Vinyl is best for screens or tougher applications.
Foam Type
Foam inserts are another consideration. They consist of several types:
Polyester. The least expensive type of foam, polyester dries quickly. It loses shape as time progresses, especially if you wash it frequently. It is recommended that homeowners wrap it with protective coverings.
Polyurethane Foam. It absorbs water but takes some time to dry. Polyurethane is treated to prevent mildew and mold from growing, making it perfect for three-season sunrooms. Use plastic covers to prevent moisture.
Polyethylene Terephthalate Foam. This type remains firm and retains its shape. It dries quickly, resists mold, and is eco-friendly.
Open Cell Foam. It allows air and water to flow easily and resists mold and mildew. It is a more expensive alternative, though. 
What Quality of Material Will Best Suit My Sunroom?
Based on what you will use this room for and considering the weather and your location, some material types will stand up better than others. 
For Hot Weather
Avoid metals and incorporate lighter colors for spaces that become hot at midday or in the summer. Dark colors will trap more heat as they attract sunlight. The room will become very hot. Additionally, the sun will fade color as time passes. 
Choose furniture made of lighter wood that won't attract as much heat. You can also place furniture further back in the room out of direct sunlight.
In Cold Weather
In cold conditions, plastic becomes brittle and will crack when exposed to cooler temperatures. Additionally, if the room receives high humidity, it will affect the natural wicker. 
Direct Sunlight
Sun is the most common culprit in sunrooms since they have large windows. Sunlight will discolor and dull paint, bleach fabrics and wood, and degrade synthetic materials. If you want your items to last, carefully consider the materials you choose. 
Metal will remain unaffected by the sun, but rubber and plastic are vulnerable to UV damage. Wood furniture may have a great finish but will break down over time. You may end up refinishing it or replacing it altogether. You will need to consider how the item will look in years to come.
Other Factors to Consider
Care and Maintenance
Care relates to the finishing and material type used on your furniture. Depending on your location and how often you use this area, you may have to protect and clean it more or less frequently. This care may range from scrubbing it with water and soap to using specialized cleaners. 
Tabletops and frames may be scratch-resistant, while others may require buffing and fillers because they are prone to nicks. Some woods are more resilient at first but lose color without proper care. There are also cushion covers that can be removed and cleaned in a washing machine. 
Whatever you place in a three-season sunroom, it is best to invest in things you can easily replace. Since it isn't insulated like a four-season room, it can experience some damage when winter hits. It is easier to replace a single item or have it fixed rather than buy a new set. 
What Materials Are the Most Comfortable?
There are multiple choices when it comes to fabric and materials. If you have a three-season sunroom, you may experience condensation. The furniture may become slightly damp when seasons change. In this case, you may want something quick-drying and plush. Consider foam cushions of different densities that quickly pull water when necessary.
Sofas and chairs are now created with more ergonomic designs. There is an increased understanding of how leg inclination, seating angles, and armrests ultimately affect posture, alignment, and pressure in key body areas. If you intend to spend long hours in this room, you want to evaluate the comfort and positioning of the furniture you choose.
When it comes to fabric, make sure that it is fade- and mildew-resistant. 
Quality
Once you have determined your desired comfort levels, you may want to consider how much you want to invest. However, there is a bit of a twist to this.
Depending on your sunroom, you may want to invest in patio furniture instead of traditional furniture. You can expect to pay accordingly because of how they are treated. However, they have many advantages.
Patio furniture can withstand temperature changes and accommodate some rough use. Materials are fade-resistant, more robust, and can repel water compared to other alternatives. Warranties on construction and material are more inclusive and longer as well.
For a four-season room, this may not be as much of a concern. The only issue you may end up facing is fading. 
Small Sunroom Furniture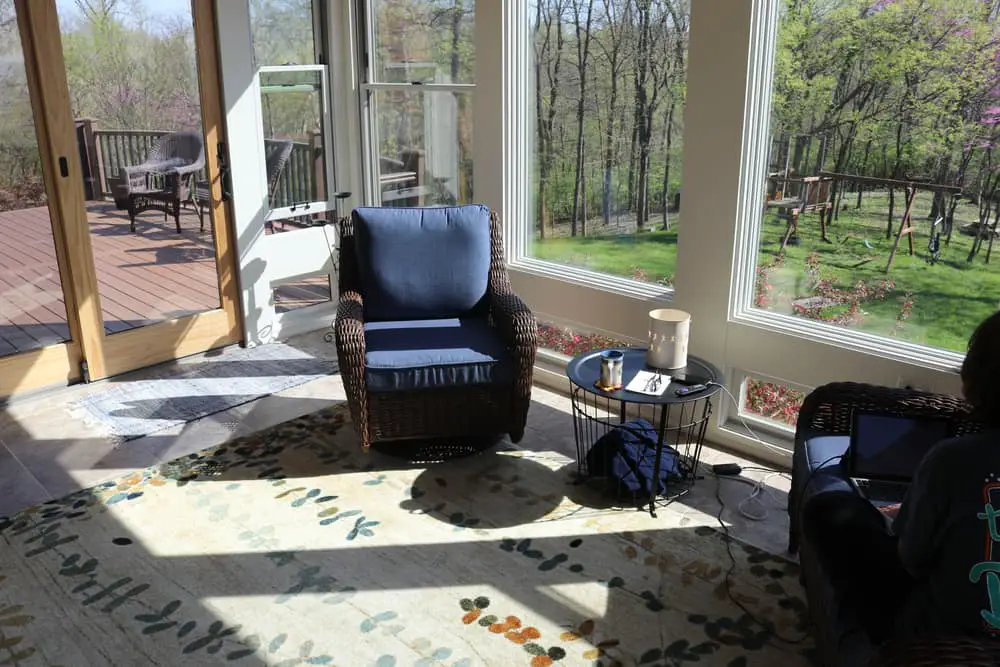 Sunrooms bridge the gap between the outdoors and the inside. They are the perfect complement between interior comfort and natural light. Sunrooms are a great place to relax, read a good book, and enjoy nature. With convenient layouts and stunning accents, sunrooms can quickly become the most used space in a home. 
Small Sunrooms
For a smaller sunroom, homeowners tend to incorporate mirrors into the design. While you may assume it is to see your reflection, strategically placed mirrors bounce light around your room, making the room appear larger and eliminating shadows. Some homeowners use lighter colors for a small space to open it up visually.
As mentioned, you may want to incorporate built-in seating for a small sunroom. Consider adding a corner bench, table, or ottoman for extra storage. You may have to get creative with sunroom furniture ideas in smaller spaces. Your outdoor furniture may need to serve a dual purpose in terms of functionality.
You also need to think about how you will use the sunroom. Since it can be an extended living area, a relaxing location, or a dining space, you will need to furnish it accordingly. Furthermore, if used at night, you may want to consider mounting different lighting to create a cozy glow.
For example, if you use this space for casual dining, you may want to add a table and bench seating to maximize the space. You can also install a rattan hanging chair or wicker chair in a corner for a casual place to read a book or to enjoy nature. These are all things to consider.
Conclusion
When it comes to small sunroom furniture, it is the best place to incorporate patterns and bright colors. Begin with simple, multifunctional furniture pieces. To add texture or interest, layer a collection of complementary colors by adding pillows, cushions, accents, and area rugs to the room. You can swap many of these items if you want to upgrade later or change the look.