The stadium parking lot is packed with cars and thousands of fans looking forward to the upcoming game. The smell of burgers and hot dogs on the grill permeates the air along with the buzz of conversations and music as eager fans await game time. If you have never been to a tailgating party, here are a few tips for essential tailgating items to bring.
What Is a Tailgate Party?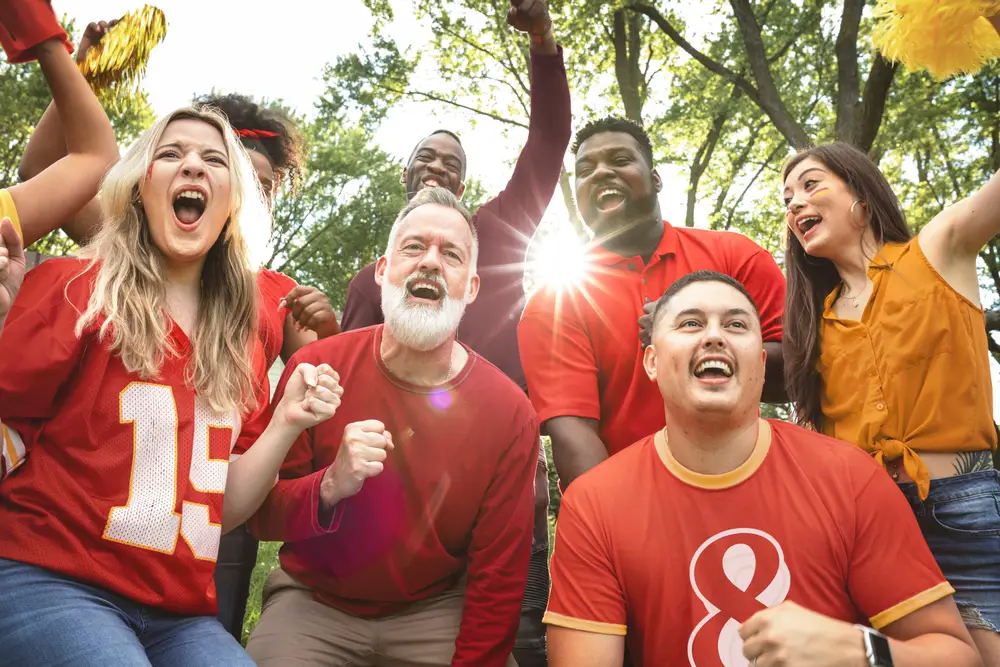 A tailgate party involves people hanging out at the trunk end of a parked car, truck, or van. The name stemmed from using a pickup truck with a folded-down tailgate where mobile parties went on. Today, tailgate parties use any type of vehicle.
These gatherings start several hours before kickoff and can continue long after the game has ended to celebrate a win or in consolation for a loss. This event involves music, food, beverages, decorations, and games.
Those who tailgate frequently usually have at least one television hooked up to watch the pregame show or check in with other games. Some tailgaters don't even have tickets to the game. They will simply go to the stadium parking lot to tailgate and watch the game with other fans.
The Tailgate Pre-Game: What to Do Before You Begin
You will need to research parking lot opening times, stadium rules, sanctioned tailgating areas, etc., before game day. If you require a large area, you will not want to hear you are in the wrong section on game day. 
Get Your Vehicle Ready
Your vehicle can be the most critical part of a tailgating party. You will need plenty of room to transport everything you need, or you may find you require two separate vehicles. You can also use a cargo carrier for additional gear. 
We also recommend purchasing a large plastic tub to allow you to store greasy grilling tools before going to the game. Cleanup is just a matter of hosing it down and allowing it to dry.
Make Sure Your Vehicle Is Road-Worthy
Don't forget to take care of your vehicle. Your car, van, or truck needs to be able to handle the task. You don't want to find yourself stranded on the road before the big game or stuck in the parking lot after a day of celebrating.
Plan Your Menu Accordingly
If the game begins at noon or shortly after, tailgating may start as early as 9:00 a.m. Don't avoid the early hour; instead, plan for it. Arrange for a brunch! Grill bacon slabs or sausage links. You can also add pineapple, ham, or peppers to skewers for a light lunch. 
For an early game, you can create an iced coffee bar. All you will need is your favorite coffee, different kinds of milk or alternatives, a cooler, and cups for the drinks. You can make it extra special by adding flavored syrups, various fruit juices, or freshly squeezed lemonade.
Grilled sandwiches are also an excellent compliment to this meal.
The Game: Necessary Tailgating Items to Bring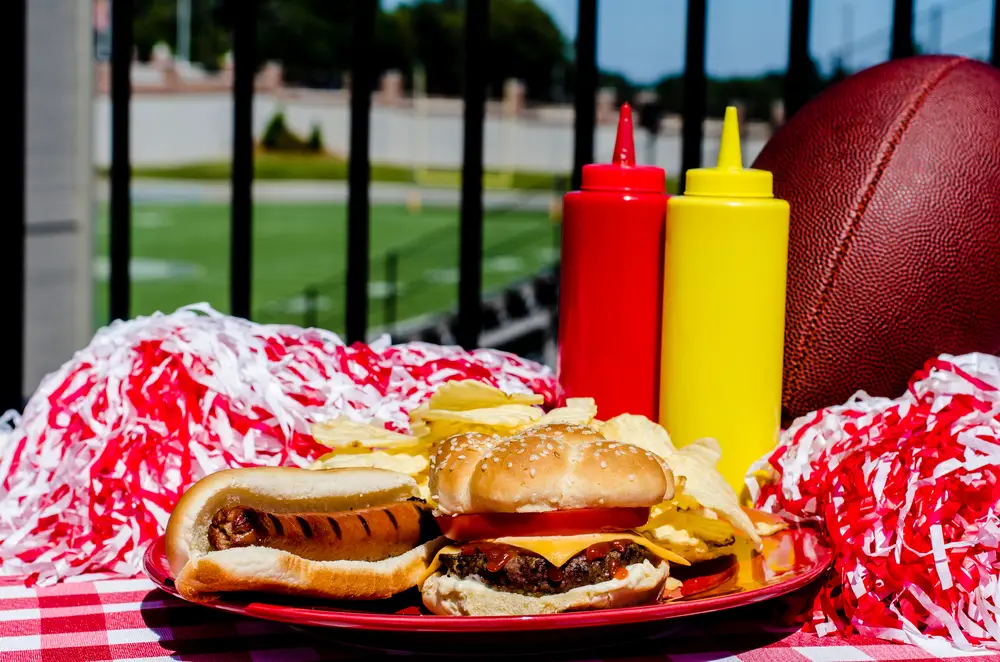 If you are eagerly anticipating an upcoming day of eating, grilling, chilling, and supporting your favorite team, you will not want to be without the following items.
Portable Grill
You can't have a tailgate party without a portable grill. It should be one of the first items on the list, as tailgating is never complete without a whole lot of barbecued food. For everything from grilling wings to cooking hot dogs or flipping burgers, you need a portable grill. Check with your stadium's rules and regulations. Some places are particular when it comes to allowing open flame grills, which means that you will not be able to bring anything with wood pellets or charcoal.
We also recommend that you bring a slow cooker. You can create nacho sauce or bring along your secret chili recipe. Chilli is great for warming up your insides on a cool day.
Tools for Grilling
Bringing your portable grill but forgetting the accompanying tools is never good. Pack up all your grilling tools before the game to ensure you have everything you need. If your grill uses propane or charcoal, ensure you have enough fuel for the food you are making.
Tools you may need are as follows:
Lighter
Firestarter
Tongs
Spatula
Sharpened high-quality knife
Cutting board
Barbecue sauce dish
Grilling oil or spray
Grilling gloves
Cooler
Nothing is worse than warm or lukewarm beverages on a hot day. Not only do they taste gross, they won't cool you off as the temperatures rise. You will also need a cooler to prevent your meat from spoiling.
Ensure you have enough meat and drinks to last through the game, and store them in a reliable cooler. Some fans even bring two coolers so that everything stays cool. You will also need abundant ice to keep everything at an ideal temperature.
Beverages, Food, and Supplies
Good food and tailgating go hand in hand. You will need to pack plenty of food items and drinks to accommodate the pre-kickoff events. When planning for food, it's a good idea to keep it relatively simple. You can create low-preparation snacks, store-bought appetizers, or order out. 
When planning food, you can take three routes:
Cook at the game. Select foods that cook quickly, so you don't have to spend too much time operating the grill.
Bring chilled food. You can cook food early in the day or even the day before. Chill it and take it to the game cold, then reheat it until it reaches a safe temperature. Thick cuts are not advisable since they take a long time to thaw and can take hours to cook. These are technically leftovers, so they may not be as fresh.
Bring hot food. Recently cooked food can go in a faux Cambro if it is above 150° F. Be aware this is not advisable for poultry.
Part of the fun of the tailgating experience is grilling sliders, burgers, hotdogs, kebabs, brats, wings, corn, and veggies on the grill. When preparing your food, always pay attention to food safety, especially when you don't have refrigeration and hot water. Food should be kept under 40° F or over 150° F. Label coolers so people don't keep opening the meat cooler looking for drinks.
But food isn't the only thing you need. You will also have to make sure you have enough condiments, snacks, and sides. These include things like:
Buns
Ketchup
Cheese
Pickles
Onions
Hot sauce
Potato salad
Deviled eggs
Queso
Chips
Dips
Relish
Mustard
Cole slaw
Furthermore, pack plenty of:
Garbage bags for clean up
Ziplock bags to hold leftovers
Plates
Utensils
Paper towels or napkins (paper towels are always advisable due to the potential for spills)
Tumblers/cups
Wine keys
Bottle openers
Koozies
When it comes to plates, cups, and utensils, make sure they are disposable to make getting rid of waste easier. That way, you won't have to return home to a ton of cleanup.
Generator
A generator permits you to power up a satellite dish, electric grill, slow cooker, television, radio, or anything else requiring electricity. Powering everything to your car will drain your battery, so investing in a portable generator is best to ensure that you have adequate fuel for everything you need.
Foldable Tables/Chairs
Whether sipping a cold beverage, playing cards, or enjoying food, people need somewhere to sit with their plates. Camping chairs with built-in cup holders come in handy for tailgating parties.
Also, bring a foldable table to make things easier for those joining you. Eating, setting out cooked food as it comes off the grill, and playing cards will be much more organized if you have a table. 
Pop-up Tent
No matter what the weather is, you always want to be proactive. Nothing should interfere with your tailgating experience. Whether dealing with the scorching sun or an unexpected downpour, bringing a pop-up tent or canopy will help make your event a success – whether rain or shine.
Water-resistant tents protect the grill, your friends and family, and electronics from the weather. Consider buying one with the team's logo if you want to elevate your status. 
Team Sports Gear
No tailgate party or game is complete without wearing team sports gear. If you enjoy the game from the stadium or the parking lot, wearing your team's logo or colors is essential. It makes a proud statement!
To further show your support, decorate your tailgating station using flags, banners, and table covers. Don't forget the team jerseys, shirts, hats, and foam fingers.
Games
Elevate your tailgate party by incorporating sports games. Become competitive by organizing some tailgating activities before kick-off. You can play games like ladder toss, giant Jenga, cornhole, or flip cup, which everyone will enjoy.
Wireless Speakers/Music
Music is essential to any tailgate party. It elevates the mood and gets people pumped up for the big game. Since most music is streamed, be sure that you bring your device with you and that it has enough battery life. Consider bringing a charger, just in case. 
You can easily organize your playlist with apps like Spotify, Amazon Music, or any other streaming device. For a good mix or if you are in a hurry, you can also use Sirius.
While a smartphone is great for playing music, it is incomplete without wireless speakers so everyone can hear it. Whether you are listening to music or the game, Bluetooth speakers and a power brick are a must. 
Bungee Cords, Duct Tape, and Rope
Packing these things ensures that everything stays down and doesn't fly away if there is a breeze. No one wants to be found chasing their belongings across a crowded parking lot. 
Miscellaneous
It's important to anticipate the unexpected in every situation when planning what to bring to a tailgate party. Be prepared to potentially encounter cold weather, mishaps, and hygiene challenges before the party. Furthermore, don't allow anything to stop the fun. These miscellaneous items will keep the good times flowing:
Game tickets (a definite must for getting into the game)
Blankets in case the weather becomes cold or rainy
Waterproof rain jacket
First aid kit
Wet wipes for faces and hands
Baby wipes or a pen cleaner for clothing spills (baby wipes work better for stains)
Toilet paper in case there is a porta potty
Sunscreen
Clorox wipes to disinfect and clean surfaces
Mesh food nets to prevent insects from landing on your food
You can also consider incorporating special treats for those who prove team loyalty. If it is a brunch, you can do mock mimosas for people who correctly answer trivia questions. Do meat skewers for who has the most team-related gear. If tailgating is a season-long goal, you can have ongoing games like a fantasy football team. The winner of each week's game can pick the next soundtrack. 
Post-Party Clean-Up
Be sure that you clean up your area before entering the stadium when the festivities finish. Aluminum foil, Ziplock bags, and plastic containers are wonderful for leftovers. Also, bring a permanent marker to label the contents. 
What Do I Bring If I Am Simply Invited?
Much like regular parties, it is polite to offer to bring drinks or food. Generally, the person hosting or planning the tailgate party puts together rosters of what person brings which item, allowing for lots of variety. 
However, some hosts simply like the experience of planning a party. They may only want you to bring a winning attitude, team spirit, and yourself.
Party Tips for Tailgating
These are ideas to help the tailgating party run smoothly. Now that you know what to bring, there are a few other things you should be aware of.
Check the Rules. We mentioned some rules above, but you should also consider the rules about alcoholic beverages. Some stadiums may not permit alcohol or glass containers on the premises. You will need to check for these rules and others that can interfere with the experience.
Plan Ahead. Often, you can prepare food items before the game. Then, once you get there, you can warm them up or set them on a table when it is time to eat. Doing things in advance helps avoid stress and allows you to enjoy the party with friends. 
Make a Tailgate Toolbox. Putting together a designated toolbox for tailgating ensures nothing is overlooked on game day. Checklists are also essential. Items may include everything we mentioned above.
Hand Wash Station. You can create a handwashing station using a seven-gallon water jug with a nozzle and a bucket for wastewater. Place paper towels and soap nearby. This idea is also great if you plan on serving messy foods or having children around.
Take an Abundance of Garbage Bags. Cleanup is easy when you strategically place garbage bags around the area to remind guests to get rid of cups and plates when they're finished with them. It also avoids you racing around before kickoff to clean everything up.
Be Sure to Arrive Early. It is advisable to arrive well before the party to find a good spot and set up. Competition for spots can be fierce, so you may want to send two cars to the location very early. They can barricade both ends of the zone you want to party in.
Backyard Tailgate Parties (Watch Party)
There's no rule that says you must have a tailgate party in a parking lot. You can also set it up in your backyard if getting up early, packing, setting up a party zone, and cleaning up isn't your thing. 
This idea works well for those with backyard kitchens and entertainment areas. The host can be grilling in the backyard kitchen or simply over a grill while serving refreshments to guests. Some homeowners have an entertainment area in their backyard, complete with a TV designated for the big game. 
Conclusion
When it comes to tailgating items to bring, there are several necessities depending on the type of event. Start by keeping things simple. You can morph your list from there and customize it for your specific group and party. Tailgating is a wonderful way to relax with friends and show team support.