Your balcony can serve as a beautiful haven that provides fresh air without having to wander far from home. That's why it's essential to decorate your balcony to make it feel cozy, warm, and relaxing.
There are many ways to enhance your balcony, from adding plants to hanging lights. But the flooring is one aspect of this outdoor space that's often overlooked.
In this article, you'll learn how balcony flooring can transform your balcony and how to choose the right flooring to suit your space. 
Why Choose Balcony Flooring
You might spend hours designing and decorating your balcony, but it may always feel incomplete if you don't consider the flooring.
Balcony flooring ties all aspects of your balcony together. From the seating furniture you choose to the additional aesthetic pieces you add, good flooring will give a more put-together look to your balcony. Without it, something may always feel off.
Balcony flooring is also essential for the comfort of your balcony. It's important to ensure that the ground beneath your feet feels how you want it to – even if you don't plan on going barefoot on your balcony. 
What to Consider When Choosing Balcony Flooring
When choosing balcony flooring, there are many things that you must consider. 
First and most importantly, you must consider your budget. This is especially true if choosing balcony flooring is part of a larger balcony transformation project. Some balcony flooring materials are more expensive than others, so if you have a specific material in mind, budget for it.
Speaking of material, this is the next most important element when coming up with balcony flooring ideas. Several aspects may influence the type of material you choose for your balcony floor, such as:
The location of your balcony – whether coming out of a bedroom or your living room may affect the type of material you choose.
The furniture you have on your balcony.
Whether you keep a barbeque on your balcony – certain materials may risk being damaged beneath a barbeque. 
The weather in your area. 
Now that you know what to expect from balcony flooring, it's time to choose the best one for your favorite outdoor space. 
Top Balcony Flooring Options
There are many different materials that you can choose for your balcony flooring. To help you out, here are some of the top balcony flooring options for every home and decor style.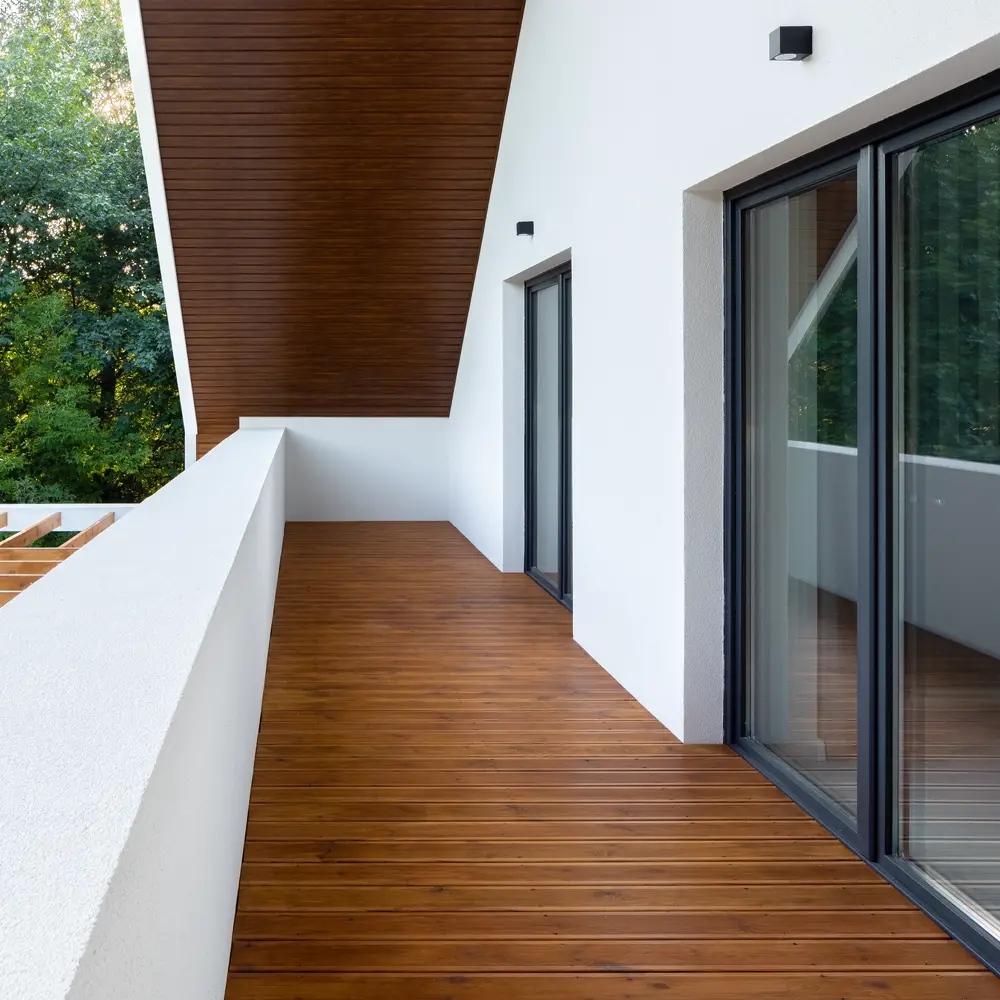 Traditional Wood Flooring
Our first balcony flooring option is traditional wood flooring.
This is a standard go-to balcony option, and it's easy to see why. Not only is wood reliable, but it's easy to match with many different types of home decor, from traditional to rustic.
There are also many types of wood that you can use on your balcony, including:
Redwood
Cedar
Pressure-treated wood
If you want something less traditional, more unique, and have a higher budget, you can also opt for exotic wood such as bloodwood or mahogany. This can give your balcony a "wow" factor and tie together your decor. 
The other great thing about wood flooring is that you can stain it to be a color that more closely resembles your current home decor if needed.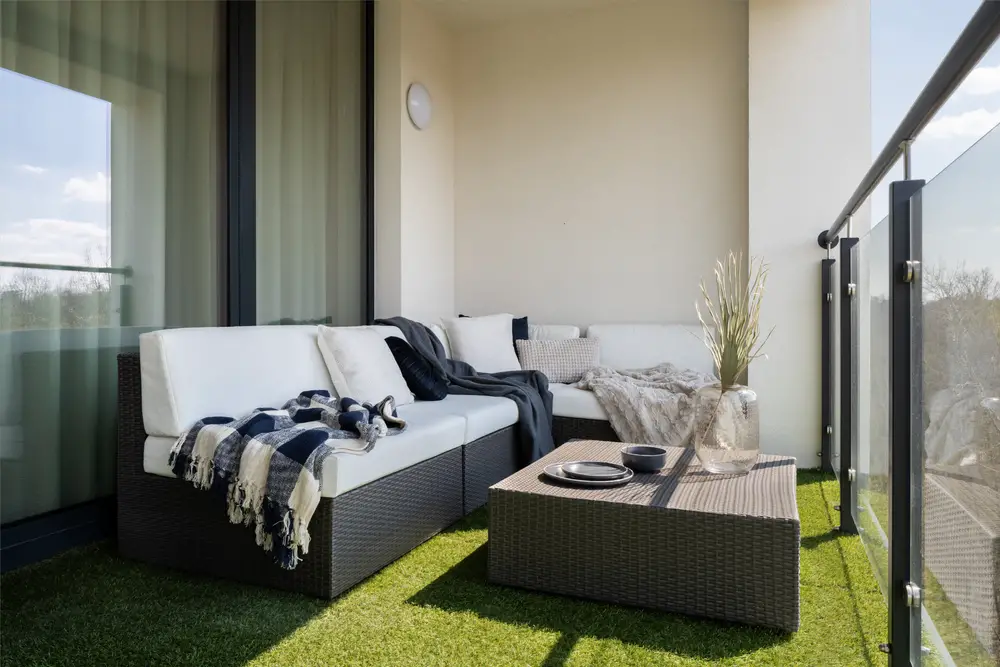 Artificial Turf
Next up, we have artificial turf.
Artificial turf or grass is a popular option for balconies as it's easy to lay down. It's also a very light material and won't add any extra weight to your balcony if that's something you're worried about. 
The bright green color of artificial grass can be hard to match with your decor. That's why it is best for a more casual home decor style. It's an excellent material for a balcony off a kid's bedroom or a playroom, as it's ideal for high amounts of activity. 
Artificial turf or artificial grass is also a good option if you live somewhere rainy, as it's designed for rain to drain away.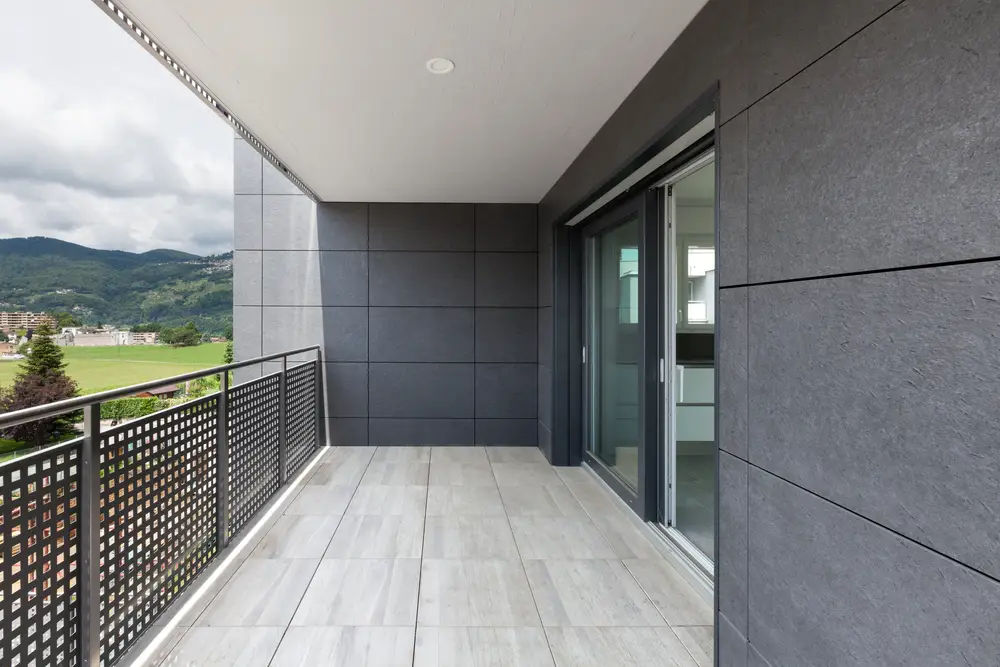 Porcelain Tiles
Porcelain is a beautiful material many people may not consider for their balconies but definitely should.
Resurfacing your outdoor balcony floor with porcelain is an excellent idea if your home decor is more elegant. Porcelain tiles come in a wide range of colors and shades, giving you options for decorating your balcony.
It's important to note that porcelain may be more fragile than other balcony flooring materials. However, good-quality porcelain balcony tiles may be more resistant to cracking and more resilient to extreme weather changes. Be sure to consider the location of your balcony when choosing porcelain outdoor flooring.
Add a Rug
Need to redo your floors? Our last option for balcony flooring is to simply add a rug.
It may surprise you how much a rug can completely transform your outdoor space. For starters, depending on the material you choose for your rug, it may be soft enough to walk onto your balcony without shoes on.
Outdoor rugs are also easier to match with your current home decor. Finally, a rug isn't permanent, meaning you can switch rugs as often as you want to change up your balcony decor. You can even change your rugs every season!
Summary: Balcony Flooring to Enhance Your Space
As you can see, you have a variety of options when it comes to the best balcony flooring. The floors of any space significantly impact the overall look and feel, and balconies are no exception.
It's essential to put some thought into your balcony flooring to bring your vision for your outdoor area together and create the balcony of your dreams. If you want to start small, start by adding an inexpensive rug!