Summertime calls for outdoor games and activities with the ones you love.
Whether you want a game to occupy the kids who are off for summer vacation, party games for your next backyard get-together with your friends, or a fun-for-all-ages game for some quality family time, there's a game out there for you this summer. However, one activity checks off all of these boxes and more: giant outdoor Jenga.
If you've spent many challenging hours playing Jenga during board game nights, you'll love this giant version. A giant Jenga game is a great choice for a unique outdoor experience. Keep reading to learn where you can get your own set of outdoor Jenga, as well as other alternatives to this popular game.
What Is Outdoor Jenga?
Jenga is a game with a simple premise but challenging execution.
Marketed by Hasbro since the 1980s, the original game of Jenga consists of 54 woodblocks. The first step is to assemble the tower by stacking the blocks in levels of three placed next to each other along their long sides and at a right angle to the previous level. Once the tower is stacked, you're ready to start.
The person who assembled the tower starts. Take turns pulling out one block at a time from the structure and placing it on the top of the tower. You can only use one hand at a time to take out the blocks. The game ends when someone makes the tower tip over, with that person being the loser.
You're allowed to tap the blocks out as necessary to make it easier to pull them out, but it's a risky move as it increases the chances of the tower falling. If a block is taken out but not used, you must place it back where it came from, unless placing it back would cause the tower to fall.
Giant outdoor Jenga is, essentially, the same as regular Jenga, except with much larger heavy-duty blocks. This is what makes it most suitable for outdoor play. The increased size turns the game into a kind of extreme sport and makes it a great activity to play with a partner or other people. Just make sure that, if your kids are playing, they're tall enough or that you provide some assistance because many sets can go over four feet high.
Now that you've brushed up on Jenga rules, let's look at giant outdoor Jenga.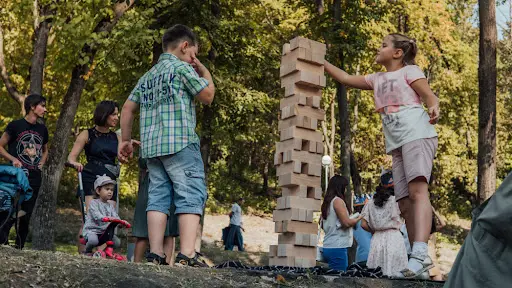 Outdoor Jenga Sets: Top Contenders
Outdoor Jenga is a great yard game to play with the entire family. When it comes to giant outdoor Jenga sets, you may be surprised to learn just how many choices you have to choose from. Although the original name-brand game is the go-to version for most people, there are several different alternatives to choose from that might better serve your needs, including:
A more affordable version
A reclaimed wood version
A DIY option
Let's dive into each of these options to help you make the best choice for your summer activity planning.
Jenga Giant JS6
Before we jump into the alternatives, let's start with the classic version of outdoor Jenga.
Jenga Giant JS6 is identical to the original game: it comes with 54 precision-crafted premium woodblocks. However, these blocks are over eight times the size of normal Jenga blocks, resulting in a tower nearly 22 inches wide and stacked to over 4 feet high.
Don't worry about where to put these blocks when you're done. For easy transport and storage, put your blocks into the included heavy-duty giant carry bag for next time.
ApudArmis Giant Tumble Tower
Giant Jenga is a great activity that'll bring fun to your family. However, as with many outdoor games, the cost can be significant, with the brand name outdoor Jenga blocks priced at around $100.
That said, don't let the steep price stop you from enjoying this game. Other Jenga-like tower blocks are available at a lower price, such as the ApudArmis Giant Tumble Tower.
The principle of this tower is identical to Jenga, with 54 giant woodblock pieces that you must stack and maneuver, meaning that it offers the same amount of fun at half the price.
Price isn't the only difference between this tumble tower game and Jenga. This tower also comes out to be a little taller than the Jenga set at 24 inches and can be built to go up to 4.2 feet tall. It comes with a carrying bag for easy transport, allowing you to take the fun wherever you go. 
Better yet, this set also comes with dice, a marker, and a scoreboard to encourage you to get creative and play the game your way.
SWOOC Games – Reclaimed Giant Tower Game 
Jenga is a fun game, but with wooden blocks as the only game pieces, it isn't the most appealing game to look at. What's more is that the wooden blocks are precision-made from Alder trees, making it not the most sustainable game.
If you want a version of Jenga made from sustainably sourced wood, look no further than the SWOOC Games – Reclaimed Giant Tower Game. Made out of reclaimed, refinished, and upcycled New Zealand Pine, this set of giant blocks builds a tower that is 2.5 feet and reaches over 5 feet once built. Even the storage crate is made out of wood, making it more sturdy and stable than a storage bag.
Other than the size and material, another difference between this set of blocks and the original Jenga is the number of pieces, with this tower set containing sixty giant blocks. That's six extra blocks to build a tower as high as you can.
The smooth finish means that it's easier to slide woodblocks out of the tower, although it isn't a guaranteed success.
Make Your Own Outdoor Jenga
The last option for giant outdoor Jenga is to make your own set of tower blocks!
What's great about this option is that it's inexpensive and allows you to get creative and make your own personalized game of Jenga your way. You can use different types of wood, make it as tall as you want, and you can even paint the blocks with your favorite colors.
Making your own game of Jenga is easy if you're an avid DIY handy person. All you need to do is cut 54 pieces of wood that are identical in shape so they can be properly stacked atop one another. Use sandpaper on the edges of each of the 54 wooden blocks to make sure they're smooth before playing.
The most important thing that you must pay attention to when building your own giant outdoor Jenga is that your pieces of wood are indeed the same size. If not, you may never get to gameplay because you won't be able to build the tower without it tipping over.
This DIY option for Jenga is very repetitive and takes a significant amount of work. However, you end up with your own customized game of outdoor Jenga as long as you follow instructions closely.
The Verdict
Although the original game of Jenga is the typical way to go, you have several options when it comes to choosing a giant Jenga set.
The best giant outdoor Jenga set for your needs depends on several factors, including:
Your budget
Your desired size
Your level of sustainable living
How you address each of these points will dictate the type of outdoor Jenga set you get. However, whichever one you choose is bound to make for a good time. If you don't want a giant Jenga set, nothing is stopping you from playing the traditional version of the game outdoors as well.