You step outside into your patio and decide to water your potted plants for a bit. Some water may have leaked out on the deck and as you go back into your home, you accidentally slip. In situations like these, an outdoor rug could prove useful to provide a better grip.
Aside from that, the floor may be damaged from the constant scraping of chairs or tables moving around. An outdoor rug may just be your answer.
In other cases, you may just be looking to add an extra stylistic element to your outdoor setting. Once again, an outdoor rug could be that design element you're looking for.
Fortunately, there are several options to choose from when it comes to 8×10 outdoor rugs in the market. Stick around to learn more about how to pick the right one and check out our top picks.
4 Best Outdoor Rugs 8×10
Whether it's a boho or modern style you're going for, multiple 8×10 outdoor rugs may suit your taste. We've picked out a few different varieties to get you started. Check them out below.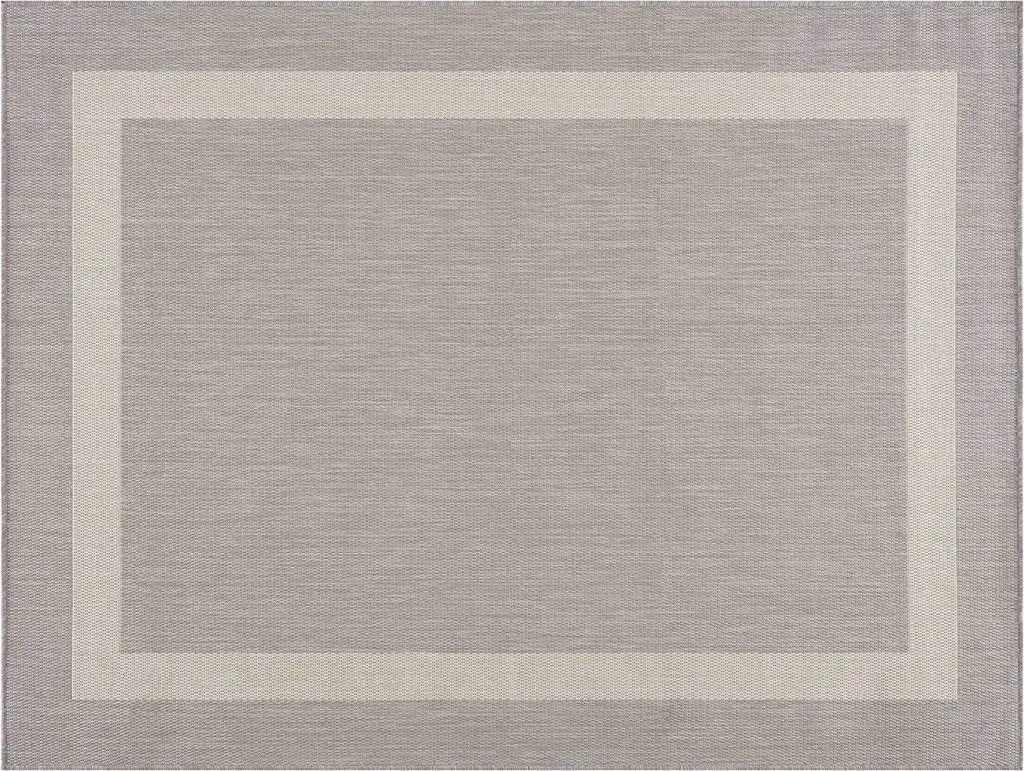 The Camilson 8×10 outdoor rug is ideal for a minimalistic style approach to your patio. It's made of polypropylene, making it ideally weatherproof from the sun and rain.
The Turkish-made outdoor rug comes in bordered, checkered, medallion, and leaf design choices that can suit most outdoor areas. It also comes in several color options such as beige, grey, and blue.
On top of that, the rug is easily washable and stain-resistant. You can spot clean any stains by using a 5:1 ratio mixture of water and mild dish soap.
The main concern that you may have with this outdoor rug is how excessively light it is since it weighs a feathery 13.47 lbs. That's why we suggest purchasing this rug only if you're going to place furniture on it to hold it in place.
Pros
Washable
Weather-resistant
A variety of colors and styles are available
Cons
Tends to roll over due to being too light
Benissimo's outdoor rug collection provides you with more patterned designs, making them a better choice to avoid stain visibility. The patterns are mostly double-colored so it's not too overpowering for an outdoor rug.
The color choices vary from navy and brick to beige, grey, turquoise, and more.
The material of the front is a sisal and polyester blend, while the backing is composed of polypropylene, which offers moisture protection. The outdoor rug doesn't feel too plasticky like other 100% synthetic rugs, plus it's reasonably priced.
Pros
Pet and kid-friendly
Natural fiber blend
A variety of bohemian and geometric patterns are available
Cons
Sisal exterior may absorb water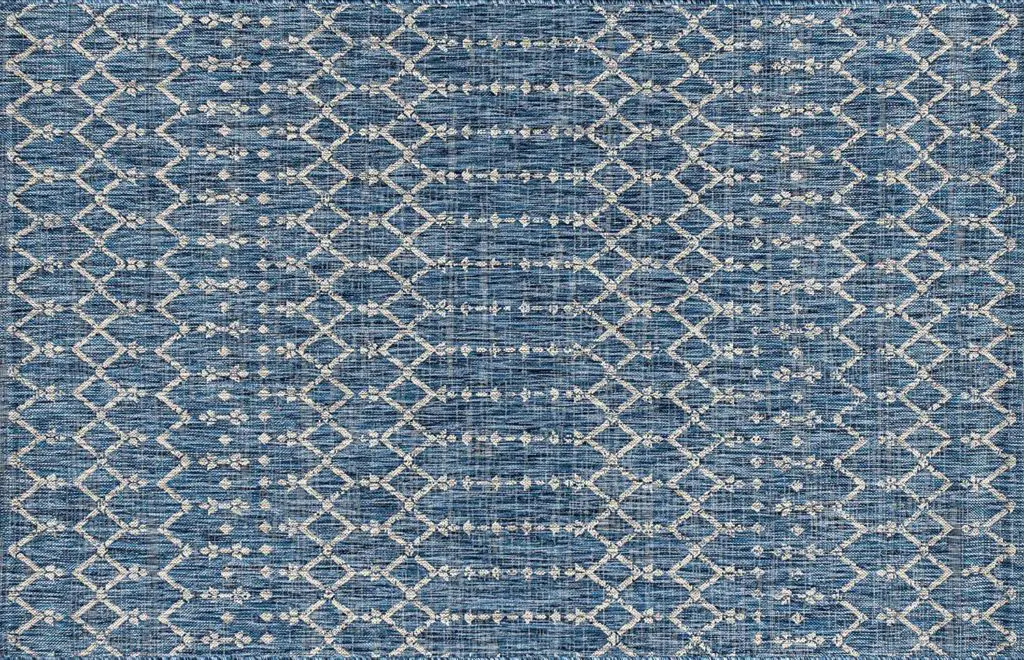 If you want to incorporate patterns in your patio set, then the Jonathan Y outdoor rug may be a well-suited pick. The rug is designed with a geometric Moroccan pattern using neutral beige colors.
You can also find other more vibrant colors like fuchsia, teal, and green. This Jonathan Y model will go great with a minimal surrounding setup so it can stand out.
Fortunately, the rug is easily washable and stain-resistant since it's made of synthetic polypropylene fibers.
Pros
Low maintenance
Vibrant color variety
Unique Moroccan geometric pattern
Cons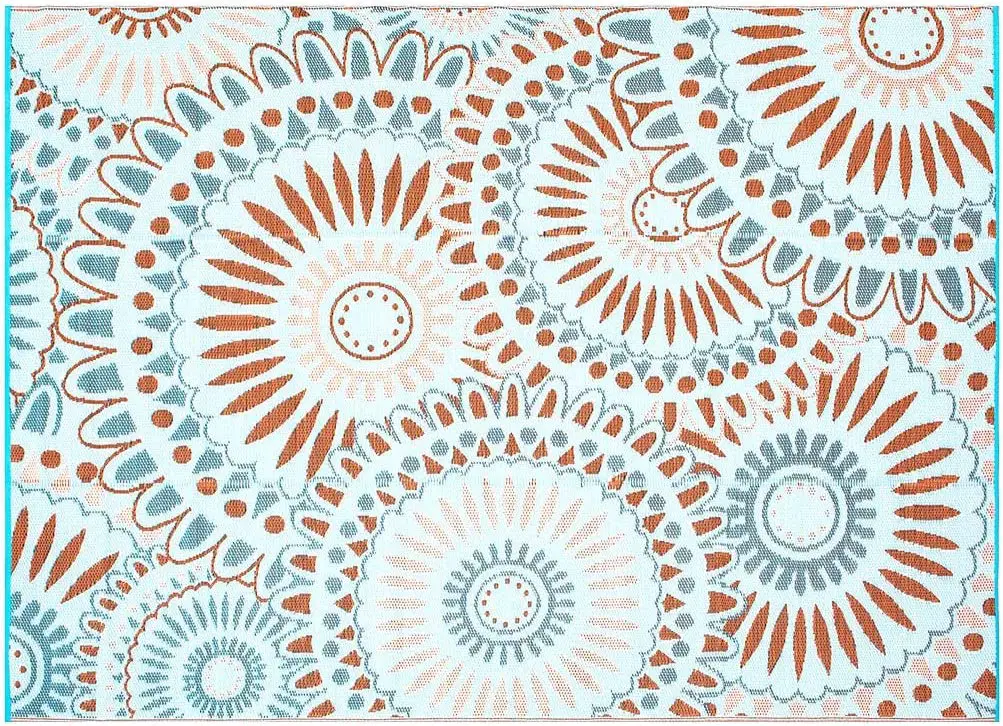 The SMM005 outdoor rug offers you a two-in-one reversible rug. This means you can simply flip the rug for another rug.
The back and front sides have the same flower-like design but in different color variations. The front is a light blue color while the back is bright orange.
The outdoor rug is light, making it more portable. Plus, it's double-weaved making it durable.
Pros
Reversible
Thick
Weather-resistant
Cons
Can be too pricey considering cheap material
Buyer's Guide
Before you buy any outdoor rug, you may want to get a brief understanding of what you're choosing. What makes an outdoor rug perfect for you can be its material, color, design, and manufacturing style. Here's why each feature matters.
Material
What mainly differentiates outdoor and indoor rugs is the material. Most indoor rugs are made of a cotton blend. Nevertheless, if you use a cotton rug outdoors, it'll most likely attract mold and mildew since it absorbs moisture.
Having said that, outdoor rugs are either made from synthetic or natural fabric.
Synthetic
Synthetic outdoor rugs may be more appealing due to the lower price point and higher weather resistance. Since the material is non-porous, the harsh elements can barely penetrate or become absorbed. This also makes the rug much easier to clean.
Polyester
Polyester-made outdoor rugs can handle harsh UV rays and rain. The best part is that the material barely shreds, making less of a mess, especially during clean-up.
Olefin
Olefin, otherwise referred to as polypropylene, is the most widely used fabric in outdoor rug manufacturing. The bright colors olefin rugs come in are often fade-resistant as well. Plus, it'll barely absorb any moisture, which helps avoid any unwanted moldy situations.
Acrylic
Acrylic outdoor rugs may be mostly bought for their soft and silk-like texture. Although the fabric feels and looks good, it's not as weather-resistant and long-lasting as other synthetic options.
Natural
Natural fabrics on outdoor rugs provide a more luxurious feel for your patio. Additionally, they're ideal as an eco-friendly choice since the material is biodegradable.
Other than that, they tend to be sold at higher price points than synthetic rugs. Plus, some natural fabrics aren't completely weatherproof since they can be porous.
Sisal
Sisal fiber is obtained from a Mexican plant and is used to make ropes and other textiles. Outdoor rugs made of sisal are typically beige, giving you more versatility in style.
The best part is that they don't accumulate dust, but they do get stained easily. Overall, sisal outdoor rugs are long lasting and aesthetically pleasing.
Bamboo
Bamboo is one of the strongest materials used when making outdoor rugs. Since they're naturally hypoallergenic, you won't have to worry about mold and mildew contaminations. Bamboo-made outdoor rugs are impressively durable, lasting around three to ten years.
Placement
Where you plan to place the outdoor rug is crucial. The placement of it can decide how long it'll live on your patio.
The type of surface the rug will be set on is worth considering. If you're putting your rug on turf, then there's going to be lots of moisture underneath it that could be potentially absorbed. In which case, you'll need to hang the rug to dry out regularly or you could place click-lock tiles under the rug for better protection.
On the other hand, if you're spreading the outdoor rug on a steel surface, there's less risk of moisture damage occurring than from a grass surface. You may still need to consider rusting or corrosion that may happen under the rug from trapped humidity.
Similarly, ceramic and porcelain surfaces may have the same issue. Instead of corrosion and rust, the grout may still cause mold. To avoid this, you can glue a rubber later under the rug or properly seal the grout.
With wooden surfaces, mold is also a common issue if you use synthetic outdoor rugs since they don't absorb the excess moisture. We recommend periodically hanging the rug to keep the mod issue at bay.
Color and Pattern
This is probably the first thing you'll be looking for in an 8×10 outdoor rug. You'll want a rug that matches the patio furniture and that's preferable neutral colored.
Generally speaking, there are several styles and color options you can choose from. The simplest design is a solid-colored rug. It only features one color like beige, grey, blue, etc.
You can't go wrong with this style, but a solid color may make stains and footprints more visible. On the other hand, striped and geometric styles may be able to hide stains better.
If you don't want a pattern, but lessen the appearance of stains, then you can browse for dithered options. This style from afar seems like a solid color, but when you go close, it's a tiny pattern of different shades of the same color.
Manufacturing Style
Apart from design and color, the weaving style also makes a difference when you choose an outdoor rug. These rugs are manufactured in different methods that may ultimately decide their price point.
The most common construction method of outdoor rugs is through the use of machines. These are usually made in factories with simple weaving styles, making them the most affordable option.
In contrast, hand-hooked rugs are hand-crafted with intricate detailing and use high-quality natural materials.
Another manufacturing style is flat weaving. These kinds of rugs are exceptionally thin since they're made with a loom rather than tufted piles.
Conclusion
Whether it's coziness you're after or a colorful addition to your patio, outdoor rugs can do wonders.
All you have to do is pick the best option for your outdoor setup. You may need to consider factors such as material, color, style, weave, or, most importantly, where you'll put the outdoor rug.
We hope our buyer's guide can assist you through the shopping process.