It's becoming increasingly difficult to convince children to spend time outdoors, even to play games. However, the best way to entice them to go outside is to make your backyard as fun as possible. Adding a tree swing is an easy way to get your kids excited about going outside.
You may not know where to start if you've never had a tree swing. How exactly do tree swings work? How do you choose the right one for your family? This article answers your tree swing questions and explains your options.
How Do Tree Swings Work?
A tree swing is a seat tied to a large tree's branch using some type of rope. This is a simple definition, as many different types of tree swings exist.
Tree swings are a great addition to your backyard. Not only do they give your child an additional activity to do outside, but they also give it a certain charm and can significantly enhance the aesthetic of your backyard.
Arguably the most crucial part of a tree swing is the seat. You want it to be comfortable, functional, and safe. There are a variety of options when it comes to the tree swing seat, including:
Wooden planks: The most traditional type of tree swing seat
Disks: A single rope passing through the center of a disk
Tires: Can be hung either vertically or horizontally
Strong fabric: These can be the most comfortable seats but require the most precaution
Other tree swing seat options include benches or baby seats, depending on your child's age and how many people you want swinging at a time.
Installing a tree swing can be tricky as you must consider obstacles like uneven branches. Let's take a look at what else you need to consider when it comes to choosing a tree swing.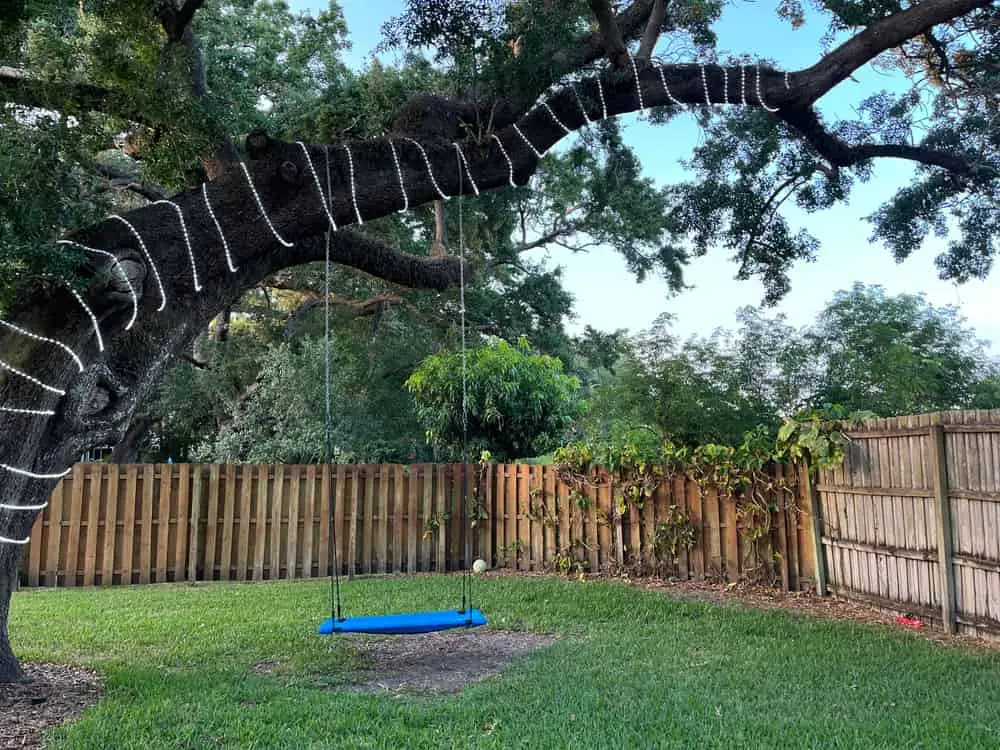 What To Consider When Choosing a Tree Swing
Before you embark on your journey to installing the perfect tree swing, there are a few things that you must consider for both functionality and safety.
To help you out, here are the top factors to consider when adding a tree swing to your backyard.
Size of your tree
The most important thing to consider when choosing tree swings is the size of your tree.
You want to be entirely sure that your tree is strong enough to handle a swing and that it can withstand the weight that will be put on it by whoever is swinging.
You'll need a branch at least eight inches in diameter for a sturdy tree swing. This should indicate that the tree is sturdy enough to handle a swing.
You must also examine the tree's health before installing a swing. While a big sturdy tree, such as an oak tree, can regularly handle a swing, a rotting oak tree may not be as strong. Check the trunk of the tree and the surrounding ground to ensure that there are no exposed roots that may indicate a weak tree.
Finally, you also want to ensure the tree's position makes sense for a swing. For example, if your tree is on a hill, there may be better choices for a tree swing.
How tall the tree is
The height of your tree also influences the type of swing you get and whether you get a swing at all.
You'll want to ensure your tree is high enough for a swing but not too high for an unsafe swing. The seat should be low enough for your child to get on, no problem, but high enough for their feet not to touch the ground while they're swinging.
Before purchasing a tree swing kit, measure the height of the tree branch to ensure that your kit of choice includes enough rope. Purchasing a swing kit with an adjustable rope will minimize the risk of this problem occurring.
Age of your children
Your child's age is another crucial factor to consider when choosing a tree swing. Your child's age will determine all other factors, including:
The height of your swing
The weight that will be exerted on the swing
The type of swing you choose
If you want a swing that can grow with your child or accommodate adults, be sure to consider that when buying or building a swing.
Cost
Finally, the cost is another major factor that may affect the type of swing you choose.
A swing made out of planks of wood and rope can cost you next to nothing. The same goes for tire swings if you have tires lying around. However, if you purchase a more elaborate swing, be prepared to spend more. The more features and the fancier the swing you choose, the more it will cost.
Now, let's look at the top five tree swings to give you an idea of what to choose.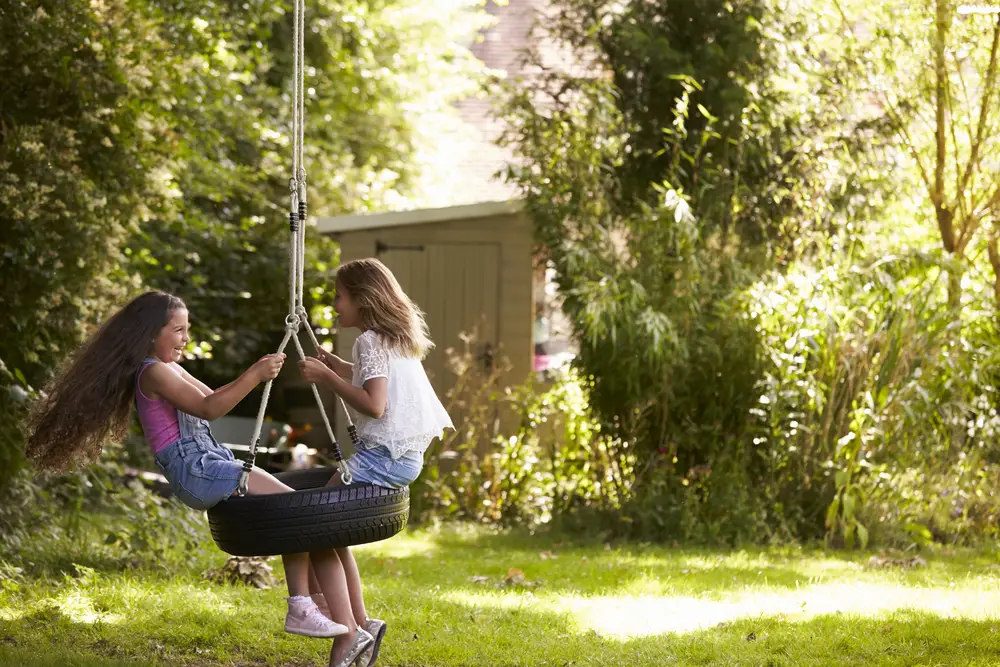 Top 5 Tree Swing Ideas
Although the concept of a tree swing is simple, you have several options for choosing one. From DIY projects to elaborate yet easy-to-set-up swings, choosing the best one for you can be overwhelming.
Without further ado, here are five tree swings ideas to get you started on creating a more fun backyard.
DIY: Build a Wood Tree Swing
Your first option is a classic – build your own swing.
Chances are that if you had a tree swing as a kid, your parents built it. Building a simple wood swing is relatively easy once you have your measurements right.
All you need is a couple of pieces of plywood and a strong, sturdy rope. Cut the plywood to the desired size and glue them together. From there, the most challenging part is knotting the rope. A swing hitch knot is the best type for tree swings and is easy to learn. 
This easy afternoon DIY project will allow your kids to use their new swing by sunset!
Tire Tree Swing
A tire swing is another classic tree swing option.
Tire tree swings are more versatile than you might think, as you can hang them vertically or horizontally. 
Tire tree swings are often even simpler to hang than traditional swings. They're also affordable, as you can use an old tire you have lying around.
Saucer Tree Swing
Saucer swings have become more and more popular, with a variety of kits available for easy installation.
Saucer swings come in different sizes and styles. They typically seat one to two children; some come in the shape of a tire with an opening in the middle.
This Sorbus Saucer Tree Swing is heavy-duty and can hold up to 220 pounds, meaning adults can also swing on it.
Hammock Chair Tree Swing
Hammock chair tree swings are the comfiest and are mainly meant for hanging out. The best part is that they're also suitable for adults.
Y- Stop Hammock Chair Hanging Rope Swing holds up to 500 pounds, accommodating two adults. It's also made from soft polyester and has the comfort of a sponge, making it perfect for a relaxing afternoon.
Disk Tree Swing
Disk tree swings are for the most adventurous children but take up the least space.
This SummersDream Disk Swing Seat is durable and comes with everything you need to install it quickly. It also comes in a variety of colors!
​​
Tree Swings FAQ
What are the best swing trees?
A wooden tree swing should hang from a strong, hardwood tree species. Oak and maple are great options. Hornbeam and sycamore trees also work.
For even more security, choose a plank of cedar or redwood for the swing seat.
What is a swing between two trees called?
When a swing is installed between two trees, it usually becomes a hammock. The best part about hammocks is that you can lie down on them.
How far off the ground should a tree swing hang?
The height of a tree swing mainly depends on who will be swinging from it. The younger the swinger, the lower to the ground the height should be.
For example, swing seats for preschool-age children should be around a foot from the ground. Swing seats for older school-age children should be around 16 inches.
Swing the Summer Away
While kids willingly spend less and less time outdoors, installing a tree swing in your backyard can change that and become your child's new favorite outdoor hobby.
With a variety of tree swings out there, it's easy to find one best suited for your children and backyard. Just make sure you have a tree that can handle all the fun!