If you don't have plants on your balcony, you're missing out on a prime opportunity to create your own outdoor oasis.
Creating a balcony garden is a great way to bring the outdoors close to home – literally. Whether you have a backyard that's too small for a garden or live in a condo or apartment and don't have a backyard at all, creating a small garden on your balcony has numerous benefits for your home and yourself.
Don't know where to start? Keep reading to discover small balcony garden ideas to get started on your own private green landscape.
Garden Balcony Ideas – The Basics
There are several reasons why you should choose to create a garden on your balcony.
To start, plants have many benefits for humans, from the air quality to your mental health. Research shows that indoor plants boost your mood, but the same can be said for plants on your balcony, as this space is an in-between for inside and outside your home. 
Plants also serve an aesthetic purpose and liven up your space by adding color and life. They can provide a glimpse of your personality and make your balcony feel more cozy. They can also be manipulated to make your balcony more private. 
To start balcony gardening, you need to take into account three things:
What kind of plants do you want on your balcony?
What is your current home decor?
What is the climate like where you live?
How you answer these three questions will determine what your garden will look like and what plants to add to it. 
Without further ado, let's jump into the top balcony garden ideas. 
8 Balcony Garden Ideas
There are many different types of plants you can keep on your balcony. Some common ones include:
Chrysanthemum
Pansies
Hydrangea
Ferns
Succulents
Select fruits and vegetables 
Here are eight balcony garden ideas to implement in your home.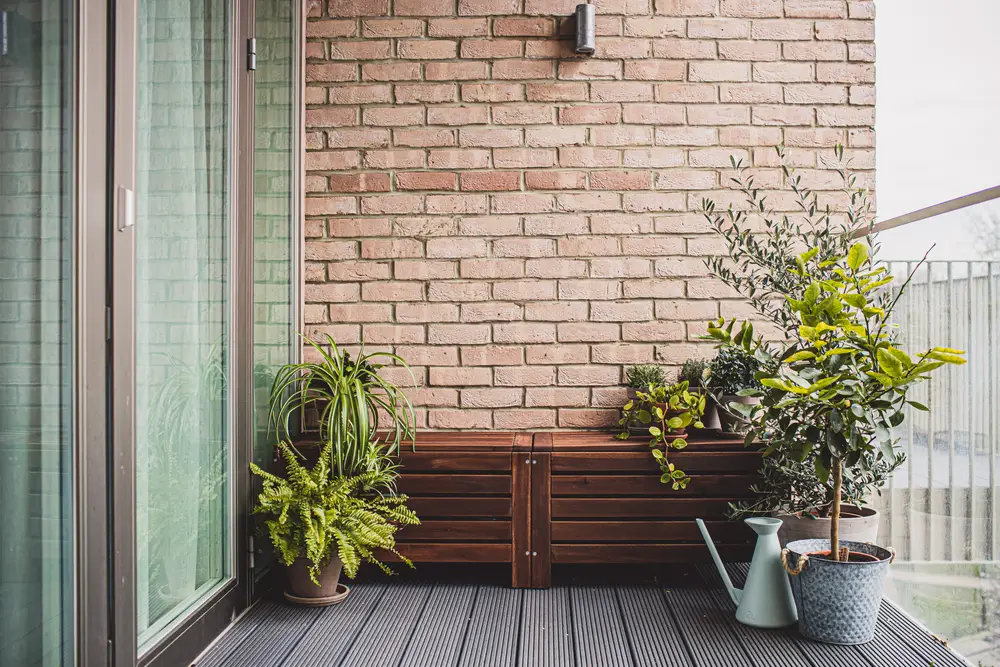 Liven Up Your Balcony With Color
There are many different types of balcony gardens that you can cultivate. One balcony garden idea is to focus on color.
There are a variety of colorful plants that can thrive on your balcony, such as:
Fuschia
Petunia
Pansies
Lavender
New Guinea Impatiens
While taking this route may mean that your balcony garden is seasonal, your garden will bloom at the times when you use your balcony the most!
Keep Your Plants Organized
While a lively and unruly garden may be ideal for some, others prefer their plants to be out of the way. If your garden style is the latter, you'll probably want to keep your plants confined to one area. 
You can keep your plants neatly organized by putting them all on a shelf or a ladder to create a vertical garden. You can also use a vertical planter against your home to keep your plants even more out of the way and create a sort of living wall.
This maximizes the vertical space on your balcony while still allowing you to enjoy the beauty of your plants while leaving most of your balcony floor open. This is also a great solution if you choose to grow an herb garden on your balcony.
Start an Herb Garden
Herb gardens are among the top balcony garden ideas, as herb gardens thrive on garden balconies.
Popular herbs that you can choose to grow in your garden include:
Thyme
Mint
Rosemary
Cilantro
Growing herbs not only gives you something to look at but also provides you with fresh herbs all season long, and your balcony will smell amazing!
Hang Your Plants
Another solution for those who want a garden on their balcony but don't like the idea of plants getting in the way is to hang your plants. 
There are a variety of plants that thrive the most when they are hung, including:
English Ivy
Boston Ferns
Philodendrons
String of Pearls
It's also easy to find hanging baskets for each of these plants. Hanging baskets will give your balcony that jungle feel and leave you enough room to enjoy your space.
Center Your Garden Around Your Dining Area
Do you use your balcony to enjoy your morning coffee or have an al fresco dinner? Adding plants can enhance that atmosphere. 
Centering your plants around your dining area is a great way to make your meals feel even more unique and special. You'll find that the quality of your meals increases significantly when your favorite plants surround you.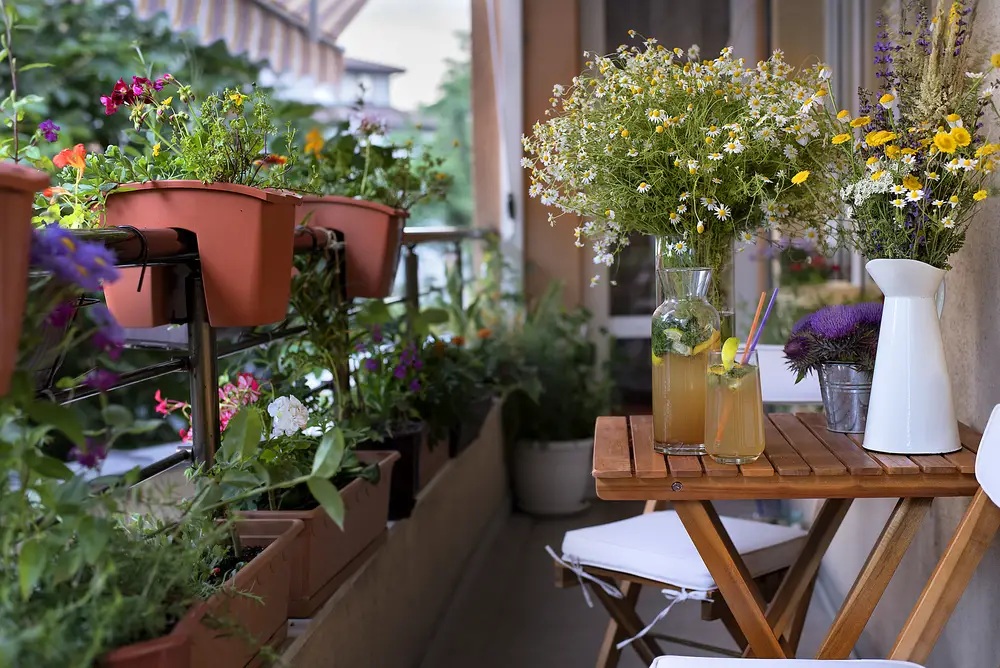 Give Your Houseplants a Summer Vacation
Another great balcony garden idea is to move your indoor plants to your balcony in the summer. This works for most potted plants, but make sure you look into what each plant needs. While most plants will love a sunny balcony, some actually prefer partial shade during the day. 
Moving your houseplants outside means that you don't have to purchase or procure more plants for the summer season. Moreover, your indoor plants may benefit from some fresh air and additional sunlight in the summer. 
Illuminate Your Garden At Night
Balcony garden ideas don't all have to be focused on the plants. There are many elements to a garden – lighting included.
Enhance your garden with lights to allow you to enjoy it at all hours of the day. You have several options for choosing lights for your balcony, from lamps to string lights. What you choose depends on the overall look and feel you're trying to achieve. Just make sure to keep the lights away from your plants to avoid burning them!
Keep It Simple
Finally, the last balcony garden idea is to keep it simple.
When people think of a garden, a lush green landscape often comes to mind. However, this doesn't have to be the case. 
You can still reap the benefits of a garden with only one or two plants. These plants will add a pop of color or greenery to your balcony and may also become the centerpiece of your outdoor space. 
A large plant, such as a dragon tree or a ficus, may be all you need to take your balcony to the next level.
Conclusion: Bring the Jungle to Your Balcony
Plants are an easy yet impactful way to add life to your balcony. With various plants to choose from and several options to arrange them, you're sure to turn your balcony into your favorite space in your home.
Check out this article for other ways to spruce up your balcony.