Every year winter comes and the snow starts to fall. While this can be a beautiful sight, it also means piles of snow and slippery steps. 
If you're not sure of the best way to clear the pesky white stuff, no worries! We have a great article full of all the snow removal tools on the market today that are ready and waiting to keep you safe during this cold season.
What Are the Best Tools for Snow Removal?
Living in a location that gets buried in the snow every winter, you need a list of tools and tricks to help clear the mess fast so it doesn't take all day.
Before heading out the door, look at this checklist for the best snow removal options for every winter occasion.
Handheld Snow Brushes
Every car needs a snow brush kept handy. These products are relatively inexpensive and will save a lot of time and stress when trying to safely back out of your driveway after a flurry.
While these snow removal tools might seem irrelevant in the bigger scheme of things, they are instrumental, especially when travel is already hard enough. 
Remember that you shouldn't just reach for any old brush, either. While even the most basic tool will get the job done, there are many options out there that will make the task of snow removal much easier.
Find a product with multiple useful features, including:
Ice scraper
Squeegee
Non-slip handle
Extendable handle
Small shovel attachment
Salt
Next on our list is another small, subtle, yet extremely useful product. During the cooler months, you should always keep a bag of quality ice-melting salt out and ready to go.
Salt is best for removing snow build-up and ice because it lowers the melting point. Therefore, you want to purchase the smallest pellets possible to gain more surface coverage.
But do you know what type of salt you should buy? There are a few options, and here are some of the best ones.
Rock salt: Rock salt is the cheapest option but doesn't work as quickly as others. 
Calcium chloride: On its own, calcium chloride will melt ice fast. However, it can harm your skin, pets' paws, and plants.
Magnesium chloride: This is the quickest way to melt ice and snow, even in the coldest temps, and is safer for your lawn. However, it is a bit pricey. This option also doesn't offer the same traction as rock salt.
Ice melt: A combination of sodium chloride, calcium chloride, and magnesium chloride pellets creates a product known as ice melt. This is the best way to eliminate the ice and snow in your driveway or walkway without issues.
Snow Shovels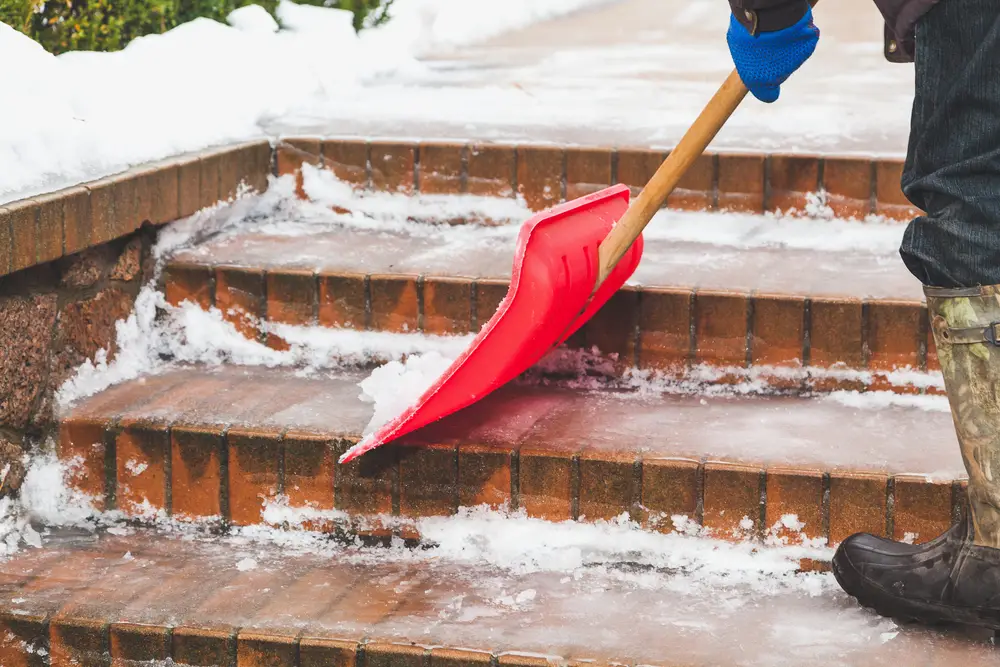 Ah, the trusty old snow shovel! Snow removal is not a job for the faint of heart, but sometimes, even with the best equipment, there is no escaping this mundane winter task.
There are a bunch of great snow shovels on the market today, from your most basic options to high-tech gear. So, do you know what you should look for when it comes to this wintertime tool?
Believe it or not, there are more than a dozen types of snow shovels you can choose from, giving you a chance to pick something for every specific situation.
Basic snow shovel: These are the most traditional snow shovels with a blade on the front for scooping and ice breaking. Most come with plastic or wooden handles and are shaped like a dustpan.
Pushing snow shovel: As it sounds, these snow shovels are designed to push the snow out of the way. This is good for those with bad backs or who can't lift heavy snow piles, but it is not ideal for heavy snow and is best used on walkways or porches.
Push shovel with wheels: Why not make the task a little easier and add a set of wheels to your push shovel? Many of these options will still have a good blade attached, making it easy to move any way you want.
Extra-wide shovel: If you are cleaning a driveway or parking lot, an extra-wide snow shovel will get the job done much quicker. These are typically around 36 inches wide, covering a lot of space in one scoop.
Snow Blowers
Next up is the handy dandy snow blower. This is an excellent choice for those not interested in hours of hard labor using a snow shovel after a storm. 
Snow blowers are highly effective with the ability to push through compact, melting, and even really heavy snow. 
These machines can run on gas or electric power and still get the job done even in the coldest temperatures.
The best part about using a snow blower is how far it can throw snow. These machines will toss snow about 40 to 50 feet, allowing you to make fewer passes down the driveway and never have to move the same pile more than once.
Snowplows (ATVs and Trucks)
Snowplows are one of the most popular ways to clear parking lots, roadways, driveways, etc. This product can mount to your ATV or the front of a vehicle, giving you enough force to push through some of the thickest and most stubborn piles.
The problem with a plow is how tricky it can be to mount them and the price for the plow and the mounting gear. You can expect to spend a thousand dollars or more to buy a plow and get it set up–even more if you must pay someone else to do the installation for you.
However, if you have the money and the right vehicle for the job, it will make winter life much easier to tackle. Snowplows have the force of a car or small vehicle behind them, making it much quicker to get through inches of thick snow.
Sidewalk Sweepers
Sidewalk sweepers are often overlooked as a go-to for snow removal but can be very effective on lighter snow days or to remove a layer of that white stuff after a flurry falls.
These products resemble snow blowers as they pick up the cold stuff and toss it out of the way.
A snow-sweeper is an industrial brush that spins at a high rate of speed, quickly clearing sidewalks, driveways, and in larger forms, roads. 
There are a variety of snow sweepers available, giving you the option of choosing the product best for your situation and budget. Some of these options include:
Electric snow sweeper
Gas snow sweeper
Industrial snow sweeper
Walk-behind snow sweeper
Manual snow sweeper
Other Snow Removal Methods You Can Try
The snow removal equipment listed above are great ways to get rid of snow quickly and efficiently, but they aren't the only options out there.
If you are looking for a different way to clear your porch or create a quick path, there are other things to try.
Hot Water
If you are looking to melt snow immediately, what better way than to throw some hot water on top of it? Hot water will obviously melt any type of snow or ice already formed on the ground and provide a quick and easy pathway.
Remember, this method can lead to serious injuries if you accidentally pour it on yourself or if it splashes back. You can also create quite a slick and slippery ice rink for yourself later on if the temps are below freezing once the water cools down.
Salt Spreader
A salt spreader is much like a grass seed spreader. You pour your rock salt or Ice Melt into the product and walk around the area you are trying to clear. This is ideal for large spaces and even compact snow. 
You can use a salt spreader to toss ice-melting products onto the ground before a predicted storm hits to keep snow from accumulating.
Roof Rakes
If you are struggling with piles of heavy snow on your roof, consider investing in a roof rake. These are specifically designed for you to reach up and pull the snow down safely.
Snow Removal Services
If all else fails and you would rather pay someone to do the work for you, there is no shame in that. There are plenty of great companies that offer this type of service. You could also try to find a neighborhood kid looking to make a few extra bucks to do the shoveling for you.
Things to Think About When Getting Snow Removal Equipment
There are many things to keep in mind when you are looking into snow removal equipment for your home, sidewalks, or business. These factors will determine which of the options above suits your situation and will be the most effective. 
Price: How Much Are You Willing to Spend?
There are snow removal options for every budget. Unfortunately, you will pay much more if you want something that will get the job done quickly and with little effort.
Area to Clear: How Much Space Do You Have to Clean Up?
Although a snow blower is effective and efficient, it will take a lot of time to clear out an entire parking lot or long driveway. Pick a product that makes the most sense for the space you have to cover. 
Physical Limitations: Can You Move the Snow?
Shoveling snow in the middle of winter can be dangerous for many people. Many people have suffered heart attacks and other health issues simply from removing snow off their property after a storm.
Safety should always be your first concern when choosing the best snow removal equipment to use around your home. Remember, if you cannot move the snow safely and there is no one around to help, just stay inside. 
Amount of Snowfall: How Much Snow Do You Get?
While we all love having nice flashy things, there really isn't any reason to purchase an expensive snowplow for your truck if you only get a few inches of snow every season.
On the other hand, a snowplow or blower is an excellent investment for anyone who lives in an area where you can see feet of snow at any given time. Choose between all the options carefully to ensure you get the best product to help you through the season.
Storage: How Much Space Do You Have?
Remember, when you are not using this equipment, you must have someplace to put it that will keep it in safe working condition. If you invest in a large snowplow or blower, you need to have a durable garage or shed to house it in.
Pros and Cons of Each Option
What are the pros and cons of each option? Let's look
Equipment
Pros
Cons
Snow shovel
Affordable
You control
Easy to use
Takes a lot of work
Takes a long time
Can be dangerous health-wise
Salt
Melts snow fast
Affordable
Can be used preventatively
Some options are dangerous for skin and pets
Some options won't work quickly
Snowplow
Easy to use
Moves a lot of snow quickly
Expensive
Requires a vehicle or ATV
Snow sweeper
Easy to store
Moves snow quickly
Some options are affordable for most budgets
Not great for large amounts of snow
Snow blower
Tosses snow out of the way for quick clearing
Requires less exertion and labor
Not good for larger areas
Not ideal for heavy snow removal

Summing Things Up
If you live in a location that tends to see a good amount of accumulation over the winter months, then you have probably already tried many of these items. 
Before deciding on your snow removal equipment, consider all the options we've provided to determine which is the best choice for your specific job.