Need help organizing your outdoor storage cabinet? Could it use a little help? Many of us tend to cram things into our outdoor storage shed to keep them out of sight when we are in a hurry. However, over time, this jumbled mess becomes worse until, in frustration, we can no longer find the items we need in our storage shed. Here, we'll help guide you through the jumbled mess and keep your storage shed organized.
Steps on Organizing Your Outdoor Cabinet Storage
Before you begin transitioning to a new outdoor storage solution, you will need to remove all your contents from the storage area. As you remove them, begin to organize them by general type. Groups included can be insecticides, gardening tools, or gloves, among others.
Step One: Pull All Your Gardening Tools Together
Your storage area may not be the only place where all your items are lurking. They can potentially be all over your backyard, in the garage, shed, or any other known areas. Sometimes, things migrate to other areas when there is a lack of space, like your living space.
To keep your tools clean prior to putting them back, and to keep them in good condition, add sand to a bucket along with mineral oil. After you have combined these three ingredients, stand the blades of your tools in the bucket. The tools need to be metal side down.
Step Two: Gather Any Insecticides
Some homeowners separate their chemical and organic insecticides so that one isn't mistakenly grabbed instead of the other. By sorting them, you will also know at a quick glance which ones can be used for herb/vegetable gardens and which ones should be used elsewhere.
Step Three: Create a Divide for Winter Lawn Furniture Tarps and Tarp Ropes
Fold up all the furniture tarps you use for the winter. Create a label for the shelf so you know where it goes when you are not using it.
Locate all your tarp ropes and place them in a clear, labeled container. It is best if the container has a lid as it will keep animals out of your items. Be sure that when you label it, the label cannot easily come off or be removed. Some labels will lose their adhesive properties in the heat. Sometimes it may be best to use a large label and carefully tuck it into the storage box.
Step Four: Locate a Place for Open Bags
Gather all your open bags together. Before placing them into a labelled container, ensure they are carefully sealed. Zip ties are probably the best for this application as you can custom fit them to the size of the bag. However, some people will use rope or rubber bands to tie up bags as well.
The only danger with this is that rubber bands can dry out and snap. Rope doesn't always hold the contents in tightly and if tipped over, the contents can spill out.
Containers can also be used to dump dried items. Refrain from mixing seeds and other items together as you won't know which is which. Be sure to label them, so you know what the contents are. Furthermore, by using different colored lids, you will be able to tell quickly what type of item is in each.
Step Five: For Extra Space Use the Inside of Your Doors
If there are sturdy doors on your outdoor storage cabinet, you can use them to hang tools and other items. You may need to hang your other tools using exterior waterproof hooks and/or loop tape. What you use will need to be able to handle extreme weather changes.
Step Six: Label All Your Shelves Where the Items are Located
Some things just need a place on your shelf. To remember where you placed them, be sure that you use labels. This will not only keep things organized, but you will have a quick reference as to where things go when you return them.
But, what if your outdoor cabinet is already full and organized? What can you do then?
Outdoor Storage Ideas for All Your Essentials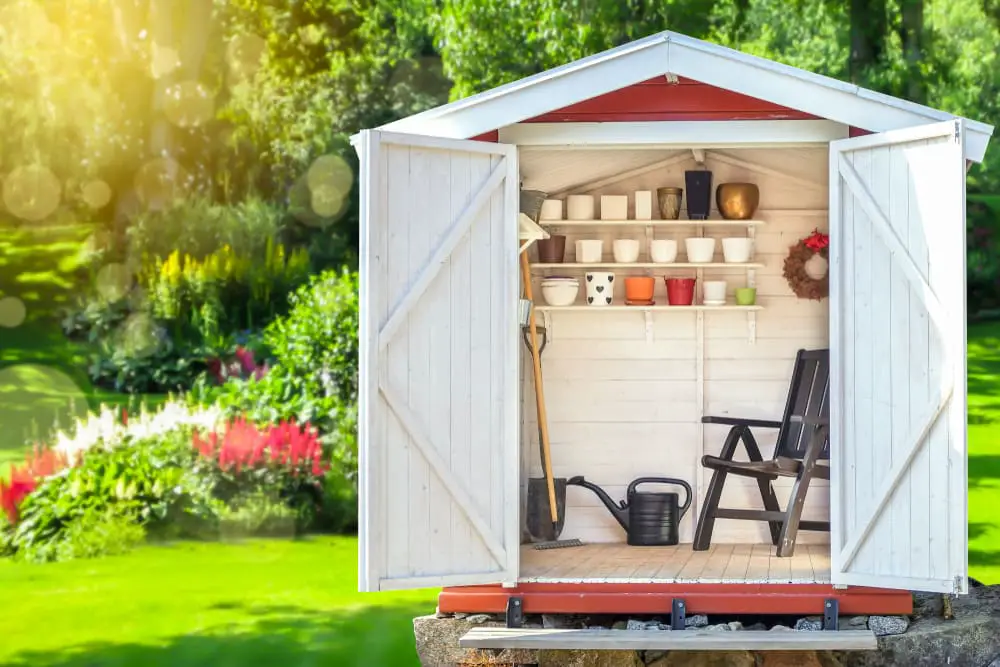 Sometimes, we simply run out of space. It happens to the best of us when we have more items – like outdoor furniture or grilling tools – than we have room for. We can pare things down, put them in the garbage, donate them, or give them to friends. However, what do you do if you've eliminated everything you can and still need more room?
These recommendations for outdoor storage ideas will show homeowners how to effectively organize their items to keep them within reach. No matter if you are looking for cushions, gardening tools, cooking utensils, or pool toys, these solutions will inspire you on how to creatively use storage space.
Woodshed
Using an outdoor firewood rack is a great way to store wood required for grills, fire pits, chimeneas, or a wood stove. Some also have an extra space to store kindling. If you decide to buy one, make sure it has a cover. This keeps the wood dry in case it rains or snows.
Patio Storage Cabinets
For an outdoor kitchen or for other outdoor areas, homeowners can use patio storage cabinets. When used for an outdoor kitchen, some of these cabinets provide extra prep space or an area to place food on for serving. Additionally, you can purchase a mobile prep kitchen for additional storage. This will serve a dual purpose.
Outdoor Crate Coffee Tables
This can be a DIY project done by arranging four crates to configure a coffee table. The crates are placed back-to-back so the open storage area faces the outside for storage. Add wheels to all four sides, then paint it to match your furniture. It is an affordable way to keep things organized and readily store items.
If you don't want to create your own storage area, you can purchase an outdoor PE Wicker coffee table. This extraordinary invention contains a liftable top so that you can hide your items when not in use, and to elevate the table if necessary. It also keeps things free from moisture.
Outside Toy Chest
Outdoor toys can quickly sprawl across your lawn when you have kids. So, how do you keep these outdoor toys organized in their own area? By making a treasure chest toy box, you can quickly entertain your children's imagination and encourage them to put away their belongings.
All you need to do is purchase a dark brown outdoor storage box. Add some decorative, faded leather straps and fake latches. Then, your child can play pirate all day long.
Covered Children's Parking Garage
When you have toddlers and young children, this easy DIY project can quickly store their toys. All you need to do is repurpose a long table, add a square piece of wood on both ends, create a middle section for added support, and place it on a waterproof mat. Add decorative curtains going across the front, and you have an easy place where they can store their toys.
Modular Benches with Storage
Patio furniture can often serve a dual purpose. You can simply make a long wooden bench with roll-out storage areas underneath. Place some comfy, colored cushions on top and decorate with throw pillows to complete the look. This space will allow you to hide large storage containers and pillows when needed.
If you don't want to make your own, there are several that you can purchase. Choices range from a full patio set to rattan love seats with underneath storage.
Bike Storage Sheds
Children collect a variety of trikes, bikes, scooters, skateboards, and ride-on toys. While it makes sense to keep each of these toys outside, viewing them each day can be an eyesore. Therefore, creating a storage space where kids can park their wheeled toys makes logical sense. This will keep everything contained and efficiently organized.
Bench and Outdoor Storage Box
Combining a sitting area along with storage is a great way to save space in limited areas, and for your furniture to serve a dual purpose. It offers the perfect spot to tuck in pillows or cushions when not in use and can either act as a sitting area or double as a handy table.
Ladder Shelves
A ladder shelf provides a great space to put toys, organize potted plants, bar supplies/grilling items, and more. High edges on the shelves provide a nice touch since they prevent things from falling off.
Conclusion
There are several things you can do for outdoor cabinet storage. If you have an existing item that just needs rearranging, you can follow our easy tips to keep things organized. For tools or toys that need their own designated space, you can choose to incorporate them into your outdoor decor.
Some of these items are subtle and blend in easily with your existing furniture. You can purchase couches, love seats, and tables with hidden storage. You can add additional space to an outdoor kitchen. Homeowners can buy standalone items to be placed in the corner of their yard or complete some easy DIY projects. There are a plethora of options available.