There's a lot to be said about having a functional outdoor space that you, your family, and friends can use to relax on those bright and sunny days or even those starlit evenings. Outdoor spaces can be just as cozy and comfortable as your living room. You can incorporate something as simple as an outdoor fire bowl, to a custom fire pit, to an elaborate all-season conservatory.
Today, let's keep it simple and talk about fire feature and fire pit accessories. Granted, the entire process of choosing and constructing an outdoor fire pit or outdoor fireplace can be become an engrossing project and quite complicated depending on the design you choose. However, once you are done with the hard part, choosing the accessories that go with that fire pit make up the easier, more fun part of the project.
Before we get to the different types of accessories you should consider adding to your fire pit, let's look at some reasons why having a fire pit is a good idea in the first place.
The Benefits of Having a Fire Pit
Here are some benefits that come with having a fire pit:
It's a great fire learning aid: A well-constructed fire pit is one of the best places for you to teach your kids about fire safety. You can teach them important fire lessons, such as how to start one safely, how to tend to a fire, and how to ensure that they are always safe when dealing with fire in open and enclosed spaces.
For safety's sake, consider investing in a fire pit spark screen or a protective fire pit cover.
It's the perfect space to have family time: Let's face it, we are more conversant with the screens on our handheld devices than with each other nowadays. You could use the outdoor fire pit as the one space where no family member is allowed to bring their phone or tablet. It can be the space where all of you just come together to catch up and talk.
Use it to grill delicious BBQ: If you enjoy grilling, then a fire pit is the ideal place to try out some of those recipes that require you to use an open fire.
Whether you have a wood burning fire pit or a gas fire pit, it's a nice place for you to relax and enjoy your loved ones.
Practical Fire Pit Accessories
If you are going to make this space cozy and inviting, you need to do more than just build a fire pit. You need to accessorize it to meet your comfort needs. Here are some fire pit accessory ideas you could try out:
Fire Pit Tools
The most useful accessories are often the most practical to the setting. In this case, having a host of fire pit tools that allow you to not only start a fire safely but also keep one going is a wonderful idea. Of course, everyone is going to have their own idea of what kind of fire pit tools they need, but there are three main tools that are necessary for every outdoor fire pit. These include:
Fire Pit Tongs: A log grabber such as these 26″ Epica Fireplace Tongs are an absolute necessity when you need to position, reposition, or simply remove logs from the fire.
Fire Poker: You will also need a fire poker like this 36″ Campfire Fire Place Poker that allows you to easily adjust the fire as you see fit.
Fire Shovel: You will need a fire shovel like this 17″ Rocky Mountain Goods Fireplace Shovel to help clean up the fire pit once the ash from the burnt out wood starts to accumulate. This option is heat resistant and made out of heavy gauge steel, which makes it quite durable. You might also need to include a bucket and a brush to collect the debris.
Log Rack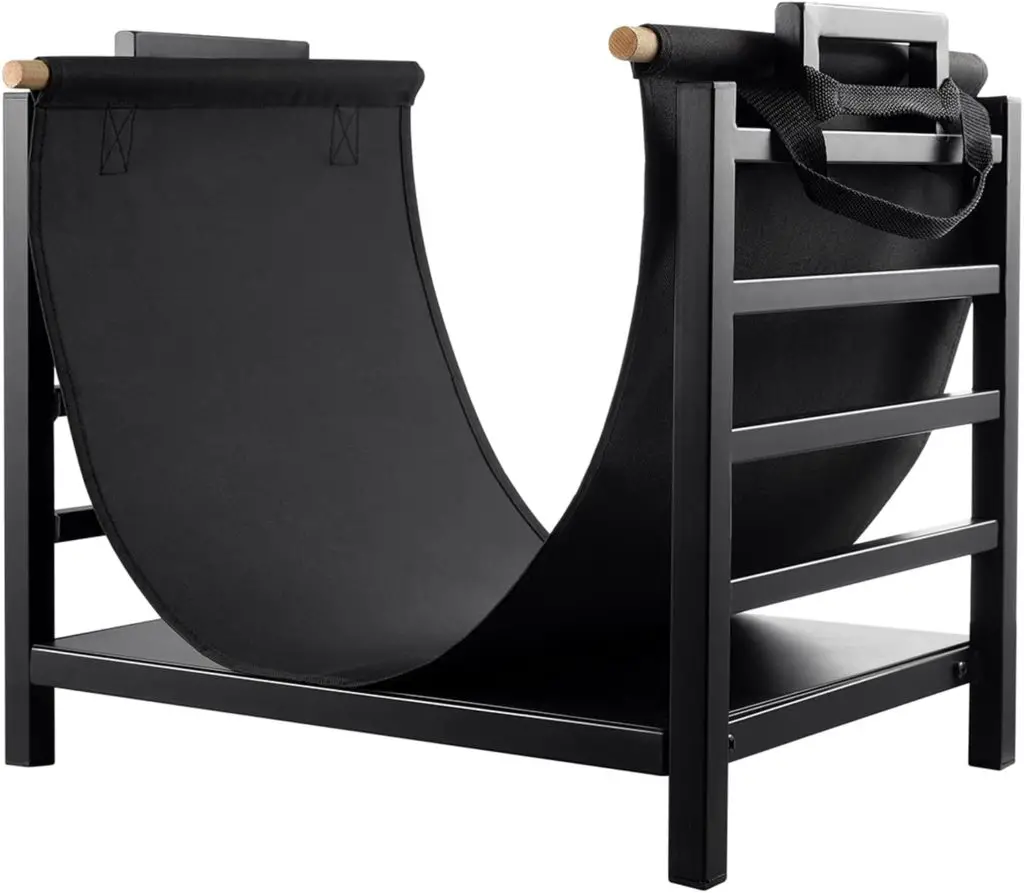 A log rack like this 18″ DOEWORKS Firewood Rack is not only a good way to keep your logs in one place and off the ground, but it is also a great accessory that will look beautiful by your outdoor fire pit. There are many options available when it comes to log racks, but it all basically boils down to how much wood you want to store.
Fire Pit Furniture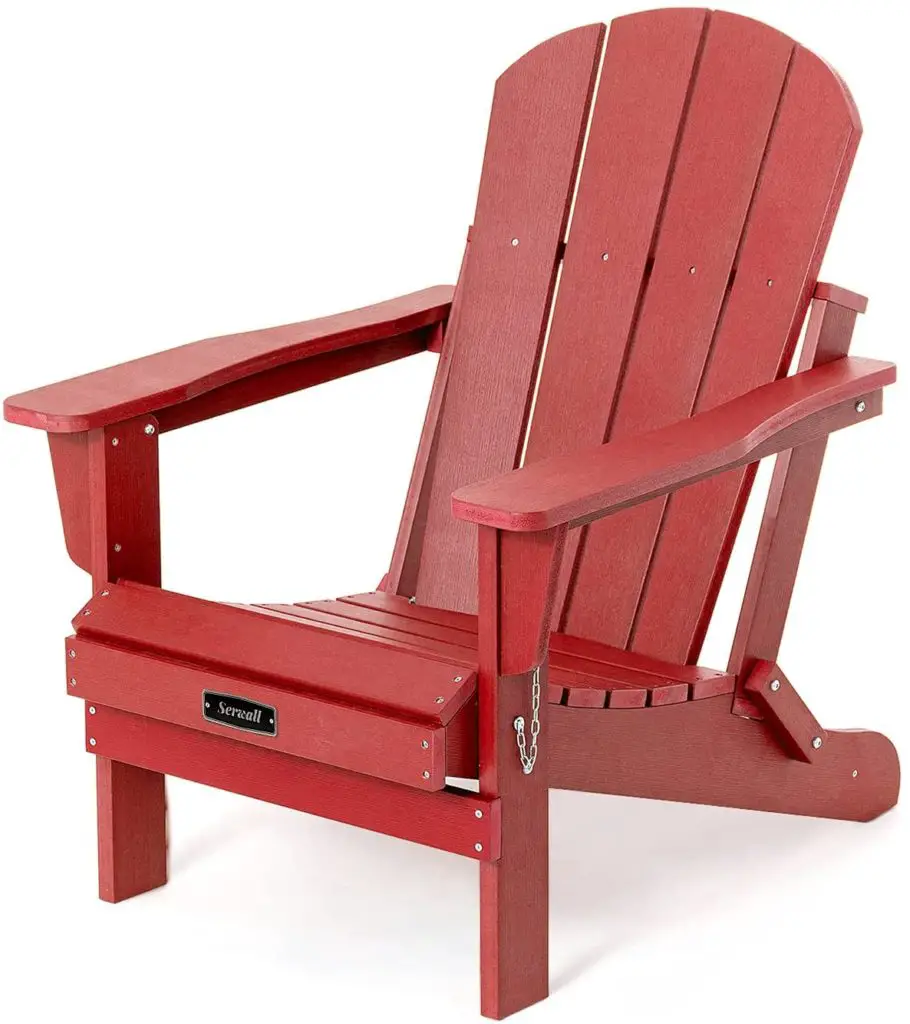 SERWALL Folding Adirondack Chair
An Adirondack chair: One of the main reason an Adirondack chair like this SERWALL Folding Adirondack Chair is an excellent option for your fire pit is because they are designed for the great outdoors. These chairs can take pretty much anything the elements can throw at them. They are also quite comfortable and relatively affordable.
Outdoor Side Tables: You will also need some outdoor side tables to go with your outdoor chairs. This SERWALL Double Adirondack Side Table is a good place to start. They are just as hardy and as outdoorsy as the chairs. You can use them to place plates, books or even an outdoor projector for family movie nights under the stars.
Fire Pit Cooking Accessories
Having a backyard fire pit presents a wonderful opportunity for you and your family to do some cooking. From full blown BBQ afternoons to simple marshmallow roasting in the evenings, here are some fire pit cooking accessories you might want to get: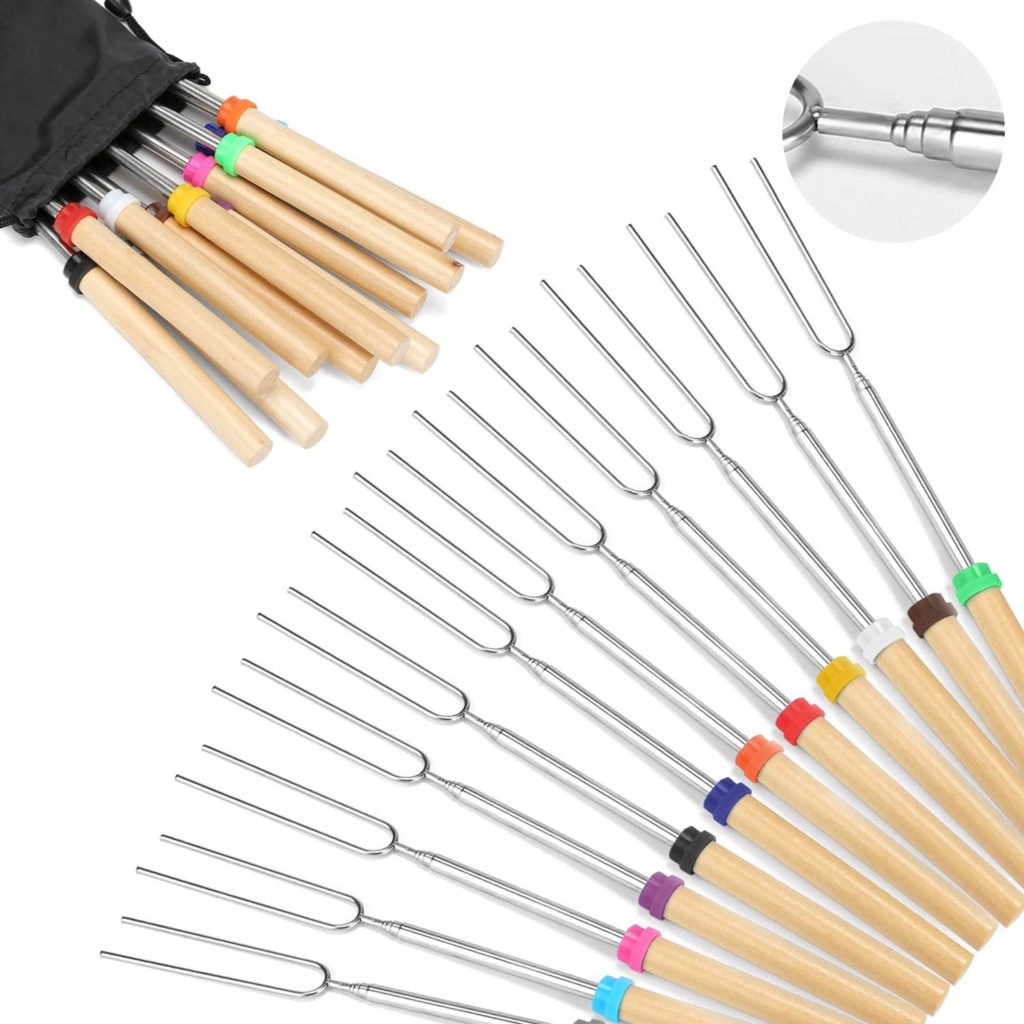 Roasting Sticks: These Marshmallow Roasting Sticks are great for making smores when you have a camping night in the backyard, or even when you just want to cook hot dogs on an open flame.
Adjustable Fire Pit Cooking Grate Grill: An adjustable fire pit cooking grate or grill such as this Texsport Heavy Duty Barbecue Swivel Grill is the ideal option for when you want to grill up some ribs on an open flame.
Texsport Heavy Duty Barbecue Swivel Grill
Finally, there are other accessories that tell your personal story, such as decorative cushions, lighting, and maybe even a TV for outdoor entertainment. Your fire pit space can be as creatively accessorized as you want it to be. You only need to remember that whatever you choose to accessorize it with needs to be capable of withstanding the elements.