They may seem like quirky decor for some, but hay bales are an essential decor piece for the fall season. It's often associated with farmland or a barn, and if that's the element you need in your outdoor decor, then a hay bale or two could work in your space. It can be that perfect element to add to your entryway, porch, or front yard to tie everything together. 
Hay bales have an idyllic, rustic feel that can transform an outdoor space from a traditional home exterior to something out of a countryside cottage. The neutral beige-browns allow it to match with plenty of decor items, so it's easy to pair with decor you may already have at home. 
We'll go over what you need to know about decorating with hay bales, from how to use them to where to get them. Read on for easy tips on DIYing your outdoor fall decor.
Traditional Uses of Hay Bales
You may be used to seeing hay bales dotting local farms and markets, and they are used for several purposes. While they do make for great decoration, hay bales are pretty versatile. Also called a straw bale, these dry stalks of wheat and grain plants are bundled into familiar rectangular shapes by farmers.
Farmers typically use them as animal feed, but there are plenty of other uses for this dried stalk. They can be weaved into baskets and hats, used in traditional crafting, and become insulation for housing.
In recent years, environmental scientists have discovered that they can make rice straw into a bioplastic, a plastic alternative. So, the bale you use for your backyard decor could be recycled into something new later!
How to Use Hay Bales
It's traditional in the rural countryside to decorate one's home with straw and hay bales. So why not embrace countryside tradition and add rustic charm to your home? Let's review how you can use a simple hay bale to decorate your space. 
Set it Up in Your Front Yard
If you have a large front yard space, hay bales are a great addition to your fall decor. They can be an accent next to a tree or bushes or near the mailbox. Place one in the front of your yard or near the driveway. Additionally, place a bunch of hay bales together, stack one on top of the other, and create a neatly arranged stack. Line the walkway to your backyard or garden with hay bales to create that fall atmosphere. 
Create a Rustic Seating Area
If you want the straw bales to pull double duty, consider getting ten or so hay bales and creating a seating area. This could work great in the backyard or front porch, creating a DIY look for your outdoor furniture. Add some accent burlap pillows and lace doilies for that homestyle feel. 
Guests will feel transported to a barn in the countryside when they step into your outdoor area. Some additional decor, like a wooden crate or wheelbarrow, can help to create that atmosphere. 
Grab enough hay bale seating, and you could host a fun outdoor dinner for friends and family! Create benches and tables, and your backyard can be the site of the next community potluck. 
Decorate Your Entryway 
A hay bale beside your front door instantly adds a touch of fall to the front of your house. Accented with the right fall decor, you can put a hay bale on your front porch next to your door or beside your porch furniture. 
You can use your own creative eye to determine what theme you want to go with for decorating the bale. If you're a football family, for instance, you can place a football, some felt cut-outs, a decorative sign, and some old leather football helmets to show your love for the sport. 
If you have a smaller front stoop, perch the hay bale beside it, or use two hay bales to create a small entryway to the door. Line the entrance with pumpkins and corn stalks, and you've made a small pathway to the front door, welcoming guests to your autumnal home. 
Create a Fall Maze in the Backyard
Bring the outdoor activities to your own backyard! Line hay bales into winding pathways and corners to create a maze for kids and adults to play in. 
Plan out the space you have in your backyard and count how many hay bales you'll need. Then, arrange them in a maze – you may need everyone in the household to help with this. Finally, you'll have a fall maze at home. 
Decorate with scarecrows, pumpkins, and corn stalks for that fall atmosphere. You can later transform it into a Halloween maze with some skeletons and spooky critters. 
Add some moody lighting with lanterns and solar lights to light up the maze at night. Place some sheet ghosts and witch silhouettes along the maze; at night, the maze can become a haunted maze for kids or adults who are easily spooked. 
Use Excess Hay to Create a Wreath
Some excess hay might spill out when transporting it from your trunk to your home. Don't throw it out! Instead, use any clean hay that's come loose to create a DIY project. 
The perfect way to use extra hay is by creating a wreath. Wrap the stalks delicately around a bare wreath grapevine, and adorn it with mums and other autumn flowers. 
You can also use excess hay to weave together fun crafts, like a small basket. Weave a small hat to add onto your scarecrow, or use it as decor with leaves in a fall cornucopia. 
How to Decorate Hay Bales
Now that the bales are in the right spots around the house, the question becomes how to decorate them properly. While these are a fall staple, they can look quite plain just standing alone on your front porch or yard. 
The best way to spruce up a hay bale is with some fall decor. To add that seasonal touch, consider what fall means to you. Certain flowers, leaves, or other elements of nature could bring that fall mood.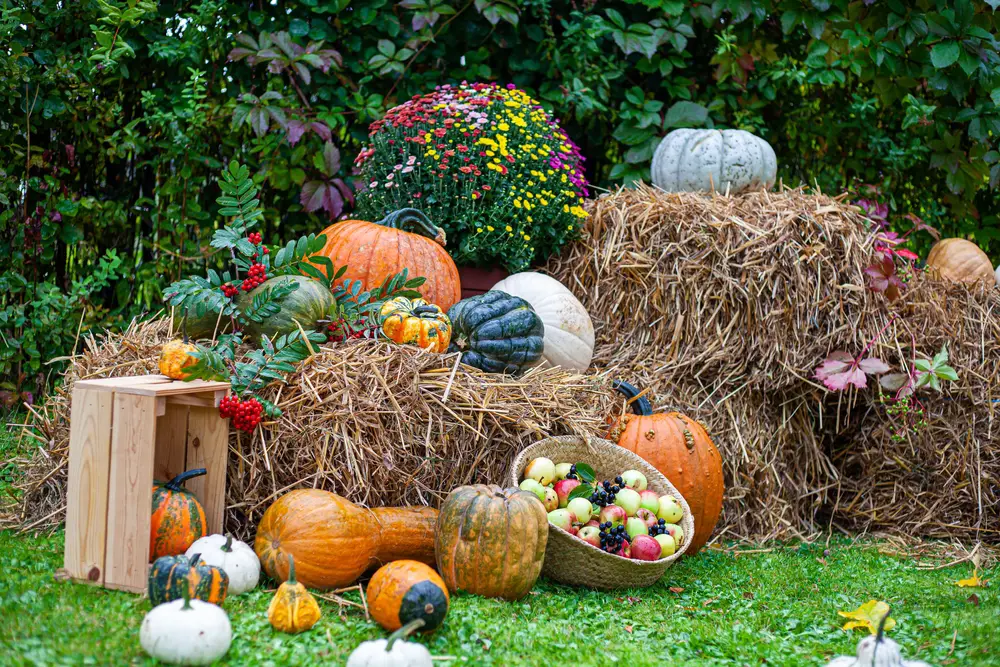 Decide on a Color Scheme
It's very easy to go overboard with fall decorations. Before you start, you must decide what color scheme you want to use and maintain those colors along with all the decor you use. 
Autumn color schemes include golden yellow, orange, red, maroon, deep purple, chestnut browns, beige, dark green, and light brown. Not every color needs to be featured, so pick the colors that speak most to you. 
If you have some decor you've already picked, make sure they follow the color scheme you're going for and plan accordingly. Decorate the hay bales according to the color scheme, and remember the colors should complement the earthy beige tone of the hay. 
Choose Different Patterns and Fabrics
Here is where your creative eye can really come into play. Layering textures creates that cozy fall vibe in your space. If you have hay bales on your front porch or backyard patio, drape a plaid blanket over the top. 
Look into wool or other thicker fabrics to use outdoors. They work as decor and double as blankets for when you're sitting outside with a cup of tea. 
Use Fall Themed Items, Like Mums
Mums are essential to fall. This flower comes in several colors and can be suited to your style or theme. Create a planter in your garden area and plant mums along the bed, turning the hay bales into nutrients for your garden soil over the winter months. 
Create an autumn bounty by grouping together items on the hay bale. Place pumpkins, mums, and large cabbages in a group together on the bale. Add some fall signage or a scarecrow to bring it all together.
There are plenty of pumpkin options that go beyond the plain orange. White, green, fairytale, and munchkin pumpkins offer different sizes and textures to add to your front porch. Place them on and around the hay bale to create some height. 
Transition to Halloween Decor 
Hay bales can be an easy decor piece to transition to Halloween. Swap out fall flowers for a spooky Halloween sign. Decorate the bale with cobwebs or add a skeleton as a friend to welcome guests on your front porch. 
Most other Halloween decor can be easy; it just requires a few touches to add a spooky mood. For instance, put a witch's hat on top of your scarecrow. 
The bale can also be a table for trick-or-treaters who come by on Halloween night. Use it to hold your candy bowl for a hands-free experience. Or move that backyard maze to the front yard, and create an exciting Halloween experience! Kids can have some adventure on their way to the front door! 
Where to Buy a Hay Bale
Decorative Hay Bales
If you're looking for decorative hay bales, you will usually be able to find them at your local flower market or farmer's market. You can also check any farms nearby or local livestock feed shops. Some craft stores and department stores sell decorative hay bales at the start of the fall season. 
Depending on where you get your hay bale, they will range in cost. For a low-cost price, look to local farms and markets. Depending on location, decorative bales from department stores can run a bit more expensive. Check your local listings to see what is available near you. 
Bales for Seating
Most hay bales should be sturdy enough for one or two people to sit on, depending on length. Drape some burlap or a cotton blanket over the top to avoid any itchiness or the hay bale poking into anyone. Add some floor cushions or pillows for extra support and cushioning. 
There are alternatives to straw bales, like wooden crates in the shape of a hay bale. These have the appearance of hay bales with a bit more comfort. Drape over a tablecloth with a hay bale pattern if you still want to achieve a hay bale look. 
Can I Store a Hay Bale Over the Winter?
A hay bale might not be the best item to store in the winter. Unless you have a garage or storage shed that has a dry, cold environment, the straw will become damp and decay over time. Plus, storing a bale inside can bring pests and unwanted bugs into your home. 
A great way to use a hay bale is as nutrients for the soil. Like the falling leaves in the yard, hay is also a dried plant and will decompose over time. Scatter hay around the garden for the soil to absorb over the winter months. By spring, it should decompose. You can also bag the hay like you would leaves and dispose of them at your local waste management site. 
It is also essential to ensure dry hay is stored away from any fuels or chemicals, especially if stored in a garage or storage shed. Dry hay is flammable and can catch fire, so it could be a potential fire hazard to store hay during the winter. Keep hay away from electrical wiring, and avoid stacking more than two in a row. 
Conclusion
A hay bale is a real statement piece to your outdoor fall decor. It provides that seamless touch to transition the home from the warm summer months to those cooler autumn days. They can also be used as an outdoor bench or table to provide additional seating for outdoor get-togethers. 
There are tons of decor inspirations that can come from something with a simple, rustic charm. Find a spot outside your home that could use a fall makeover, grab a hay bale from a local market, and have fun decorating!