From pumpkins to gourds to autumn wreaths, fall front door decor can affect the entire mood of your home's exterior. It's the first place anyone encounters when entering your home, so first impressions are critical. 
To leave the right impression on any family member, friend, or guest coming to your home, here are some simple design mistakes to avoid when decorating your front door for fall. 
1. Sticking Too Closely to Just One Color
Choosing the right color palette is up to personal preference. There are plenty of fall colors, and it's best to stick to them. Use Mother Nature and the fall leaves for inspiration. Golds, reds, deep purples, browns, and neutral tones can all work with your fall decor.

However, sticking too closely to just one color can throw it all off. This can happen a bit unknowingly. Say you're at one department store, looking through their decor section, and you see some orange pumpkins, so you get those for your fall front porch decor. 
Then, another day, you see an orange scarecrow that would look great on the front steps, so you purchase that as well. Then, you buy a completely orange door wreath. Pretty soon, you've accumulated only orange decor and have no other colors to compliment it.
Avoid using too much of one color. Before you start decorating, look at what fall decor you have or are going to buy. Does it have a cohesive color scheme? Stick to three colors, and don't stray too far.
This could also teeter the other direction in having too many colors on your fall front porch. Create an inspiration board and put your desired color palette right in the middle of the board. That way, you always have the colors in mind when choosing your decor. 
2. Going Too Hard on Holidays – Or Forgetting Altogether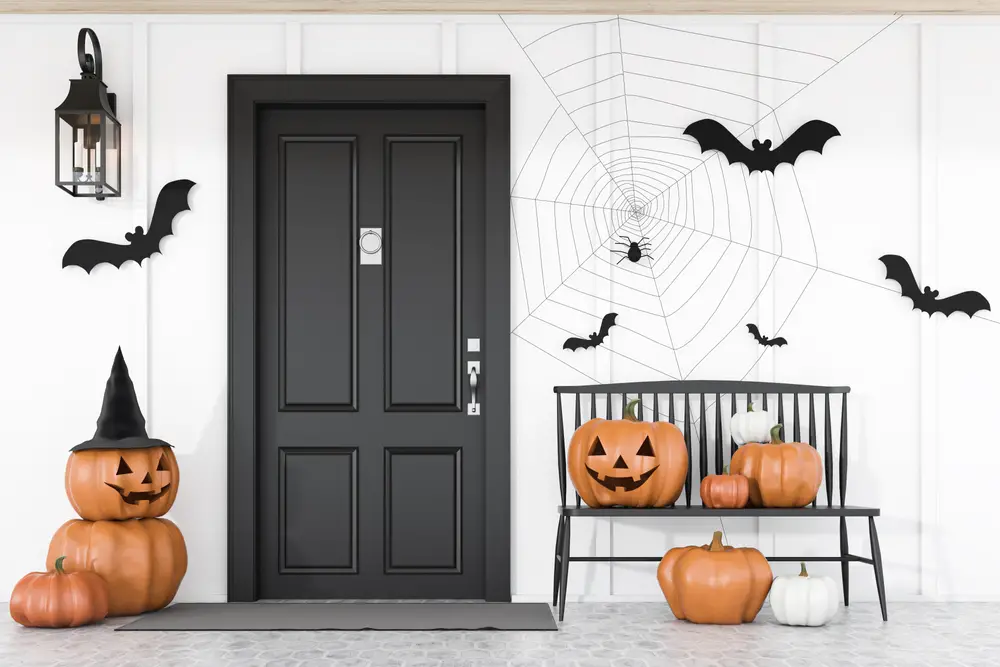 The holidays offer a plethora of decor options. Like color, this depends on personal taste and relationship to the autumn holidays. Decide if you want to celebrate festive holidays like Halloween and Thanksgiving, and plan accordingly. 
There's plenty of decor inspiration when picking out Halloween decorations. However, it's easy to go completely over the top with Halloween. 
With so much to choose from, it's best to pick one Halloween theme and stick to it. Pick out a front door wreath to hang on the door, and find matching decor. A witchy wreath with deep purple and black can help inspire the rest of the entryway decor. A witch's broom, a pumpkin wearing a witch hat, or a bubbling cauldron could all be great additions to the porch or stoop. 
There is a fine line to going overboard. Straying away from the chosen theme can create chaos and a lack of vision. Keep your design eye consistent.
Some home decorators may also have an issue of forgetting holidays altogether. Not to fret – set a calendar alarm for yourself to decorate the exterior for Halloween or Thanksgiving. Make a fun afternoon out of it on the weekend, or involve members of your household. 
Store all your autumn and holiday items in the same storage area. That way, when you want to decorate for Halloween or Thanksgiving, it's easy to pull out the decor when you need it. Add a few witch hats or cobwebs, and decorating for Halloween is as simple as pumpkin pie! 
3. Decorating without Intention
There's a saying about baking that the best pastries don't just have the right ingredients, but they are made with love. Decorating your home follows a similar fashion: all interior and exterior decorating should be done with intention. This isn't just in color palette and theme, but in deciding where each decor item goes. 
To use intention in your decorating, walk around the space. Start at the beginning of your property, on the driveway or sidewalk, and walk to your front door. Note if there is anything you would want to include or if something is missing in the space. Sometimes, adding a welcome mat or a few pumpkins lining the steps could be just the thing to add that perfect touch of fall.
4. Forgetting About Lighting
Lighting is an oft-forgotten aspect of both interior and exterior decoration. Lighting is essential to any space, and for your fall front door decor, it is necessary. Lighting the front of the house at night or for your home security cameras provides much-needed accessibility to the front door. 
There are plenty of lighting decor options available. Adding a wall sconce or swapping out the porch lantern for an antique-looking lantern are both great options for your front door. 
Look for warm-toned light bulbs for your outdoor space to create a warm glow that sets a mood and matches the rest of your decor. Lighting isn't just necessary; it can also provide color when needed. 
5. DIY Gone Wrong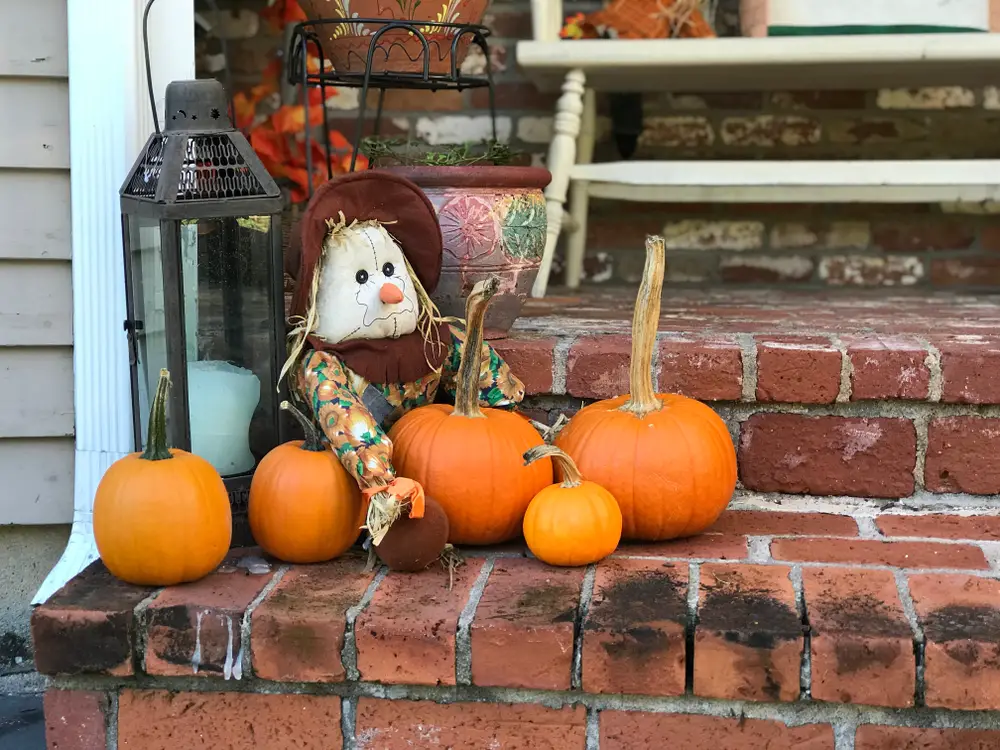 We've all been down the path of failed DIY projects. There's nothing worse than spending hours on a project, investing time and money gathering resources, reading tutorials, watching videos, and meticulously following instructions only to have it all go wrong. 
It's easy to get lost when following a DIY project, especially if it's something you're tackling for the first time. But when it's something you've put time and money into, it's heartbreaking to see it not look as good as you intended or have it completely fall apart. 
It's important to let any failed DIY projects go. If they're not fixable, it's fine to disassemble and start over or use any scrap items for another decor piece later. But a common mistake people make is displaying that piece outside their homes. 
Showing off something that doesn't display your full ability can bring down the other decor around your home. You ideally want to show the best of what your home has to offer, and a not-so-good-looking DIY project can muddle the overall look of your design. 
Furthermore, front door decor should be warm and inviting for guests and, most importantly, for yourself. Pick the decor that speaks to you for your front door since it's the first thing you see when you walk into your home. Leave any failed projects behind, or keep them in storage to tackle again next autumn. 
6. Don't Forget the Front Porch
While you've decorated your front door with a beautiful wheat wreath and lined the steps with pumpkins and mums, don't forget about your front porch. You can decorate every aspect of the porch for fall. 
If you have any outdoor furniture, swap out cushions for those in a similar color palette. Add in a plaid or wool blanket for some layered warmth. For that rustic fall feel, place corn stalks or wheat stalks behind the furniture or around the windows. 
Porch decoration should make the right first impression and usually matches any interior fall decor in the living room or entryway. Make sure there is a cohesive design element, and stick to your decor theme. 
Decide When It's Time to Refresh
If you hold on to old decor year after year, thinking you will use everything you own again next year, that might not be the case. Assess what you have and go through everything in your autumn decor storage. Is there anything that looks old and tattered? If it's worse for wear, it's best to replace it. 
You can refresh the decor you have for something new. Design taste changes over time, and it's perfectly fine to accommodate any new decor you have your eye on. Check multiple stores for decor inspiration, and see what could fit in with what you already have. 
It could also be time to refresh what you have entirely! In that case, change it all up. Go for a new color scheme or fall theme, and redecorate your front door in a new way. Look through your old decorations and donate or dispose of anything properly. There could be someone in your neighborhood who could use your old decor!
Conclusion
You may like to keep your front door decor understated and simple, with a few pumpkins dotting the stoop and a matching fall wreath on the door. Or, you could be self-proclaimed obsessed with all things fall and go overboard on outdoor fall decorations wherever you can. Whatever your style, avoid some of the most common mistakes in decorating. 
Simple design errors, like chaotic color palettes and decorating without intention, can lead to some messy results. Ideally, the home should be a warm, welcoming place during the autumn season and year-round. Following simple design tips for your front door can make your entryway an inviting place for all who stop by.