Who wants a dull and basic mailbox these days? With all the different landscaping ideas out there, you can create a work of art in your own front yard. You just have to get creative, have fun, and know what materials to buy before getting started.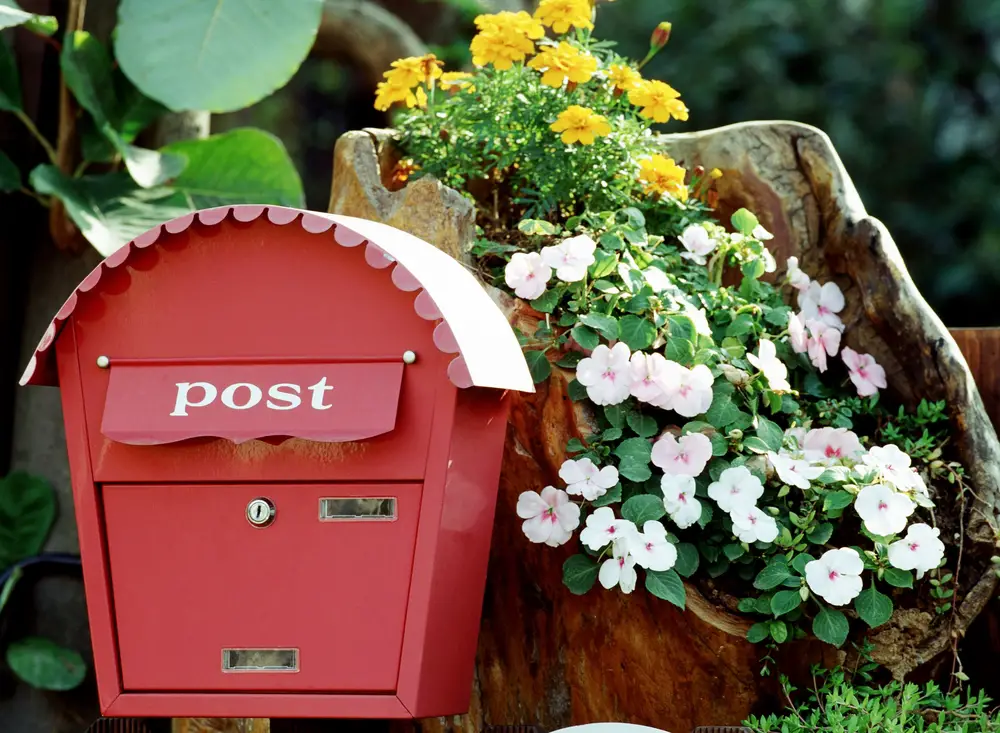 Mailbox Landscaping Ideas to Try
Are you fed up with a dull and basic-looking mailbox? Are you thinking about sprucing it up but need help figuring out where to start? Not to worry; we have a bunch of great ideas that are easy to complete and can instantly improve the look of your space. 
1. Brick it Up
There is a massive variety of bricks you can use to improve the look of your mailbox and the space around it. You can create in-ground designs using bricks to create a swirl around your post or build them upwards for a small barrier around the box.
Play around with different shapes and colors of bricks to find the perfect design for your home. 
2. Use Sunflowers for Color
Sunflowers are a great way to add some color in your space. These flowers are durable and low maintenance, making them the perfect option to place around a mailbox on the roadside.
You can plant these colorful flowers on their own or pair them with others to give the space a more colorful vibe. 
Not interested in planting sunflowers? No problem. You can use metal sunflower garden decorations or paint your sunflowers directly onto the mailbox itself. If you have a metal mailbox, you can use sunflower magnets for a much easier application.
3. Cute Fairy Garden
Get creative and give your mail carrier something fun to admire by setting up an enchanting fairy garden around your mailbox. You can keep things super simple by only adding a few fairy statues and some garden stones, or you can go all out and turn the postbox into a fairy tree house.
There are tons of fairy garden figurines that are affordable and fun. Find a great look to keep all year round, or play around with the options out there and change things up every so often. 
4. Trim and Proper
You don't have to get elaborate when landscaping your mailbox and its surrounding area. Another great look that is easy to use is a freshly mowed, clean space with white stones spread out in a small circle around the base of your mailbox post.
This look will go great with a simple metal mailbox or a mailbox attached to a fence or building. 
If you want to add more, place a plant pot filled with soil and colorful annuals directly underneath your box or even add a lawn flag.
5. Planter on Top
Get a little more creative with your mailbox and add a planter on top of it. Placing a mailbox planter can add a nice look to an otherwise boring space.
You can use a variety of low-maintenance colorful flowers that will last the entire growing season. Your mailbox garden can include but is not limited to:
Peonies
Petunias
Marigolds
Begonias
Pansies
Snapdragons
Some people also find hanging baskets from or next to their mailboxes an excellent way to spruce it up for the summer (plus, it's good for the bees). You can plant perennials that will return yearly or change it up with colorful annuals.
6. Sandy Space
You can use sand to keep the weeds and grass under control around your mailbox while giving it a gorgeous look at the same time.
White sand is typically the go-to option when landscaping and can be an easy and affordable way to provide the space with a whole new look.
It is essential to remember that not all plants will grow in sand, so if you want to add some flowers to your yard, consider planting hydrangea, honeysuckle, or geraniums.
7. Mulch Madness 
Mulch is another great way to amp up the look of your mailbox while keeping the grass and weeds at bay. You can choose from a few basic color options like black, brown, and red. 
Mulch is perfect for anyone lacking a green thumb or who doesn't have the extra time to dedicate to maintaining flowers or other greenery.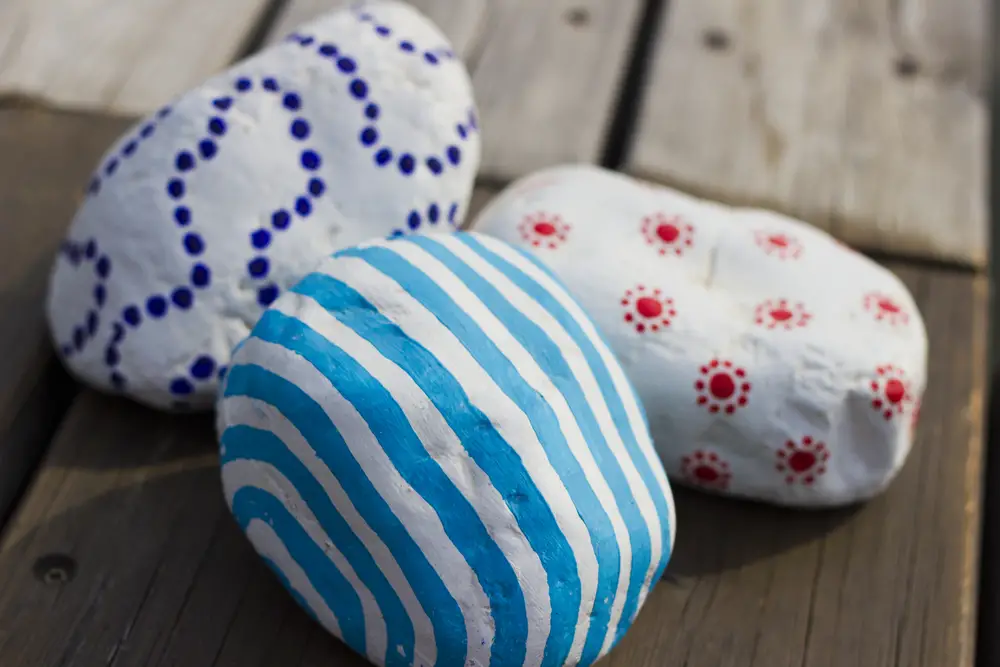 8. Paint Some Rocks
Rock painting has become popular over recent years, with people writing words of encouragement, designing impressive pictures, or simply adding a little color to an unlikely canvas. 
Instead of hiding these rocks along your local nature trail or favorite campground, create your works of art and place them around your mailbox. This landscaping idea will look amazing and give your mail carrier something interesting to read everyday.
Different Mailbox Ideas to Try
Don't just landscape the space around your mailbox; take a unique approach to decorate the box itself. You can do this using different materials, paint, stickers, and more. All you need is some supplies and a little creativity.
Animals Are Always Fun
You have probably seen a large green bass sitting on the side of the road. The mail carriers must pull open their mouths to feed your parcels through. While this is a creative way to decorate your mailbox, it isn't the only animal option out there. 
Here are a few different animal mailbox designs you should consider trying:
Cow
Pig
Bear
Skunk
Cat
Dog
Horse
Hedgehog

Barn

(not an animal, but still very fun)
You can keep with the animal theme by decorating the post and the ground below or leaving it as is with freshly cut grass underneath.
Give It a Pop of Color
Bright, vibrant colors can be a great way to decorate your mailbox while making it easy to see for postal workers, cars driving by, and maybe even the snow plow that takes out tons of them every winter.
Not only can a pop of color make your box more noticeable, but it can also make it much more impressive to look at as well.
There isn't a right or wrong color to choose; just make sure whatever color you go with is bright and bold. You can pair it with similar colored planter pots hanging from metal rods next to the post or use stickers to give the box a unique touch.
A Wooden Design
Although most mailboxes are plastic or metal, some are crafted from wood. This is a great way to get a natural look with a country vibe. Wooden mailboxes are often heavy-duty and will last a long time.
Wooden mailboxes look fantastic with white stones neatly arranged underneath and a few sunflowers growing up along each side.
Put It on a Spring
People are getting very creative when landscaping their mailboxes to keep them secure. One option is placing your box on top of a spring post. These posts allow it to move back and forth, providing a small amount of flexibility, so it won't crack under pressure (like high winds, heavy snow, or getting tapped by a passing vehicle).
Change It Throughout the Year
Keep things interesting all year long by changing the theme of your mailbox for each season or holiday. This can include things like:
Sticking shamrocks onto the box for St. Patrick's Day
Hanging plastic eggs from transparent string for Easter
Fastening a Santa hat on top of the box for Christmas
Painting it orange and drawing a face on it for Halloween
There are many great ways to decorate a mailbox to make your yard look festive and fun.
Mount It on Your Fence
Mount your mailbox on a post instead of placing it directly onto your fence or house. You can get elegant designs that add curb appeal to your lawn while keeping a bulky wooden post from getting in the way.
Light It Up
You can illuminate your mailbox in many different ways to give it a bright and shiny look, even at night.
Consider wrapping outdoor string lights around the post or placing light stakes in the ground with the focus directed towards the box. You could even incorporate this idea with the holiday theme, using a projector to illuminate shapes and colors onto the surface of your mailbox and the surrounding area.
Go for Gold
Gold is another unique and exciting option when it comes to mailbox designs. Since most mailboxes on the side of the road or hanging from homes are black or silver, a golden one is sure to stand out.
Paint your name on the side of the box in black, or use stick-on black numbers for an elegant and upscale look.
Final Thoughts
Give one of the above ideas a try for a fantastic mailbox landscape design guaranteed to impress your friends and neighbors. If these options don't seem quite right, play around with the materials listed in each one to create your own amazing design.