The fall season brings plenty of change, and what better way to start the season than through decoration? Nothing beats a full-blown smattering of decor all around the home if you're into themed decor. 
Decor doesn't just stop at the front porch or the living room. It can extend to every corner of the home, including the outside! The backyard is a great place to find fun fall decor ideas and make a cozy and inviting space past the interior. 
Autumn decor provides an array of colors, tones, and textures to play with when it comes to decor. While the front door and porch may be great places to decorate, many places in the backyard have that cozy fall flair. 
We'll break it down to different areas of the backyard so that every square inch feels on theme and ready for fall. 
At the Entryway
The backyard entryway is an area of the house where it is so important to leave the right first impression. When family or friends come by for movie nights or outdoor dinners, the entryway will leave that perfect first and last impression as they enter and leave your home. 
Pick the right decor that will stand out and provide that autumnal vibe while blending in with your home. Look at your home's front door, garage, and exterior, and decide what colors complement and match the backyard entryway.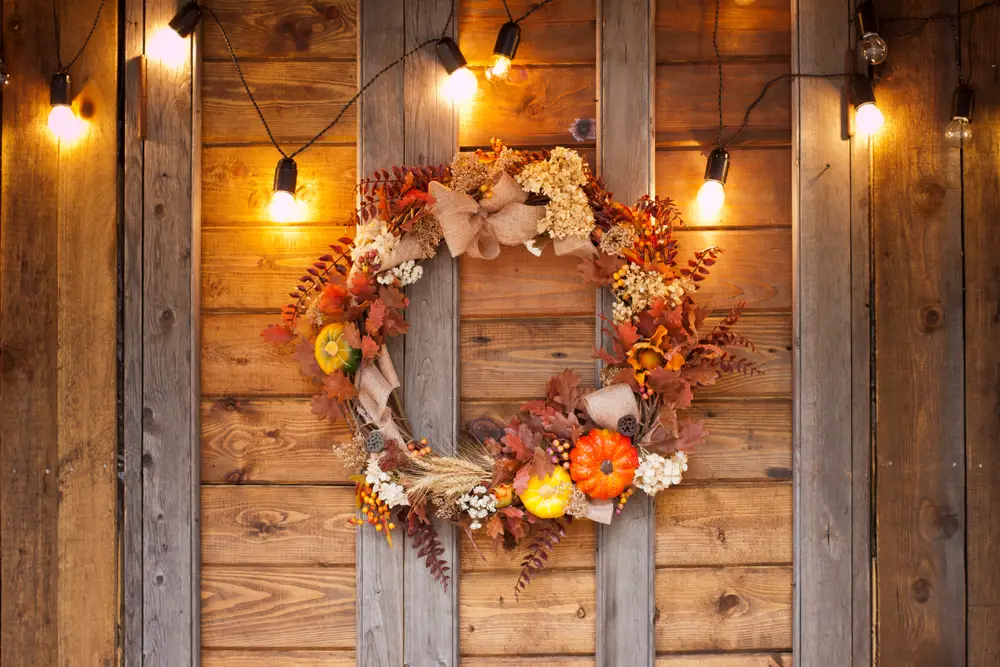 1. Decorative Wreath
A beautiful autumnal wreath is not just for your front door! If you have a gate to the backyard, hang a fall wreath over the door. This helps separate the backyard from the front to make the yard its own space. 
A wreath can be inviting and is the first impression anyone gets when they enter the backyard. So, it's up to you how big you want your wreath to be over the entry gate. 
It could be a wreath of pumpkins or leaves for that festive look. Create a wreath full of fall mums to showcase this seasonal staple. Or, for something quirky and fun, a gnome wreath could compliment any yard gnomes milling about in the yard. 
There are plenty of pre-made wreaths on the market that feature autumn designs. A wreath with a simple design can have that cozy autumn feel without being too overpowering. 
There's also the option to DIY a fall wreath, which allows you to add personal touches and perfectly match the rest of your decor. Find a bare wreath, like a grapevine, and decorate it with bows, ribbons, leaves, fall flowers, and gourds. 
2. Pumpkin Planters
Planters are a great decor item that can work year-round. All you need is a plant pot and the decor of your choice. A pumpkin planter is easy to make and requires a few items to DIY. Grab some faux pumpkins and get decorating! There are also options to buy a pre-made planter. 
To DIY a pumpkin planter, pick the pumpkins you want to use first. These can be faux pumpkins or real pumpkins, but keep in mind how long you want them outside. If you want to reuse the decor again next year, faux pieces might be better, as they will last longer throughout the years. Or, if you're going for a natural feel, grab some pumpkins of varying sizes at your local farmer's market. 
You want pumpkins ranging from big to small sizes; usually, three or four will do. Then, like how you would carve a pumpkin, create an opening at the top and hollow out the entire pumpkin. Then, place soil and flowers to create your own planter. 
A few pumpkin planters can line the backyard entryway or any garden paths you may have in the yard. Taller planters and flowers bring that vertical space and dimension to the yard decor. 
3. Festive Fall Sign
For that fall flair, a festive sign can be placed near the entryway, patio, or anywhere in your backyard. Place it under a lantern, wall sconce, or near a doorway to really stand out.
There are endless options for what you want your fall sign to say. An inspirational quote like "I Think I Love Fall Most of All" can be a warm welcome into your backyard space. Or something quirky like "Welcome to the Pumpkin Patch" can set an atmosphere and theme for your backyard. Consider what kind of decor is going up in the backyard and whether the sign should match its surroundings. 
If you want to have a bit of fun, DIY your own sign and write phrases like "Pumpkin Patch Ahead," "Leaf Pile 10 Feet Away," or "Corn Maze This Way." This can encourage the kids to enjoy the fun with fall activities around the backyard. 
4. Corn Stalks 
Corn stalks are a big decor item that makes an instant statement. These are easy to install and can rest on the entryway gate, the porch door, or the shed door. They're a great piece to go around a door frame without doing too much else to the decor. 
Wrap the stalks in burlap and rope for a rustic farm feel. You can also add some dried purple corn to the stalks, while some already come with the corn still attached. Faux corn stalks are a great long-term investment and can easily be stored in the garage or basement. 
For a photo opportunity, a well-decorated corn stalk door frame is a great idea. What better place to post to the 'Gram than your own backyard? Don the entryway or shed doorway with corn stalks, burlap, hay bales, and a festive sign to create the perfect DIY photo wall. 
Near the Shed, Veranda, or Garden
Fall decoration is most visible in essential parts of the home, like the entryway or front yard. Just like the front of the house, consider the crucial areas in your backyard, like the storage shed, veranda, or garden area, to name a few. Any key areas in your backyard can easily be highlighted and stand out with the right outdoor fall decor.
You can transform your space into a fall wonderland for anyone who loves big decor. An at-home corn maze provides fun for the whole family and makes your backyard the destination spot for get-togethers. It's fun to set up, and the decor items can be donated or used again.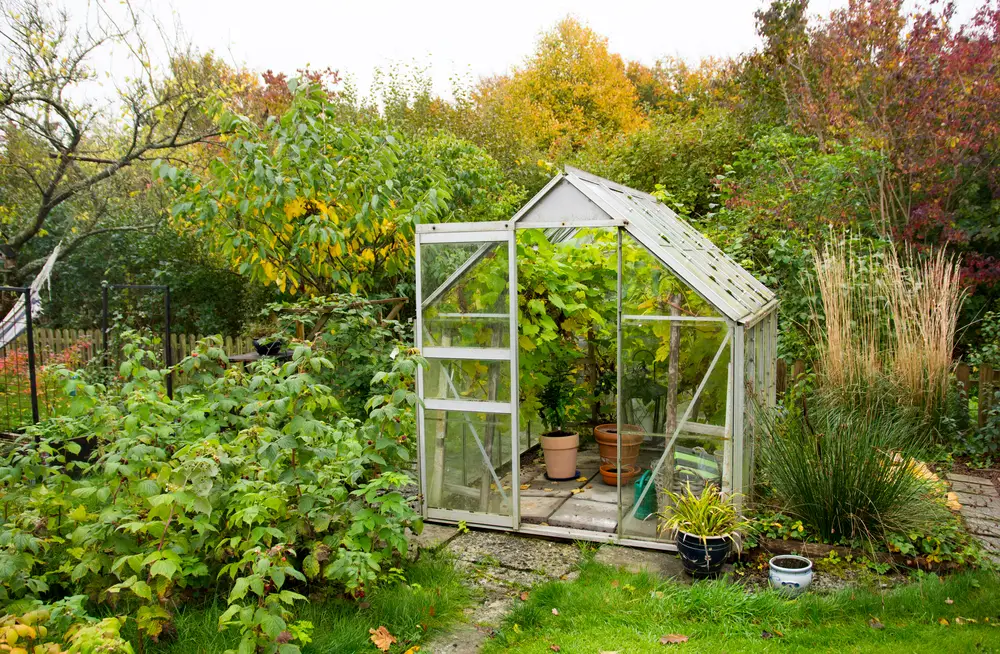 5. Rustic Wheelbarrow
Adding a rustic wheelbarrow is probably the biggest decor piece we can recommend, but it is an instant, stand-out decoration piece. You can place it near the garden to still give the garden some life after the summer plants have finished blooming.
It has that farmhouse style, and you can decorate it in many ways. There is so much inspiration to be had from the cottage style of a wheelbarrow! 
The best wheelbarrow decor is a wooden, rustic-style piece. If these are hard to find, check out any antique or vintage markets in your area. There is also plenty to find online, like this rustic-style wheelbarrow from Sullivans Store. 
Adding a gourd or bouquet, a hay bale, or faux pumpkins creates a cornucopia-style of fall items. Or rake up the leaves in your backyard and put them in the wheelbarrow! What is just an everyday chore can turn into a fun decor piece. 
6. Light-Up Display
A light-up display is a fall decor idea to add a bit of brightness to those dark nights. A lightbox with customizable words can show the different days of the week or season or be a fun welcome sign to any guests coming around to visit. 
Light-up letters spelling "FALL" or "COZY" also help set the vibe of your space. Decorate them with fairy lights and place them on a patio table, or hang them on the wall. 
Find a fun fall sign and grab some solar-powered fairy lights and lanterns, and decorate your space to match. The lights can continue through the hand railing, patio steps, or garden for some nighttime glow. 
7. Painted Pumpkins
If it's too early to start carving pumpkins, consider painting pumpkins and using them as decor pieces around your yard. They still have that classic pumpkin shape but can be customized to whatever works for you. 
You can paint-stamp pumpkins with flowers or letters customized to each household member. Make a fun day out of it and have everyone custom-make stamps, dip them in paint, and decorate a pumpkin! Or dip-dye pumpkins in a bowl of paint for a dual-toned color scheme. Write a message on a pumpkin with fall-themed words and decorate it with leaf prints. 
Grab a can of glitter spray paint and add some sparkle to the pumpkins! This can be a great way to add a pop of flair and elegance to your decor, and match the gold or silver tones in your backyard furniture.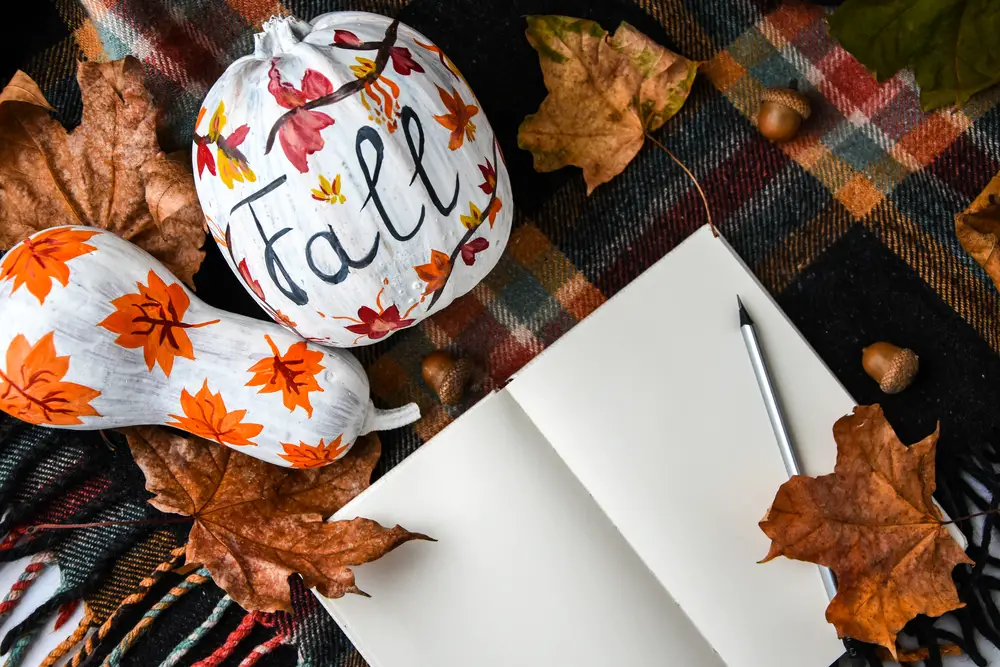 On the Patio
The patio is probably where you and your loved ones will spend the most time in the backyard. While there are leaves to rake and leaf piles to jump in, the patio is often the most-loved place in anyone's yard. It's where social gatherings, get-togethers, barbecues, outdoor meals, and movie nights happen. 
Patio furniture is the perfect area to get that autumnal touch. Consider switching any decor on or around your furniture for fall colors and textures. 
8. Crate Decorations
A few crates from your home goods store can be a simple decoration with plenty of options for adding your own fall flair. Add corn, gourds, a pile of leaves, or wrap it in burlap to create a cornucopia. You can also glue and wrap a thick rope around the crate for that rustic feel. 
Crates double as year-round decorative items and as tables or additional seating. Creating a small table or bench for little ones to sit on is easy. Take an empty crate and patio cushion, and voila! 
9. Festive Pillows and Blankets
Patio furniture, like chairs and couches, is an easy space to add fall decorations. Swap out any cool-toned summer pillows and blankets with warm-toned autumn pieces. Add patterns like plaid, checkered, or houndstooth for those elevated fall vibes. 
Fleeces and plush textures like velvet or corduroy provide that soft feel to your furniture. Cover your weather-proof furniture cushions with a plaid throw, an easy way to transform the look of your patio couch completely. Suddenly, the summer furniture that was fun and fresh is now cozy and elegant. 
A monogrammed linen pillow can remain weather-proof and stay outside during the fall season. Swap out your summer pillows with sunshine and waves for pillows featuring pumpkins, leaves, and trees. Fall is all about incorporating natural elements into decor.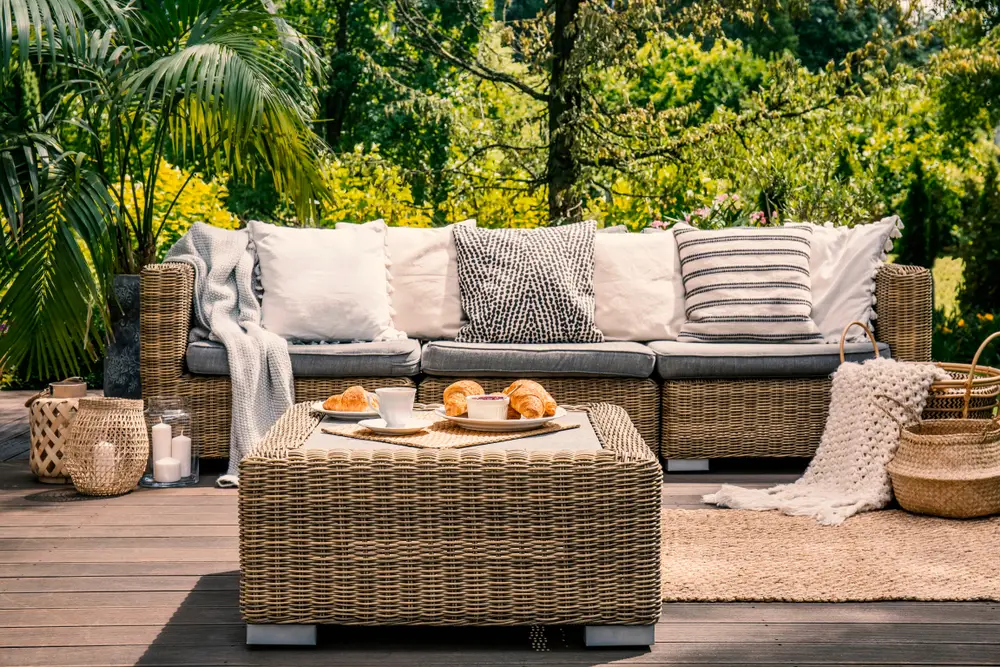 10. Fall Ladder
The ladder in your storage shed might have a second use as decor! This goes especially for a wooden ladder, which matches the natural countryside vibes of autumn. 
Just like decorating a blanket ladder in your home, decorate an outdoor ladder in the same fashion. Lean the ladder on the exterior home wall, and adorn it with cozy blankets for anyone to grab and snuggle up. Alternatively, decorate the ladder with pumpkins, a cute scarecrow, or leaves and vines as a great decor piece. 
Keep to the Same Theme
Remember that while there are endless outdoor fall decorating ideas for your home, it is best to keep all your outdoor decor adhering to the same theme. Take stock of the decor that you already have and what else you may need. Keep it in the same color family and theme. 
There are plenty of autumn themes to go with, and which one you choose depends on personal preference. If you're aiming for a rustic feel, keep the decor items neutral with dark reds, greens, and browns. Look for decor featuring branches, leaves, and wood textures to adhere to the cottage-like vibe. 
We hope this gives you an array of ideas and inspiration to start your backyard fall decorations. Decorating the backyard isn't just fun; it also helps connect us with every space in the home, especially areas of the backyard that can get neglected after the summer. 
Suddenly, the summer garden can become an autumn corn maze. Or, the outdoor storage shed turns into an influencer-ready photo area! 
Adding in some themed decor can make your space feel more like home. So, get to decorating!