Fun outdoor games are popular at family resorts, restaurants and bars with outdoor spaces, and, of course, your backyard!
In addition to the traditional volleyball, badminton, and croquet, our selection of the top outdoor games for 2021 should be added to your shopping list—choose one or many. They'll come in handy at birthday parties, outdoor barbecues with friends, and family time at the beach or park. Perhaps you'll soak up some sunshine and get some exercise,too!
From classics like cornhole to the more unique like Spikeball, these 10 outdoor games will surely keep you entertained.
Best Yard Games for Families
Let's face it, we all spend a lot of time on our devices—from mobile phones to video games to laptops and computers. What we all could use is more time outside with our families. Keeping kids (and adults) at any age engaged and entertained can be a challenge. Add one of these fun lawn games to your family time and what the smiles appear!
Horseshoes
GoSports Horseshoes Regulation Game Set | Amazon
Cornhole
GoSports Wood Cornhole Set | Amazon
Croquet
Six-Player Croquet Set | Amazon
Best Portable Outdoor Games
Fun outside isn't always just found at home! Take these games to the park, beach, or a neighbor's house for hours of outdoor fun. Just remember to packthem up and bring them back home when the sun sets on another fun day oflawn (or beach) games!
Ladder Ball
Wooden Ladder Ball Game | Amazon
Yard Darts
Franklin Sports Soft Tip | Amazon
Spikeball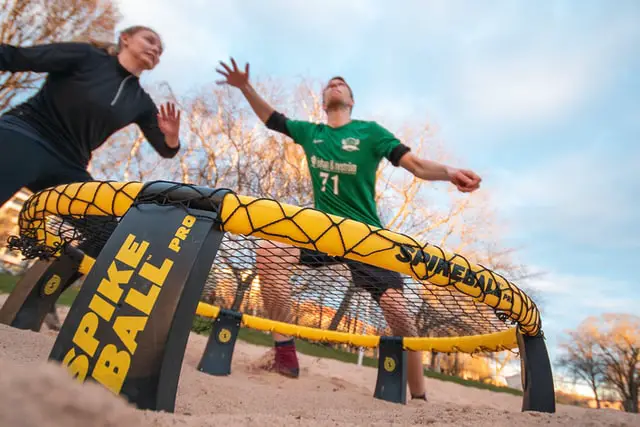 Spikeball Game Set | Amazon
Outdoor Games you can Use Indoors
Yes, we know this top list of yard games is for, well, the outdoors. But, for those days when the clouds roll in or the chill in the air is too much for fun outside, these cool (and giant) games can be played indoors, as well!
Giant Jenga
LOKATSE HOME Giant Tumbling Timber Tower
Connect 4
Go Sports Giant Wooden 4 in a Row
Fun Games for Adults
While these games are intended for use of all ages, sometimes the adults want to add a little something extra to the mix. These classic games have been bumped up a size and are ready for outdoor play. If you like, throw in a little adult beverage challenges to spike up the fun.
Yard Dice
Giant Wooden Yard Dice
Yard Pong
Franklin Sports Bucketz Pong Game
Anyone looking for ways to make their time spent outdoors with family and friends even more enjoyable should invest in a lawn game or two. For just a little bit of money, you can count on hours of fun and miles of smiles!