Many homes have a balcony, but not everyone recognizes their balcony as a separate space. Balconies often go overlooked when decorating a home, but this is a mistake.
Balconies are a wonderful external space that connects you to the outdoors without leaving your home. That said, it doesn't mean your balcony must be empty. 
If you're lucky enough to have a balcony, you can easily transform it into your favorite space in your home. With a little TLC, your balcony will shine through and become the envy of your neighbors. 
Consider this your ultimate balcony guide. You'll learn what a balcony is, how to use it, and how to spruce it up to turn it into your outdoor oasis. 
What Is a Balcony?
The first fundamental question we must answer in our balcony guide is: what exactly is a balcony?
A balcony can be considered an external extension of a house – usually on the upper floor of a home. A balcony is directly attached to the structure and hangs off of it. For this reason, balconies are only accessible from an entrance attached to the inside of the home. 
Balconies have been a common part of houses and other structures for centuries. They can be found in homes all around the world and are very common in North America. For example, many apartment buildings and condos come with balconies to allow residents to experience the outdoors without going downstairs. 
Condos on the ground floor often have terraces instead of balconies. 
Balcony vs Terrace
When people talk about outdoor spaces, you may hear about terraces. Balconies and terraces are often confused with one another.
Both a balcony and a terrace expand your living space to the outdoors. However, they do so in different ways. 
While a balcony is permanently attached to the side of your house, a terrace is typically found either next to the house or even on the roof of a house. For this reason, they are also usually more open than balconies and larger than the average balcony. 
It's more common for people to have balconies than terraces in their homes when they first purchase them, although many people decide to build a terrace in their backyards eventually. 
Next, let's discuss what exactly you could use a balcony for. 
What Is a Balcony Used For?
As mentioned, a balcony is an elevated extension of your home. It can have many uses depending on which room your balcony extends from.
For example, if your balcony extends from your kitchen, you have several options for use, including:
Building a small outdoor kitchen
Additional outdoor seating 
If your balcony extends from a bedroom – most commonly the primary bedroom – then you can:
Add a small table to enjoy your morning coffee
Hang a chair or a hammock
Add cozy seating
A balcony is a great way to quickly get a breath of fresh air or gaze out into the sky from the comfort of your home. 
Now that you know precisely what a balcony is and what it's used for, let's jump into how to take your balcony to the next level.
How to Spruce Up Your Balcony
The next step in our balcony guide is learning how to liven up your balcony and make it your own. 
To leave your balcony empty would be to not take advantage of the full potential of this outdoor space. No matter what size your balcony is, you can make many additions and changes that turn it into a cozy, desirable hang-out spot in your home. 
Not sure where to start? You've come to the right place. Here are some of the top ideas to spruce up your balcony to make it your favorite place in your home. 
Mix Up the Seating
To start turning your balcony into the outdoor space of your dreams, you want to ensure that you add enough seating on your balcony. To decide how much seating your balcony should have, consider these factors:
What room is your balcony protruding from? You may want less seating if your balcony is attached to a bedroom but more if it's attached to your living room. 
How big is your balcony? You want enough seating but don't want to overcrowd the limited space.
Who will be sitting on your balcony? Will your kids spend time there?
What will you be doing on your balcony? Seating may be different if you plan on working on your balcony, eating dinner, or simply relaxing. Perhaps you'll do all three, so your seating should accommodate all tasks. 
You have several different options when it comes to adding seating to your balcony. Here are some choices you should consider:
Dining set
Outdoor sofa
Swing
Hammock 
Bench
Depending on the size of your balcony, mixing and matching these choices may enhance the feel and coziness of your balcony. Just make sure that any seating you choose is ideal for the outdoors. 
Hang Your Chairs
Speaking of mixing up your seating, hanging chairs are the most interesting seating you can add to your balcony.
As mentioned, a hammock can be a great addition to your balcony to give a relaxed vibe. However, various other hanging seating options exist, such as a swinging egg chair. 
What's great about these chairs is that they'll always stay in place, and being off the ground, they may save some space on your balcony for other additions.
The only obstacle to adding a hanging chair to your balcony is that you must cover the balcony, and the above covering must be strong enough to hold the chair and anyone who sits in it. If your balcony meets these criteria, consider adding this fun chair idea seriously. 
Pop of Color
One of the easiest and most cost-effective ways to make all the difference in your balcony is to add a pop of color.
There are many ways in which you can add color to your balcony. First and foremost, you can paint it! If your balcony is a standard wood color or made from any other neutrally colored material, it's a perfect canvas for you to add your personal touch.
You can consider adding a brighter color to the railing of your balcony, such as blue or red, if you're bold. Painting one of the walls of your balcony is also a great way to add some color and make it different. 
You can also make whatever colors you choose match the decor of the inside of your home. The possibilities are endless when it comes to adding color to your balcony. 
Add a Privacy Screen Wall
If you live in a condo, especially in a busy city, your balcony may make you feel a little exposed. Luckily, adding a privacy wall to your balcony is one way to fix this.
A privacy wall shields your balcony from onlookers while still allowing you to enjoy it. Adding a privacy screen will provide you with serenity when you need some alone time on your balcony and privacy if you want to simply lay down and sunbathe without the risk of being watched by neighbors.
For example, this privacy screen is a great option if your balcony has glass railings. This allows you to cover the railing when you want that extra privacy and is easily removable when you want to enjoy the view from your balcony fully.
For even more privacy, you should get a privacy wall. A privacy wall doesn't completely shield the outside from your balcony, but it makes it much more difficult for neighbors to see you, allowing you to hang out in peace. 
Add Some Greenery
Plants are the perfect addition to any balcony. It is an outdoor space, after all.
You can manipulate your balcony with plants to attain many different effects. If you want to add a simple touch of greenery, all you need is one or two plants. You can occasionally move some of your house plants outside to give them a little summer vacation on your balcony. 
If you want to make your balcony feel like a garden, then you'll want to have an abundance of plants arranged around your balcony. You'll want to mix and match with green plants and plants that bloom colorfully in the spring and summer to attain the full effect. 
Make sure that the plants you choose can withstand the seasonal weather in your area. Choosing native plants is always a good idea. Pay attention to light requirements too. Some plants do best in full sunlight, so if you have a sunny balcony, you're in luck. Others prefer partial shade throughout the day, but by using a hanging basket, you can hang a plant in a spot that is out of direct sunlight. Either way, here are some great plants that will thrive in the fresh air of your balcony garden:
Lavender
Hibiscus
Lobelia
Hydrangea
Roses
Are you really into gardening? Try balcony gardening. Herbs and some vegetables, like leafy greens, survive well on balconies, so you can use your balcony as a seasonal vegetable or herb garden by using large containers or planters on the ground for growing plants or taking advantage of a hanging planter to make better use of the vertical space!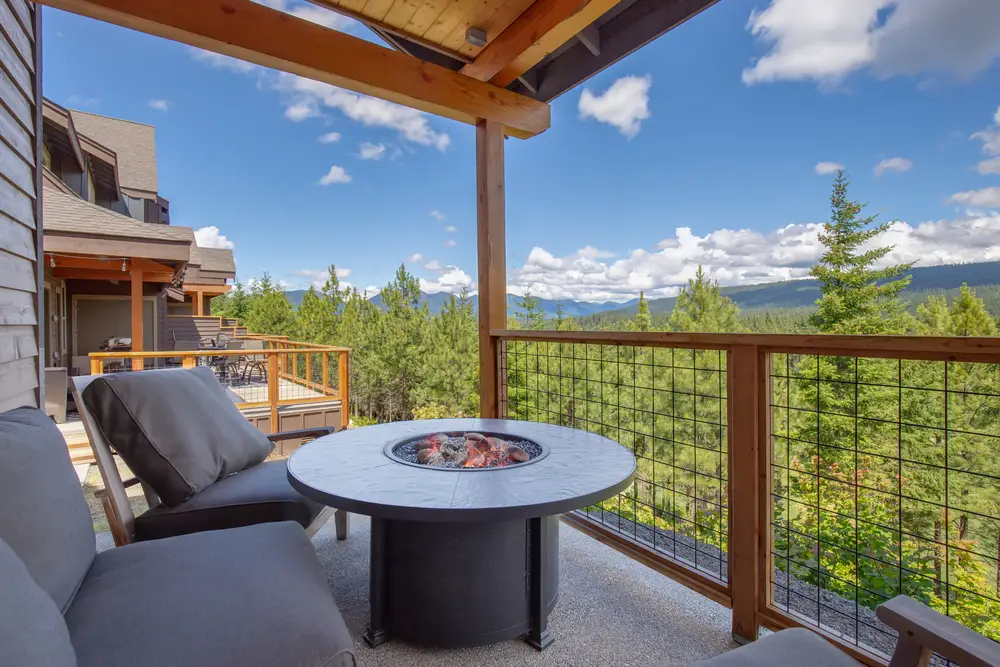 Add a Fire Pit
Our next balcony guide suggestion to spruce up your space is to add a fire pit.
A fire pit is the ultimate cozy addition to your balcony, especially if you have the seating right. Better yet, a fire pit allows you to extend how long you can use your balcony, as you can now stay warm at night or during the fall months. 
You don't have to have the space to invest in a large fire pit to get the full effect – plenty of small portable fire pits will provide you with the warmth and comfort that fire can give. 
It goes without saying that fire pits can be a fire hazard, so it's essential to make sure that you monitor your fire pit and have all the safety precautions in place, including a fire extinguisher. 
Make Your Own Mini Cafe
Everyone has seen those romantic Parisian balconies that imitate the cafes found in the city streets. Why not bring that romance to your own balcony?
You only need a small foldable table and two chairs to mimic the romantic Parisian cafe style. You can round out the atmosphere with a few plants, but minimalism is best in this case. 
This will make an excellent place to enjoy your morning coffee and a croissant!
Add a Cozy Rug
One part of a balcony that is often overlooked is the floor. The ground beneath your feet on your balcony can make all the difference in your experience. 
You can enhance your balcony floor by simply adding outdoor rugs. A rug can bring the coziness effect of your balcony up significantly. There are a variety of colors and textures to choose from, depending on what type of atmosphere you prefer. 
Once you add a beautiful rug to the ground of your balcony, there's no going back! You'll wonder how you were able to live without one for so long. 
Don't Forget the Lighting!
Another overlooked aspect of balconies is the lighting. 
It's possible that your balcony already has built-in lighting, but consider whether it fully encompasses the mood you want from your balcony – especially if it's overhead lighting.
Instead, it's a good idea to add different types of lighting to your balcony that are more nuanced and softer. For example, you can add an outdoor lamp to move around based on your mood.
Better yet, outdoor string or fairy lights have become increasingly popular to line balconies with. Not only is this type of lighting romantic, but it can light up your balcony in a beautifully subtle way. 
Keep It Simple
Finally, while this balcony guide has given you many ways to spruce up your balcony and make it more interesting, what the perfect balcony looks like is ultimately up to you – even if that means keeping it simple.
If you prefer to have two chairs and a table on your balcony to enjoy afternoon tea simply, that's okay. The same goes if you want to have just one plant or if you want to have no chairs on your balcony at all and simply use seating pillows. 
The point is to make your balcony into a space you'll enjoy, as it is an integral part of your home.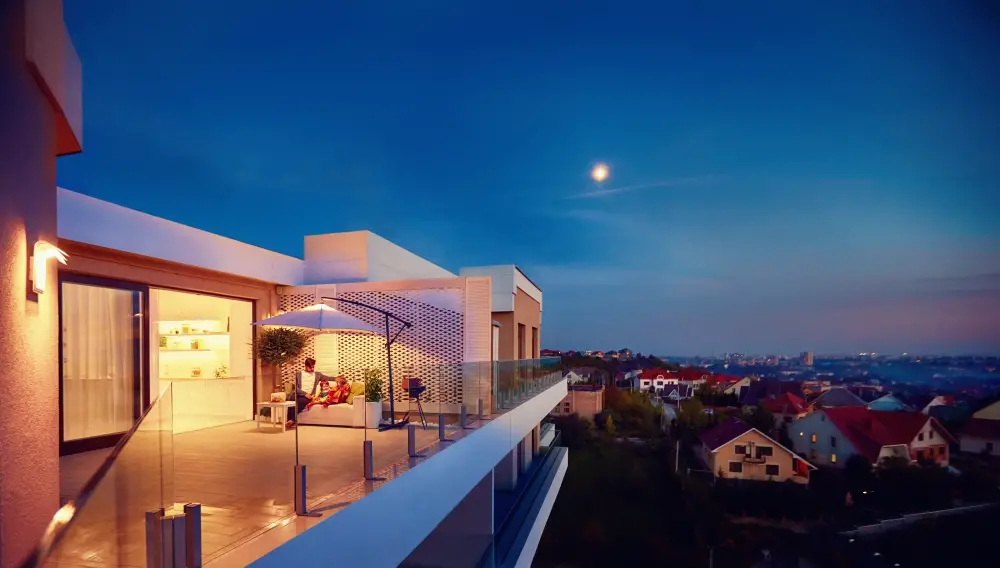 Balcony Guide FAQ
How can I improve my balcony area?
There are many ways in which you can improve your balcony area. The first thing to look at is your seating – whether you have any or not.
Make sure that your seating reflects what you want to do with your balcony, whether that's relaxing, entertaining, or eating a meal.
From there, decorate your balcony with items that reflect your home decor and personality. This may include:
Mirrors
Memorabilia
Plants
Pillows
How can you make a balcony feel like a garden?
Adding a variety of plants can make any balcony feel like a garden. You can choose colorful plants that bloom in the spring, such as roses and lavender, and move some of your house plants outdoors, such as a snake plant.
What's more, a variety of vegetables will successfully grow on your balcony, such as lettuce and tomatoes, to further enhance the garden aesthetic. 
Be sure to mix and match the plants you choose to give you even more of that garden effect. 
Ultimate Balcony Guide Conclusion
You've hit the jackpot if you have a balcony in your home. The possibilities are endless with what you can do with it. 
From turning it into a cozy space for yourself to using it to entertain outdoors, it's easy to turn your balcony into your own outdoor oasis with just a few additions.
Hopefully, this article has inspired you to step out onto your balcony and envision how to turn it into your dream outdoor space.