Are you desperate for a vegetable garden to call your own but don't live in an area where there is tons of space? Well, you are in luck. We're giving you ten amazing ideas for small area gardens with options for all types of living spaces.
No matter what size yard you have, there is a vegetable garden just for you!
10 Vegetable Garden Ideas for Small Spaces
Just because you don't have a huge backyard, a large farm field, or extra space around your home for a garden doesn't mean you shouldn't be able to grow a great vegetable garden full of all your favorite produce items.
Here is a list of ten amazing ways to add a garden to your small space.
1. Raised Garden Beds
If you are handy around the tool shed or know someone who is, you can create an amazing, raised garden bed that can fit into any space and hold as many or as few vegetable plants as you like. 
If you don't have a way to custom-build a garden bed for your home, no problem! You can purchase pre-made garden beds at many local department stores, home improvement businesses, or even local crafters. 
Tip: When using a single raised garden bed, be sure the plants you put into the soil are compatible so you don't have to worry about one plant's growth being stunted, or not having any of your vegetation grow.
2. Vertical Gardens
Vertical gardens are a popular choice for people who live in apartments or condos. These are often seen on patios or back porches and come in handy in tight spaces.
There are tons of great vertical gardening options available today. Some can be weekend DIY projects and others may require purchasing from a professional.
Tip: When creating a vertical garden on your own, ensure the watering system is done properly so that all of your plants receive ample amounts of water.
3. Small Green Houses
If you are feeling your green thumb, you can take a crack at keeping your very own tiny greenhouse right in your backyard. A greenhouse is an indoor growing system that allows anyone the option of creating luscious produce in all types of environments. 
Tip: Do your homework before choosing a backyard greenhouse for your vegetable garden needs. These types of gardens require different maintenance and nutrients to thrive. 
4. Bucket Gardens
You don't need a large space to grow a fantastic vegetable garden; in fact, you don't need a garden at all! Many people who have limited space choose to grow their vegetables in separate containers, keeping the mini-farm easy to maintain, and growing just enough produce to suit your needs.
Tip: Growing vegetable plants in separate buckets is fairly simple; however, you have to make sure you are using the correct soil brands and the bucket is large enough for the roots to grow healthily.
5. Separate a Garden Space with Bricks
If you don't have tons of room in your lawn to give your garden its large portion of land, you can easily separate your backyard space with bricks, dividing your garden from the rest of the yard. This prevents people from accidentally stepping on your vegetables and can give you a little room to enhance the soil and maintain your produce.
Tip: When creating a small vegetable gardening space, make sure you put it in an area with adequate lighting for optimal sun exposure.
6. Create a Small Garden Area with Logs
Similar to separating your vegetable gardening space with bricks, use some logs to create a unique layout that will separate your garden and veggies while still keeping the space a small, practical area on your lawn.
Tip: Use the logs to help you remember where each different vegetable is. Doing this will help you find each plant and provide the proper maintenance as needed.
7. Use Plastic White Lattice to Create a Small Space
We love plastic lattice because it is versatile and can be used in many different ways. Take a small amount of white lattice and use it to section out a mini-garden space, keeping things safe from foot traffic and small critters.
You can even use lattice to create a vertical garden by laying it against the side of your home and hanging separate plants on it or using PVC pipes horizontally, with holes to grow a great garden.
Tip: Make sure the lattice is held securely in place wherever you choose to plant your garden. While this material is durable and weather-resistant, it can be easily moved if not fastened down properly.
8. Upcycle Old Furniture
The great thing about upcycling old furniture to create unique small gardens is that you restore life to an old item while creating a useful product for yourself. 
Upcycling furniture like a dresser can be a great way to grow a vegetable garden in a small space. You can use each drawer to grow specific plants and decorate the design with your sense of style. 
Tip: Remember to drill holes in the bottom of the drawers to provide plenty of aeration and drainage so your plants don't suffocate.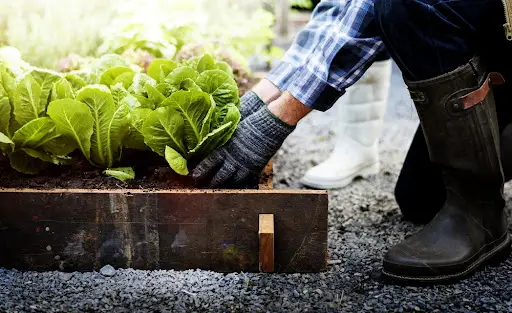 9. Grow Vegetables on the Side of Your House
Yes, you read that right. You can grow vegetables right on the side of your home by attaching wooden or plastic planter boxes securely to your house, creating a small vegetable garden that doesn't take up an inch of lawn space. 
You can place these garden beds in any order you want and have as many boxes as you want. Keep all of your vegetables in one space or give them all separate homes.
Tip: When fastening these garden beds to the side of your house, make sure you use materials that can hold a lot of weight. While soil and plants may not seem too heavy, you have to account for added weight when the plants grow bigger and when you add water to the container.
10. Combination Garden
Who says you should only pick one option? You can use multiple designs and layouts to create the perfect small garden in any living space. 
Create a tiny area in your yard sectioned off by white picket fencing for your plants that grow underneath the soil, such as carrots, onions, or potatoes, and have it back up to the side of your house where you have a raised garden bed for things like green beans, peppers, and peas.
Tip: Make sure the garden design and layout will fit nicely into a smaller space before you attempt to construct it. While many of these options are ideal for making mini gardens, combining a few different ideas could become too cluttered or too large. 
5 Tips for Creating a Vegetable Garden Idea for Small Spaces
When planting your vegetable garden, there are a few factors you need to consider before you ever lift a shovel, seeds, or containers. 
1. Plan Your Space Ahead of Time (Map Your Layout)
Make sure you create a plan before you take action. Many things come into play when building a vegetable garden, and you want to make sure you provide your plants with plenty of space, sunlight, and the best soil options.
2. Only Grow What You Can Eat
There is no reason to grow any more than what you can eat. Keeping your plants to a smaller quantity will reduce the space you need and reduce the waste of un-eaten vegetables.
3. Keep it Easily Accessible
With small space gardening comes the task of finding a way to keep your garden accessible. Make sure you can get to your garden when you need to and move around it enough to maintain it properly. You also need to make sure there is easy access to water sources.
4. Put it in a Location Where it Will Thrive
As mentioned above, you want to make sure your garden has everything it needs to thrive. You shouldn't keep a small space vegetable garden on a porch if the sun has no way of coming through, and you don't want it in the middle of a backyard where people can trample it.
5. Pair Vegetables That Will Grow Well Together
Not all vegetables play nice, and some will overtake the space and soil, depleting the room to grow and much-needed nutrients.
Practice companion planting by making sure your vegetables can grow together in harmony because you don't have a lot of room to separate them.
Tips for Growing Healthy Vegetables in Small Gardens
Just because your vegetables don't have tons of space doesn't mean that they can't grow to be just as lush and healthy as in any other garden. Here are some great tips to get your small garden vegetables to thrive. 
Plant Vegetables According to Your Planting Zone
Many resources are available to help you identify which plants will grow best depending on your location and the season. If you don't know what planting zone you are in, you can easily look this up by logging onto the Farmers Almanac website.
Don't Plant Vegetables Too Close
When you have limited space, you may be very tempted to try and push the boundaries. It is better to have fewer plants in a smaller space so they won't fight for nutrients and water. Having fewer plants that grow properly will produce much more than an abundance of crowded plants.
Keep an Eye on the Weather
No matter what climate you live in, there are days when the temps get much warmer than expected, and having a smaller garden means the soil can dry out much quicker. If the temperature gets high, your vegetables are going to need a little extra water. 
Love Your Little Garden
While it may seem a little strange, there is nothing better than giving your small space garden a little extra TLC. Depending on who you ask, your plants can tell when you are talking or singing to them, and they enjoy it. Happy plants create healthy produce. 
Summing Things Up
Growing vegetables, including tomatoes, salad greens, beans, or herbs, is possible even with limited space. For a unique and productive small garden layout, try one of the examples above.