For a great patio, you need to pay attention to every part of it. One aspect of the patio and overall backyard that many people overlook is their flooring. 
If you've been thinking that your backyard needs some sprucing up, it could be as simple as changing your flooring or adding flooring. If you're just starting to build your patio, you don't want to ignore the flooring. But what are your options?
Keep reading to discover some outdoor floor ideas to rejuvenate your outdoor space and prepare for spring. 
Outdoor Floor Ideas – The Basics 
Let's start with the basics of outdoor flooring.
The first thing you want to figure out is the type of flooring you want for your outdoor space. Do you want to keep it simple? Are you looking for a subtle but elegant look? Do you want the floors of your outdoor patio to be a showstopper?
From there, you also want to examine the state of your current outdoor flooring. Are there areas that need repairs? Perhaps you don't even have outdoor patio flooring yet, and you're starting from scratch. You'll want to get a professional in as soon as possible to establish that your floors are safe.
These factors will determine the materials you should use for your outdoor floors. Let's talk about your material choices now.
Patio Ground Materials
When choosing materials to execute your outdoor floor ideas, it's important to consider the climate and weather of where you live. The biggest factors to consider are whether your area is prone to heavy rainfall or long snowy winters.
Here are some of your choices when it comes to outdoor flooring and patio ground materials:
Wood: One of the most popular options for its versatility. However, maintenance is key to ensure that the wood lasts. 
Stone: Stone is one of the most durable materials you can use, but it is difficult to replace if necessary, as stone materials are quite unique. 
Tiling: From interlocking tiles to mosaic designs, tiling is a great way to spruce up your backyard floors. Outdoor tile is easy to install but may be slippery. 
Concrete: One of the most inexpensive and durable material options, although concrete flooring or concrete pavers don't allow for much creativity in an outdoor area. If you have more money to invest, stamped concrete is an outdoor flooring option that can add a lot of interest.
Artificial grass: Artificial grass is an excellent option to add more green to your backyard.
Now that you know what materials to choose from, let's look at some outdoor floor ideas to inspire you.
Outdoor Floor Ideas
If you don't like the idea of simple wood decking or concrete as your outdoor floors, there's no need to settle. You can get more creative with your floors than you might think. To illustrate, here are some popular and fun ideas to execute.
Outdoor Floor Tiling
Outdoor floor tiling brings your backyard a creative and unique look and can be a fun DIY project.
Installing outdoor floor tiles is generally easy. The key part is to ensure that you properly prepare the surface by smoothing it to ensure that the patio tiles lay flat and even. From there, it's just about laying the patio tiles and carefully grouting them.
Outdoor floor tiles come in many different materials, including:
Porcelain
Ceramic
Slate
Limestone
Granite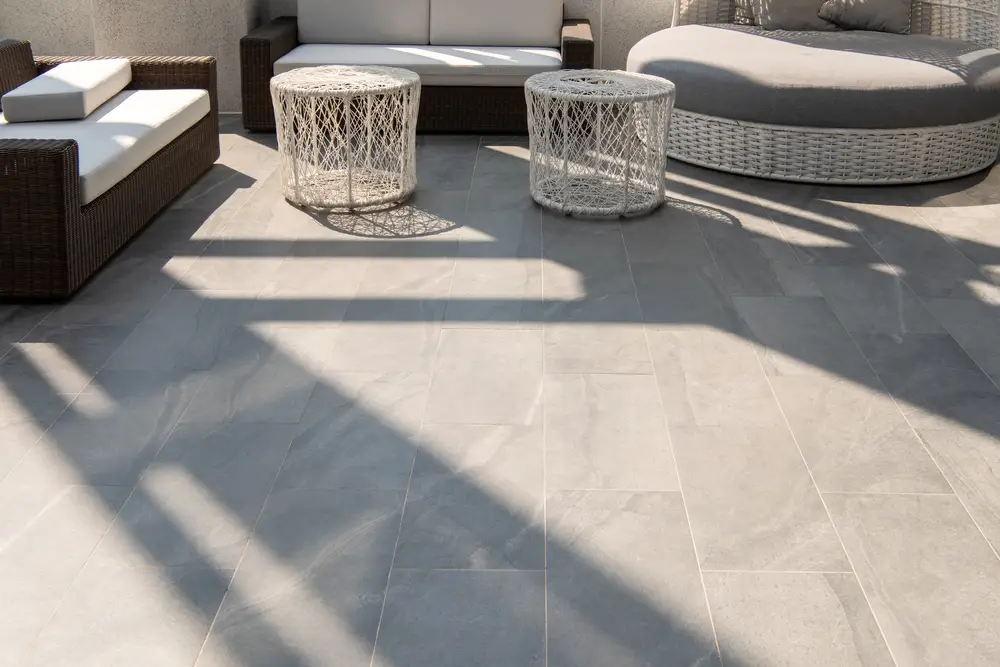 Reclaimed Wood
While wood is a classic choice for patio flooring as it is warm and inviting, it can come off as boring. To make your wood flooring more interesting, consider reclaimed wood.
Reclaimed wood can contrast nicely with the other wood on your patio to give it a distinct look. It also provides a rustic aesthetic that can increase the warmth and coziness of your entire backyard.
Another wood flooring option is to build a pallet wood deck. This idea is inexpensive and looks interesting to anyone on your patio. 
Mosaic flooring
Want to turn your outdoor flooring into an art piece? Then you should consider mosaic flooring. 
Mosaic flooring not only looks nice, but it can also be fun to make as a DIY project. You can do mosaic flooring with stone and tile alike. In fact, mosaic flooring is a great way to make use of any broken tiles you have lying around. 
Concrete Pavers
Concrete pavers are another easy option for improving the look of your outdoor flooring.
This patio flooring idea is quite simple, and the visual appeal comes from the symmetry created by the slabs. To make this idea even more interesting, you can fill the area between the slabs with stones or pebbles. 
Brick
There are many reasons why brick is an excellent material to execute your outdoor floor ideas. For starters, it is mildew-resistant and therefore easier to maintain than other materials. It also offers a rustic look if that's what you desire for your outdoor space.
Finally, brick is easy to lay, particularly if you choose a simple design. However, you can do many different designs with brick flooring, such as swirls and floral patterns. The possibilities are endless, and so is the durability.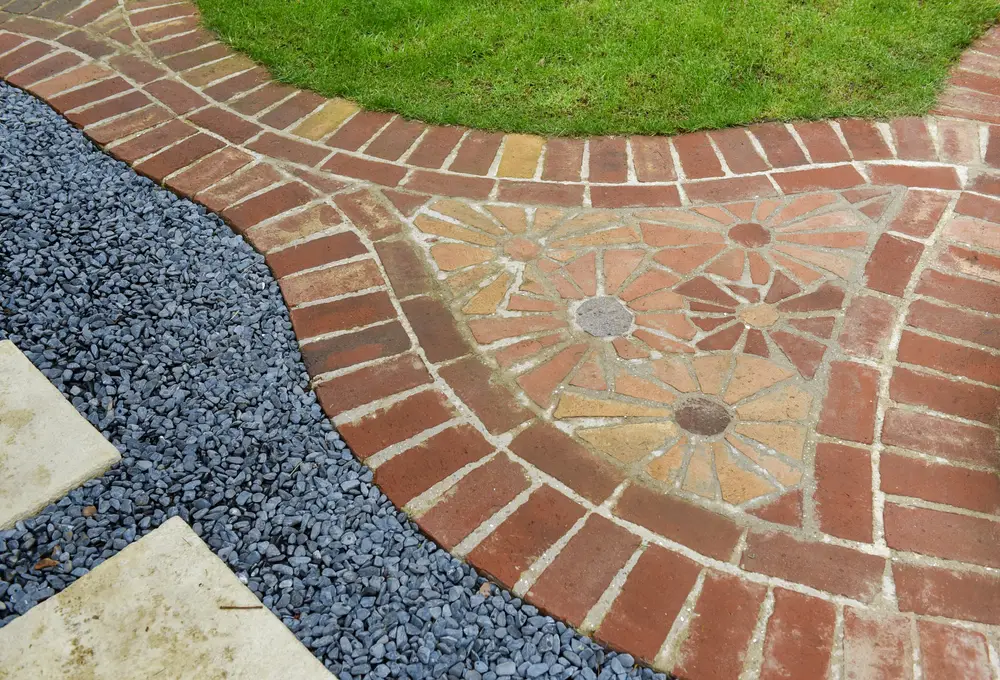 Stone Pathway
Interested in sprucing up the pathway to your deck? Consider creating a stone pathway.
A stone pathway is a great option if you want to make your backyard more interesting but aren't looking to add entirely new flooring. 
Flagstone slabs are a great material to use for this purpose, as they hold moisture well and have a natural look that blends in with your backyard.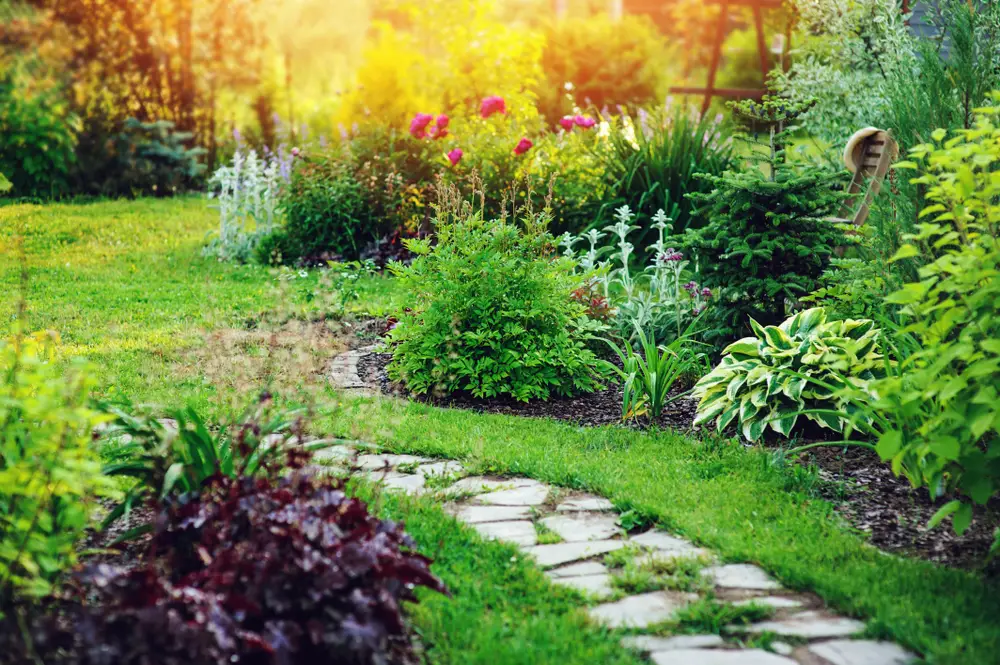 Wrap-Up: Outdoor Floor Ideas
Hopefully, you've found inspiration for your patio and your overall backyard through these outdoor floor ideas. 
Installing outdoor floors is a great weekend DIY project with a result that will entirely transform your outdoor space. Feel free to get creative with your space and try out different materials, designs, and ideas.