Nothing ties together an outdoor space quite like an outdoor rug. Outdoor furniture is designed to last for years. However, if you aren't mindful in your selection, your waterproof outdoor rug may have a short lifespan. There are many things you need to consider in your selection if you expect your outdoor investment to last.
The lifespan of a waterproof outdoor rug may be short in duration compared to an indoor rug. Typically, outdoor rugs tend to last anywhere from three to seven years. For those living in subtropical or humid environments, mold and mildew may be a concern for an outdoor rug. This means that if you don't pay close attention to the outdoor carpet you select, its lifespan may be shorter than average.
Things to Consider in a Waterproof Outdoor Rug
The type of outdoor rugs you select will depend on their usage. Three main reasons exist that cause homeowners to invest in a rug for outdoor use. These are:
To prevent damage to the surface area
To protect against falls or slips
To create a stylish outdoor space
However, some individuals tend to lean more toward the aesthetic appeal of an outdoor rug without considering its breathability. It may be waterproof or water-resistant, but is your synthetic outdoor rug breathable?
A patio rug in a high-traffic area that is exposed to the elements will require a breathable rug. Additionally, if it isn't breathable, you may end up spending a great deal of labor-intensive time in keeping your rug clean. While some materials simply require pressure washing, others may need professional cleaning. This can become costly.
Therefore, doing your research beforehand comes in handy.
Location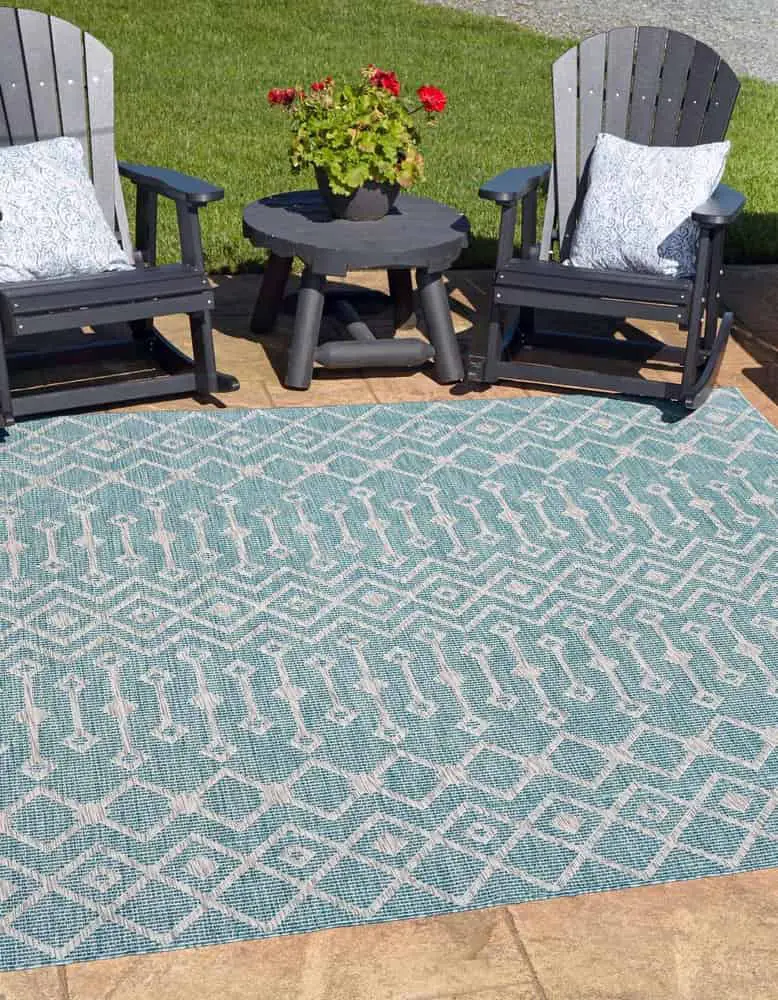 Where will your outdoor rug go? Before considering the size and color you need for your outdoor carpet, you need to consider the finish and material of the surface that it will be lying on. This has a huge impact on your rug's longevity in addition to where it is placed. Common things to think about regarding common areas include:
Grass – Like concrete, placing a rug over grass traps moisture. Therefore, even if you do purchase a breathable outdoor rug, it will still rest on a ground that can become wet. If it rests on wet ground, the integrity will be affected. Mold and mildew will quickly grow on the backing.
It is advised to put down temporary flooring like click-lock tiles to combat this. They are made of wood composite or plastic and act as a base. This will help your rug dry out after it becomes wet. You can also periodically hang the rug to thoroughly dry in the sun.
Concrete – Unless your concrete is sealed, it can be extremely porous. This may present challenges for some rugs. If the outdoor rug doesn't permit water evaporation, then mildew can quickly form underneath. Select a rug that is breathable instead.
Steel – Decks and balconies containing metal flooring are very prevalent in a coastal/urban environment. While steel appears to be durable, it is still susceptible to corrosion and rust. This is common in climates that are rainy or humid. Again, click-lock tiles placed underneath the rug are recommended to increase the rug's longevity.
Wood Deck – Both synthetic and natural rugs impact the surface of stained decks. After a rain, the rug will remain wet. This also keeps the area under the rug damp for longer durations when compared to the remainder of the deck. This encourages mildew under the covered area. Natural fibers will allow more water to be absorbed when compared to synthetic fibers. This can make the mildew issue worse. However, if you do experience mildew, it can be cleaned using a bleach solution.
Tile – If you have an outdoor area containing porcelain or ceramic tile, trapped moisture can damage the grout. This is prevalent if the rug contains a rubber backing. Ensure the grout is well-sealed to prevent mildew and mold from growing.
Size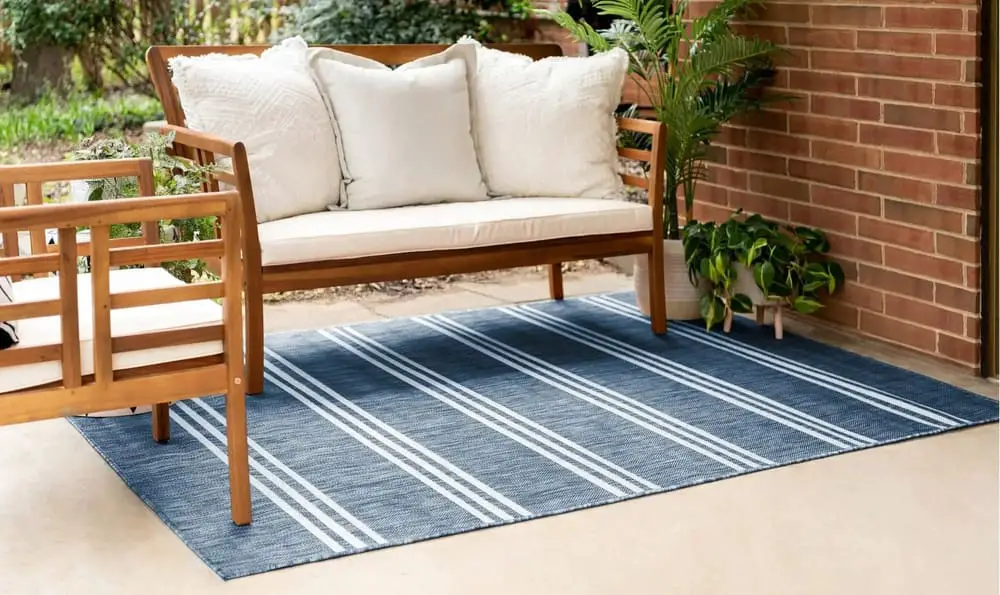 The location and intended usage will dictate the size of rug you need. If you need it for a base for outdoor furniture, ensure that it is big enough to cover seating and the table. This is the same for outdoor dining rooms.
If you want a smaller rug, select something that frames a coffee table plus holds two front legs of your couch. For narrow balconies, choose runners that extend down the length of your areas to create a total coverup.
Material and Construction
A waterproof outdoor rug can come with desirable attributes like weatherproofing or fade-resistance. However, the truth is that no outdoor rug is fully weatherproof. However, it can contain UV-treated polypropylene yarns. This will resist fading outdoors.
Synthetic
Polypropylene is recommended for outdoor rugs. It contains plastic, plus it is known for its moisture-wicking, breathability, stain-resistant, and fade-resistant attributes. It can handle splashes, spills, and the weather easily.
Alternative synthetics are more resilient when compared to all-natural fiber. However, some do have some natural fibers that can lead to bacteria.
All-Natural Fiber
While all-natural material is tempting, it can damage your area. The best is seagrass, which is the softest, or sisal/jute, which promotes airflow and assists with evaporation. However, the glue or rubber backing can trap moisture. This material will need to be frequently hung out to dry.
Conclusion
When selecting a good waterproof outdoor rug, you will need one that is very breathable and that easily removes moisture. Getting wet is unavoidable when you place a rug outside. Unless you are willing to roll it up each time it is used, it is best to be proactive in your purchasing approach.
Consider the material that it is covering and proceed with the appropriate measures. Find a rug that is waterproof, not water-resistant. Waterproof materials are sealed, whereas water-resistant materials are treated. It will ensure moisture doesn't become trapped between the rug and the material underneath. Also, be sure to avoid rubber backings as they will trap moisture and cause bacteria.