Your backyard is an outdoor oasis, and it should feel that way. However, when your yard is open to the view of your neighbors, it may feel like you're constantly being watched.
You should feel as comfortable in your backyard as you do inside your home. While a fence is the best way to keep your neighbors' eyes off of your backyard, sometimes it's not enough, or you're unable to build one. The best solution, in this case, is to add a backyard privacy screen.
Keep reading to learn about the variety of backyard privacy ideas that can ensure your backyard stays private and away from wandering eyes.
Why Want Backyard Privacy?
There are many reasons to want privacy in your backyard, and it provides many benefits for everyone living in your home.
Some of the top reasons to want backyard privacy include:
Your backyard is visible from the street
You have neighbors directly across from you
You enjoy sunbathing in your backyard
Your neighbors are always in their backyards
Also, although the focus is often on keeping the eyes of your neighbors out, chances are that they don't want to see what you're doing in your backyard 24/7 anyway. In that way, making your backyard private can be mutually beneficial.
Convinced of the importance of backyard privacy? Let's take a look at a few backyard privacy ideas.
Top 5 Backyard Privacy Ideas 
The good news is that it can be relatively easy to achieve backyard privacy. There are a variety of different methods and techniques you can use.
To give you a starting point, here are our top five backyard privacy ideas.
1. Build a pergola or gazebo.
The first backyard privacy idea on our list is to build a structure in your backyard, such as a pergola or gazebo.
A pergola is an outdoor structure with a roof of beams and rafters supported by columns. In contrast, a gazebo is a freestanding, open structure with a roof.
The main difference between the two is the roof – gazebos provide full coverage, while pergolas allow sunlight to shine through the slatted roof.
Knowing this, gazebos provide the most amount of privacy. However, pergolas can also provide enough privacy to shield you from your neighbors. The main factor to consider is whether you want privacy from the sun or not!
2. Erect a privacy fence.
Building a backyard privacy fence is a great alternative if you don't want to go through the hassle of building a full fence.
You can use a variety of materials to build a backyard fence. One of the most popular materials is bamboo. 
Bamboo has become an increasingly popular material for home renovations and decor, and creating a backyard privacy fence is no different. All you need is a rolled-up bamboo fencing sheet that you unroll onto the edge of the area of your backyard you want covered. 
A bamboo privacy fence provides aesthetic and practical benefits to your backyard. They're also generally one of the least expensive and least time-consuming.
3. Get strategic with plants.
One of the most creative backyard privacy ideas is to use plants to create a privacy wall for your outdoor living space. 
This is an excellent idea for gardeners and can be a fun challenge. If you love plants, consider building a vertical garden that doubles as an added privacy wall. Try potted plants, climbing vines on a trellis or lattice panel to form a living wall, or other tall plants, like evergreen trees or ornamental grass. Not only will it keep your neighbors out, but it will also add another layer of beauty to your backyard.
Check out this article on outdoor wall decorations for more ideas.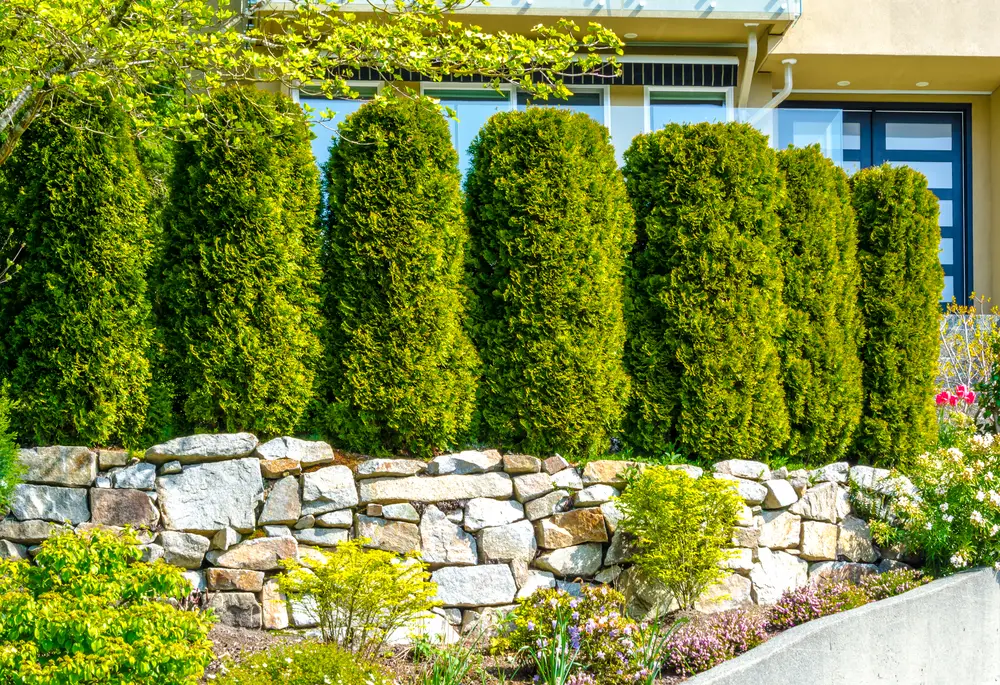 4. Hang a shade sail.
If you have a fence, but your problem is that your neighbors have a two-story house from which they can overlook your backyard, you'll need more than a privacy wall to shield your backyard.
A shade sail is a perfect addition to your backyard to prevent your neighbors from peaking in from above. Privacy sails come in various sizes, colors, shapes, and materials to protect your backyard from neighbors and the sun. For example, this sunshade sail from Sunlax comes in various colors and is big enough to cover most of a normal-sized backyard.
They're also easy to install, meaning you can set up your private backyard oasis in no time.
5. Add curtains.
The last backyard privacy idea on this list is to add curtains.
This idea works best on balconies, but you can easily add curtains to a gazebo or pergola as well.
Curtains are the best way to ensure your backyard is shielded from all sides. The best part is that they can also serve a decorative purpose and liven your backyard with different colors. Moreover, they're another great way to block out the sun and keep your space cool.
Backyard Privacy Ideas FAQ
How can I make an inexpensive privacy screen?
You can make a privacy screen out of various materials that won't break the bank. Some of those materials include:
Wooden boards or slats
Shrubs, trees, and other greenery
Lattice
PVC pipes
How do I block my neighbor's two-story view?
Adding an extra divider, plant barrier, or screen can block your neighbor's view for good. 
Adding a privacy screen is a great way to block your neighbor's view of your outdoor living space without putting up a fence or a wall. It feels less invasive, yet you still get the privacy you desire.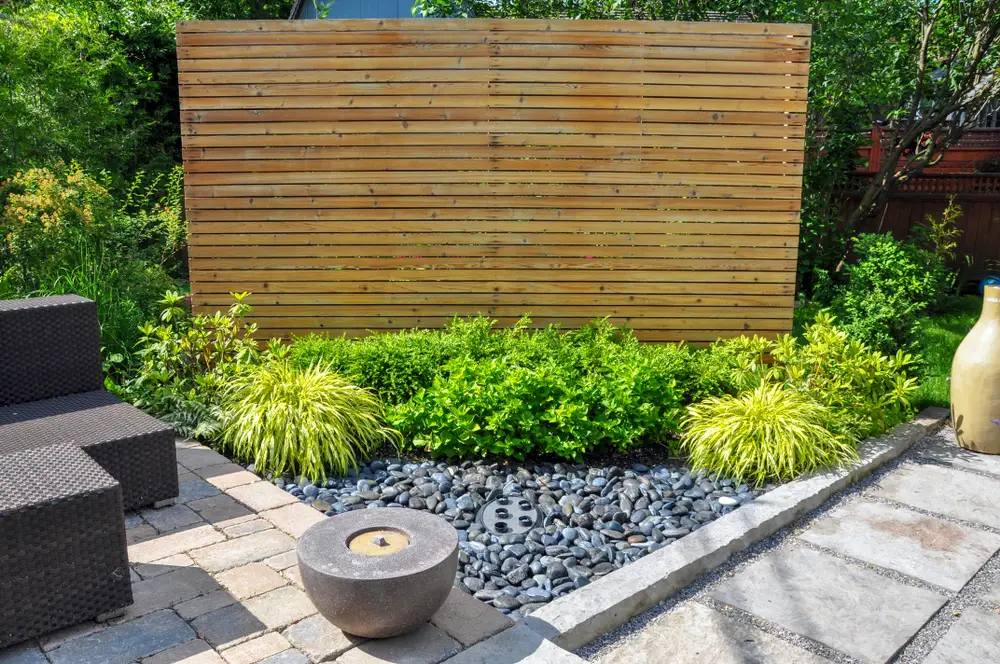 Wrap-Up: Enjoy Your Backyard In Peace
It can be challenging to enjoy your backyard when it's open to your neighbors to see. However, a few simple modifications can ensure that you get the privacy you need to enjoy the peacefulness of your backyard without worrying about being watched.
These backyard privacy ideas have inspired you to get creative with your backyard and enhance your outdoor oasis.
Check out these tips on how to get better backyard privacy on your balcony.