When you have a garden, all parts of it deserve attention, which means that your only focus shouldn't be on the plants. You should strive to decorate every part around your garden to enhance the look of the entire area. Outdoor garden wall art is a great way to bring your yard together as well as highlight the beauty of your garden. 
Luckily, there are plenty of creative ways to decorate your garden wall to your liking. Keep reading to learn outdoor wall decoration garden trends that will have your yard full of life.
Outdoor Wall Decorations Garden Ideas to Enhance Your Space
There are several reasons to make use of outdoor wall decor for your garden. The most obvious reason is the aesthetic appeal, as the right wall decor can help your yard perimeter complement your garden and make it feel less boxed in. 
A more practical reason to explore outdoor wall decoration garden ideas is to increase the privacy in your garden. If you don't already have a fence, building one is the best way to get this privacy, but if you cannot install a full fence, you can simply build a singular wall that shields your garden.
Whatever your reason for an outdoor garden wall, make sure that it looks to your liking. Here are five outdoor garden wall decoration ideas to liven up your entire backyard and get you started.
1. Make Use of Vines
One of the top outdoor wall decorations garden trends is to use the plants along the wall or fence of your garden. There are several ways to add plants to your garden walls. 
Firstly, you can add vines that crawl up your fence. Another option is to extend your garden and add plants outside of your fence and have them grow through it and peek out into your front yard. 
Plant bushes and shrubs along your fence to decorate and protect your garden. If you don't have a fence surrounding your garden, having tall bushes around your outdoor space may even serve as a wall on its own.
2. Create a Stacked Stone Wall
If you don't have a fence in your backyard or just want additional privacy in your garden, building your own wall is a simple option. You can build a wall in several different ways from various materials, but one of the best types of garden walls is stacked stone walls.
Stacked stone is a classic option that fits with many different decor styles. A stone wall can add texture and character to your garden area while shielding it from view, making it an ideal option to create a private seating area near your garden.
Building a stone wall is simple and can even turn into a fun DIY project. It doesn't have to be very high, and you can use any stone that you think best suits the overall look of your garden.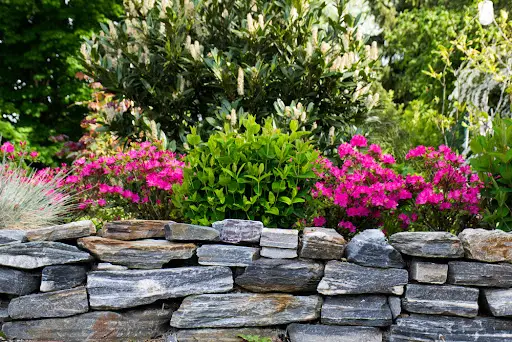 3. Add a Trellis
One of the most popular outdoor wall decorations garden ideas is to add a trellis to your garden wall. Trellises have been used against walls for ages as simple garden structures that help your plants grow vertically. However, they also have aesthetic appeal, and the right one can enhance your garden's overall feel.
If you're looking for a simple yet elegant trellis, try the AMAGABELI GARDEN & HOME 2 Pack Large Garden Trellis for Climbing Plants. This pair is 75 inches high, which is tall enough to stand against any fence or the siding of your house. It's sturdy and durable and can handle any of your large plants that may need support.
What's more is that this trellis set is rust-proof thanks to its black powder-coated finish, which makes it a great option to add a stylish and natural touch to your garden.
4. Vertical Garden
What's one of the most creative outdoor wall decorations garden ideas? To create more garden! You can try growing plants along your garden wall by planting a vertical garden. Using a trellis is a popular way to plant a vertical garden in your outdoor area, but it isn't the only way.
There are many apparatuses on the market to help grow your vertical garden. From shelves to pots to planters, you can install them on your fence, depending on the look you want for your garden wall and outdoor space.
One of the easiest and most versatile options for a vertical garden is to use these Delectable Garden Cloth Pocket Hanging Vertical Garden Wall Planters. These hanging pockets are eco-friendly and practical and use cloth from 100% recycled bottles. They're easy to hang off your fence to extend your garden, and you can match several of them together to cover the full length of your wall. 
5. Add Lights
Our last outdoor wall decorations garden idea is to brighten up your wall to enjoy your garden at night.
Illuminate your garden at night by adding garden lights to your fence. Garden wall lights are inexpensive and a great way to see the beauty of your garden at all times a day.
Try these Solar Wall Lights from Mancra to light up your garden. Powered by solar energy, these lights automatically light up from dusk until dawn, providing warm bright light for prime visibility in your garden. This outdoor lighting is also waterproof and durable, with the ability to withstand whatever weather is thrown at them, so you can worry less about maintenance and have more time to enjoy your garden and your outdoor decorations.
Outdoor Wall Decoration Garden Decor for Every Inch of Your Yard
Hopefully, this list has served as an inspiration to brighten up your garden wall, but don't think you're limited to these options. There's an endless list of garden ornaments and outdoor wall decoration options to choose from.
The best way to figure out what would work best for your garden is to look at it and try different ideas. You may end up going with one that surprises you!