The summer season calls for backyard barbecues, swimming in the pool, and late nights on the patio with family and friends. And probably the last thing you want to think about during your busy summer is the dry patches of grass on your lawn! 
Patches of yellow grass and brown spots on your lawn can be a pesky annoyance in your yard. Many homeowners take pride in a consistent, green lawn; if you're one of them, you're searching for the best fix to keep your lawn looking great throughout the seasons. 
While there are fertilizers and ways to maintain an even lawn, there are some occasions when you just don't have the time to fix the grass. You want your backyard to be ready for anything, after all. 
That's where spray paint for grass comes in handy. This can be effective for the summer and year-round when your lawn isn't looking its best. Grass paint can rescue your lawn and keep it in shape during those off months. If you live in a relatively dry climate or are experiencing a drought where you may not have access to regular lawn watering, lawn paint is a great solution for your lawn.
Let's go through how to deal with yellow patches, the best grass spray paint on the market, and other ideas for filling in your yard to keep it looking fresh.
How to Use Grass Spray Paint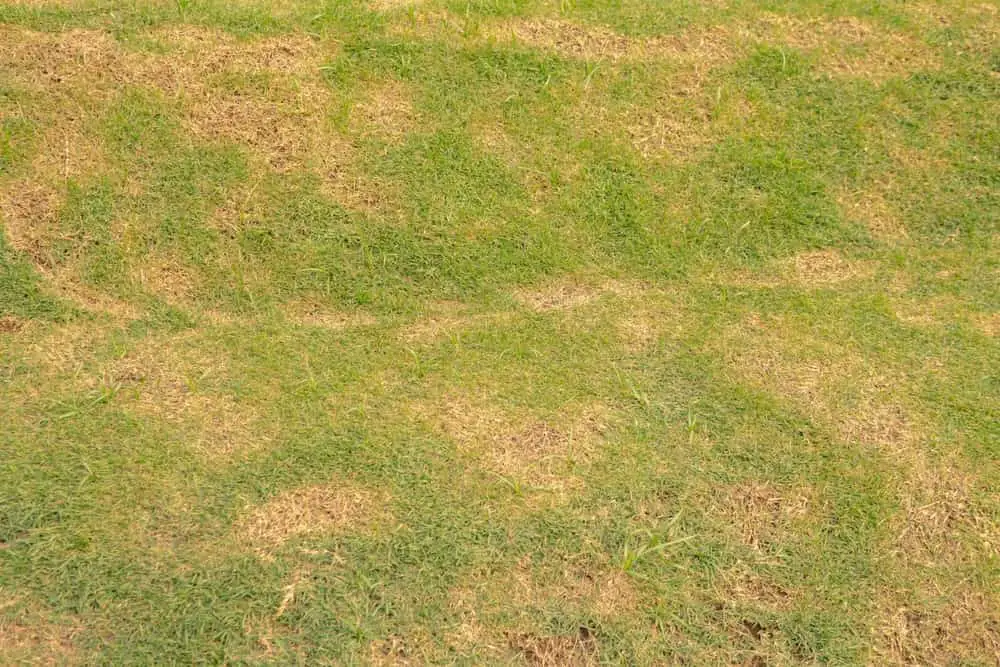 For anyone looking for a quick fix to their yard, lawn paint is a great DIY option. It's not super intensive work and won't break the bank, so if you're hosting the next family gathering in a matter of days and want your backyard lawn looking its best, you can get green grass in hours!
To use grass spray paint, spray in even strokes at a reasonable distance. Depending on the product, you may have different instructions on what distance to spray. Like spray painting furniture, work in even strokes and try not to overlap over the same area.
Make sure to keep the area well-ventilated and spray away from any plants. While it's not toxic like regular spray paint, the aerosols can disrupt the plants' natural growth. 
Is Grass Spray Paint Environmentally Friendly? 
Grass spray paint may work like regular aerosol spray paint you've used for other DIY projects, but it's not the same product. Grass spray paint is non-toxic, biodegradable, and made of old plants.
Is Grass Spray Paint Safe for Pets?
Since it is made of non-toxic materials, grass spray paint is safe for pets and humans. It's generally worth-free, so your kids and dogs can roam free in your yard without potentially harmful toxins. Just make sure the paint has dried before anyone plays in the grass.
How Long Does Grass Paint Last?
After applying, grass paint will last anywhere from two to three months. It's made to withstand the rain and extreme heat, so you won't notice it fade away over the weeks until it's completely gone. It contains a colorfast formula that's built to last a while. 
During winter, grass spray paint may require a few applications to show its true color. After its application, it will last you a few months, given any harsh weather conditions.
Can I Mow Over Grass Paint? 
You can mow over painted grass without removing the paint. Since the paint is color-safe, it won't be able to be removed from the grass for a few months. 
Grass paint is generally used on short grass with stunted growth, like yellow grass. Because of this, your lawn mower may not even pick up the grass, to begin with, but it can even it out for a consistent vertical height. 
The Best Grass Paint Products
This green grass paint comes in a large container and is an excellent option for a larger area you want to cover. It has a gloss finish, so the grass can have a sheen you'd typically see in healthy green grass. 
This paint is non-toxic to pets and dries in about one hour so that you can get results quickly, and you'll be able to apply multiple coats if needed. 
Similarly, EnviroColor makes a green grass paint that is effective and comes in a one-gallon size. This can cover 1,000 square feet, so if you have a large yard or even a sports field, this has got you covered. 
They recommend spraying it evenly throughout your entire lawn for consistent grass color and best results.
If you're looking for a smaller amount of grass spray paint to cover small patches, this is an excellent option from Seymour. It's fast-drying, so that it will give you results almost instantly. It still contains the same formula as the typical large spray paint containers and lasts a few months after application. 
This non-toxic formula won't harm plants or pets, so you can rest easy knowing you've found the perfect solution for your yellowing lawn grass. 
Other Ideas for Filling In Your Yard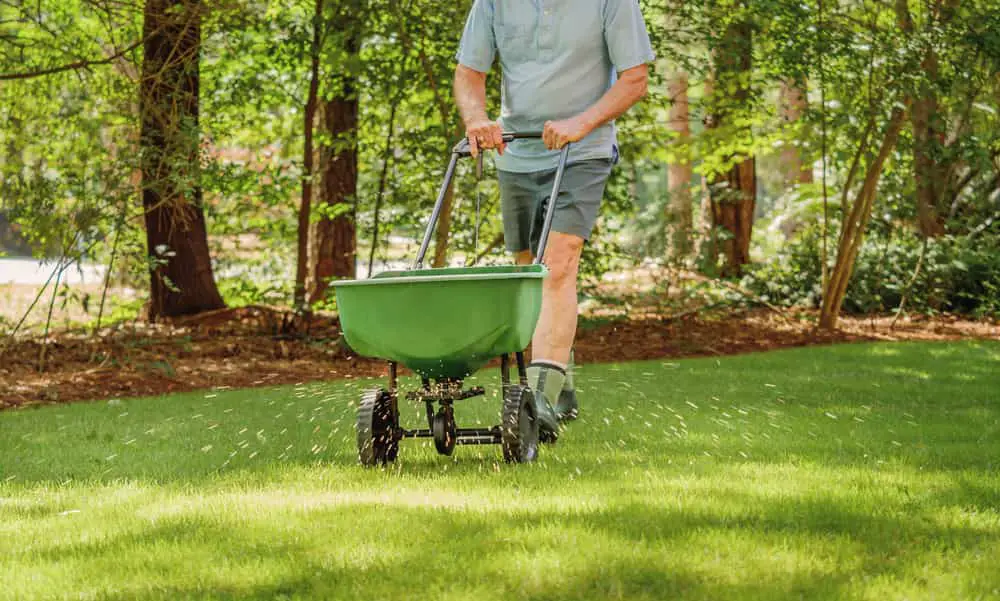 If you've run out of grass spray paint, or paint isn't enough to cover up the yellow patches in your lawn, then there are other ways to fill in your yard and cover up any uneven grass. The paint is an excellent tool for covering up small patches and unevenness, but it isn't great for large patches of dirt where there is no grass growing. 
Luckily, you can fill in your yard with other inexpensive decor. Use gravel or lay down flat stone to create a backyard path, which you can fill with decorative rocks, potted plants, or imitation grass. 
Whether in a harsh climate or not, you can establish a healthy, growing garden in your yard. With the right tools, wise planting spots, and proper watering, you can create a vegetable or flower garden that will last you throughout the season. Check out our guide to gardening in harsh climates for more. 
How to Deal with Yellow Patches in Your Yard
If your lawn looks worse for wear even after spray painting, it may be worth looking into long-term solutions for the lawn grass.
While grass spray paint is effective, it's not the best long-term solution for yellow and bald patches on your lawn. The best cure for a yellow lawn is to re-seed it, which can take some work depending on the size, and state of the soil.
Applying grass fertilizer to bald patches of your lawn encourages growth, and with a few months of TLC, the grass will even out. This lawn maintenance takes some care and attention, tending to your lawn at least once a week with watering and maintaining a healthy amount of fertilizer. 
If you have sections of lawn where grass won't grow or your lawn is consistently yellowing from direct exposure to sunlight, then another option is laying down grass patches. These are available as imitation and real grass, and laying them down your whole lawn creates consistency. However, it can be costly and may have to be done every few years depending on seasonal weather.
Conclusion
Grass spray paint can be an excellent option for anyone looking for a quick fix. If your backyard BBQ is just a day away and you want your lawn to look clean and even, some quick sprays over bald or yellowing patches will do the trick. 
After spray painting the lawn, you'll keep the grass green for up to a few months. Then you can focus your attention on other things in your backyard, like building a Japanese garden with stunning decor or hosting the next family gathering!